Are you an author, poet, or just a bookseller trying to boost your sales by creating an online bookstore? If yes, take a look at these free WordPress themes for a perfect e-commerce site.
Today, having a website for your business is significant.
So, why not start with a free theme?
Let's be honest. When it comes to a free WordPress theme, we're all kind of skeptical about its quality at first.
But that's not always true. Some free WordPress themes provide great functionality, like WooCommerce compatibility, good design, and portfolio support.
Now, let's talk more about such free themes that cater to authors and booksellers right away.
What to Look for in Free WordPress Themes for Selling Books?
There is no doubt that WordPress is the most popular website builder in the world. About 38 percent of the total websites are built on WordPress. Therefore, there are hundreds of WordPress themes and plugins up for grabs on the market. All these themes and plugins have a unique set of designed features for a specific website niche.
Before we get into the best WordPress themes designed for booksellers, let us look at the essential features you need to consider:
1. Responsive Design
In modern times, a responsive design should always be your number one priority while looking for a WordPress theme. It improves the overall performance of any website and retains its audience for a more extended period.
A recent survey conducted by Statista concluded that about half of the internet traffic uses mobile phones and tablets over desktops as their browsing device. Thus, having a fully responsive website can make a huge difference.
It is an absolute necessity to have a website that can automatically adjust to different screen sizes at this point. A website that is not compatible with mobile phones or tablet devices can no longer contend in this competitive market. If you're using one of those themes, you're most likely to lose a large part of your audience.
Besides that, hard-to-read text, difficult navigation buttons, longer loading time, and inappropriate color tones only worsen the user experience. Thus, responsive design is one of those factors that can define the success of your online business.
2. WooCommerce Compatible
The culture of online shopping is here to stay, and for all the right reasons. E-commerce has completely changed the shopping pattern of consumers.
Being able to order books from the comfort of their home and having them delivered right at their doorsteps makes things convenient for your visitors. On top of that, selling the books directly from your website also benefits you as an author or bookseller.
Therefore, you should strictly limit yourself to themes compatible with WooCommerce, especially if you want to sell your products online. WooCommerce is an open-source plugin for WordPress designed to convert basic operating systems into a ready-to-use e-commerce store. If you're going to establish an online bookstore, your theme should be strictly compatible with this plugin.
3. Built-In SEO
If you wish to sell more books online, you should first attract more traffic to your website. Optimizing for SEO is one of the best practices for any site to increase their web traffic. Therefore, we highly recommend you go for a WordPress theme that has a built-in SEO.
Optimizing for search engines helps your website to rank on the first page of SERP. Around 95 percent of web traffic visit web pages that are displayed on the first page of the search engines. Hence, if you manage to rank your website on the first page on Google, you're likely to get more traffic and boost your sales.
But, how can a WordPress theme possibly help in SEO?
A WordPress theme that is integrated with built-in SEO support will have several dedicated features and plugins, explicitly added to optimize for search engines. It will allow you to add keywords, tags, and other essential SEO terms on your website and help it rank much higher in SERP.
4. Multiple Call-To-Action Options
Since you're starting a WordPress website to sell books, having many visitors will be worthless if none of them are buying your product.
For your website to be successful, your visitor should buy your books. You are responsible for guiding them to take that initiative.
How?
Take advantage of the Call-To-Action button. It is a very effective way to invite your audience to take action. Also, having a website with built-in CTA buttons can make a lot of difference.
Therefore, before choosing a theme for your WordPress site, always make sure it supports multiple CTA options.
Why?
CTAs increase the conversion ratio of your website.
CTAs entice the audience to take the necessary actions and increase sales.
5. Customization Features
A theme is a set of stylesheets and templates that defines the appearance of a website. These templates are premade and ready for use. But there can be times when a particular section of the theme may not look relevant to your brand or business.
In such cases, customization features play an essential role. It allows you to change or modify the templates and build a website as per your desire. A good WordPress theme always integrates multiple easy-to-use customization features.
Usually, free WordPress themes do not offer excessive customization options as compared to premium WordPress themes. But most of them allow you to customize the website's logo, website's title, fonts, colors, and content.
Building a recognizable visual style or appearance is key to a successful business. For an online book store, you should always choose a minimal design theme but highly customizable.
6. Plugin Support
Plugins are the supplementary tools or softwares that can be added to any WordPress website. These additional tools or softwares help to extend a specific function or add a completely new function to the website. You may not believe it, but WordPress plugins have received over 1.25 billion downloads so far.
Plugins are great tools to add a unique feature to your website that helps make it more effective, easy-to-use, and engaging. In most cases, these tools are relatively straightforward to add to the website.
So, while shopping for a WordPress theme, always choose the one that has proper plugin support.
7. Support Team
Although WordPress is the world's most famous content management system, it is not entirely free of technical flaws. You are likely to come across different technical issues while using WordPress themes.
Most of these technical issues are relatively easy to fix and require no in-depth knowledge. However, these issues may be quite tricky at times to resolve them by yourself. So, the only way to get you out of trouble in those cases might be to seek help from the technical support team.
Hence, it is crucial to choose a theme company with a dedicated support team for your service. The support team that's available 24/7 to help you with theme-related issues, such as theme installment, plugin installment, integration, compatibility, or any other technical errors, is a must.
Free WordPress Themes for Selling Books
Now, let's go through our curated list of free WordPress themes for selling books.
The Minimal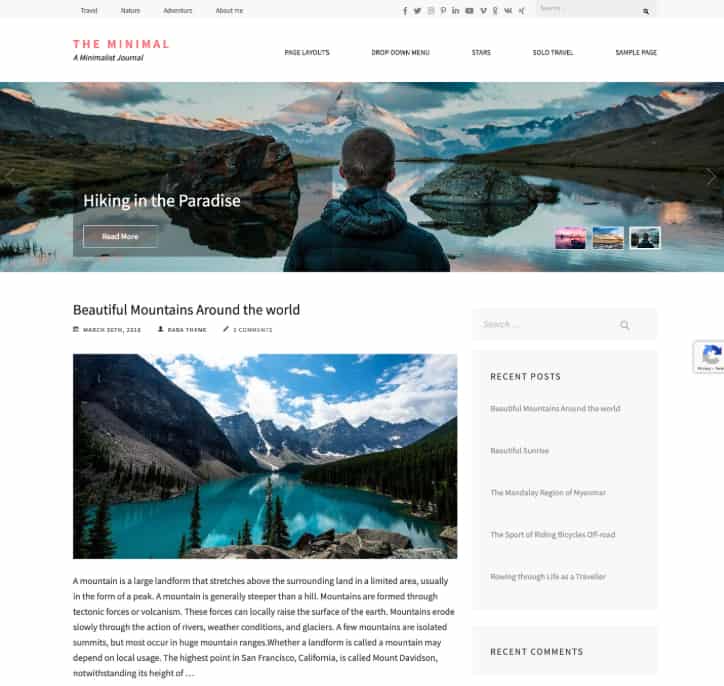 Are you planning to initiate a blog and sell your book through it?
If yes, The Minimal is the right theme for you. It is a responsive free WordPress theme that focuses on content and usability. So, it'll help you to highlight your content and enhance maximum user engagement.
Although it has a minimalist design, it offers heavy customization options. The Minimal theme can auto-adjust to the variety of screen sizes, from desktops to phones.
The Minimal is fully compatible with the WooCommerce plugin. Therefore, this theme allows you to sell your physical books and ebooks directly from your website.
The Minimal is optimized for SEO and social media integration. It comprises all the necessary elements that allow your website to rank on search engines with ease and reach larger audiences. Additionally, this theme also lets you link all your social platforms and boost your reach.
This theme includes an advanced full-width slider that allows you to grab the viewer's attention with attractive images to showcase your books and products on your website.
Do you have readers from multiple countries? If yes, worry not. You can break the language barrier using the translation-ready feature of The Minimal theme.
Theme Details
Demo
Rara Readable
Rara Readable is another clean and minimalistic theme with a content-first design. It is designed to shift all the focus into the content for better user engagement. With its easy-to-navigate design, this theme offers a distraction-free reading experience to your audience. It features a collection of neat fonts and a subtle color scheme.
It comes with a fully responsive and Schema-friendly design. This theme is super lightweight and loads quickly to enhance usability. Rara Readable is also SEO optimized and AMP compatible. These advanced features help your website rank better on search engines and reach a large audience.
Although a free WordPress theme, Rara Readable is WooCommerce compatible. This feature allows you to sell your books online and enables e-commerce transactions without any hassle. Whether you're planning to sell your books or affiliate products, this feature lets you promote them and earn money online.
Do you need to promote your books on social media to boost sales? If yes, you can easily link your social platforms with social media integration. Rara Readable also supports Chinese and Russian social media platforms, like Xing, qq, VK, OK, and so on. You can use this feature to grow your social presence and build brand awareness.
This theme also includes a section to display the author's bio. With this theme, you can add names, descriptions, and profile pictures of the author on the website.
Theme Details
Demo
Book Landing Page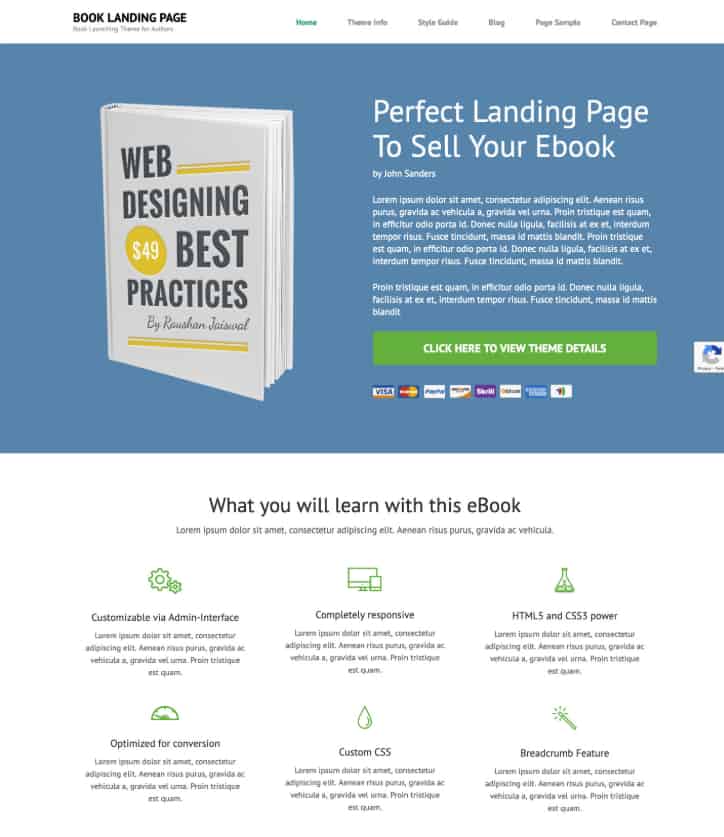 If you're an aspiring author, Book Landing Page should undoubtedly be your go-to WordPress theme. This beautiful theme is not only a great online portfolio but also a smart way to promote your book.
It is suitable specifically for building a landing page for your book. With a minimalistic design, the home page of Book Landing Page is graciously built to maximize leads and sales of your book.
This theme has a solid design that complements the user-friendly experience and ease of use. With Book Landing Page, you'll get a responsive design that automatically adjusts to various screen sizes, including desktop, tablets, and mobile devices.
Book Landing Page is optimized for both speeds as well as SEO. It means that this free WordPress theme is developed with all the essential elements to help your website to rank and index on search engines. The speed optimization allows your website to load quickly and run smoothly for optimum user experience.
One feature that makes Book Landing Page stand out among its peers is the WooCommerce compatibility. This feature allows you to sell your books and products by creating an online store. It also emphasizes Call-to-Action prompts to convert your visitors to potential customers.
This theme also has the Social Media Integration in store for you. This feature allows you to build an excellent online presence and promote your books through social platforms. It also supports social media, such as xing.com, ok.ru, and vk.com.
Theme Details
Demo
Author Landing Page
Author Landing Page is a free child theme of Book Landing Page. Similar to its parent theme, it comprises a highly converting landing page to exhibit your book. With minimal design, this theme enhances user engagement, increases leads, and maximizes your book sales.
Author Landing Page has a responsive and mobile-friendly design that routinely adjusts itself to several screen sizes, including desktop, tablets, and mobile devices. This free WordPress theme also supports cross-browsing. Thus, it can also function across different web browsers and delivers an optimal user experience.
If you're planning to launch your book, this theme allows you to create a professional landing page easily.
Author Landing Page is fully compatible with the WooCommerce plugin. This feature lets you sell your book directly from your website. It also includes a Promotional Section on the homepage that enables you to run a promotional offer or discounts to your customers.
You can also boost your online marketing with this theme, thanks to the Social Media Integration. This advanced feature is an excellent marketing tool that allows you to promote your existing brand on social platforms. Along with the mainstream social networks, this theme also supports Chinese and Russian social platforms, such as xing.com, ok.ru, and vk.com.
Furthermore, the Author Landing Page is speed optimized, SEO optimized, and embedded with Schema.org Markup for search engine boost.
Theme Details
Demo
Digital Download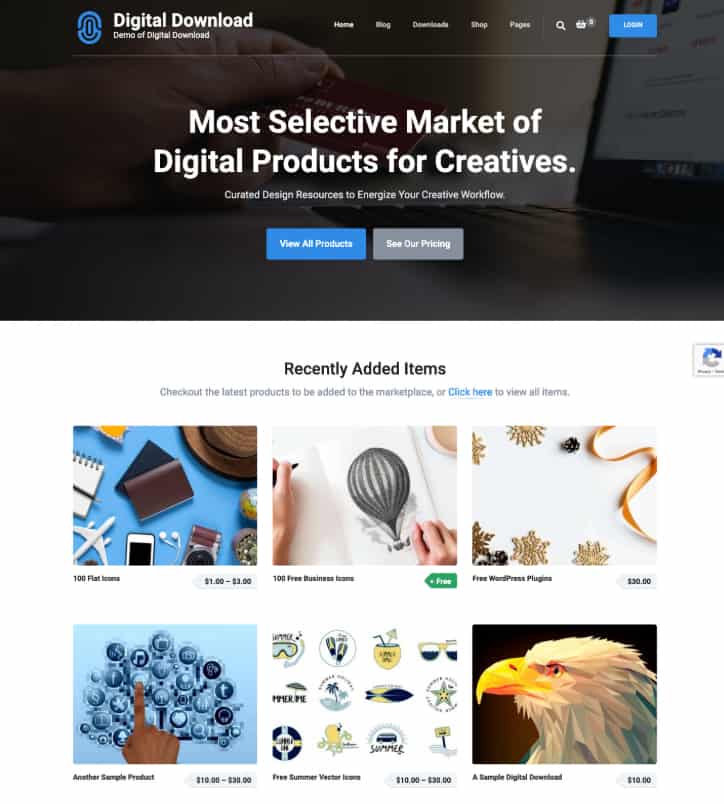 Digital Download is a multipurpose theme. It integrates the Easy Digital Downloads plugin to create an online digital product shop and sell ebooks, themes, plugins, templates, photos, videos, music, etc.
It comes with One-Click Demo Content Import. So, you can easily set up the website. Instead, you can kickstart your site with its ready-made content and settings.
Digital Download comes with an attractive banner section that includes two Call-to-Action buttons. These CTA buttons on the banner section keep your visitors engaged and convert them into a customer. Although this theme is entirely free, it has loads of premium sections, including the Testimonial Section, Newsletter Section, Features Section, and Download Section.
Digital Download is a fully responsive and mobile-friendly WordPress theme that supports almost every screen size, from desktop to mobile phones. Besides, this theme is also cross-browser compatible so that it operates smoothly on various web browsers.
If you're in the lookout for a theme with a clean and attractive design, Digital Download is an excellent match for you. Along with that, this theme is also SEO-friendly and speed optimized. With Digital Download, you also get regular updates for the latest technical standards and security.
Theme Details
Demo
Zarka Book Author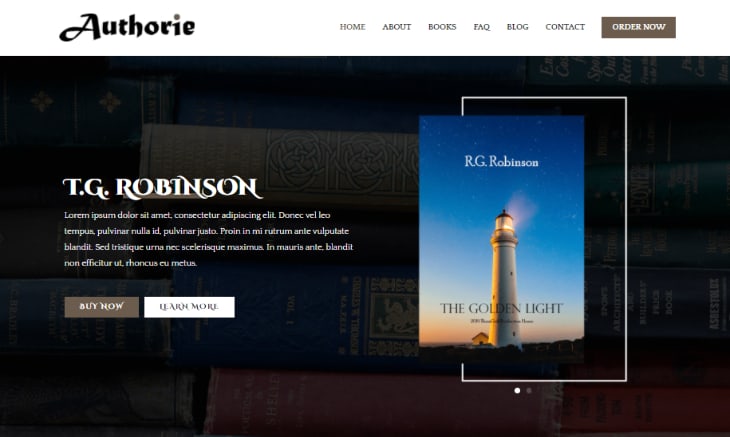 Zarka Book Author is one of the ten premade demos of the Zarka theme that can be applied with the one-click demo importer. It is a super-fast, flexible, and lightweight WordPress theme, well-suited for any website. However, this particular demo is specifically designed for writers and authors to sell their books.
The possibilities are endless with Zarka themes. It is packed with tons of top-notch features and elements. Although you do not need to spend a dime on this theme, it comes with many premium features. Some of the features include primary color options, advanced typography features, unique header designs, and 7+ widget areas.
Zarka Book Author is compatible with advanced WooCommerce plugins. It allows you to initiate an online shop and sell your books directly from your website. Besides, this theme is also Gutenberg compatible and supports almost all the major WordPress plugins.
This highly responsive theme can adapt to all kinds of screen sizes and web browsers. This theme also integrates search engine optimization and speed optimization features that come in handy to rank and index your website on search engines.
Theme Details
Demo
Book Shop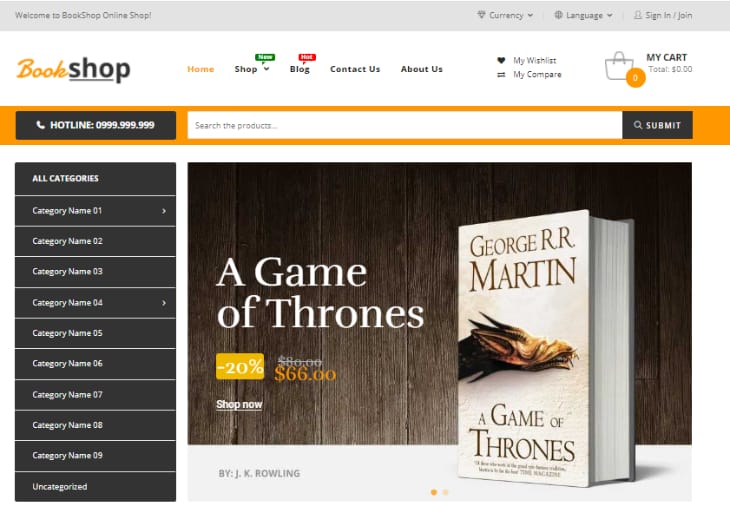 Book Shop has an attractive homepage layout that prominently showcases books in categories and other variety of arrangements. It is one of the most in-demand WordPress themes for bookstores and collectibles.
With this theme, you can customize the header, website layout, single pages, online store, sidebar, and footer. Not only that, but it also includes built-in styles and color palettes.
Book Shop is a fully mobile-friendly and responsive WordPress theme. It has been tested, tweaked, and perfected with a custom mobile layout designed only for them. With such adaptability, this theme can help you get miles ahead of your competitors.
One advanced feature of Book Shop is the WooCommerce compatibility. This feature allows you to create a professional e-commerce website instantly. It also allows you to manage your customers and their orders for your convenience. This theme also provides 100+ Payment Gateways. So, you can use almost any online payment system to receive payments for your sales.
Theme Details
Demo
VW Book Store
Minimalistic yet feature-rich, VW Book Store is the perfect companion for online booksellers. This free WordPress theme is super flexible, fast, and reliable. It allows you to create book stores, online libraries, and online/offline reading clubs.
VW Book Store is quite straightforward to use, highly responsive, and translation ready, built on a bootstrap framework.
This theme comes with an appealing layout with well-placed sliders and banners. The stylish look is enough to visually satisfy your audience and keep them engaged in your website. If you do not like its default layout, there are tons of different options to modify it.
VW Book Store has a user-friendly interface with exceptional customization options. It allows you to customize your theme by changing the background, color, images, banners, and sliders.
Besides that, this theme is optimized for SEO and social media. It is designed with all the essential elements that help you rank your site on the search engines to reach out to larger audiences. Additionally, this theme has direct social media integration, which boosts your marketing reach and increases your book sales.
Theme Details
Demo
Store Lite
Are you planning to build a modern e-commerce website to sell your books?
Store Lite is a multipurpose WordPress theme designed to build powerful e-commerce websites. With minimal design, this free theme offers superb flexibility and adjustability. It comes with a highly responsive layout that auto-adjusts to a variety of screen sizes.
Store Lite features multiple banners and full-width sliders to display and promote the latest arrivals instantly. Besides, it also includes top-notch pre-build functionalities, such as drag-and-drop homepage blocks and easy-to-adjust theme options. These functions make customization effortless and straightforward.
This free WordPress theme is also WooCommerce compatible. With this e-commerce feature, build your online bookstore and sell them directly from your website. In addition to that, this theme is also compatible with the latest WordPress Block Editor, Gutenberg.
Store Lite supports the world's most advanced page builder plugin, Elementor Page Builder. This advanced drag and drop website builder plugin helps you to design your website right from scratch without a single line of code.
Moreover, this theme also includes features like fast page loading and SEO optimization. Store Lite themes are crafted with all the right elements to ensure great user experience and good search engine visibility.
Theme Details
Demo
VW Writer Blog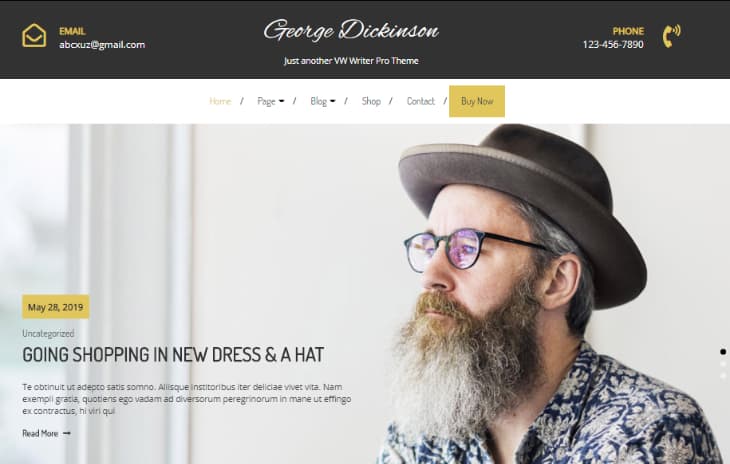 VW Writer Blog is a powerful theme for writers, authors, editors, or teachers. With a highly intuitive and modern design, this template is built precisely for creating online book stores, reading clubs, libraries, and eBook portals.
This WordPress theme is fully responsive and cross-browser compatible. It automatically adjusts to varying screen sizes and supports almost all browsing sites to enhance the user experience. This theme is powered by fast page loading and is translation-ready.
This template is relatively easy to configure and tweak, even for someone who has absolutely no coding knowledge. Although a free WordPress theme, it includes four slides, three template pages, and a home page template.
One unique feature that makes this theme ideal for selling books is the compatibility with the e-commerce plugins, WooCommerce. This feature adds an online store on your website almost instantly and allows you to sell your books.
VW Writer Blog is optimized for search engines and speed performance. This free theme is developed with all the essential components to help your site outrank your competitors in the search engines. Additionally, the smooth and speedy performance enhances the user experience and persuades them to spend more time on your site.
Furthermore, this theme also features Social Media Integration. With this feature, you can build a decent online presence and promote your books all over social platforms.
Theme Details
Demo
FAQs (Frequently Asked Questions)
How do I install a WordPress theme?
Before installing a WordPress theme, you should take your time to find the right theme for your website. Once you find the perfect theme for your site, log in to your WordPress Admin Area. Go to Appearance >> Themes and click on the "Add New" button on the page's top-most section.
If you have not selected a theme for your website, you can go through all the free themes on the WordPress theme directory. But if you've already downloaded the installation file, you can upload the file by clicking on the "Upload Theme" button and click on "Install Now" to install it.
How to install WooCommerce on my WordPress website?
WooCommerce is one of the most compelling WordPress plugins that convert WordPress's primary operating systems into a ready-to-use e-commerce store. It allows you to have an online store up and running on your website in no time.
Here's a short guide to installing a WooCommerce plugin on your website:
• On the WordPress Admin Area, go to Plugins and click on the "Add New" button.
• On the search bar at the upper left corner, search for WooCommerce.
• When the plugin pops up in the search result, click on "Install Now."
• Once the installation is completed, click on "Activate Now."
When the WooCommerce plugin is activated for the first time, it takes you to the  WooCommerce Setup Wizard. Here, you can configure your WordPress website with WooCommerce functionality.
How to choose an ideal theme for selling books online?
WordPress is by far the most popular website builder around the world. Thus, there are tons of WordPress themes, both free as well as premium, in the market. Choosing the most attractive and functional theme for your website is crucial for its success.
So, here are a few things you need to consider to find an ideal theme for selling books:
• Your theme should be responsive and mobile-friendly.
• WooCommerce compatibility and e-commerce features are crucial.
• Find a theme with the right color combination to increase your brand recognition.
• Make sure to test plugin compatibility and efficiency.
• Make a list of other features you want in the theme and check them thoroughly.
Finding it difficult to choose between different WordPress themes? Here's a quick read on How to Choose the Best WordPress Theme.
If you're a newbie in the blogging world, it is good to start your website with a free WordPress theme. Nine out of ten times people will recommend you to choose a premium WordPress theme over free ones. Well it is true that free WordPress themes have a few limitations compared to the premium ones. But, in recent years, free WordPress themes have started comprising much better design and better functionality. 
Besides, having too many features while starting out may be confusing. So, sticking to the limited features of free themes might be a better choice. However, once you start getting better traffic to your website, you should consider switching to a premium WordPress theme instead. It might take you around eight to ten months, depending upon your level of consistency.
Here are a few useful features of premium themes:
• Easy-to-use interface
• 24/7 access to the technical support team
• Always up-to-date
• Multiple demo sites
• Unlimited customization options
• Major plugins compatibility
• Excellent browsing experience
• Built-in SEO
• Value for money
• User-friendly options
• Custom widgets
Do I have to pay extra money to install WooCommerce plugin on a free WordPress theme?
No, you do not have to spend a dime to install WooCommerce plugin. WooCommerce is a free, open-source e-commerce platform for WordPress sites. With this advanced plugin, you can set up a new online store within a few minutes. It turns your regular WordPress operating systems into a ready-to-use e-commerce store almost instantly.
However, all free themes are not compatible with WooCommerce plugins. Honestly, it is quite rare for any free WordPress themes to comprise such a premium feature.
Conclusion
Free WordPress themes are proof that you don't need to spend money all the time to build your website. If you're an aspiring author, poet, writer, or just a bookseller, you should start building your online presence to maximize sales. But don't just choose any theme; check all the features to see if it is right for you.
If you'd want a quick and easy answer, the best free WordPress Themes for Selling Books is Rara Readable. However, all the themes suggested in this article have a few exceptional features that make them stand out. The majority of these WordPress themes come with features like layouts, color, custom widgets, typography, WooCommerce compatibility, SEO-friendliness, and more.
On top of that—they're all free!Also, if you're more of a writer or an author looking to build a website, you should definitely check out our 25+ Best WordPress Themes for Writers & Authors of 2021.