WordPress is hands down the world's most powerful Content Management Systems (CMS). However, WordPress alone is not going to make your website high-performing. To unleash your website to its full potential, you need a top-quality hosting provider.
There is no doubt that Bluehost is one of the most popular hosting providers in the market. WordPress.org officially recommends this web hosting provider. Thus, it has earned its stature as the most trusted web hosting company.
But, just because this hosting provider is popular does not mean it is likely to be the right choice for you.
Make no mistake, Bluehost is one of the most reliable web companies out there. But it has its limitations. Bluehost does not provide consistent uptime, and their customer support is considerably slow.
In recent years, there are tons of different options when it comes to web hosting. If you're one of those who are looking for more variety than the famous Bluehost, you've come to the right place. In this article, we're going to take a deep dive into the Top 10 Bluehost Alternatives.
Without further ado, let's get started.
What is Wrong with Bluehost?
For years, website owners and bloggers have repeatedly praised Bluehost and enthusiastically recommended the web hosting provider to others. However, things have taken a different turn lately. Many people are growing frustrated, dealing with Bluehost's never-ending technical issues.
But what exactly is wrong with Bluehost? Here are four severe issues with Bluehost that makes it a terrible web host compared to others:
1. Never Ending Technical Problems
Quite frankly, one of the biggest problems with Bluehost is its never-ending technical issues. With this hosting provider, you're likely to lose count of how often you'll get the internal server errors, bad gateway server errors, or crash your cPanel.
If you compare Bluehost with any other top hosting provider, the technical problems will undoubtedly be Bluehost's major disadvantage. But what's causing all these issues?
Bluehost is managed by one of the largest hosting companies called EIG (Endurance International Group). It is an umbrella company for more than 80 web hosting companies. EIG programmers actually pack loads of websites into a single server to reduce their costs. Most of the time the server can not handle the load of multiple websites. Hence, it ends up crashing way too often.
2. Incompetent Customer Service
One of the most unsatisfactory things about using Bluehost is dealing with its incompetent and unhelpful customer service. Even though this hosting provider guarantees 24/7 expert support on their website, that's not the case in real life.
Compared to other top hosting companies, the customer service of Bluehost is considerably slow and careless. If you go through any social media blogging groups or Bluehost's review section, you'll notice a flood of discussions and outbursts of frustration regarding this issue. So, if you're one of those who would heavily rely on customer service, Bluehost is clearly not the hosting service for you.
3. Slower Loading Times
It is no brainer. Your website's loading time is the most critical thing, especially if you're trying to establish a successful blog. If your website is too slow and laggy to load, you'll quickly start to lose your audience. Therefore, you want a hosting service that delivers super-fast loading time.
Since EIG owns Bluehost, they pack loads of websites into a single server. As a result, it makes your loading time considerably slower. Several tests have compared loading time for the top hosting companies, and Bluehost ended up quite low on the list in recent years.
4. Unethical Business Practices
As much as we hate to talk about it, EIG seems like a typical corporation that doesn't care about quality services or customers. The company's objective is to squeeze as much money out of its customers as possible. For instance, if you look at their shared plans, you'll notice that their basic package is USD 2.95 per month. But it comes with a catch! To take advantage of this exclusive offer, you'll need to sign up for a 36-month plan. If you choose the same package only for a year, it'll cost you USD 7.99 per month.
Let's say you choose the 36-month hosting plan and decide to cancel your subscription after a year. You aren't likely to get any refund for the remaining 24 months. While most hosting providers offer you a one-year plan, Bluehost wants you to pay a load of money upfront.
10 Best Bluehost Alternatives For WordPress Hosting
1. A2 Hosting
A2 Hosting has long held its reputation as one of the fastest and most reliable web hosting companies. For years, A2Hosting was serving its customers under the radar. However, in recent years, they are getting the attention they actually deserve.
A2 Hosting puts a lot of emphasis on improving its infrastructure to set new industry standards. And that's the reason this hosting provider makes it onto the list of top 10 Bluehost alternatives in the market.
With them, you can always expect a top-level performance at a reasonable price. Moreover, this hosting provider offers all kinds of hosting plans with up to 20x faster turbo servers and a 99.9% uptime commitment.
A2 Hosting's shared hosting packages might cost you anywhere between USD 2.99 to USD 14.99 per month, depending upon the type of plan you choose. Likewise, it offers different hosting packages for WordPress hosting, VPS hosting, reseller hosting, and dedicated hosting.
Even the basic plans of A2 Hosting offer unlimited SSD storage, free Cloudflare CDN account, free site migration, free automatic backups, and speed optimization. If you choose a higher-tier hosting plan, it even allows you to get access to unlimited email accounts, an A2 site accelerator, unlimited databases, and a free Cloudflare Railgun.
Most hosting providers in the market, including Bluehost, offer a basic standard 30-day money-back guarantee, while a handful of companies offer up to 90 days guarantee. However, A2 Hosting takes a step further and sets the new industry standard with its hassle-free refund policy. With A2 Hosting, you not only can cancel your hosting subscription within the first 30-days to get a full refund, but you can also cancel it anytime after 30 days for a prorated refund of unused service.
Unlike Bluehost, A2 Hosting offers unbeatable customer service. If you stumble upon any server-related technical issues, you can simply reach out to their team of experts via live chat, telephone, or email, at any time of the day.
Key Takeaways
99.9% Uptime Commitment
Free SSL Certificate
Up To 20X Faster Web Hosting
Fully-Managed Service
Unlimited SSD Space and Transfer
Free Site Migration
Hassle-Free Money-Back Guarantee
Free Automatic Backups
24/7/365 Customer Support
Website Link
2. InMotion Hosting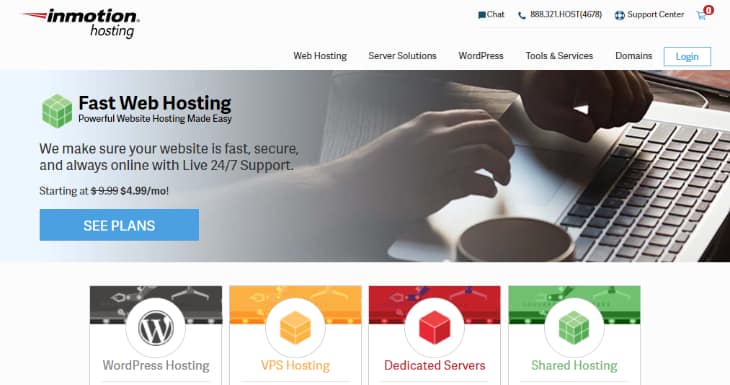 InMotion Hosting is another excellent alternative to Bluehost hosting service. It is one of the most powerful, reliable, and professional web hosting providers in the market today.
With over 15 years of continual work and experience in the industry, InMotion Hosting has put forward a complete suite of digital products and infrastructure technologies. Even in such a highly competitive market, this hosting provider has managed to set the bar to a different level with its robust and secure web hosting solution.
They provide numerous web hosting solutions, including essential web hosting, WordPress hosting, and server hosting. If you're looking to subscribe to a shared hosting plan, the cheapest option comes for USD 2.49, while the pro plan will cost you USD 12.99 per month.
InMotion Hosting delivers fast and reliable performance with exceptional speed and 99.99% uptime. Other than that, this hosting company also provides professional email addresses, data backup, website builders, site security, and free SSL.
For next-generation security and data protection, this web hosting provider comprises a multi-layer defense. Moreover, its commercial-grade custom firewall is designed to keep your applications protected from cyber attacks.
Unlike Bluehost, all the hosting packages of InMotion are bolstered by industry-leading US-based customer support. It offers 24/7 phone, email, and live chat support along with monitoring and ticketing. So, if you run into any technical difficulty, reach out to their friendly customer service team to resolve them.
Furthermore, InMotion Hosting also features a 30-day money-back refund policy. So, if you're not convinced with their hosting services, you can cancel the subscription within 30 days of purchase and get a full refund straight away.
Key Takeaways
99.99% Uptime
Premium Malware and Hack Protection
Unlimited Email Storage
Unlimited Disk Space
SSL Certificate
Unlimited MySQL Databases
U.S. Based Customer Service Team
30-Days Money-Back Guarantee
Website Link
3. SiteGround
SiteGround has consistently been the top-ranked hosting provider designed for excellent website management. Hence, SiteGround is undoubtedly the best Bluehost alternative you can come across in the market.
Trusted by over two million users, this hosting provider held a reputation for being the most reliable and trustworthy hosting company out there. SiteGround offers a variety of hosting packages with innovative technology and top-notch security options.
Comparable with Bluehost, SiteGround is specialized primarily in shared and WordPress hosting. However, this hosting company also provides cloud hosting, WooCommerce packages, and reseller plans.
They have three different tiers of shared hosting, starting at USD 6.99 per month to USD 14.99 per month at most. If you want a managed cloud hosting for a high-performing website, it can cost anywhere between USD 80 and USD 240 per month.
But how is it better than Bluehost?
Although reasonable, its price tier isn't what makes SiteGround one of the best in the market. Instead, it's the loading time. With the integration of SuperCacher, this WordPress hosting platform ensures super-fast performance all the time.
SiteGround uses several advanced tools such as NGINX server technology and Proactive monitoring for smooth operations. Moreover, they distribute site storage on SSD disks for a top speed and a high level of redundancy.
Furthermore, SiteGround offers an optimum level of security by keeping track of software vulnerabilities. To prevent possible attacks and third-party software vulnerabilities, this hosting provider consistently writes security patches and enhancements.
All hosting plans of SiteGround combine free email, site builder, unlimited MySQL databases, a free Cloudflare CDN account, WP migrator plugin, and daily backups. Unlike the inconsistent Bluehost, this hosting company delivers impeccable 99.9 percent uptime. Moreover, SiteGround comes with a 30-day money-back guarantee and a free SSL certificate.
Key Takeaways
Expert Hosting Support
Custom Let's Encrypt SSL Integration
Fully-Managed Service
SSD Persistent Storage
Ultra-Fast Network
Outstanding Uptime
Free Automated Migration
SuperCacher and NGINX Server Technology
Website Link
Here's our in-depth review of SiteGround. Make sure to check out the article to get more detail on its performance, package plan, security options, customer service, and so on.
4. GreenGeeks
The hosting plans of GreenGeeks and Bluehost are available at almost the same price. Therefore, for all those looking for a Bluehost alternative at a similar price range, GreenGeeks is your best bet.
Even though they are one of the most affordable web hosting providers out there, they are way better than most web hosts. How? GreenGeeks is one of the few eco-friendly hosting platforms in the market. Not only does this web hosting provider have a technical advantage over its competitors, but it also makes the most out of renewable energy by 300 percent.
With GreenGeeks, you'll get much faster and secure hosting packages. All its hosting plans come with superior hosting speed and an easy-to-use control panel that lets you manage your domain, databases, and email accounts.
GreenGeeks' well-engineered hosting platform provides several hosting packages including, Shared, Reseller, VPS, and WordPress Hosting. All these hosting packages are designed for fast, secure, and scalable performance.
Moreover, this hosting provider uses RAID-10 Storage Arrays for maximum redundancy and fast loading time. GreenGeeks is equipped with the latest speed technologies, including LiteSpeed, HTTP/2, PHP7, LSCache, MariaDB, and CDN, to boost your website speed further.
Another feature that helps GreenGeeks edge over Bluehost is its built-in scalability. With this feature, you can effortlessly scale computing resources whenever you need it and upgrade your hosting plans seamlessly. With custom security rules and zero-day vulnerability fixes, this hosting company ensures top-level security.
Other handy features include daily backups, container technology, account isolation, and proactive monitoring. GreenGeeks have numerous data centers across the globe, including Canada, the United States, and Europe. So, you can choose the data center nearby for improved performance and speed.
Furthermore, if you're not pleased with any of GreenGeeks' services, you can receive a full refund by canceling your hosting subscription within the first 30 days of the initial purchase.
Key Takeaways
Eco-Friendly Web Hosting Provider
99.9% Uptime Guarantee
Best Speed Technologies
SSD Storage Arrays
Stable Hosting Platform
Advanced Security
Built-in Scalability
24/7 Expert Support
30-Day Money-Back Guarantee
Website Link
5. HostGator
To be honest, HostGator and Bluehost offer nearly the same web services with pricing options. But, HostGator has the upper hand as this hosting provider offers a bit more flexibility.
HostGator is undoubtedly one of the most popular web hosting companies, with over two million websites currently using their plans. Like any other top-level web company, HostGator features several membership packages, domain registration, built-in SEO tools, and a drag & drop builder that helps you to create a website in a matter of minutes.
The most affordable hosting plan of HostGator starts at USD 2.75 per month. On the other hand, the most powerful dedicated server costs up to USD 139.99 per month. But what makes HostGator an excellent alternative for Bluehost is its fast and reliable servers, top-notch features, and exceptional server services.
If you're planning to kick off your website right from scratch, HostGator is the way. It is because this web host offers a free domain for the first year to get your site up and running. Likewise, if you already have a website, HostGator also provides free site transfer.
One remarkable thing about HostGator is its one-click install feature. It does not matter if you've no experience in building websites or installing apps; this built-in feature allows you to do those tasks in the most effortless way possible.
For swift speed and top performance, HostGator guarantees 99.99 percent uptime. Moreover, this web host integrates unmetered bandwidth that allows your website to handle heavy traffic. It also helps you to scale your website for potential upgrades.
Moreover, HostGator offers a free SSL certificate to ensure that your website traffic is safe and secure. Similarly, it also protects your customers' data from the risk of cyberattacks.
Key Takeaways
Free Domain For a Year
Free Site Transfers
99.9% Uptime Guarantee
One-Click Installs
Free SSL certificate
24/7/365 Support
Website Link
6. WP Engine
WP Engine is, by far, the most reliable WordPress Digital Experience Platform in the market. It features powerful technology, reliable uptime, cloud platform flexibility, and award-winning customer service.
Truthfully, if you're seriously considering to start a WordPress-powered website, look no further than WP Engine. This web platform features a suite of website building tools, cloud hosting, and security solutions to ensure top-level performance.
But, keep in mind, WP Engine is wholly designed for WordPress users. If you're searching for traditional shared hosting, VPS, or even dedicated hosting, you should consider looking elsewhere.
All the hosting packages of WP Engine integrate excellent features, including LargeFS software to transfer and store data, Content Delivery Network (CDN) for exceptional speed, and a one-click staging environment.
But, the plans of WP Engine do not come for cheap. Even the most basic hosting plan costs USD 30 per month. This plan supports only one website and handles up to 25,000 monthly visitors with 10 GB storage and 50 GB bandwidth.
But, if you're in for a large business or mission-critical website, WP Engine also has a Custom Plan that delivers high performance, with its fastest support response and managed onboarding. This plan supports up to 30 WordPress websites with millions of visitors.
Unlike Bluehost, this web hosting service provider leverages more than 30 open-source technologies for delivering innovation at a much faster pace. For eCommerce tools, you can take advantage of the CMS plug-in library and browse through all the useful plug-ins from WooCommerce, Shopify, and others.
WP Engine offers free CDN and SSL Certificates with all of their hosting plans in terms of security. Additionally, they also perform regular malware scans, real-time threat detection and integrate an enterprise-grade firewall to block possible threats.
Key Takeaways
One-Click Staging
Auto Migration
Uptime Protection
Free CDN and SSL Certificates
Global Data Centers
PHP 7.4 and HTTP/2 Enabled
24/7/365 Support
WordPress Core Updates
Automated Backups
Website Link
7. DreamHost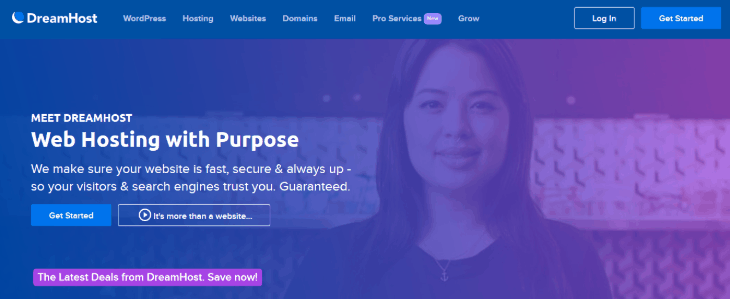 With close to 25 years of involvement in the industry, DreamHost makes a perfect Bluehost alternative. Throughout the years, they have been able to maintain consistent performance and above-average uptime.
DreamHost offers different web hosting plans and packages suitable for fundamental to mission-critical websites. DreamHost's most basic and affordable starter pack comes at a pretty low price, costing USD 2.59 per month.
The best part, however, is not the price but the features. Even the most basic shared hosting plans of DreamHost include top features like unlimited traffic, free domain, free automated migration, WP website builder, SSD storage, and free SSL certificate.
It may seem surprising, but DreamHost provides a 100 percent uptime guarantee. And, if your monthly uptime average drops beneath the guaranteed threshold, you'll actually receive a credit for the cost of the service. Moreover, DreamHost's loading time is above average and super consistent.
Unlike other web hosts, DreamHost provides unlimited bandwidth and disk space. Thus, you no longer have to stress about network transfer once your website grows popular with heavy web traffic. Likewise, you also need not worry about storage when your site goes viral.
Similar to GreenGeeks, DreamHost is also one of few web hosting service providers that are environmentally conscious. In recent years, they're doing their bit to minimize the carbon footprint of their servers.
DreamHost's offices worldwide are LEED and EnergyStar-certified, and their data centers include "high-efficiency" processors and coolers. Moreover, DreamHost is also part of state-level 'Clean Wind' programs to harness renewable resources.
Moreover, this hosting also safeguards your data without any additional charges. Like most of the top-class web hosts, DreamHost also provides a free Let's Encrypt SSL certificate. With this feature, this hosting will keep your website protected with HTTPS and boost your SEO.
DreamHost also creates automatic backups for the data and information on your website daily to keep your site safe. If you run into any trouble, DreamHost's in-house 24/7 customer support will take your concerns seriously and provide personalized solutions. Additionally, they offer a risk-free 97-day money-back guarantee.
Key Takeaways
Environmentally Conscious
100% Uptime Guaranteed
Fast SSD Storage
Free Domain
Free Let's Encrypt SSL Certificate
Unlimited Bandwidth and Disk Space
Free Privacy Protection
Automated Backups
24/7 In-House Customer Support
Website Link
If you want to learn more about the Dreamhost, make sure to check our in-depth review.
8. GoDaddy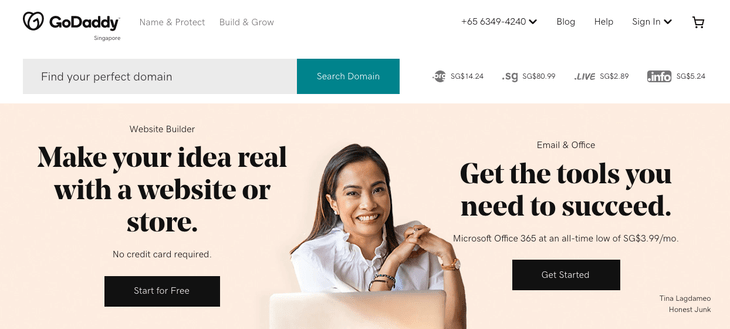 We believe that there aren't too many people around the world who haven't already heard of GoDaddy.com. No wonder they are the world's most popular web company.
But, what makes them a decent alternative to Bluehost?
Frankly speaking, most of GoDaddy's products and services are pretty basic. Unlike other top web hosting companies, this one does not offer comprehensive features and customizable options. However, GoDaddy is all you need if you're a novice blogger or small-to-medium eCommerce business owner.
GoDaddy's most significant selling point is nothing more than its simplicity. Honestly, you do not need to stress out about website building anymore. Even if you're not much tech-savvy, GoDaddy makes things simple and straightforward when it comes to building a fully functioning website right from scratch.
In terms of pricing, GoDaddy is relatively similar to the hosting plans of Bluehost. There are six different hosting plans for you to choose from — Shared, WordPress, WooCommerce, VPS, Dedicated, and Business Hosting. The basic plan starts at USD 1.33 per month, offering 30 GB disk space, 256 MB RAM, unmetered bandwidth, and a single database.
Moreover, the hosting plans of GoDaddy are simple and straightforward to use. With its one-click installer, you can directly access more than 150 apps to create CMS websites or blogs. If you want to create a custom design, you can make the most out of their free site builder instead.
If you need more power and performance for your website, you can simply increase your storage, I/O, and CPU/RAN with its one-click purchase. GoDaddy not only provides basic firewall protection but also has virus and spam protection to keep your website safe and secure. Likewise, they also perform regular monitoring and include DDoS Protection to prevent your site from cyber attacks.
Finally, GoDaddy features award-winning customer service. So, you no longer have to stress out if you run into any server issues. You can directly reach them via calls if you need any help.
Key Takeaways
Industry-Standard cPanel
99.9% Uptime
Industry-Leading Load Times
Resources On-Demand
One-Click Installer
Virus and Spam Protection
Regular Monitoring and DDoS Protection
Award-Winning Customer Service
30-Day Money-Back Policy
Website Link
9. Flywheel
Flywheel is another WordPress hosting solution that deserves a spot among the best Bluehost alternatives. With highly optimized infrastructures, this hosting provider delivers maximum uptime and insane page speed to your website.
In terms of pricing, Flywheel hostings are way more expensive compared to Bluehost. Even the most basic plans start at USD 15 per month. This plan only supports one WordPress website with up to 5,000 monthly visitors.
Meanwhile, their most premium managed hosting plan can handle up to 30 WordPress websites and 400,000 monthly visitors. If you're planning to buy this plan for your next-level business, expect to pay USD 290 per month.
All hosting plans of Flywheel allow you to add Content Delivery Network (CDN) to your website for high availability and better performance. With their custom caching technology, FlyCache, this web host optimizes your site for the most popular themes and plugins.
With auto-healing technology, Flywheel guarantees that your website will fix on its own if it runs across the rare event of a service failure. Therefore, this hosting platform ensures more reliable performance, better uptime, and fewer site crashes.
With Flywheel, you do not have to worry about possible security threats due to outdated WordPress versions. It is because the hosting provider will take care of all the major and minor WordPress updates and keep your site safe. Unlike other web hosts, Flywheel provides free malware cleanup. So, if your website gets attacked by hackers, their expert team will fix it at zero extra cost.
Instead of using a regular cPanel, Flywheel integrates its custom dashboard to bring you all the necessary features in one delightful, easy-to-use environment. This platform not only helps you manage your website but also optimizes your workflow.
With Flywheel, you no longer have to bear the robotic auto-responses. This web host has real experts ready to assist you with helpful answers, regardless of your time and location.
Key Takeaways
Exceptional Uptime
Blazing-Fast Site Speed
Free CDN and FlyCache
Auto-Healing Technology
Hacker-Free Security
Free SSL Certificates
Free Malware Cleanup
Automatic Nightly Backups
WordPress Updates
24/7 Customer Support
Website Link
10. DigitalOcean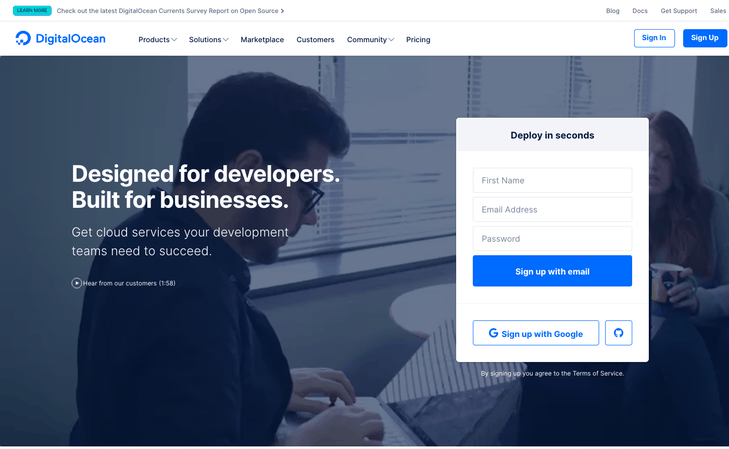 Truthfully, DigitalOcean isn't the first name that comes to our mind when someone mentions the best web hosting provider or even the best Bluehost alternative, for that matter. However, DigitalOcean actually has a decent rating when it comes to web hosting.
Even though they are developer-friendly cloud platforms, they provide high-performing and flexible options that suit almost any business. DigitalOcean allows you to get your website up and running quickly. Moreover, it also configures and motors your website's infrastructure for better reliability.
This web host consists of loads of notable features that make it one of the best Bluehost alternatives. First things first, DigitalOcean comes with a simple design and at reasonable pricing. Although it might be a little expensive compared to Bluehost, it offers good value for money.
This hosting provider features both Linux and Unix servers, which are spread across 13 data centers worldwide. With DigitalOcean, you'll get a wide range of confirmation options that range from one to 32 virtual CPUs, SSD-based storage, and a bunch of premium services — most of which are included for free.
DigitalOcean's hosting plans cost from as little as USD 5 up to USD 2500 per month. It delivers lightning-fast loading time and guarantees 99.99 percent uptime for all their hosting services.
Moreover, DigitalOcean keeps your data and web traffic protected with its end-to-end encryption and free cloud firewalls. It ensures your website is always safe and secure from malicious traffic and potential cyberattacks. DigitalOcean also performs daily data backups to protect your data and audience details.
DigitalOcean lets you set up your blog, CMS, or discussion forum within a few minutes, thanks to its one-click apps feature. Additionally, the DigitalOcean Marketplace has a catalog of open-source and commercial applications, which you can install to your website with a single click.
Key Takeaways
13 Data Centers
1-Click App Marketplace
Managed Databases
Free Cloud Firewalls
Daily Backups and Real-Time Alerts
99.99% Uptime Guarantee
Lightning-Fast Loading Time
World-Class Technical Support
Website Link
FAQs (Frequently Asked Questions)
What are some of the major pros and cons of Bluehost?
There is no doubt that Bluehost is one of the most reliable and popular web hosts in the market. As a part of the massive corporation Endurance International Group (EIG), Bluehost offers loads of web-related products. Even as the world's most popular hosting platform, they do not excel in every department.
So, here are some major pros and cons of Bluehost:
| Pros | Cons |
| --- | --- |
| Bluehost hosting plans come at a very reasonable price. But note that their renewal rates are relatively higher. | The biggest disadvantage of Bluehost is its never-ending technical issues. |
| All the hosting plans of Bluehost deliver an above-average uptime speed. | While they offer a decent uptime, their page loading time is considerably slow. |
| Unlike other web hosts, Bluehost offers loads of storage. | Bluehost's entry-level hosting plans do not include a decent backup solution. |
| Bluehost does not limit the capacity of the traffic to your website with its unmetered bandwidth. | |
What hosting plans does Bluehost offer?
As a part of Endurance International Group, Bluehost offers loads of different hosting-related products. It offers four different hosting plans for you to choose from. They are:
Shared Hosting: Unless you're hosting a large project, Bluehost's shared hosting plan is undoubtedly the one you need to consider. There are four packages under this shared hosting plan, ranging from USD 2.95 to USD 13.95 per month.
VPS Hosting:  VPS is a hosting plan that fits right between a shared hosting and a dedicated plan. While you will be sharing your server with others, there'll be a virtual wall between you and others. If you require unique server configurations, you should go for VPS hosting. Bluehost offers three different packages under VPS hosting, from USD 18.99 to USD 59.99 per month.
Dedicated Servers: This powerful server is only for those who have heavy web traffic and require a top-performing hosting plan. With dedicated hosting plans, you'll own the entire server for yourself for ultimate performance, security, and control. Bluehost offers three dedicated server packages in the price range of USD 79.99 to USD 119.99 per month.
WordPress Hosting: Bluehost also offers a hosting plan specifically focused on WordPress. If you're looking for an affordable WordPress hosting plan, you should definitely consider Bluehost's WordPress hosting. It comes in three different packages, ranging from USD 2.95 to USD 5.45 per month.
Why should you look for Bluehost alternatives?
Even though Bluehost is one of the world's leading web hosting providers, it has a few limitations that make other hosting providers stand out. Here are a few reasons why you should consider Bluehost alternatives:
Frequent technical issues: Truthfully, the biggest let-down of Bluehost is the customers have to bear through recurring technical issues. With all their plans, you're likely to get countless cPanel crashes, internal server errors, and bad gateway server errors. Although we have complained about this issue hundreds of times, they are yet to solve this critical issue.
No email-based support: Since Bluehost wanted to focus on instant technical support, they have put an end to their email-based support. At times, this can indeed be frustrating, especially when you're looking to fix a serious issue that might take a bit of explaining.
No website builder: Unlike most web hosting companies, Bluehost does not offer a website builder. Therefore, if you're a complete amateur, creating your website from scratch can be a bit hassle and time-consuming.
No monthly billing option: Bluehost does not have a monthly billing option. If you want to subscribe to a Bluehost hosting plan, you must choose at least a year-long plan.
Which of these Bluehost alternatives is best for you?
Frankly speaking, all the hosting providers mentioned above are some of the best Bluehost alternatives out there. However, depending upon your needs, not all of them are likely to be suitable. Most of these 'so-called' alternatives are either expensive or have usage limits.
If you need unlimited websites and storage, it is difficult to find a decent alternative to Bluehost hosting plans. If you're short on budget and can not pay more than what Bluehost costs, your best bet is undoubtedly DreamHost. This web hosting provider offers highly competitive prices and features while delivering better customer support.
However, if budget is not an issue for you, here are a few best options for you:
SiteGround: SiteGround is hands down the best Bluehost alternative if you're planning to host multiple websites. Also, this web host offers more or less similar pricing if you subscribe to their plan for three years upfront.
Flywheel: If you're looking to host a single website at an affordable price, we recommend you to go with Flywheel.
WP Engine: Although this theme is a bit pricier than Flywheel, it is still within the range of Bluehost. This hosting provider is another excellent option for those looking to host a single site.
Conclusion
Whether you love it or hate it, Bluehost still holds its stature as the most popular web hosting provider out there. Even though it has a few limitations, the company offers exceptional hosting plans for all kinds of users, from newbies to advanced developers. Moreover, Bluehost is also one of the most reliable web hosts globally, as WordPress officially recommends this company.
However, Bluehost's hosting plans do not fit the bill of all website owners or bloggers. This hosting provider has its own shortcomings, and it certainly does not excel in all areas. That might well be the reason for you to look for Bluehost's alternatives.
If you're strolling through the market to find a top Bluehost alternative with outstanding support for WordPress, we'd highly suggest you check out the hosting packages of SiteGround or DreamHost. Similar to Bluehost, both of these web companies are recommended by WordPress. Their hosting packages come at a reasonable price and offer good value for money.
Nonetheless, all the hosting service providers recommended in this article are top choices if you're looking for Bluehost alternatives. Each of these hosting platforms comprises a unique set of features that makes them better than Bluehost. These web hosts offer various hosting packages with excellent uptime, blazing site speed, top security, reasonable pricing, and top-class customer support.