There are plenty of options for buying web hosting services in the market. Whether you want to start a simple WordPress blog or an eCommerce website, there are specific web hosting providers for each of them.
In addition to that, you can even purchase a web hosting service with enough server power that lets you resell the service to your clients for profit. It is known as reseller hosting or white label hosting.
There are several decent choices when it comes to hosting services. The reseller web hosting puts a lot on the table, especially for a web designer or developer. It can be a marvelous way to earn extra income out of it.
Frankly speaking, getting started with reseller hosting is far too easy compared to starting your own web hosting company. You do not have to agonize about any resources, hardware, or other expensive costs that you need to manage servers and hosting facilities.
It is one of those services not many hosting providers offer. So, even when you find a few that do, how do you figure out which one's better?
To answer this question, we have taken a deep dive into the 10 Best Reseller Web Hosting Providers on the market today.
Without further ado, let's get started.
What is Reseller Web Hosting?
Reseller hosting, also known as the "white label hosting," is a form of web hosting where a hosting provider rents bandwidth and hard drive space to another company for reselling.
Simply put, reseller hosting provides aspiring entrepreneurs with an opportunity to sell the rented hosting service to their clients and make extra income without investing too much.
Generally, resellers rent servers from the original web hosting company at a wholesale rate and then sell it to the public as their hosting package. Those who get into the reselling business need only focus on sales and essential support without worrying about maintaining software, server, and bandwidth.
Advantages and Disadvantages of Reseller Web Hosting
Advantages of Reseller Web Hosting
1. Cost Efficient
Unlike other hosting plans, reseller web hosting plans are relatively cheap. Therefore, this hosting plan is an excellent choice for those willing to get into the web hosting business. With this plan, you do not have to buy any equipment, infrastructure, or technology required to start a web hosting business. Hence, it can save a lot of money for aspiring entrepreneurs looking to get into this business.
2. Focus on the Business Aspect
If you choose a reseller hosting service, it allows you to focus on the business aspect rather than the technical ones of operating a web hosting business. It is because you'll be renting the server, bandwidth, and hard drive space from the web hosting company at wholesale price and selling them to your clients.
So, the web hosting companies themselves are responsible for looking after the technical aspect, such as server maintenance, security, connectivity, and updates.
3. Build Your Brand
It is true that as a reseller, you'll be selling products or services of another web hosting provider. However, that in no way means you can't build your brand with it. Reseller hosting allows you to develop your brand and personality. Hence, your clients will not have any idea that you're a reseller who rents the service from another web hosting company to sell them.
4. Income Opportunities
The primary purpose of reseller web hosting is to earn profit by renting the web hosting service and selling them to your customers. But that's not all! You can earn additional income from reseller hosting by selling add-ons, such as VPS Hosting, Domain Name Registration, SSL Certificates, Dedicated Hosting, Dedicated IP, etc.
5. Room to Expand
One of the finest things about reseller web hosting is that it provides you room to expand. If you own a website with loads of pages and drives tons of traffic, this hosting service will offer you a large number of space and features. It even allows you to operate different website sections from separate URLs and servers without buying additional hosting plans.
6. Additional Features
Compared to basic hosting plans, reseller hosting offers loads of features for your website. It includes a more robust control panel that allows you to manage your website more effectively and efficiently. Not only that but most companies that offer reseller hosting offer unlimited SSL certificates and advanced features such as Cpanel.
Disadvantages of Reseller Web Hosting
1. Highly Dependent
Whether you fancy it or not, your business' success will depend entirely upon the quality of the original hosting company's service. If the hosting company has an excellent server, you're likely to be successful. However, suppose the server regularly goes down and faces many technical issues. In that case, it'll affect your business, even when you're doing everything right.
2. Time And Effort on Customer Service
Since you'll be renting the service from some other company, you might assume that the company is responsible for all the things. But that's not true. Even if you're reselling the product, you're responsible for answering all the queries from clients. Therefore, you need to commit a lot of time and effort to answer all the questions and clear all your clients' concerns.
3. Relatively Difficult
Indeed, you're not in charge of the technical aspect of the business. But, you need to understand all the features to sell it to your client. And, you're likely to have a challenging time figuring out the features and control panels of reseller hosting unless you're an expert yourself.
4. Changing the Service Providers will Affect Your Clients
For some reason, if you decide to change your web hosting provider, you'll have to shift the entire data from one hosting provider to another. It can affect your clients tremendously. It can be challenging to shift all the clients' data. Therefore, we suggest you have a Virtual Private Server (VPS) or a dedicated server. Although more expensive, having a VPS or a dedicated server will make it relatively more straightforward for you to change the service provider.
5. Limited Access to the Server
Remember, reseller hosting provides limited access to the server only. It means you'll have to go through your hosting provider for most things, which can be fairly inconvenient most of the time.
10 Best Reseller Web Hosting Providers Reviewed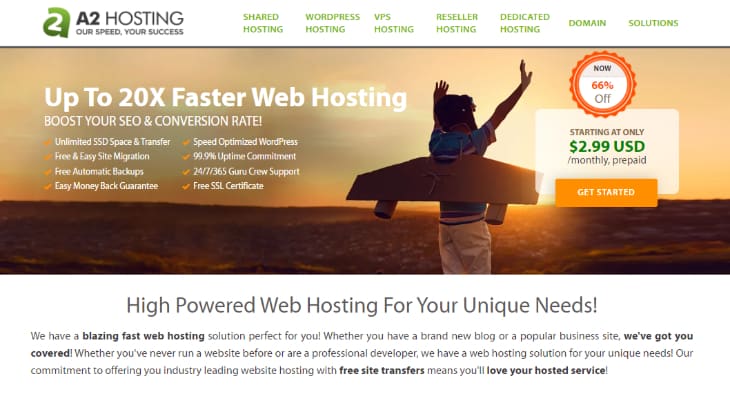 A2 Hosting has long held its stature for reliability and speed, both of which are vital in the web hosting industry. Like any other top-level web hosting provider, A2 Hosting provides several hosting services, including WordPress Hosting, Shared Hosting, Dedicated Hosting, VPS Hosting, and Reseller Hosting.
The reseller options of A2 Hosting are an excellent choice for those who're looking for a quality service in the low-to-mid price range. There are four hosting plans on A2 reseller web hosting—Bronze, Silver, Gold, and Platinum.
The reseller hosting plan starts as low as USD 13.19 per month for the Bronze plan and goes up to USD 40.91 per month for the Platinum plan. If you're just starting, you can go with the Bronze package. It only provides 30GB SSD storage, which is enough for a handful of clients.
However, this package does not include free WHMCS, which is essential for client management. So, once you manage to grow your client, we suggest you upgrade to higher reseller packages that come with free WHMCS.
A2 Hosting is one of the best reseller hosts that is committed to delivering a 99.99% uptime rate. The server of all the reseller plans is 20 times faster compared to other hosting services. Besides, they also include free SSL Certificates to keep your website protected and cPanel/WHM Control Panel to automate all server management tasks.
In addition to that, A2 Hosting reseller plans also feature unlimited email and up to 2000GB transfer. They also feature incredible 24/7 year-round customer support. On top of all the premium features, A2 Hosting also offers a risk-free money-back guarantee. So, if you are not satisfied with any of your services, you can cancel your account and receive a full refund within 30 days.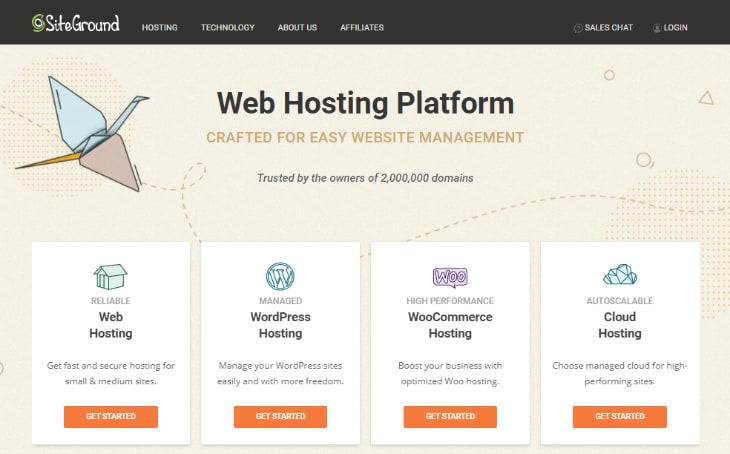 SiteGround is one of the top hosting providers designed to make the client website management effortless. Whether you're merely getting started or you already have all the required skills and knowledge of reselling, this hosting platform makes a great choice.
With over two million users, SiteGround has a reputation for being the most reliable hosting company in the market. With them, you'll get a trusted web hosting partner that provides all the necessary resources to manage multiple sites and resell the hosting services.
The reseller option offers three hosting plans—GrowBig, GoGeek, and Cloud. If you're just getting started in the reselling business, the GrowBig plan would be the ideal choice for you. Costing USD 9.99 per month, this plan offers 20GB web storage along with unlimited websites.
The other two plans, GoGeek and Cloud, are slightly superior options that'll come in handy to those who've already managed to grow their clients.
All three hosting plans combine Free Email, SSL, WP Installation, WP Migrator plugin, and unlimited database. Not only that, but these reller hosts deliver almost impeccable uptime stats and blazing speed.
Besides, SiteGround offers an optimum level of security with daily and on-demand server backups. This advanced feature guarantees that your data is automatically backed up and secured in each package that can easily be restored should the worst happen.
It also features WordPress auto-updates that allows you to keep your application up-to-date. If you find it tasking to keep track of the latest updates and new releases, this feature will automatically update your WordPress software and plugins.
Unlike other web-hosting providers, GreenGeeks is an environmentally-conscious hosting platform. Not only does this hosting platform provide a fast and secure web server, but it leverages renewable energy to operate their hosting solution.
With GreenGeeks, your accounts will get a taste of super-fast performance with the latest technologies such as PHP7, SSD RAID-10, Caching, and CDN. It also gives you complete access to WHM to create separate cPanel accounts under all the reseller hosting plans.
GreekGeeks has three different reseller plans, which are all pretty straightforward in terms of features. If you're looking for fast and budget-friendly reseller hosting, RH-25 is an excellent option at USD 19.95 per month. This plan provides you up to 60 GB SSD Storage and allows you to have up to 25 cPanel Accounts.
If you're looking for more effective plans, you can go for either RH-50 (up to 50 cPanel Accounts) at USD 24.95 per month or RH-80 (up to 80 cPanel Accounts) at USD 34.95 per month.
All of GreenGeeks' reseller plans integrate top-class features for your clients, such as unlimited domains, free email accounts, drag and drop builder, cPanel, and Softaculous. It also combines eCommerce capabilities, including Premium SSL Certificates and Free Shopping Cart Installation.
Moreover, GreenGeeks takes security and reliability quite seriously. It features nightly data backup that stores all your data and restores them whenever you need them. The container-based technology offers maximum protection as well as scalability of individual hosting accounts. Additionally, it runs a real-time security scan to keep your website protected against virus and malware threats.
Also, GreenGeeks' reseller service is developer-friendly. With this hosting platform, you'll get exceptional features like MySQL databases, Perl & Python Support, multiple PHP versions, and FTP accounts.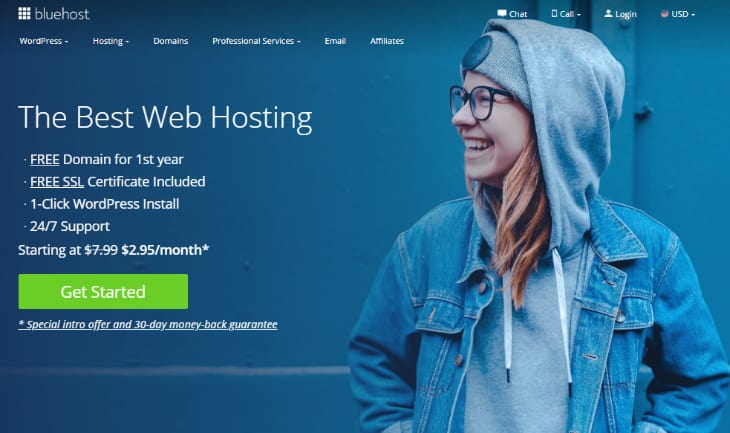 BlueHost is the largest web hosting provider globally, well-known for its reliability, security, and power. It provides all sorts of hosting solutions, including Shared, Dedicated, VPS, and Optimized. However, it has the most trusted reseller hosting service, with over 200,000 resellers worldwide.
BlueHost includes the reseller hosting package powered by ResellerClub. If you're searching for one of the most effortless and affordable reseller hosts, BlueHost certainly is a reliable option.
This web hosting provider has four different reseller plans to choose from—Essential, Advance, Pro, and Ultimate. The price starts at USD 19.99 per month for the starter package and goes up to USD 45.99 per month for the professional package.
The most affordable hosting plan offers 40GB of disk storage, 800GB of data transfer, and 40 cPanel Accounts. Likewise, the top plan comes with 200GB of disk storage, 4,000GB of data transfer, and 300 cPanel Accounts.
With all of BlueHost's reseller plans, you can create unlimited websites and distribute their resources any way you want. It also provides free WHM and cPanel to manage both upgrading and degrading your clients' accounts seamlessly. The top three plans of the ResellerClub hosting also feature WHMCS. This advanced feature comes in handy for ticket support, automate billing, and other client management functions.
One exceptional feature of this reseller hosting is the full customizable control panel. The customizable option lets you brand your control panel to suit your style. It also provides access to over 400 ready-to-install web applications.
In addition to that, BlueHost reseller hosting provides top-level network security. Protected by Cloudflare, this reseller hosting offers DDoS mitigation, content delivery network (CDN), Internet security services, and distributed DNS.
Moreover, BlueHost also offers 24/7 Expert Support for resellers. You can reach out to their highly knowledgeable team anytime via phone, email, or live chat, to resolve any sort of issues your customers may have. If you are not satisfied with them for some reason, BlueHost also offers a complete refund inside the first 30 days of the purchase.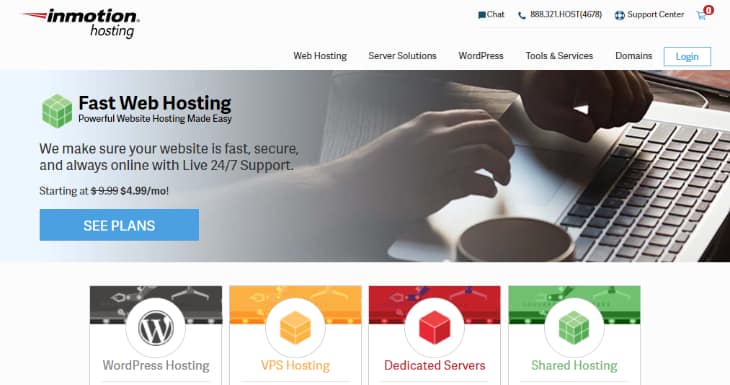 InMotion Hosting is undoubtedly one of the best web hosting providers covering an entire spectrum of website requirements. Whether you want WordPress hosting, cloud-based VPS hosting, Shared hosting, or Dedicated hosting, InMotion Hosting serves it all.
It comes with a wide range of reseller hosting plans and features. It offers six reseller hosting plans to fulfill all the needs of resellers. The packages indicated by "R" are shared hosting plans, and those indicated by "VPS" are virtual private servers.
The R-1000S is their most affordable shared plan starting at just USD 15.39 per month. This beginner plan offers 800GB bandwidth, 80GB disk space, and 25 cPanel accounts. Likewise, their top-of-the-line package, Reseller VPS-3000, costs USD 94.94 per month. It provides 6TB bandwidth, 260GB disk space, 8GB RAM, and five cPanel accounts with 5 IP Addresses.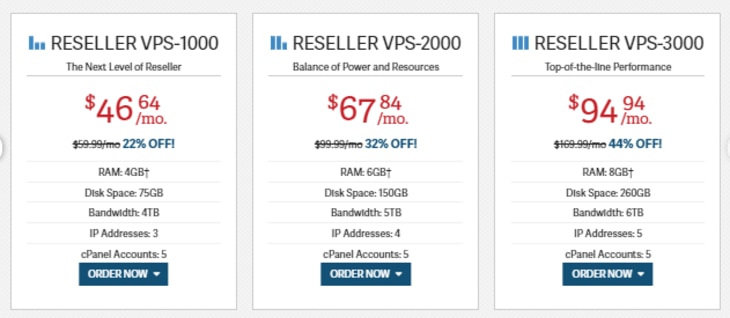 InMotion Hosting's reseller hosting gives you access to WHMCS, which lets you automate billing, management, and support for the customers from one central dashboard. With this hosting provider, you can also manage your clients' accounts effortlessly via SSH.
Besides, this web hosting provider offers its resellers free unlimited domains, including add-ons, subdomains, and parked domains. Each reseller plan comes with a free eNom domain account, enabling you to register top-notch domains for your customers.
With InMotion Hosting, resellers have full control over how much resources individual clients are likely to receive. Depending upon the resources available on your plan, you will be in charge of assigning as much bandwidth, disk space, and domains as you wish.
In terms of security features, InMotion reseller plans feature Patchman Malware Protection, Custom Error Pages, and Corero DDoS Protection. If you come across serious technical issues, they provide 24/7 support via phone, email, or live chat.
Additionally, you can also customize the cPanels to brand your hosting service and deliver custom hosting packages for your customers. However, with Reseller VPS plans, you'll receive advanced features such as eCommerce optimized, live-state snapshots, root access allowed, and server management.
HostGator is an industry-leading web hosting provider currently trusted by more than two million websites. Ideal for both newbies and pros, this web hosting provider offers WordPress hosting, Website Builder, Dedicated Hosting, and VPS hosting.
Along with other website solutions, HostGator brings exceptional reseller hosting plans to your table. They have three excellent reseller hosting plans designed to help you start your web hosting brand.
The Aluminum plan is their most affordable reseller plan starting at USD 19.95 per month. This plan includes 60GB disk space and 600GB bandwidth. On the other hand, both Copper and Silver plans are currently available for USD 24.95 per month. The Copper plan provides 90GB disk space and 900GB bandwidth, while the Silver plan offers 140GB disk space and 1400GB bandwidth.
Each of these reseller plans come with top-notch features like unlimited domains, email accounts, free SSL certificate, MySQL accounts, private name servers, and FTP accounts.
If you're an absolute newbie in the web hosting business, we'd recommend starting with the Aluminum package. HostGator keeps things relatively straightforward when it comes to scaling. So, if you'd like to upgrade your plans to Copper or Silver, you can do it for free at any time.
All of HostGator's reseller plans offer WHMCS billing software. This handy software makes things effortless for you while managing the clients and their accounts. You'll also get access to the WHM control panel to keep track of your server status. It also lets you set limits on things like bandwidth and disk space for your clients.
You no more have to bother about your performance with HostGator—much credit to its 99.9% uptime rate. Additionally, you can reach out to their team of experts any time via phone or live chat. They also provide 24/7 server monitoring and automatic weekly backups to keep your clients' data protected. If you're not pleased with their hosting plan, you'll receive a full refund within the first 45 days of purchase with HostGator.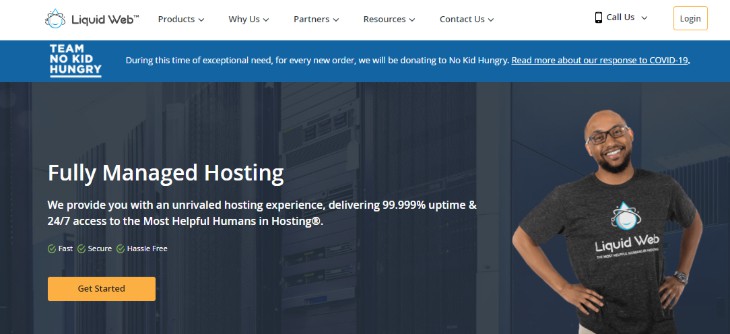 Liquid Web is another outstanding choice for reseller web hosting. It is a managed web hosting provider that offers an impressive collection of reseller plans, including dedicated servers, VPS, and cloud-based hosting.
Liquid Web has ten data centers globally, allowing you to choose the server closest to your customers for better performance. Apart from that, it offers 100% uptime, Cloudflare CDN, and DDoS protection.
Unlike other reseller hosts, Liquid Web allows you to choose the package from many of their powerful Dedicated Servers or Cloud-based products. It has three special Dedicated Servers for reseller hosting—Bronze, Silver, and Gold.
Bronze plan is the low-priced reseller hosting that combines 2x 240GB SSD Drives, Software RAID 1, 8GB DDR3 SDRAM, and 250GB Acronis Backups. This plan starts at USD 99 per month. On the higher end, the Gold plan costs about USD 259 per month. This plan integrates 4x 480GB SSD Drives, Hardware RAID 10, 1TB SATA Backup Drive, 250GB Acronis Backups, and 64GB DDR4 SDRAM.
With these powerful packages, this web hosting provider allows you to create your custom plans and sell them to your client. You can efficiently distribute the resources, choose services, features, and add-ons to fit your clients' needs.
Liquid Web will let you white label your service regardless of which reseller hosting plan you choose. It means you can design your clients' dashboard or even customize things within WHMCS to create your brand personality.
Not only that, with the inclusion of free WHMCS, you can monitor all your clients and servers of your hosting service from a single interface. This feature also allows you to manage clients' accounts, automate emails, generate professional invoices, and provide comprehensive support.
Moreover, Liquid Web offers first-class customer support. You can simply contact the support team any time of the day, any day of the week, with your queries, and they'll help you resolve the issue. It also provides free standard SSL certificates to guarantee customer protection.
Flywheel is another managed WordPress hosting solution that deserves a spot among the best reseller web hosting providers. It provides a reseller hosting plan ideal for agencies that also want to provide WordPress hosting within their services.
They offer the Agency Partners program as reseller hosting that helps you earn recurring revenue from your clients and ensures your agency's long-term success. This rock-solid and reliable hosting provider allows you to offer your clients automated services that go further than billable hours.
Flywheel offers exceptional web hosting services and also takes care of your clients' malware monitoring, WordPress updates, caching, and backups. With seven different server locations, Flywheel offers VPS hosting to all your client websites.
It has two agency partner programs—Silver Agency Partner and Gold Agency Partner. Silver Agency Partner program is designed for small agencies that do not have the bandwidth to support their clients' sites and have less than ten clients.
On the other hand, the Gold Agency Partner is designed for small- to medium-sized agencies capable of managing tons of clients and websites. On this plan, you'll get account management and priority support.
Flywheel brings an easy-to-use custom dashboard instead of regular cPannel. With this all-in-one management system, it is relatively easy to access your clients' website settings and stats.
Not only that, but Flywheel also allows you to white label your dashboard. Therefore, you can customize the dashboard to fit your agency and build a brand identity. It will enable you to select your brand color scheme and upload your logo to make it look like it's entirely your company.
Flywheel also provides an automated payment system. This advanced feature allows your clients to set up automatic subscription payments directly from the dashboard. It also includes free SSL certificates that help to keep all your data safe and secure.
Scala Hosting is one of the top-rated cloud and web hosting providers worldwide. It offers all kinds of hosting services with loads of features, improved security, excellent support at an unbeatable price.
Throughout its 13-year journey, Scala Hosting has established over 50,000 loyal customers and built over 700,000 websites. With an average uptime of 99.98 percent, this web hosting provider ensures exceptional speed and performance.
When it comes to reseller hosting, Scala Hosting has four different plans—Scala1, Scala2, Scala3, and Managed VPS.
Managed VPS is the most affordable and highly recommended among all four plans. Although at USD 9.95 per month, it offers 20GB storage, unlimited bandwidth, and unlimited SPanel accounts.
Scala3 is the most expensive reseller plan that costs USD 32.95 per month. This premium plan allows you to manage up to 60 cPanel accounts with 75GB storage and unlimited bandwidth.
All the Scala Hosting plans come with One-Click Installer to install WordPress, Joomla, PrestaShop, and over 100 scripts and apps with just a single click. If you'd want to switch your hosting plan, Scala also provides free website migration without any downtime.
Unlike some other hosting providers, Scala offers white labels even on its most basic hosting packages. It gives you an extensive amount of flexibility. It allows you to configure your private nameservers to make your brand authentic.
Besides, this hosting company also keeps your website protected with SShield Cybersecurity. This ultimate cybersecurity block monitors your website 24/7 in real-time and blocks 99.98 percent of web attacks. They also ensure that your data is always secured and protected, thanks to their automatic daily backup facility. You can quickly restore all your data with a single click when you run across any unfortunate circumstance.
In addition to that, the reseller hosting has an award-winning support team. Scala has the most knowledgeable and efficient support team set to assist you 24/7 with any issue.
If you still have second thoughts about this reseller hosting services, it features a 30-day money-back guarantee,unlike other reseller hosts. If you're not convinced with Scala's quality for some reason, they'll return your money inside the first 30 days of your purchase.
Hosting24 is one of the top names in the web hosting industry. Over the years, they've managed to build a reputation as a hosting provider that hosts your site securely and with the latest speed technology.
They provide almost all sorts of web hosting services, including shared hosting, cPanel hosting, cloud-based hosting, VPS hosting, and reseller hosting. This hosting provider keeps the customers' satisfaction as their top priority. Hence, they deliver excellent performance, constant updates, and a broad set of useful features.
Hosting24 offers two reseller hosting plans—cPanel Reseller Starter and cPanel Reseller Business.
Reseller Starter is the basic reseller plan starting at USD 17.45 per month, with USD 25.99 per month on renewal. This plan offers 50GB disk space, 500GB bandwidth, and 50 cPanel accounts.
Meanwhile, Reseller Business starts at USD 27.95 per month, with a renewal rate of USD 41.99 per month. This hosting plan offers unlimited disk space, unlimited bandwidth, and 150 cPanel accounts as opposed to the basic plans.
Both reseller hosting plans come with a free license of WHM and cPanel, allowing you to automate server management tasks. Its one-click auto-installer offers the quickest and most comfortable solution to install any script or application.
In terms of security and protection, Hosting24 is on top of its game. It offers free SSL Certificates that activate the https protocol and the padlock to deliver a secured connection from the server to the web browser. Additionally, it also provides Cloudflare DDoS Protection that secures web applications, websites, and networks from some of the largest web attacks.
Moreover, it integrates top-notch features such as custom nameservers, free domain, cloud SMTP delivery, and white label. If you're planning to migrate your hosting plan, Hosting24 offers free website transfer with full cPanel backups.
They also have a highly knowledgeable and motivated team of customer support ready to assist you on any issues at any time of the day.
FAQs (Frequently Asked Questions)
1. What are things you should look for while buying a reseller hosting plan?
Before investing in a reseller hosting plan, it is essential to know the features you want to offer your customers and how you can enhance their experience. It is also significant to figure out how many clients you are likely to handle in the near future.
If you don't have prior experience, it is ideal to start with basic hosting plans and upgrade your package as you build your clientele. Regardless of how you want to start your reselling business, here are a few features you must look for while buying a reseller hosting plan:
1. High uptime
2. Reliability and performance
3. Customizable packages
4. Impeccable support
5. Money-back policy
6. Automatic backups
7. Scalability
8. Regular maintenance and update
9. Enough disk space
2. How can you become a hosting reseller and make money from it?
In this day and age, Reseller hosting has emerged as one of the most cost-effective ways to start your web hosting business. You no longer require to be a web developer to start a web hosting venture. Instead, you can rent web servers from the original hosting company at a wholesale rate and sell it to your clients as your own hosting package.
With this, you no longer need any server infrastructure, have a large support team, invest huge amounts of money, or buy a physical server.
Here's how you can become a hosting reseller:
1. Find a top-quality web hosting provider and buy the most suitable reseller account.
2. Look out for potential customers to sell your hosting service.
3. White label your hosting plan and build your brand.
4. Customize your hosting packages and decide the cost of each package.
5. Market your hosting package and sell them to earn a decent profit.
3. What are the significant advantages of reseller hosting?
Reseller hosting is hands down the most affordable way to make money as a website hosting agent. Not only is this hosting plan highly profitable, but you do not have to worry about large investments. 
Here are a few advantages of reseller hosting:
1. Affordable and highly profitable
2. Build your own brand
3. Tailor your hosting plans and packages
4. Privilege to manage your hosting plans
5. Manage the resources such as bandwidth, disk space, and RAM as per your need
6. Offer additional features like email accounts, scripts, cPanels, and server-monitoring tools directly to your customers by renting it from your parent company
7. You don't have to be anxious about managing a large support team
4. Why do you need Reseller Hosting?
Reseller hosting can be a great fit for those who want to try their hands to launch and manage a business. With this hosting plan, you can start a web hosting business without much technical knowledge and investing a large sum of money.
Since you'll be renting the hosting service from a parent company, they'll take care of all the infrastructures, investments, technical aspects, and physical servers. If you fancy launching your own brand, reseller hosting platforms can well be a lucrative opportunity. Although you're only renting another company's service and selling them to your clients, you can customize the package, cost and sell them as one of your products.
In a nutshell, shared hosting is a web hosting service that includes a single control panel designed for a single user. The user can host an unlimited amount of domains under the single control panel within their account.
On the other hand, reseller hosting is a web hosting service that comes with several control panels. Some of the best reseller hosting plans offer up to 250 control panel accounts for a single user. The user can then customize and sell the hosting service to his/her clients and earn decent money.
Conclusion
There you have it!
That's all for the ten best reseller web hosting providers you can come across in the market. If you want to start a web hosting business but do not have enough money, resources, or skills to invest, you should consider buying a reseller web hosting plan. Frankly speaking, reseller hosting provides a convenient and safe platform for entrepreneurs willing to start their own business.
All the web hosting providers recommended in this article are the top choices for resellers. Each of these web hosting plans comes with a unique set of features that makes them stand out among their peers. These hosting platforms are super reliable with high uptime, customizability, scalability, regular updates, and excellent support.