Shopify and WooCommerce are among the top E-commerce platforms for creating an e-shop. Both of these platforms offer multiple features and user-friendly interfaces. However, when it comes to Shopify Vs. WooCommerce, it is certainly a close call to decide a winner.
In this article, we have compared Shopify and WooCommerce based on several factors such as ease of use, sales features, build time, value for money, and more.
We will answer multiple questions regarding WooCommerce Vs. Shopify as you go along. Read to the last to know which one is the winning platform.
WooCommerce Vs. Shopify – Overview
Before the comparison, we will begin with a short introduction to each e-platform.
About Shopify
Shopify is a powerful, easy-to-use, and reliable e-shop platform. It is an all-in-one e-commerce package that offers you everything to start an online shop.
Shopify powers over a million businesses worldwide. It is the best option if you want to set up your shop in a few minutes without much hassle.
About WooCommerce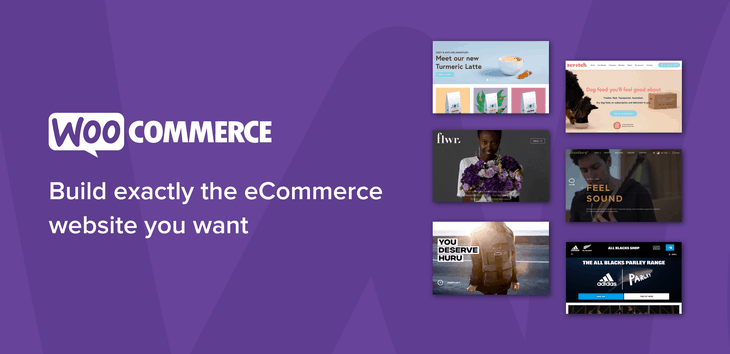 WooCommerce is an open-source WordPress-based e-commerce platform. WooCommerce offers more customization options and flexibility as compared to Shopify. You can even turn your blog into a shop as WooCommerce is a plugin compatible with WordPress.
If you already own a site and want to make an online shop out of it, WooCommerce is the best option.
WooCommerce Vs. Shopify – Pros and Cons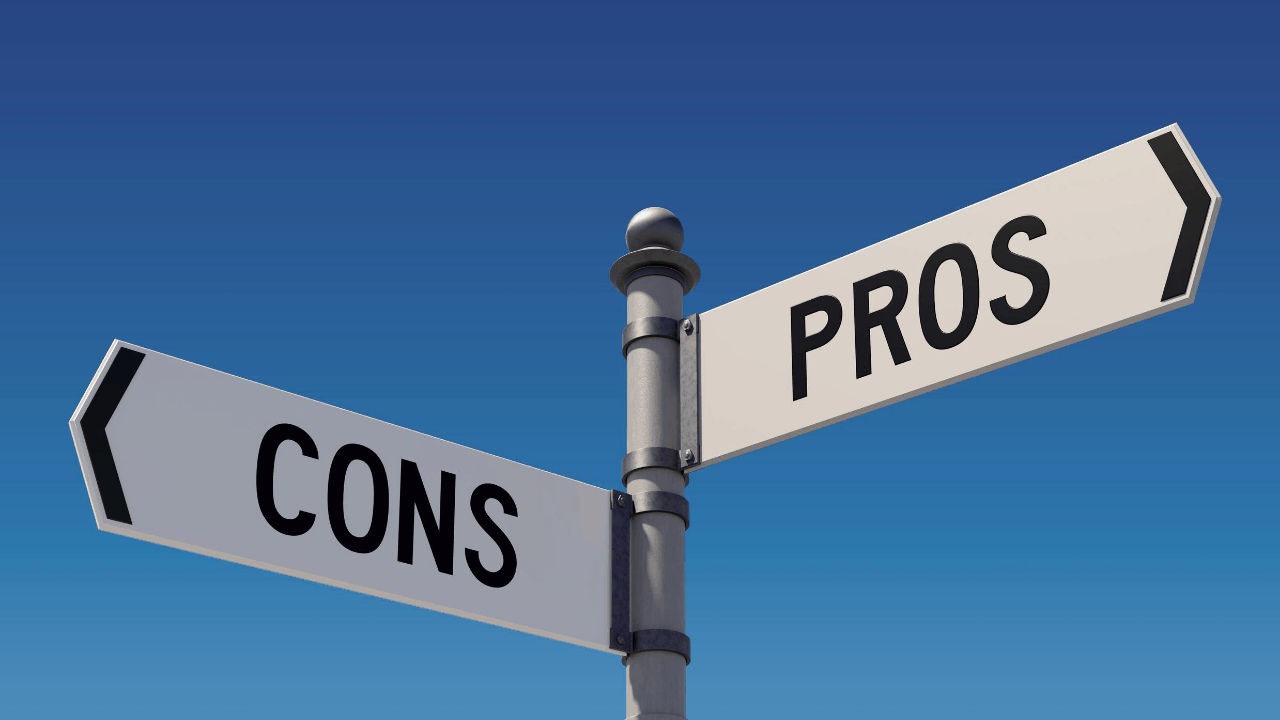 This section lists out the pros and cons of each platform:
Pros of Shopify
It is a hosted software that comes as an all-in-one package to build an online store. Shopify offers three pricing plans.
Shopify supports thousands of apps to help extend your store.
Shopify sets up your store in a few minutes. Thus, it is super easy to use this platform.
Dropshipping is simple.
Shopify offers round-the-clock support if you come across any issue.
Shopify offers built-in multiple-channel integration. This feature allows you to sell your product on various channels such as Facebook, Amazon, Pinterest, and eBay.
Cons of Shopify
Shopify has limited customization options.
You only have limited control over your site.
You need to pay for the services on a monthly basis.
Expensive apps.
Shopify levies transaction fees unless you use its own Shopify Payments.
Pros of WooCommerce
WooCommerce gives full customization flexibility.
You have full control over your site.
WordPress has a huge online community. So if you come across any issue, you can easily get help.
You can enjoy endless themes and plugins.
You can easily configure WooCommerce on WordPress.
WooCommerce is a free plugin.
Cons of WooCommerce
WooCommerce does not offer a hosting service. You have to manage everything, from maintenance, security to backup.
There is a learning curve with WooCommerce. Unless you are familiar with WordPress or coding language, you may find it overwhelming at the beginning.
WooCommerce Vs Shopify – Compared
We will compare Shopify and WooCommerce in 11 rounds.
Round 1: Shopify Vs. WooCommerce. – Ease of Use
Shopify offers a hosted software that sets up everything for you in a matter of minutes. You don't need to hustle with anything in Shopify. The platform provides a full package that takes care of all your e-shop needs. From your domain name, hosting to maintenance and security, Shopify covers it all.
After you sign up for Shopify, you can pick your design for your shop. Then, Shopify customer support will walk you through customization and help you add your products. Moreover, with the built-in drag-and-drop builder, managing your sales, products, and inventories is a breeze.
In contrast, you need to roll up your sleeves with WooCommerce. You have to take care of your domain, hosting, maintenance, updates, and security all by yourself. WooCommerce offers unlimited possibilities of customization. You have full control over your shop. Moreover, you can add functionalities using more than 55,000 plugins.
However, WooCommerce lacks a drag-and-drag builder. Although, you can use options such as Beaver Builder and WordPress page builders. But it will add to your cost. The biggest downside is that its learning curve is steeper as compared to Shopify. It needs more hands-on management, and you also need to sign up for a merchant account such as PayPal or Stripe.
A beginner may find doing all that an exhausting task while they can have it all ready in Shopify.
Verdict
Shopify wins the round. It suits every level user and does not need any technical knowledge. WooCommerce, on the other hand, is more technical and requires its users to pass the learning curve.
Round 2: Shopify Vs. WooCommerce – Build Time
Do you want an online shop on the go, or are you willing to spend some time building your dream site?
If you want an e-shop from scratch with no or limited technical skills, Shopify is the best option. Shopify gets your store up and ready in a few minutes. You can get your site live much quicker in Shopify than WooCommerce.
WooCommerce, on the other hand, needs you to spend some time designing the site of your dreams. There is much room for creativity with WooCommerce. If you are not looking for immediate sales instead, you would rather work on building your site than, WooCommerce is a better choice.
Verdict
Considering quicker and easier online store setup, Shopify is the winner. It is much easier to use and does all the hard work for you.
Round 3: Shopify Vs. WooCommerce – Design
Both Shopify and WooCommerce give a professional look to your online shop. You can choose from either of them to build an elegant e-shop.
Shopify lists multiple themes (9 free and 64 paid) to decorate your site. All these themes are dedicated to e-commerce and sales. Premium themes start from $140. The figure may seem hefty at first. However, it is a one-time investment. For a startup store, you can choose from the list of free themes.
The design in WooCommerce, on the other hand, depends upon your creativity. With unlimited themes, for both free and premium themes, you will never run out of options. For example, Storefront – WooCommerce's entry theme is a fully responsive theme with a clean and fresh layout.
How good your online shop looks on WooCommerce depends on how many hours you are willing to put into it. It also comes down to your technical skill level. With the rising popularity of WooCommerce, designers are updating their theme list every day. Thus, with thousands of eCommerce themes out there, the sky's the limit.
If you are looking for a theme to start your online store, you may check out this guide's best WooCommerce WordPress themes.
Verdict
WooCommerce holds a firm edge in this round. WooCommerce is open-source software. Further, its design comes with unlimited opportunities. Although Shopify offers multiple themes for e-commerce, their number is limited to the Shopify theme store.
Round 4: Shopify Vs. WooCommerce – Sales Features
Both Shopify and WooCommerce pack abundant features to help you set an engaging online shop. Neither platform will let you down when it comes to selling your products online. However, they differ when it comes to standard features.
Distinct Shopify Features
1. Abandoned Cart Recovery
Shopify offers the abandoned cart recovery feature, which lacks in WooCommerce. Such a feature allows your customers to complete an abandoned order without the need to fill out the details again. The feature also sends a reminder email to the respective customer to finish the sale.
2. Free Multichannel Selling
Shopify lets you sell products on multiple channels such as Facebook, eBay, and Amazon without additional cost.
Distinct WooCommerce Features
Unlimited customization
Built-in blogging
One-click refund
Here is a side-by-side comparison of features of Shopify and WooCommerce:
| Shopify | WooCommerce |
| --- | --- |
| It is a subscription-based e-commerce solution. | It is a free plugin on WordPress. |
| Allows you to sell any type of product and services | |
| You can use it both online (e-store) and offline (using Shopify's Point of Sale kit) | You can use it online only (e-store) |
| 24/7 support via email, phone, and chat. | Support via ticket, forum, and online blogs |
| Limited customizing options | Unlimited customization options |
| Shopify takes care of your website | You get complete control over your site and data |
| Hosting included | Does not include hosting |
| Free subdomain with every plan | Does not include a subdomain |
| Free SSL certificate | You can opt for a free SSL certificate |
| Unlimited file storage | Storage depends on your host |
| You can sell unlimited products | |
| You can create and use coupon codes and discounts | |
| Sales statistics and reports | |
| Built-in support for multiple language | Supports multiple language using third-party plugins |
Verdict
Both platforms have abundant features to create a functional online shop. We call this round a tie.
Round 5: Shopify Vs. WooCommerce – Plugins and Interactions
Plugins add functionality to your website, including SEO, marketing, and shipping. Both Shopify and WooCommerce allow you to add multiple apps and plugins, such as MailChimp, Slack, Trello, Google Calendar, Dropbox, and more.
Shopify comes with an App Store and a powerful API where you can buy addons for your store. There are more than 1200 premium and free third-party apps to choose from to cover all your storage needs and expectations.
For example, the OptinMonster app helps in lead generation and manage your email list. Likewise, there are various other apps for countdowns, SEO, product reviews, and more.
You can find both free and paid apps in Shopify's app store. Free apps are mostly third-party services with their own upgrade list. Likewise, the paid apps and addons offer monthly subscriptions.
As open-source software, WooCommerce offers more than 55,000 plugins. You can make your online shop as advanced and functional as you want. You can install the best eCommerce plugins suitable for all your needs, be it lead generation, SEO, payment getaways, performance optimization, and any other feature.
There are lower barriers of entry in WooCommerce than Shopify. You can even hire a professional to build a plugin or integration for your site. Moreover, submitting a plugin for WooCommerce is much easier than that for a Shopify store.
Verdict
WooCommerce outperforms Shopify in this round. Being open-source software, you can build a shopping empire out of your site. There are no limitations in WooCommerce. It offers plugins for any feature and function that you want in your e-store.
Round 6: Shopify Vs WooCommerce – Payment Options
Both Shopify and WooCommerce offer over a hundred payment gateways. These methods are either built-in features or integrated later. The main payment options in these platforms are:
Credit cards and debit cards
Stripe
PayPal
Apple Pay and
Square
Shopify charges 2% of the transaction cost if you use third-party payment options. However, if you opt to use Shopify Payments, there is no added cost. Shopify Payments is the company's default payment gateway. With such a feature, you can skip the hassle of setting up any third-party provider with Shopify. Using Shopify payments, you are set to accept major payment methods on the go.
WooCommerce, on the other hand, does not charge any amount for your transactions even if you use a third-party payment option. In fact, WooCommerce offers two different options – PayPal and Stripe.
PayPal and Stripe are the default addons that you can directly embed on your e-store. You can process transactions without leading shoppers to a third-party checkout page.
Verdict
WooCommerce wins this round on the basis that it does not charge transaction fees. Unless you use Shopify Payments, WooCommerce holds the edge over Shopify.
Round 7: Shopify Vs. WooCommerce – Customer Support
Shopify is popular for its high-quality and prompt customer care. You can reach out to the support team 24/7 via email, phone, or chat. On top of that, Shopify also offers a help center that covers common user problems and questions.
WooCommerce being an open-source program, does not have a straightforward customer support service. You can find the solutions to your problems from various WordPress forums. You can also create a free user account in WooCommerce and get support from there. Also, the official site of WooCommerce includes extensive documentation, guides, and tutorials to enable you to help yourself.
Verdict
Shopify wins the support round with a full vote. You can sort out your problems in WooCommerce after some research. However, nothing beats the 24/7 dedicated support of Shopify.
Round 8: Shopify Vs. WooCommerce – SEO
Both Shopify and WooCommerce are robust platforms. They make sure that your products appear in front of the right audience. So, it is a tough call to make when it comes to the SEO round.
Shopify has a number of SEO plugins such as SEO Booster in its store. Shopify also allows you to add SEO information to your store, such as title and description for your products.
WooCommerce, meanwhile, is built on SEO-friendly codes. Moreover, its integration with WordPress makes it compatible with a wide range of SEO plugins such as Yoast and RankMath. You can include detailed information about your products to tell Google what it is about.
Verdict
A narrow victory for WooCommerce. WooCommerce has a greater number of SEO plugins than Shopify. Shopify has limited SEO addons on its store, which may be restricting in the long run.
Round 9: Shopify Vs. WooCommerce – Security
Security should be your priority for any type of website, especially online stores. When you own an online shop, you are exchanging payments as well as holding your customer's private information.
With Shopify, you don't need to worry about security as it is a hosted platform. Shopify is responsible for handling any security breaches and hacker attacks.
If you choose WooCommerce, you need to handle security yourself. WooCommerce does not come with built-in security options. Of course, you can add other plugins to improve security on your site.
SSL Certificate
SSL (Secure Sockets Layer) is responsible for safeguarding your website. It prevents cybercriminals from tampering with the information on your site. It is a little padlock icon that appears at the side of your URL. Here are the benefits of an SSL certificate:
Keeps customer's personal information and payments secure.
Promotes SEO on your website as Google prioritizes sites with SSL certificates.
It lets your customer know your site is safe. This benefits conversion rates on your site.
Shopify has a built-in SSL to make your online shop secure. However, WooCommerce does not have such a feature. You need to source your own SSL certificate. You can also manage it through your hosting provider. Some hosting providers, such as Bluehost, offer such a feature in their hosting plan.
PCI-DSS Compliance
PCI-DSS (Payment Card Industry Data Security Standard) compliance means that your site accepts credit card payments by following legal regulations.
Shopify is PCI-DSS compliant by build, but WooCommerce is not. However, you can make WooCommerce PCI-DSS compliant by following certain steps.
Verdict
This is an easy win for Shopify. It is a hosted platform, meaning it takes care of your site's security on your behalf. Moreover, it offers an SSL certificate and is PCI-DSS compliant. Such a feature gives Shopify an upper hand over WooCommerce.
Round 10: Shopify Vs. WooCommerce – Pricing
The pricing of Shopify is straightforward and easier to understand. However, WooCommerce is not so.
Shopify has three different pricing plans :
Basic Shopify- $29
Shopify-$79
Advanced Shopify- $299
In contrast, WooCommerce is a free, open-source plugin. You can install WooCommerce for free in WordPress. However, it requires you to pay for hosting, domain, security, and extension fees.
| | Software | Hosting | Subdomain | Security including SSL certificate |
| --- | --- | --- | --- | --- |
| Shopify | Starts at $29 per month | Self Hosted Software | Free subdomain with every plan | built-in SSL |
| WooCommerce | Free | $35 – $50 per month (Depending on the third party) | $10 – $20 per year (Depending on the third party) | free – $200 per year (Depending on the third party) |
Here is the comparison of Shopify pricing with the BlueHost pricing (for WooCommerce):
| Shopify | BlueHost (WooCommerce) |
| --- | --- |
| Basic Shopify ($29 per month) | Basic ($2.95 per month) |
| Shopify ($79 per month) | Plus ($5.45 per month) |
| Advanced Shopify ($299 per month) | Pro ($13.95 per month) |
Shopify offers a 14-day free trial, whereas Bluehost offers a 30-day cash back guarantee if you are not happy.
Verdict
WooCommerce is free, open-source software. You can use any third-party package to build an online shop. For example, if you use BlueHost, you can start an online store for as little as $5 per month with the Basic Shared plan. Meanwhile, Shopify has fixed pricing and does not offer much flexibility with the choice of WooCommerce.
Round 11: Shopify Vs. WooCommerce – Dropshipping
Dropshipping in online businesses means that an e-shop does not keep products in stock. Instead, it delivers orders by purchasing the ordered products from vendors and shipping them to the customers.
Due to a low overhead module of this concept, dropshipping is gaining popularity. Here is a comparison of Shopify Vs. WooCommerce to see which is better in the dropshipping section.
When building a dropshipping business in Shopify, your website's frontend looks like any regular online store. Customers can browse products, add them to their cart, and pay. Shopify also integrates apps for dropshipping marketplaces such as Oberlo, Printify, AliExpress, and more. All these marketplaces have their own membership and shipping fees, including other charges.
WooCommerce, on the other hand, allows the installation of extensions to fulfill orders with ease. Using the extensions, you can instantly import products from the vendors and fulfill orders. You can even create your own marketplace and allow vendors to sell on your site.
However, different vendors and suppliers may have different membership fees, charges, and minimum order requirements, and others. Keep these factors in mind when adding products to your store in WooCommerce.
Verdict
WooCommerce wins this last round with its multiple extension possibilities and the feature to create your own marketplace.
Shopify Vs. WooCommerce – Conclusion
Based on the above ten comparison rounds, WooCommerce wins five rounds, whereas Shopify wins four rounds. The feature round was a tie between the two platforms. Clearly, WooCommerce is the winner of the comparison rounds.
However, both Shopify and WooCommerce are excellent e-commerce platforms.
Choose Shopify if:
You want 24/7 support
You need a live website live in a short time
You are have limited technical knowledge
You don't want to spend more time customizing.
Choose WooCommerce if:
You want unlimited personalization options
You want to set up a large-scale online store
You are technically competent
You want full control over your site.
Alternatives to Shopify and WooCommerce
Both Shopify and WooCommerce are among the top dogs in the eCommerce business. Having it said, you don't always need to stick with these two. There are other alternatives to Shopify and WooCommerce as well. Here are the few to mention:
1. BigCommerce
BigCommerce offers beautiful themes to set up an elegant online store. It is similar to Shopify in the context that it offers hosting and monthly packages. BigCommerce also gives a platform to launch your store in a few minutes. Compared to Shopify, Bigcommerce offers more built-in features such as Visual Editor, theme customizer, WordPress integration, and more.
Here are the pricing plans of BigCommerce:
Standard: $29.95 per month
Plus: $79.95 per month
Pro: $299.95 per month
Enterprise: based on customer needs
2. Squarespace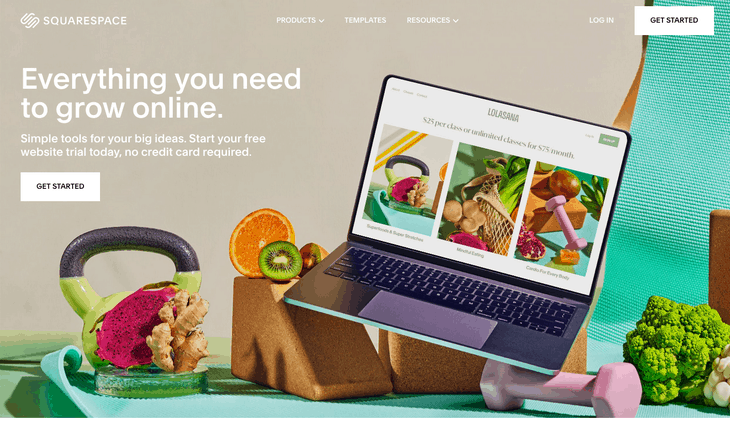 Squarespace is a newer option as compared to others on the e-commerce platform's list. However, it is equally capable and, in some cases, more advanced than others. If you plan to post multiple products with large and high-resolution images, Squarespace is worth your consideration.
The main reason to choose Squarespace is its list of incredible themes and support for the highest media quality.
Squarespace is available in four pricing plans:
Personal: $12 per month
Business: $18 per month
Basic Commerce: $26 per month
Advanced Commerce: $40 per month
3. Volusion
Volusion is another big shot on our list that is becoming more competitive with WooCommerce and Shopify. It also offers a hosting package similar to Shopify. Launching a store is very easy with Volusion. However, the themes are less appealing as compared to Shopify, WooCommerce, and BigCommerce. Nevertheless, its built-in drop shipping program may turn the table to its advantage.
Personal: $29 per month
Professional: $79 per month
Business: $299 per month
Prime: Depends on GMV(Gross merchandise value)
4. Sellfy
Sellfy is an advanced eCommerce platform with an intuitive online store builder. You can start a store in five minutes, as it says on Sellfy's homepage. Sellfy has helped over 32,000 creators to sell their products. This platform lets you sell via social media as well. Expect to grow your social influence with its built-in marketing tools.
Sellfy enables you to sell anything online, such as physical products, digital products, or even subscription products. Sellfy is not as close to building a high-profile eCommerce site as Shopify or WooCommerce. However, it is worth it to those looking for a cheaper alternative. If you are satisfied with only the basics to begin your store, Sellfy is for you.
Starter: $19 per month
Business: $39 per month
Premium: $89 per month
5. Ecwid
Ecwid is a great platform to add eCommerce functionality to an already existing website. This tool adds a versatile shopping cart to your site. For example, if you are running a blog, you can add a cart to it and make certain segments of your blog paid options. You can also sell on social media such as Instagram, Facebook, or others.
Keep in mind that Ecwid is not a complete eCommerce platform. It is a tool to add shopping carts and e-store modules to an existing site.
Free
Venture: $15 per month
Business: $35 per month
Unlimited: $99 per month
6. Wix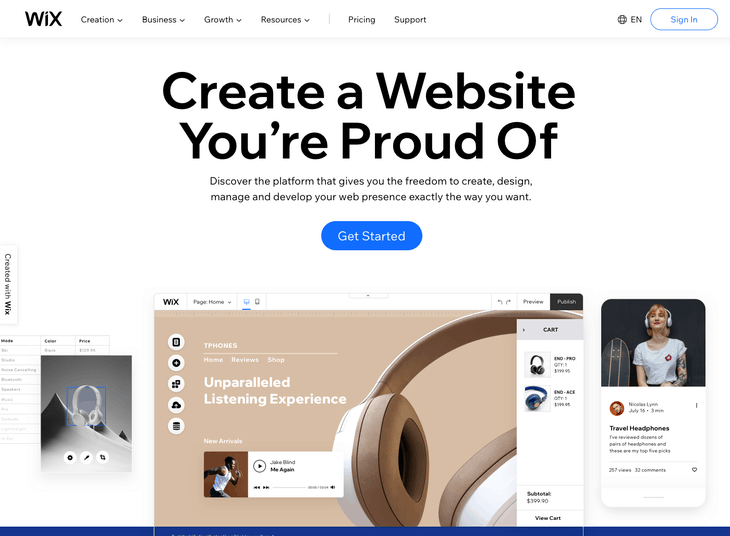 Wix is another cheap alternative to Shopify and WooCommerce. It is also a hosted platform with a monthly package plan. The drag-and-drop editor of Wix makes it super-easy to manage and edit your store. You can easily create a design you like. The built-in designs are nice too. There are over 500+ website templates you can choose from in Wix. Moreover, it integrates marketing and customer management tools to help manage your store efficiently.
If you are a beginner with no design skills, Wix is for you.
Connect Domain: $4.5 per month
Combo: $8.5 per month
Unlimited: $12.5 per month
VIP: $24.5 per month
WooCommerce Vs. Shopify – Frequently Asked Questions
Q. Is WooCommerce better than Shopify?
When it comes to design, payment options, SEO, pricing, and plugins, WooCommerce has the upper hand over Shopify. Shopify is easy to use and does better in security, customer support.
If you want better customization options, go for WooCommerce. If you want to get your site live in a few minutes, choose Shopify.
Q. Which is more scalable – Shopify or WooCommerce?
In the long run, WooCommerce is more scalable. It offers more customization and control over your site.
Q. Can I use Shopify for free?
Yes, Shopify offers a 14-day free trial. However, after the free trial runs out, you need to sign up for their planning package.