Most internet users still doubt whether or not hosting services are free.
The answer, simply put, is YES.
Although not every web hosting service in the market is necessarily free, a handful of service providers offer it for free.
Every hosting service provider has its terms and conditions. Based on those criteria, they offer registration, renewal, upgrade, and other services.
Hosting service providers earn money by providing services in bundled packages. While you can access some services on the bundle for free, you might need to pay a certain amount for the others.
This article discusses in detail the 10 best free web hosting services in the market. It also includes their features along with the pros, cons, and specifications of each hosting service provider.
The list is prepared based on pricing, performance, reliability, and flexibility.
So, without further ado, let's get into it!
List of 10 Best Free Web Hosting Services
Here, we have the list of the 10 best free web hosting service providers.
1. Dreamnix
With over 600,000 active customers, Dreamnix is one of the most popular free web hosting providers. Like most free hosting services, Dreamnix offers advanced web features with a few limitations on the free option.
With Dreamnix, you can host your website and database in an SSD cloud infrastructure, which ensures top-notch reliability with up to a 300% speed boost. Likewise, this hosting platform comes with the most popular Wordpress ProDesk Panel to help you manage sites effortlessly.
Using Dreamnix as a hosting provider, you also get free Let's Encrypt SSL Certificates to protect your website and visitors. For security, this hosting provider features a proprietary solution built-in to both server and application firewalls to protect you from known attacks and exploits.
Dreamnix also provides 24/7 Zero Wait-Time Support to all their customers to help resolve their issues. With Dreamnix, you no longer have to worry about losing your data. Since they provide daily backup to your website and database, you can quickly restore your data via the control panel.
Specifications
Bandwidth: 1 GB
Disk Space: 1 GB
Control Panel: Wordpress ProDesk Panel
Database: 1 MySQL Database
Ads-Free: Yes
Features
Robust SSD Cloud with 99.9% Uptime
Enterprise Email Service
Free Let's Encrypt SSL Certificates
Proprietary Solution to Reduce Hackings and Exploits
Daily Backups and Restores
24/7 Zero Wait-Time Support
Pros and Cons
| | |
| --- | --- |
| Pros | Cons |
| Offers maximum reliability | Offers limited data centers |
| Regular backups and restore | |
| Includes high-end security | |
| Features Wordpress ProDesk Panel and Fantastico | |
2. WordPress.com
Since people often get confused between WordPress.com and WordPress.org, it is essential to understand the difference. WordPress.com offers a free website hosting plan for the WordPress.com subdomain, whereas WordPress.org is home to the well-known self-hosted website builder, WordPress.
Using WordPress.com as a hosting provider, you get a domain, 3 GB storage, and free website template access. In addition, the professionally designed themes set your website for the global overtaking with its unmatchable style.
This free hosting service is designed to help you grow to a whole new level. There are thousands of handy add-ons that help you collect leads, create subscriptions, and grow your business. Besides, it comes with ready-to-use themes and plugins that further enhance your workflow.
WordPress brings hosting plans for a wide range of users, either a business owner or anyone who wants their presence online. The security you get with WordPress is top-notch. Moreover, direct support is also available through quick-start sessions, live chat, or email.
Specifications
Bandwidth: Unlimited
Disk Space: 3 GB
Control Panel: cPanel
Database: MySQL
Ads-Free: Yes
Features
Simple and Straightforward Interface
Professionally Designed Themes
Build with Blocks
Easy to Install and Use
eCommerce Integration
Mobile Friendly
World-Class Support
Pros and Cons
| | |
| --- | --- |
| Pros | Cons |
| Outstanding design | Limited disk space compared to others |
| Excellent conversion rate | |
| Widely compatible | |
3. FreeHostia
FreeHostia delivers its exceptional web hosting service for free. Its load-balanced cluster platform is faster than the traditionally popular one-server hosting. As a result, this free web hosting supports a wide range of PHP web applications like Joomla, WordPress, Prestashop, and so on.
With FreeHostia, you get the option of choosing different hosting plans from free hosting accounts to VPS and dedicated servers. However, you will need to register the domain name once you've signed up.
The highly intuitive interface combines a hosting account with a powerful control panel making it easier to control the account from the same page. Because it is free, FreeHostia provides you with clear resource limits. This includes a 50MB backup size limit, 250 MB mail storage, and 6 GB bandwidth cap, which is quite low compared to other hosting providers on the list.
When it comes to performance, FreeHostia stands out from the rest. Unlike many popular hosting services, FreeHostia offers a loading time of 0.7s, which is exceptional. Besides, the support that it provides to its customers is one of its kind too.
Specifications
Bandwidth: 6 GB
Disk Space: 250 MB
Control Panel: cPanel
Database: 1 MySQL v.5 Database
Ads-Free: Yes
Features
5 Hosted Domains
6 GB Monthly Traffic
3 Email Accounts
10MB MySQL Storage
Easy-to-Use Interface
Lightning Speed and Performance
Pros and Cons
| | |
| --- | --- |
| Pros | Cons |
| One-click app installer | Limited resources |
| Intuitive interface | No free subdomain |
| Easy to upgrade services | |
4. Weebly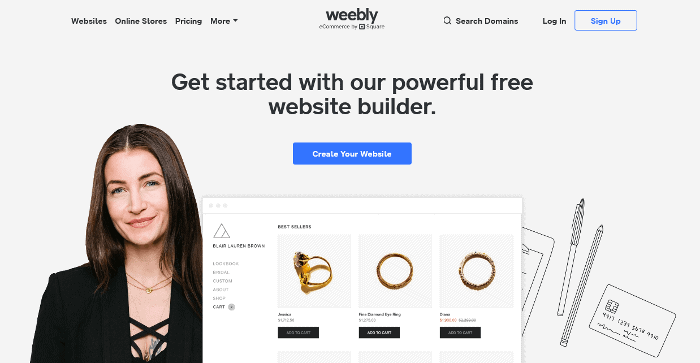 Weebly is another top-class web hosting provider which offers just about everything — from free limited hosting to dedicated server hosting plans. Technically, Weebly is a website-building platform. However, it provides almost all services related to websites.
If you choose free web hosting from Weebly, you'll also get access to a wide range of customizable web page designs and other handy web design tools. With the free hosting plan, you'll also get a free SSL certificate for your website. With this, your web visitors can browse through your website on a much-secured 128-bit encrypted connection.
Likewise, the free hosting plan of Weebly offers 500 MB of storage to let you upload more videos, images, mp3s, and other media on your website. Although free, Weebly comes with built-in SEO tools and features to make sure that your website ranks higher across all platforms.
Moreover, with Weebly, you can create simple forms to build an email list to use in marketing campaigns. They also provide premium chat and email support to all their clients.
Specifications
Bandwidth: Unlimited
Disk Space: 500 MB
Control Panel: Proprietary
Database: Proprietary
Ads-Free: Yes
Features
Customizable Web Page Designs
Free SSL Certificate
500 MB of Storage
Built-in SEO Tools and Features
Lead Capture and Contact Forms
Community Forum
Chat and Email Support
Pros and Cons
| | |
| --- | --- |
| Pros | Cons |
| Offers free SSL certificate on all plans | It doesn't support server-side scripting |
| Increased storage to let you upload more media on your website | Website domain will be under the Weebly.com subdomain |
| Offers SEO features and tools | |
5. 20i
Although relatively new, 20i is one of the best hosting platforms that offer ads-free hosting services. This UK-based web hosting provider does not compromise in quality, even for free hosting. It offers highly reliable and lightning-fast services similar to paid plans.
Using this hosting provider, you can access more than 70 website builders, including WordPress. Likewise, you can save up to 100 email addresses with 10 GB of mailbox storage to grow your email subscribers.
20i comes with a free SSL Certificate to protect your users and boost your search engine ranking. This hosting platform also improves your PageSpeed score, thanks to the integrated Website Acceleration Suite.
Besides that, 20i comes with an easy-to-use My20i control panel that makes site management a breeze. With this, you can register domains, install softwares, manage files, or set up databases directly from your desktop, phone, or tablet.
20i does not compromise when it comes to security. This free web hosting platform features anti-DDoS, malware scans, password tools, WAF, and email spam controls.
Specifications
Bandwidth: 250 MB
Disk Space: 10 GB
Control Panel: My20i
Database: 1 GB MySQL Database
Ads-Free: Yes
Features
Free SSL Certificate
70+ Site Builder Apps
World-Class Security
Content Delivery Network
Website Acceleration Suite
100 Email Addresses with 10 GB Mailboxes
No Adverts or Pop-Ups
Easy-to-Use My20i Control Panel
Pros and Cons
| | |
| --- | --- |
| Pros | Cons |
| Offers top-notch security and protection | Relatively limited bandwidth |
| Easy to manage website with My20i control panel | |
| Offers load balancing and autoscaling for enhanced performance | |
| Ensures fast loading speed | |
6. Wix
If you're one of those who scroll through the internet regularly, you must have certainly come across the name Wix. Wix is a free web hosting platform that lets you build a professional website and get online in just a few minutes.
With Wix, you can create stunning websites using more than 500 designer-made templates. These templates suit all kinds of businesses and brands. If you choose to custom-build your own website layout or personalize it completely, you do that too. For that, it features a powerful drag-and-drop builder.
Wix is a highly responsive and mobile-friendly hosting platform. Thus, any site you create on Wix looks great on all browsing devices and screen sizes. Wix's free plan includes a Wix.com subdomain, access to website templates, 500 MB of storage, and 500 MB bandwidth.
Specifications
Bandwidth: 500 MB
Disk Space: 500 MB
Control Panel: Proprietary
Database: Proprietary
Ads-Free: No
Features
500+ Premade Templates
Drag-and-Drop Web Builder
Responsive and Mobile-Friendly
Minimal and Elegant Design
Best SEO Approaches
Supports Online Business
Pros and Cons
| | |
| --- | --- |
| Pros | Cons |
| Reliable hosting | It offers web builder features rather than hosting |
| All-in-one website builder | |
| Ideal for bloggers | |
7. AwardSpace
AwardSpace is a unique hosting platform that lets you convert your ideas into websites. It operates using high-end servers and provides a wide range of services for a variety of users.
AwardSpace is trusted by more than 2.5 million people globally. It can only mean one thing — users love it. One of the primary reasons for that is the ease of use. AwardSpace makes website building and hosting a seamless experience, thanks to its straightforward interface and cPanel tools.
With AwardSpace, you get 1 GB space and 5 GB website traffic, which is pretty decent for small projects. You even get one free domain name upon signing up. In addition, you can register three more domains using the control panel. However, if you want to use the email services for multiple accounts, you should opt for the paid version.
Speed tests show AwardSpace as a reliable service provider. The performance is quite impressive except for the uptime results. You get dedicated support with the ticketing system and the rich FAQ section.
Specifications
Bandwidth: 5 GB
Disk Space: 1 GB
Control Panel: Advanced Control Panel
Database: 1 MySQL Database
Ads-Free: Yes
Features
Fast Loading
24/7 Customer Support
Advanced Web Building Tools
One-Click Installer
100% Ad-Free
Free Subdomains
Pros and Cons
| | |
| --- | --- |
| Pros | Cons |
| Instant activation | Supports only one database |
| Bandwidth user transparency | Supports only one email |
| MySQL+ PHPMyAdmin | |
8. 000webhost
000webhost is a popular name among hosting service providers. As a subsidiary of Hostinger, this platform provides ad-free, no-fee hosting services. As a result, it has left all other hosting service providers behind with a whopping 18 million+ downloads.
000webhost is ideal for both beginners and professionals website owners. The free website builder that comes with this web hosting provider is quite intuitive, easy to use, and has advanced features. As soon as you register with 000webhost, you can start building your website using stylish premade templates.
For any medium-sized project, 000webhost offers 1 GB webspace and 10 GB traffic, which is better than many other free service providers. In addition, this hosting service provider offers 1-hour scheduled 'sleep' time.
For support, they have a community portal with several threads of discussion. Though the team members are available, the portal seems relatively quiet besides a few announcements.
Specifications
Bandwidth: 10 GB
Disk Space: 1 GB
Control Panel: cPanel
Database: 2 MySQL Databases
Ads-Free: Yes
Features
Free Website Builder
Custom Control Panel
Blazing Speed with 99% Uptime
Solid Reliability and Substantial Capacity
100% Ads Free
Complete PHP and MySQL Support
Pros and Cons
| | |
| --- | --- |
| Pros | Cons |
| No ads | Poor performance comparatively |
| Free website builder | No email service |
| Offers substantial capacity | |
| Cloudflare protection | |
9. Google Cloud Hosting
Many people are still not aware that Google actually provides a free hosting service to all their users. It offers a variety of website hosting solutions for businesses of all kinds. Coming from a top-class company like Google, you can expect a fast and reliable hosting service.
One great thing about Google Cloud Hosting is that it only charges you for what you use. This makes it convenient for beginners. Since it is cloud-based hosting, you need not worry about resources being drained.
Google offers world-class security with innovative technology like Global Load Balancing. This keeps you protected from hackers and online attacks. With 99.95% reliability and zero scheduled time, Google Cloud Hosting takes performance to another level. The expansive global network of this web hosting provider helps you spread out wide across the internet.
You can follow the thorough documentation guide for detailed information. In case you need help, there are plenty of tutorials and how-to guides.
Specifications
Bandwidth: N/A
Disk Space: 5 GB
Control Panel: cPanel
Database: Cloud SQL
Ads-Free: Yes
Features
High-End Security
Fast and Reliable
Detailed Documentation
Tutorials and How-To Guides
Resource-Efficient Platform
Pros and Cons
| | |
| --- | --- |
| Pros | Cons |
| Higher reliability | Limited services in free version |
| Top-class security | |
| Detailed documentation | |
10. Byet Host
Lastly, we have Byet Host coming from its parent company iFastNet. It provides exceptional service to meet the needs of all website owners. This includes hundreds of features like PHP, MySQL, FTP, email service, site builder, and many more.
Byet Host is an excellent choice for beginners when it comes to free web hosting. Once you install it, you get the Vista Panel, equipped with the latest version of Softaculous Autoinstaller. This makes Byet Host a fast, user-friendly, and easy-to-use web hosting for WordPress.
Unlike other hosting service providers, Byet Host provides a limit for inodes for which is 30,000. This is enough to support more than 400 databases and as many domains as you like. The loading time is less than a second with the Byet Host service.
For support, the Byet Host has a community forum. However, it looks deserted. The forum does not seem to have much activity from the development team. So, in terms of support, Byet Host is not the best option. But, it does stand out in many other aspects.
Specifications
Bandwidth: Unlimited
Disk Space: 5 GB
Control Panel: VistaPanel
Database: 5 MySQL Databases
Ads-Free: Yes
Features
Quality Service with Powerful Servers
Easy to Use
Unlimited Service
Advanced Features like PHP and MySQL
High-Speed Performance
Forum for Support
Pros and Cons
| | |
| --- | --- |
| Pros | Cons |
| Instant activation | Limited disk space |
| Cluster servers for better load balancing | 10 MB maximum file size |
| Vista Panel | |
Quick Summary of the Best Free Web Hosting
| Free Hosting Provider | Bandwidth | Disk Space | Ad-Free | Control Panel |
| --- | --- | --- | --- | --- |
| Dreamnix | 1 GB | 1 GB | Yes | Wordpress ProDesk Panel |
| WordPress.com | Unlimited | 3 GB | Yes | cPanel |
| FreeHostia | 6 GB | 250 MB | Yes | cPanel |
| Weebly | Unlimited | 500 MB | Yes | Proprietary |
| 20i | 250 MB | 10 GB | Yes | My20i |
| Wix | 500 MB | 500 MB | Yes | Proprietary |
| Wix | 5 GB | 1 GB | Yes | Advanced Control Panel |
| 000webhost | 10 GB | 1 GB | Yes | cPanel |
| Google Cloud Hosting | N/A | 5 GB | Yes | cPanel |
| Byet Host | Unlimited | 5 GB | Yes | VistaPanel |
FAQs (Frequently Asked Questions)
Is free web hosting safe to use?
Simply put, most free web hostings in the market offer decent security and protection features. So, in most cases, these platforms are safe to use. However, compared to premium plans, free hosting services have limited features and do involve few risks and catches.
If you want to eliminate all sorts of risks and do not want to compromise security, you recommend you upgrade your free hosting services to premium plans. Premium web hosting services offer high-end security and protection features that protect your website from all kinds of malware, attacks, and spam.
Which free web hosting platform offers free domain?
To be fair, there are a few free web hosting providers that offer free domain names. These include WordPress.com, Weebly, Wix, Byet Host, and 000webhost. 
However, you can not add a custom domain to your website with free plans. It means your site will appear as a subdomain to these hosting provides (i.e., yourbrandname.wordpress.com).
Which is the best free web hosting provider?
To tell you the truth, there is no single free web hosting provider that stands out as the ultimate best. Every hosting provider offers a unique set of features that suits different website niches one way or the other. It entirely depends on what features and functionality you want. 
However, if we name one free web hosting, we'd have to go with WordPress.com. This platform is designed to help website owners grow their brands or businesses. It offers unlimited bandwidth, 3 GB storage, and a free domain name. With WordPress.com, you can also access a large catalog of free professionally designed website templates.
Alternatively, platforms like Wix, Dreamnix, and Byet Host are some of the best free web hosting providers in the market. 
How are free web hosting plans different from paid plans?
There are a handful of differences between free web hosting plans and paid plans. However, the two most significant differences are cost and server resources.
While free web hosting does not cost you a single dime, paid plans tend to charge you a certain amount for their service. On the other hand, free web hostings usually have limited server capacity compared to paid hosting services. Typically, paid hosting services offer much better server resources, advanced features, and world-class security.
Conclusion
There you go!
In the article above, we have thoroughly discussed the 10 best free web hosting service providers in the market. We have handpicked these web hosting platforms based on their features, server resources, performance, and security.
We hope you've found the best match for your website as per your preference. However, if you're looking to invest in a premium web hosting service for better performance and advanced features, check out these 11 Best WordPress Hosting Services.