Thinking of creating an awesome online travel booking website?
Then this post is for you.
Whether you are a newly established travel agency in need of a great website… an experienced travel company thinking of rebuilding a better and more powerful website… or an entrepreneur still thinking about opening your travel company… you will all take away a lot from this easy guide.
Below, I provide information on what the prerequisites of a great travel company website are, how you can go about building your own website, AND my personal recommendations for doing it in an easy and hassle-free manner.
So without wasting any more time, let's get on to it!
First up: Let's look at some of the most crucial aspects or features that are required in every travel company website.
What You Must Have In a Great Travel Company Website?
Obviously the choice of different elements required in a travel company website varies from company to company.
The needs of a small-time tour operator are a lot different from the needs of a large international travel agency.
But the basic building blocks of all the great travel company websites are, more or less, similar.
So, the first step in creating your own travel company website is to analyze and identify what kinds of sections, features, and functionalities that you must have in your website.
A professional website of a travel agency or tour operating company essentially requires the following functionalities:
Presenting Your Company's Story
Before you can win over any visitor or potential customer, you must make a great first impression as a company.
Your story about WHY and HOW your company came into existence is one of the most important things you can communicate to your audience.
If your visitors like you as a company, they are more likely to purchase services from you. So, your company's story is crucial to be communicated in the right way and in the most beautiful manner possible.
Showcasing Your Amazing Tour Packages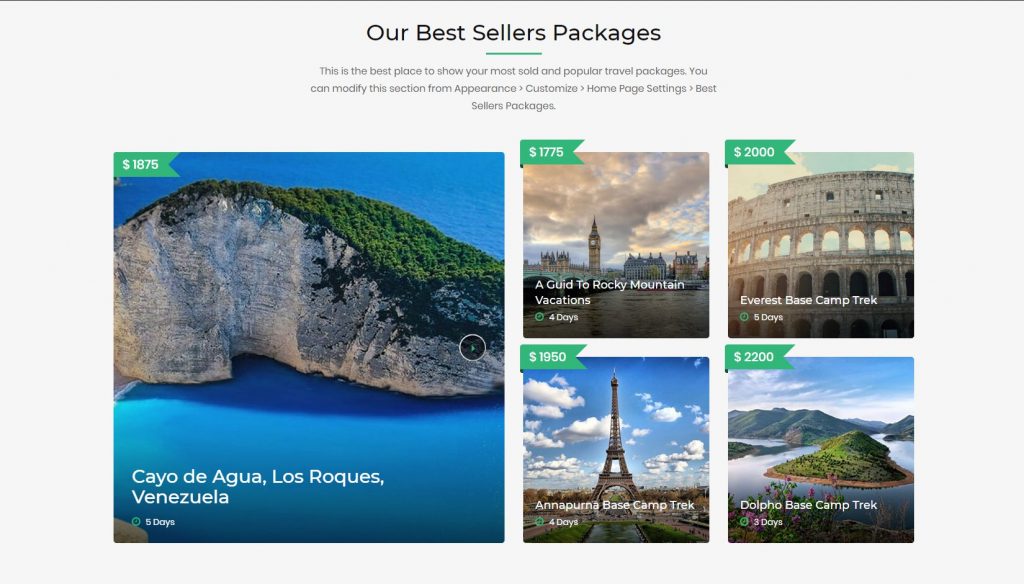 But your story is not going to get you clients and customers all by itself.
Eventually, you must also offer them attractive and competitive tour packages. You must be able to clearly communicate to your customers what your services are, how they are different from others, what are the advantages of travelling with you, and what unique experience you are offering your customers.
Unless you website can detail the travelling getaways in a beautiful and compelling manner, you're not going to be much successful.
Enabling Online Travel Booking and Reservations
Your website must allow your visitors and potential customers to make reservations and bookings online through your website.
More and more people are choosing to explore their travel options from within the comforts of their home, and you have a better chance of generating leads if you provide easy and comfortable way for them to make immediate reservation or even purchase. Much of your success as a travel company may depend on this.
Making eCommerce Easy and Comfortable
It's all the better if you can accept payments online so that you can close the sales then and there. It is much easier and convenient for your customers as well, and you too increase your chance of generating leads. So make sure that your travel company website is compatible with some kind of online payment mechanism.
Displaying Company Information
Of course, you would want your visitors to conveniently reach out to you and contact you. You would want to display all the crucial information about your company, including a map that would show your visitors where exactly they will find you.
Providing Social Proof
As you are in the business of selling experiences, customer testimonials and quotes have a lot of power. Make sure that your website highlights the positive feedbacks from your satisfied customers in a manner that will impress your potential customers.
Now that you know about these important considerations…
These will be crucial and highly beneficial for you later in the process when you will have to decide the actual look-and-feel as well the features of your website.
In other words: These considerations will be critical while deciding on the theme of your website.
(To ensure that you do not miss out on any of these essential elements of a successful travel company website, we would like to recommend you to use our free and responsive Travel Agency WordPress theme, which provides a complete online travel company website solution. I will further explain why Travel Agency is one of the best themes you can select for your travel website in the sections below.)
But before you can do that…
There are a few steps that you must first get out of the way. So let's look at these steps, one-by-one.
Step-by-Step Guide For You to Create Your Online Travel Booking Website
1. Select the Right Platform
The first step is obviously deciding which platform to choose for creating your awesome travel company website.
You would want your website to be self-hosted on WordPress.org because it will give you a lot of freedom and flexibility to customize, monetize, and have a complete control over your site.
If you go for other free blogging platforms, you may save a little money in the beginning. But they won't be able to provide you any of the features or functionalities that is required to create a truly awesome online travel agency website.
A platform like WordPress.org will give you tons of features as well as powerful functionalities, and you will have complete control to it.
It will save you from the hassles of coding, programming, or designing, and also help you manage your content and the outlook of the website in a way that is super easy and simple.
So, it is wise to be self-hosted on a WordPress.org which gives you 100% control and ownership of your website.
Needless to say, it also looks a lot more professional and your visitors and potential customers will take you a lot more seriously.
Remember: First impression is everything in this industry!
2. Get Your Domain Name
If you are already an established company, you would most likely keep your company's name as your website's domain name.
However, if you are a new venture and are yet to decide on the company's name itself, you must take this step very seriously.
You can select your company name by optimizing it for web presence as well. This makes even more sense in today's age when so much of your business success depends upon the success of your online presence.
While selecting a company name that can also be a great domain name, try to keep in mind these important pointers:
Make It Short and Memorable
Selecting some long and complicated names would only give you more pain trying to make it stick among the people. Short names are catchy and memorable. Or, your name can also be a popular catchphrase or a witty pun which will also make them more memorable.
Avoid Hyphens and Numbers
Including hyphens and numbers in your website name is also quite troublesome. They create confusion as there is an extra need to explain to your potential visitors: whether the number in your name is a spelling or a symbol, or whether you have a hyphen in between the name or not!
Be Specific
If possible, choose a name that's specific to what kinds of services you are providing. If you are a trekking operator, you can use names relevant to that service. Or if you are a fooding, lodging or rental providing company, the name can be specific to that.
Unless you are a well-renowned company, it is highly beneficial to let your visitors know beforehand what your website and your company is offering them.
3. Get Hosting and Auto-Install WordPress
If you want the full ownership and control of your travel booking website, you must have it self-hosted with popular and trusted hosting companies.
All this means is that your WordPress software and website needs to reside on your hosting company's servers rather than on a free blogging platform like WordPress.com or others.
This also means that you will have a total control over your website and will enjoy a 100% ownership of it. You can then install custom themes and standard WordPress plugins and customize the website as per your preference and need. You can also place ads for monetizing and also use Google Analytics to track your website's performance.
You can start your new website by registering your existing domain with any of the popular hosting services (or you can also create a new domain while purchasing hosting services with these companies).
While purchasing the hosting service, you can install WordPress with 1-click on their server.
So you now have your own website, and are ready to enjoy the features of WordPress to build your online travel booking website with ease and comfort!
4. Get a Powerful Theme for Your Website
It's probably safe to say that the final success or failure of your travel company website depends largely on you selecting an aesthetically appealing, functional, and a powerful theme for your website.
There are many great themes out there, which provide some great features and functions that potential customers seek while browsing a travel company's website.
One of such truly powerful themes that I would like to recommend you is our Travel Agency WordPress theme. Travel Agency theme is one of our popular free WordPress themes that is used by more than 3,000 websites.
Remember all those important elements required in a travel agency website that we discussed in the beginning?
Well, all of those functionalities – and more! – are already built-in with Travel Agency WordPress theme. So you need not worry about adding so many other additional plugins to offer all those much-sought-after features to your visitors.
Plus, this theme enables you to make easy customizations so you can personalize your website as per your need.
It's always a great thing for your travel company website if your theme can support various sections dedicated for: showcasing your company's story, your services as well as featured trips and adventure packages, special benefits and core features, social proof statistics, customer testimonials, special deals and discounts, call-to-action banner, as well as your latest blog posts.
These are all important aspects of a travel company that potential customers always seek to know, and Travel Agency WordPress theme is optimized to integrate these sections right on your homepage.
We have also made 1 hour long video tutorial of Travel Agency WordPress theme that shows step-by-step how to use Travel Agency theme and build your travel and tour booking website.
6. Add Important Features by Installing Necessary Plugins
Many of the important functionalities of a travel website, which I mentioned in the beginning of this post, can be added through standard WordPress plugins that either comes integrated with the theme or are easily compatible with the theme. So you can always install it later as per your requirement.
Below are some of the amazing plugins that will prove crucial for your travel website.
(Note: Many of these plugins are either already integrated or are easily compatible with our Travel Agency WordPress theme, so you'll be saving yourself a lot of trouble by choosing it.)
WP Travel Engine is a kind of a one-stop-shop for all your travel company website needs. It helps you add a lot of features to your website and is really powerful.
This will enable you to create and offer various travel and tour packages on your website. You can place an efficient travel booking system on your site. You can also add a trip, trip gallery, prices, duration, trip facts, FAQs, and various other costs involved. You will also be able to set up various pages related to travel including Destination page, Trip Type page, and Single Trip page. You can read about all the features of WP Travel Engine plugin here.
That's why, seamless integration with WP Travel Engine plugin is one of the key benefits offered by Travel Agency WordPress theme.
Other themes that also seamlessly integrate with WP Travel Engine plugin are:
WP Travel Engine also offers premium-add-ons that you can to add more features to your travel booking website.
This extension allows travel and tour companies to show fixed departure dates, number of seat available, price and booking button.
For example, you may have fixed trip starting dates and only a number of booking available. Then you can enter the date, number of seats available and price. Booking can be made only on those dates. Once all the seats are booked, booking for the date is closed and it shows SOLD OUT.
This extension allows tour and travel companies to give discount of group. Giving discount is a great way to increase number of bookings and conversion rate.
Imagine 1 trip cost $1000 per person. You can offer the same trip at $1900 for 2 person ($950 per person), $2700 for 3 person ($900 per person) and so on.
This extension allows you to accept credit cards directly on your website through Stripe.com account.
This extension allows you to accept credit cards directly on your website through Authorize.net account.
Plugins like Travel Agency Companion is great for adding extra functionalities and features to your travel company website. This plugin enables you to add customized widgets like Featured Post widget, Popular Post widget, and Recent Post widget. The plugin was designed to provide extra options for customizing the homepage of Travel Agency WordPress theme, but may also work well on other themes as well.
7. Integrate Online Bookings and Payments
With powerful plugins like WP Travel Engine and Travel Agency Companion, much of your effort for a safe, easy, and seamless online booking, reservation, and payment systems is already settled for using the in-built PayPal payment gateway or extension offered by WP Travel Engine.
Travel Agency WordPress theme, which I highly recommend for you, is already loaded with these powerful plugins, but you can also add these plugins separately if you are choosing any other theme. Just make sure beforehand that your theme supports these standard WordPress plugins.
Conclusion
Congratulations! You now have your gorgeous-looking travel company website with powerful features and functions up and running.
It might take you sometime to get acquainted with some of the features and customization options. And it will be a while before you find the most perfect look-and-feel for your website.
Don't be afraid to experiment and play around a bit, but do keep in mind all the crucial elements required in a travel company website that I mentioned in the beginning of the post.
Remember: Some themes like Travel Agency WordPress theme offer one-click-demo-import feature, which allows you start building your website with ready-made contents (images, text, and other settings) available from the live demo of the theme. So you can enjoy creating your travel company website with greater ease and comfort.
I hope your travel business grows and prospers even further with your brand new website.
All the best!