We all know how important UI is when it comes to building a website. Either that's the front end or backend, users must find it easy and comfortable to navigate.
Since Bootstrap came to life, it transformed the way backends look and feel.
Bootstrap offers a cutting-edge mobile-friendly framework that is relatively easy to customize and provides access to a vast library of widgets and other design components.
So how do you know which Bootstrap admin template is best for your website?
Don't worry! We have got you covered here!
In this article, we will look at the top 10 free Bootstrap admin templates. These templates feature an intuitive dashboard with additional features like analytics, customization, and more.
Now, let's get started!
List of Free Bootstrap Admin Templates
Here is the list of the top 10 best Bootstrap admin templates:
1. AdminLTE3
AdminLTE3 is the highest-ranked Bootstrap admin template in our list. It offers a broad range of features along with reusable, responsive, and commonly used components. This template is built on top of HTML5, CSS3, and Bootstrap.
Since the template is highly responsive, it fits perfectly on any screen size from desktops to mobile. It is lightweight and loads faster and uses minimum resources. There are 6 skins you can choose from to design your template to meet your brand's design.
Likewise, the AdminLTE3 template supports 1000+ icons, including Font Awesome, IonIcons, and Glyphicons. This enhances user interactivity and helps your admin dashboard look better. Moreover, this template is compatible with all major browsers, including Safari, IE9+, Chrome, FF, and Opera.
There are several premium templates available for a specific price that you can use for your admin dashboard. You can get help from the active community in case you're stuck while using this template.
Features:
HTML5 and CSS3
Responsive design
1000+ Icons
6 skins
Lightweight
Cross-browser compatible
Active community
2. Core UI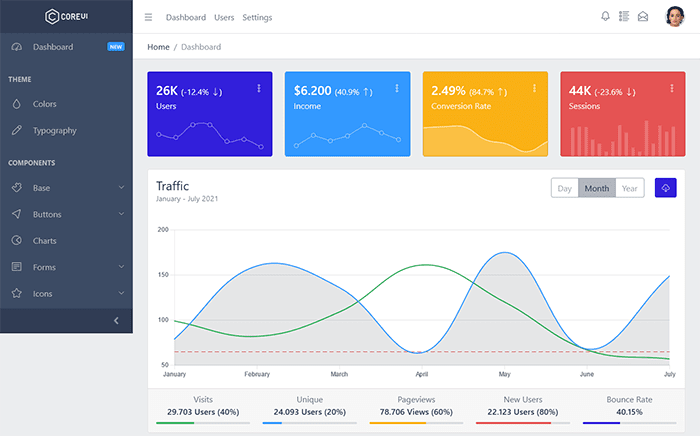 CoreUI is a popular Bootstrap admin template that lets you create stunning pages with a highly functional user interface. This template can save you from hours of hassle and make your work faster.
No matter what niche your website belongs to, having the CoreUI admin template is always an advantage. Along with its modern look and appearance, the CoreUI offers support for various libraries, including Laravel, Angular, and React.
The template is responsive and cross-browser compatible, meaning your website looks great on any device and any browser, no matter where you access it from. Moreover, you can start by adding reusable components like widgets and panels to your dashboard. You can also add buttons, forms, tabs to create a custom interface.
You can start by using demos available with the CoreUI template. The best thing is you can use it straight out of the box, meaning you do not need to waste any time on configuration and such. Other options include a traffic chart which can be filtered by custom date ranges, social media statistics, user data, sales figures, and much more.
Features:
Fast and easy to use
100% compatible with Bootstrap
Responsive and mobile-friendly
Cross-browser compatible
Open-source with enterprise-level support
No design skills required
Supports major frameworks like BootStrap 4, Angular, React.js, Vue.js, Laravel, etc.
Uses advanced technologies like SASS ECMAScript
Ready to use and customizable UI components
Live Preview
3. Now UI
Now UI is an exceptional admin template when it comes to design and appearance. It is a responsive Bootstrap template that combines colors, fonts, graphics, and other elements that pleases the eyes.
There are 16 different elements available in the free version. You get plenty of graphs and charts, 3 plugins, and 7 example pages in the demo version. You can choose from these demos or customize them as you like.
One of the unique features of Now UI is the tooltips that appear when the cursor hovers over specific templates. This can help you inspect different points and values while using graphs and charts. You can also add tables, and the Now UI will format it to look perfect on your website.
You can also add other interactive elements like checkboxes and maps to your admin page or dashboard area. This template supports Google Map integration too. If you need to access more features, you can upgrade to the paid version.
Features:
Well-coded using standard practices.
Excellent design and appearance
Useful tooltips
Supports graphs, charts, tables, and more
Supports Google Map integration
Supports advanced technologies
Well documented
4. Klorofil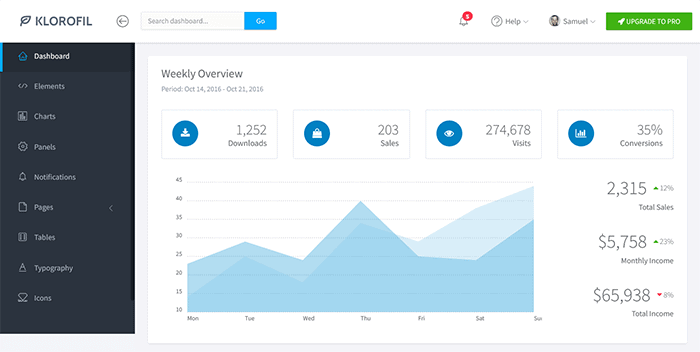 Klorofil is a free Bootstrap admin template for your website. It is clean, minimal, and elegant and provides all functionalities available in today's modern admin template.
Klorofil is a minimally designed responsive template that looks great on any device. Considering the wide use of mobile devices, Klorofil makes sure your website is accessible to all from any browser. The design of this template is pretty flat and minimal. You can add some shading to add character to your dashboard.
With Klorofil, you get a wide range of UI elements to increase your dashboard's interactiveness. This template is excellent for data visualization. Some of the elements include stylish buttons, badges, alert panels, progress bars, and others. Moreover, you can use the timeline features, tables, and to-do lists to display valuable information to users.
There's also a Pro version available for those who want more features, functionalities, and premium access.
Features:
Clean and elegant
Plenty of UI elements
Specific components for specific requirements
Modern and easy to use charts
Predefined page templates
Fully responsive
5. Lumino
Lumino is an excellent template that offers you everything needed to get an admin template up and running. Not just that, it makes sure it delivers the best performance while still keeping things clutter-free and elegant.
First things first, the Lumino template is responsive, which means you can access your website without any hassle on any device. The design is clean and appealing to many. Furthermore, you can customize the designs if you're familiar with the Bootstrap framework or SASS. This includes adjusting the colors, changing the fonts, and modifying the general appearances of
your dashboard.
As you move forward, you can add widgets to your admin area. Even though Lumino is a free tool, it has plenty of widgets to add to your dashboard. Some of these include calendar, news, progress bar, timeline, chat, and contact form widgets.
With Lumino, you get options to represent data in line charts, bar charts, pie charts, doughnut charts, and other impressive forms. The template also features UI elements like alerts and panel styles that dramatically enhance your workflow speed.
Like any other template, Lumino is available in both free as well as premium versions. The pro version lets you access support channels too.
Features:
Clean design and fresh colors
Plenty of widgets
Builtin function for menus and notifications
Built on top of Bootstrap and jQuery
Works with advanced technologies
6. Light Bootstrap Dashboard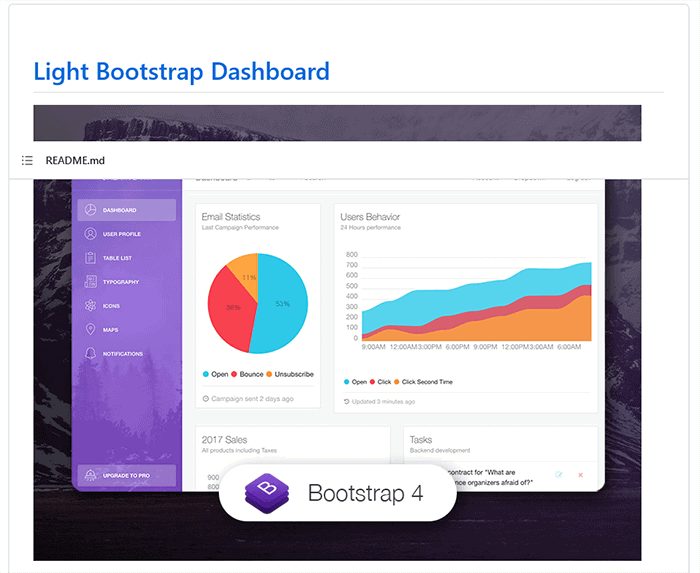 If you're looking for a premium grade admin template for free, we suggest you get the Light Bootstrap Dashboard. You can customize the dashboard as you like using this template. The elements of this template are all designed to increase the speed of your workflow.
Though it is a free template, the Light Bootstrap Dashboard is more flexible than its competitors. This gives you the freedom to create an admin panel that looks nothing less than a premium-looking admin panel. You can modify the color scheme to match your brand, use menu animations, icons, and multiple fonts to create a top-notch admin panel.
For notification, you can use multiple notification styles that are interactive. You can alert your users through the menus or add notification panels to the dashboard itself. Besides, the table list styles available in this template are equally useful too. You can present a lot of data while still keeping the design clean using these tables.
Light Bootstrap Dashboard features 4 customized plugins, 16 handcrafted widgets, and 4 example pages. So, creating a dashboard takes no time with this template. Moreover, plenty of options for customization make this template an ideal choice for admin templates.
Features:
Responsive and flexible
Wide range of color options
Increased speed of workflow
Supports animations
Multiple icons and fonts
Interactive notifications
Tables, Graphs, and Charts
4 customized plugins, 16 handcrafted widgets, and 4 example pages.
7. MaterialPro
MaterialPro lite is a free template that is the lite version of the MaterialPro Admin Pro template. Despite being a free template, it offers exceptional features. So, if you're looking to upgrade your admin panel without paying for it, MaterialPro is the plugin for you.
The template implies the Google Material Design concept. The template is very similar to the Google style guide used for apps and services from Google. This makes it easier for the users to navigate through your webpage. Just make a few changes to align the overall design with your branding, and you're good to go.
Material Pro comes with a set of features that allows you to create your custom admin panel. There are chart widgets, user profiles, and contact elements that are pretty impressive and appealing to anyone for displaying information.
Additionally, MaterialPro includes support for a wide range of fonts, symbols, and much more. You can also add visual elements to make your dashboard more interactive. Integrating Google Maps lets you display interactive maps on your admin panel. Go on and get started immediately with the Material Pro plugin.
Features:
7 page templates
UI components
Integrated plugin
Lifetime free updates
Ready to use widgets
Form included
Powerful technologies like SaaS base for CSS
Charts and tables
8. TemplateVamp
Unlike other templates that use the Google Material Design Style, TemplateVamp uses traditional font choices to stand out from other similar admin templates. TemplateVamp gives a classic look to your admin panel with useful widgets and panels along with top-class performance.
The template layout features a header menu. Similarly, it includes reports, charts, and shortcode sections in the default menu. You can simply click on any icon of the header menu to check out individual pages within your dashboard. You can always alter the default setting if you like to.
For data visualization, TemplateVamp includes options like charts, pie charts, lines, and bar graphs. You can control the look and feel of these elements. Besides, you can add useful elements through shortcodes, all thanks to the huge shortcode library.
Though this template does lack some modern features, it has all the basic features like alerts, progress bars, collapsible groups, and social share buttons. All in all, TemplateVamp is a powerful template with an excellent set of features.
Features:
Widgets and panels
Header menu
Supports reports, charts, and shortcodes
Fully customizable
Huge shortcode library
Alerts and progress bar
Social share buttons
9. Paper Dashboard 2
Paper Dashboard 2 is an upgraded version of the Paper Dashboard template. It is a Bootstrap 4 template with support for advanced features and jaw-dropping design.
This admin template has a design that's nothing less than a premium template. You can see how good it looks using pre-built demos. Besides, you can get a good idea of the layout, elements, and components used in the design through the demos.
Paper Dashboard 2 supports a broad range of components, including animations, interactive charts, graphs and tables, notifications, icons, and more. Users can create profile pages too. The default profile page includes details about users, photos, and descriptions.
The free version has a few limitations. However, the features and functionalities that the free version offers are quite exceptional. It includes 16 elements, 3 plugins, and 4 example pages. The template is regularly updated and comes with detailed documentation for easy use.
Features:
16 elements, 3 plugins and 4 example pages
Fully coded
Bootstrap 4 support
Prebuilt demos
Easy to use
Supports charts, graphs, tables, icons, and more.
Regularly updated
Detailed documentation
10. Argon Dashboard
Argon Dashboard is a powerful, free admin template for creating outstanding admin panels. Its modern design and tested performance make it stand out from the crowd of similar templates.
Firstly, the Argon Dashboard is a flexible and responsive template built on top of the Bootstrap 4 framework. This gives the template a modern design and a top-quality interface. No wonder it is loved by people worldwide and has over 17,000 downloads to date.
Argon Dashboard comes with 100 components, 4 customized plugins, and 6 example pages. This is also one of the reasons for its immense popularity. Other than that, the Argon Dashboard offers live preview options so that you can see the changes as you make them.
The demos available with the Argon Dashboard show that it supports animation and effects to make the interface more attractive. This template is built using advanced technologies like SaaS. In case you want to use graphs, charts, and tables on your website, you can do that too. Moreover, you can access a wide variety of icons and add an interactive element to your website.
If you need more features in your template, check out the Pro version of Argon Dashboard that comes with added features and functionalities.
Features:
Fully coded components
Detailed and complex documentation
Beautiful design
100 components, 4 customized plugins, and 6 example pages
Live preview
Supports animation and effects
Supports graphs, charts, and tables
Built with advanced technologies like SaaS
FAQs (Frequently Asked Questions)
Which is the best bootstrap admin template for WordPress?
In this article, we recommend you the AdminLTE3 bootstrap admin template. This template is an excellent-looking template with handy features that makes it easy for users to navigate around. Besides, it is responsive and offers reusable components too.
This template supports 1000+ icons, including Font Awesome, IonIcons, and Glyphicons. This enhances user interactivity and helps your admin dashboard look better.
What to look for in a bootstrap admin template?
A Bootstrap admin template needs to be clean and attractive so that it's easy for users to navigate around. It should be easy to use and offer plenty of options for customization. Moreover, it needs to be responsive and mobile-friendly too.
Are Bootstrap Templates free?
Bootstrap is the most popular framework for developing admin templates. It is an open-source platform with plenty of free templates as well as premium templates. Furthermore, it helps you create templates that are responsive and works well on any device, including mobile phones, tablets, laptops, and desktops.
Conclusion
There you go! These are the top 10 free Bootstrap admin templates that have made it to our list. All of the templates mentioned above excel in terms of design, performance, functionality, and ease of use.
Hopefully, you have found a suitable template for your needs. Try it out and let us know your experience in the comment section below.
If this article was helpful, check out our other articles: Best WordPress Login and Registration Plugins and What is the WordPress Admin Dashboard?