Do you love food and cooking? Do you want to share your food recipes to the world? Yes? Then you've come to just the right place. I'll show you how to start a food blog in two easy steps.
Step 1: Start writing your food recipes.
Step 2: Post them on your website and let the world know how AWESOME you are at cooking!
Voila! Your own food blog!
Wait, where's the part about creating a website?
I left that out because creating a website is a piece of cake these days. It's the cooking part that's hard and that you love (unless you are now thinking to become a web designer). As a matter of fact, you can build your own food website/blog within 30 minutes!
Don't worry I will guide you through the entire process of creating your own food blog so that you can focus on your recipes, not the technical stuff!
The Basic Steps to Start a Food Blog:
Think of an exciting name for your blog. Something that resembles your love for food.
Register the domain name and get a hosting plan
Install WordPress
Choose a nice, attractive and responsive WordPress food theme for your website.
Install WordPress plugins
Start writing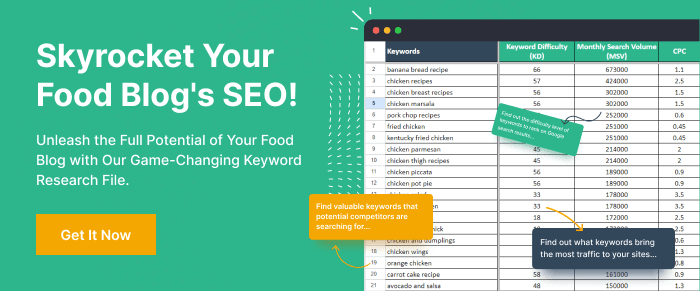 Now, I will go through the entire process in details. So, let's begin.
Note: Some of the links in this guide are affiliate links. We earn a certain amount of commission if you buy services/products through the links, without any extra cost to you. That being said, we don't recommend products that are not worth.
1. Domain name A.K.A. Name of Your Food Blog
This is the most time-consuming and the trickiest part. I know, you might have already thought a name for your food blog. But, the problem is, it might have been already taken.
There are so many domain brokers these days that most of the common words/names are usually taken. Domain brokers are like real estate brokers. They buy domain names for cheap. Reserve it. And then sell it for a high price to potential customers. A $15 domain name could cost you more than $1,000.
If the name you thought of is not available, think of another one. I know you can be creative! Brainstorm. Ask your friends. But keep the following things is mind while choosing the name for your food blog.
It should be short and catchy.
It should be easy to remember.
It should describe the content of your blog.
It should be easy to spell.
Once you have some workable names on your mind, go to NameCheap to check for their availability. Enter the possible names in the search box.
Try to find a name with ".com" suffix because .com is more common and people usually trust them. However, don't try to make your domain name complex by using specials characters like hyphens.
Once you find the right domain name for your food blog at NameCheap, don't register it there. Why? Because I will tell you how to get a domain name for free in the next step. I use namecheap.com just to check the availability of domain names.
However, if you are looking to register a domain, for now, you may look at this list of Domain Name Registrar.
2. Register Domain Name and Get Hosting Plan for Your Food Blog
A web host is a place where all the contents of your blog reside. Thus, it is important to use a reliable web hosting service. For starters, I would recommend using a shared hosting plan because it is cheap.
We use SiteGround for Rara Theme web hosting and would recommend everyone as it is cheap, reliable and WordPress ready.
Advantages of SiteGround for Food Blogs:
SiteGround gives you a free domain. There are only few web hosts that offer free domain name. You can register the domain name you searched earlier at namecheap.com here.
SiteGround is officially recommended by WordPress. WordPress is an easy way to create a website.
SiteGround has uptime of 99.99%. This means your blog will always be live.
SiteGround has an excellent 24/7 customer support.
SiteGround is one of the fastest web hosts. For the price you pay, no other web hosting service provides the speed like SiteGround does because SiteGround uses SSDs on their servers.
You get free SSL certificate on SiteGround. SiteGround offers built in Let's Encrypt SSL certificate. Having an SSL certificate makes your blog trustworthy. Also, the chance of your food blog coming earlier in the Google search results is high with SSL.
How to register on SiteGround: step by step
Step 1: Go to SiteGround by clicking here.
Step 2: Choose the StartUp plan by clicking "GET STARTED".
Step 3: Select register a new domain. Enter the domain name you searched at namecheap.com earlier here. And then click "PROCEED".
Step 4: Lastly, enter your name, physical address, email address, payment information and period of your subscription.
I recommend you to check the Domain Privacy in Extra Services section. Domain Privacy safeguards your information like name, address and phone number from Domain WHOIS search. In simple words, the personal information of domain owner will not be displayed publicly if the domain has Domain Privacy enabled.
3. Install WordPress on Your Food Website
This is the easiest process of all. Once you register with SiteGround, you can install WordPress with few clicks.
Login to your SiteGround account. Then, follow these instructions by SiteGround. Don't worry about the theme yet because we will talk about it later. Just select any theme.
Drum roll…
Congrats! You have a food blog now!
The first thing you should do now is, access your WordPress admin panel and change permalink settings.
Type http://yourblogname.com/wp-admin on your web browser to access the admin panel of your WordPress. This is where you will personalize your blog and post recipes.
Now, go to Settings and click on Permalinks.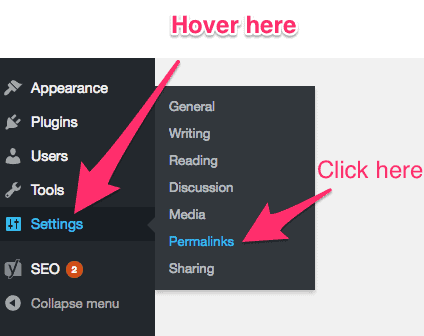 Then, in the Custom Settings select "Post Name" and click Save Changes.
4. Choose a WordPress Theme
First of all, welcome to the bloggers' community.
Now, let's make your blog BEAUTIFUL just like your food!
You can easily change the design of your blog with WordPress themes. And, changing the WordPress Theme is a child's play.
How to Install and Change Free Themes from Dashboard:
First, login to your WordPress admin panel. Then, click on Appearance => Themes.
After that, click on the Add New button at the top.
The list of free themes will be displayed. Pick a theme, click Preview to get an idea of the layout of your blog. If you like a theme, click Install. WordPress will then install the theme.
You will not see the theme on your blog without activating it, therefore click on Activate.
How to Install and Change the Theme by Download Method:
After you login to your WordPress admin panel, click on Appearance => Themes.
After that, click on the Add New button at the top.
Now, click on the Upload Theme button.
Then, click "Browse…" to select a theme file from your computer. The theme should be in .zip format.
After you have successfully uploaded your theme, the "Install Now" button will be enabled. Then, click Install Now to install the theme.
Then, click on Activate to activate the theme on your food blog.
Bravo! You have now successfully changed the theme of your blog.
You can find many WordPress themes on the Internet. But, before you start looking at each of them, here are few things to look for while choosing a WordPress theme.
Design: You should select a theme that looks like a food blog. The color and the design of the theme should compliment your recipes.
Designer: You should know if the designer of the theme is experienced enough. You don't want to run into technical errors. Poorly coded themes will give you headaches with many syntax errors. And, in addition to giving you frustrations, poorly coded themes will also lower your blog's ranking on search engines.
Responsiveness: The theme should be responsive. What this means is, the theme should be optimized for every type of electronic devices– Computer, Mobile, Tablet. You don't want to miss audience on any platforms.
SEO Ready: If a theme is Search Engine Optimization (SEO) ready, your food blog will rank higher in Google Search results. Thus, more people will read your blog, and try your recipes. An SEO theme has less coding errors. To check for errors in themes, go here and paste the URL of the theme. The theme with few errors is better.
Support from the developer: If you decide to buy a Premium theme, check how responsive the support team is.
Phew!
That's a lot of things to investigate just for a theme, isn't it?
Well, worry not!
To make things easier for you, I have listed two best themes for a food blog. You can try out the free versions first. And, if you like it, go Premium because premium version has many features and you get awesome support from the developers.
Also, if you are serious about your food blog, invest few bucks on a quality Premium theme. Trust me, Premium theme is a good investment.
Note: All the themes listed here are made by our team. We have lots of beautiful themes for various purposes. However, the list contains only the themes that are appropriate for a food blog. All our themes are designed and coded by experienced designers. All the themes are responsive and SEO ready. And, you get a first-rate support from our designers.
Best WordPress Themes for a Food Blog:
1. Cookery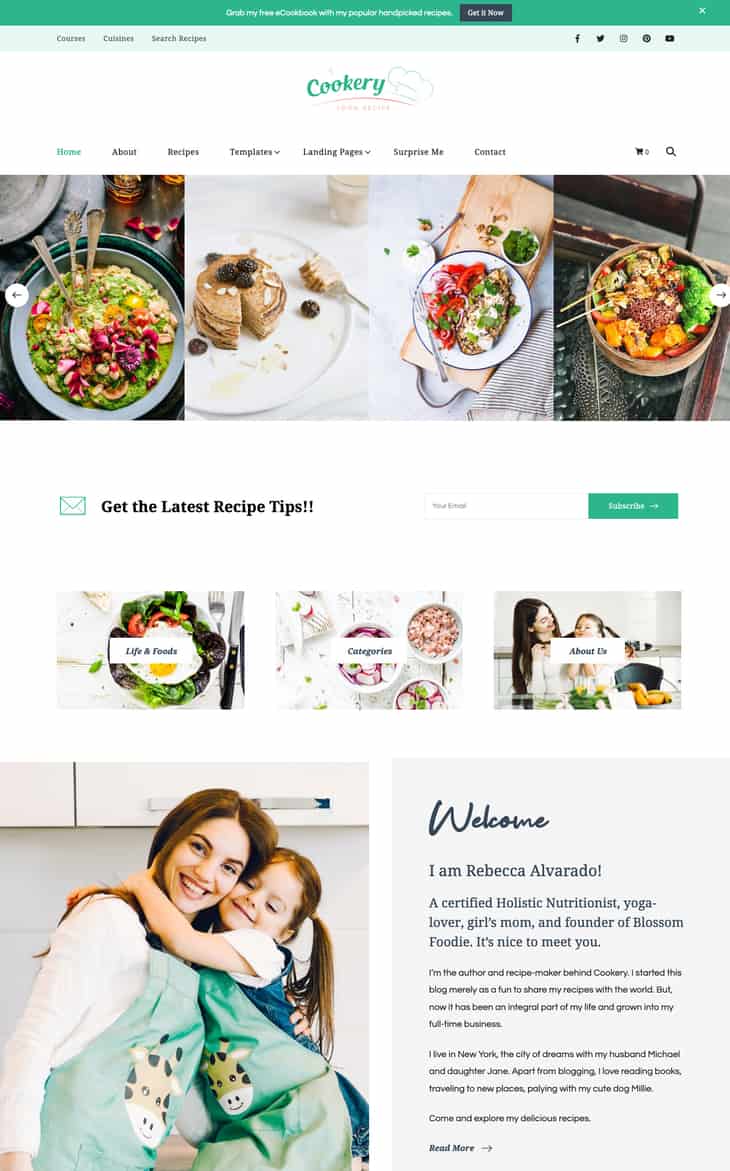 Cookery is a lead-generating WordPress theme that suits you if you are a food blogger and want to share your recipes online. This theme is highly customizable and introduces tons of easy-to-use features to let you create a successful food blog.
This theme allows you to build your website quickly and easily. You can use its One-click Demo Import feature to import the theme's demo content with a single click. Cooker features six header layouts, nine homepage layouts, eight slider layouts, five single recipe layouts, and two single post layouts to give you enough design options.
When it comes to customization, you have the option to choose from 600+ Google fonts and unlimited color choices. Cookery follows the best SEO practices and comes fully responsive to ensure consistent performance across all devices and screen types.
The theme is 100% compatible with the powerful WP Delicious plugin that helps you create attractive and user-friendly food recipes easily. You can also develop step-by-step instructions for your recipe with this theme. 
Cookery lets you provide valuable information to your health-conscious users by offering nutritional value charts with each recipe. Besides, it allows them to search for the perfect recipes with advanced search filters.
Cookery integrates with the popular WordPress multilanguage plugins, like WPML and Polylang. It comes translation-ready and also supports RTL scripts.
2. Blossom Recipe Pro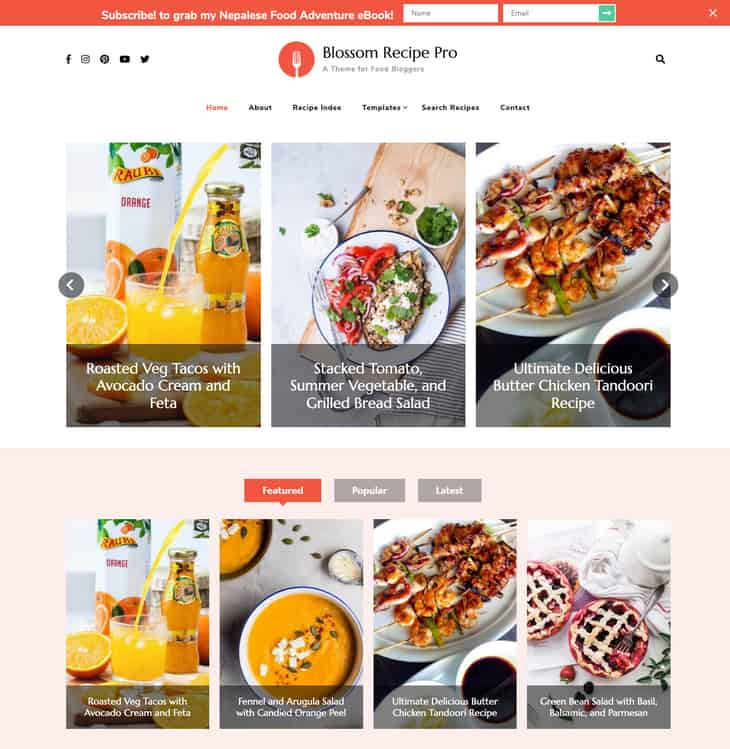 Blossom Recipe Pro is a feature-rich and 100% responsive premium WordPress theme that lets you create a recipes blog. Thanks to the One-click Demo content import feature, you can kickstart your website in a few minutes with ready-made content and settings.
The theme comes packed with nine homepage layouts, four header layouts, and four slider layouts to offer you enough design options. In the meantime, you get easy customization options with unlimited color choices, 600+ Google fonts, and unlimited backgrounds.
This SEO and speed-optimized theme enables you to display step-by-step cooking instruction and cooking details. Besides, it also allows your users to check the number of ingredients required to prepare a specific dish. Blossom Recipe Pro comes fully compatible with the Blossom Recipe Maker plugin.
Apart from that, the theme includes advertisements areas to display Google ads and earn income. Blossom Recipe Pro also comes compatible with popular WordPress multilingual plugins like WPML and Polylang. Additionally, it comes translation-ready and also supports RTL scripts.
3. Bakes and Cakes Pro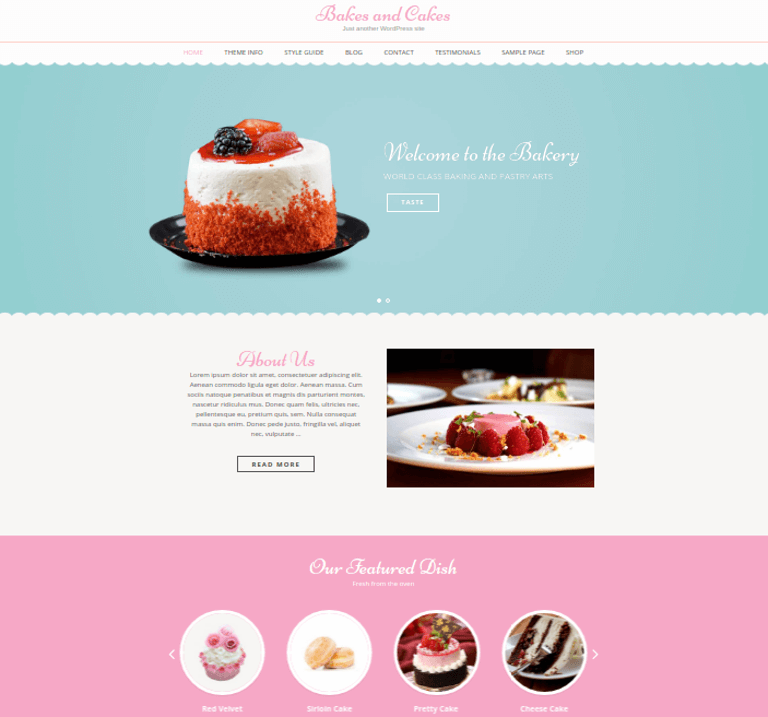 Bakes and Cakes Pro is a simple, professional, and easy-to-use WordPress theme suited for the bakery business. This theme has a One-click Demo Import feature that enables you to import the entire demo content within a single click and create your food blog quicker than ever.
The premium theme highlights 16 home page sections, seven unique header designs, and seven individual custom pages to offer you diverse options for your food blog. It introduces a custom food menu page to flaunt your bakery's menu. You also have full typography control and customization choices with 600+ Google fonts and unlimited color.
Bakes and Cakes Pro integrates with the popular WooCommerce plugin that lets you sell your products online and earn income. Besides, the social media integration feature enables your blog to display and link to your multiple social media pages.
This theme comes optimized for both SEO and speed. It is also compatible with WordPress multilanguage plugins like WPML and Polylang. Additionally, Bakes and Cakes Pro is fully responsive and supports RTL scripts.
4. Restaurant and Cafe Pro
Restaurant and Cafe Pro is a feature-rich WordPress theme specifically designed for a food blog. This premium theme allows you to create your cafe, restaurant, bakery, and cafeteria service website without the need to write a single line of code.
This theme introduces a One-click Demo Import feature that lets you import all the necessary files and settings from the theme's live demo with a single click. You can easily flaunt your recipes the way you want with 21 home page sections, seven predefined header layouts, three banner layouts, and eight custom page templates.
Restaurant and Cafe Pro is SEO-friendly and is optimized for speed. Similarly, it is 100% responsive and mobile-friendly. You can customize your food blog the way you want as Restaurant and Cafe Pro introduces 600+ Google fonts and unlimited colors to choose from.
This theme integrates with the WooCommerce plugin, which allows you to create a fully-functional online shop. It also features an advertisement widget to aid you place ads and make money. Additionally, the theme supports the WPML plugin and supports RTL scripts.
5. Install WordPress Plugins
Once you have completed all the above steps, you are now ready to post your first recipe.
But.
Before you start writing, I recommend you to install some Plugins.
Plugins are tools that you can add to your food blog to increase its functionality. You can compare them to the apps on your Android or iPhone. There are lots of plugins available in WordPress (free and paid). There are some plugins that optimize your food blog, and there are some which help you organize your content.
As you are new to blogging, I have made a list of some must-have Plugins for a food blog.
But, before we go to the list, let me first tell you how to install a Plugin in WordPress.
How to install a WordPress Plugin
First of all, log in to your WordPress admin panel.
Then, click on Plugins.
Then, click on "Add New" button.
After that, type the name of the plugin, you want to install, on the search bar. I searched for Akismet.
Then, click on "Install Now" button to install the plugin.
You will then see "Installing…" written on the button. Installation only takes a few seconds.
Finally, click "Activate". The plugin will then be activated on your blog.
Once you activate a plugin, you will see on your plugins list.
Now, let's talk about some WordPress Plugins that every food blogger should use.
Once you start posting on your blog, you will notice many comments with Ad links on your post. They are spam comments. And, if you don't install Akismet plugin, your blog will be flooded with them. Akismet filters the spam comments and lets you review the spam comments before they are posted on your blog.
This is the best SEO plugin there is! Yoast SEO Plugin not only helps your blog rank higher in search engines like Google and Bing but also helps you write better content. It gives you real-time writing and SEO feedback.
BigOven plugin is a plugin specially made for food bloggers. This plugin helps you manage your recipes easily on your blog. Also, it improves the ranking of your recipes on search engines with rich snippet markup.
Google XML Sitemaps plugin provides search engines a complete XML sitemap of your blog. Basically, this plugin will tell search engines what type of content your blog has, which, eventually, will help your blog rank higher in search results.
5. WP Delicious
WP Delicious is a feature-rich and flexible WordPress recipe plugin that is very easy to use. It should be your first pick for your food blog.
This SEO-optimized plugin includes tons of features like recipe image and video galleries, unlimited recipe creation, nutrition charts, printable recipe options, rich text instructions, and advanced search.
WP Delicious makes use of the powerful WordPress REST API to create and manage recipes. With a mobile-friendly and responsive design, this plugin makes it easy for you to create and share your recipes online. It also features an interactive user interface with proper color and layout settings for customization.
Additionally, WP Delicious allows you to share your recipe on social media platforms with Instagram and Pinterest. The rich pins for Pinterest get automatically updated and provide the best available information about your recipe to your users.
Jetpack is the ultimate plugin to manage your WordPress blog. This plugin also provides you stats about your visitors. Plus, this plugin will protect your blog against brute force attacks and unauthorized login.
BackUpWordPress will backup your entire blog. It will backup all your photos, recipes and posts on your blog. You can choose a date that suits you and schedule the backup.
8. jQuery Pin It Button for Images
Pinterest is one of the largest traffic sources for many famous food bloggers. Therefore, it is a good idea to make your food blog Pinterest ready. JQuery Pin It Button for Images plugin helps readers easily Pin It your images. The plugin displays a "Pin It" button over the images whenever users hover over them.
Well, those were some of the important plugins for starters. As you get experienced, you might want some more plugins to make your task easier. But, DO NOT install "too many" plugins as it will make your blog slower.
6. Start Writing on Your Blog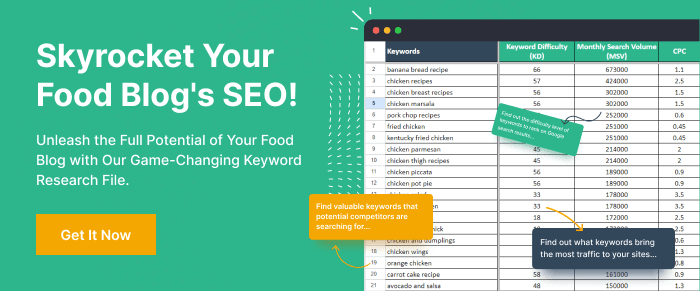 Congratulations! Now you have a beautiful-looking food blog with all the tools installed. Do you know what that means?
You can now start WRITING!
Hope to see some great recipes from you.
Happy Blogging!!
Also, check out our articles on 7 Effective Ways to Increase Website Traffic For Free