Domain names are as important as any other aspect of your website. For any online business, their domain name is their identity among customers.
Choosing the right domain name is more challenging than ever, with hosting companies tricking their customers with hidden charges, terms and conditions, and such.
This article looks at domain registrars, how they work, and how to choose the best domain name registrar along with things to consider.
What is a Domain Name Registrar?
A domain name registrar registers domain names and sells it to interested parties. Domain registrars are licensed and managed by ICANN (Internet Corporation for Assigned Names and Numbers), a non-profit organization.
Domain registrars make it easy for everyone to use the internet. If there were no domain names, you would need to type in long strings of numbers in the IP address. Thus, domain names make it easy to locate web addresses with their name.
How do Domain Registrars Work?
ICANN is an organization that provides licenses and manages all domain registrars around the world. These domain registrars make domain names available widely. They sell domain names along with other services and tools for business owners all over the world.
The centralized database, Registry, stores all of the domain name records. Until the domain name is added to the database with all related information, the domain name is not recognized.
A domain registrar also provides you with tools that make it easy for you to manage your domain name.
How to Choose the Perfect Domain Name Registrar?
Different domain registrars have different permissions from ICANN to sell domain names. For example, some might only have permission to sell domain names with country-based extensions.
Similarly, each domain registrar has its own set of bundled features. Depending on that, they have their pricing. Some domain registrars even try to con its customers with hidden fees and unreliable services.
So, to choose the best domain name registrar, we suggest you follow the steps below:
Pricing and Affordability
While choosing the best domain name registrar, pricing plays a significant role. Some domain registrars offer domain names for a low price with 1-year registration, whereas some require you to pay for a minimum of two years.
It is ideal to register a domain for one year and turn on auto-renewal. That way, your domain does not expire ever. Some domain registrars charge extra fees during renewal or domain transfer. Make sure you check for hidden charges before you finalize on the domain registrar.
Security features
Some of the domain registrars charge a bit more compared to others. That's reasonable and worth it if the registrar provides you with bundled security features. This keeps your website protected from external threats.
However, do check the services provided thoroughly before paying for such services.
Domain Transfer
While looking out for the best domain registrar, always check if your domain registrar allows for domain transfer. Though you might not need it right away, you'll find it useful if you're not satisfied with the services of domain registrars.
You can't transfer the domain within the first 60 days. After that, you're free to move your domain to a different registrar.
Some registrars charge a certain fee and make the transfer process complicated. However, in most cases, you're allowed to move it without any money and hassle. Make sure to check the domain transfer policy.
Renewal Policies
When you register a domain for the first time, it gets registered for a fixed duration. Once that duration is over, you will need to renew your domain name. If you forget to renew your domain name, it expires, and anyone can register the name.
This can be a significant problem for business owners. Losing a domain can have a severe consequence as your domain name is associated with your product's branding. Thankfully, most of the domain registrars provide you with an automatic renewal feature. Some of them offer a grace period, which is the time to renew your domain that's expired already.
Sometimes you may not be able to renew the domain immediately. So, look for the registrars that provide grace periods even after your domain expires.
Add-on services
Before finalizing the domain registrar for your website, we suggest you review additional features offered by your registrar. Even if you don't need them all right now, you can use it later in the future.
Add-on services could be anything from a hosting service, email marketing service, and many more.
Best Domain Name Registrars
There are many popular domain name registrars all over the world. Finding the right one might be challenging for you, especially if you're new to this field. Here's a list of best domain registrars based on the criteria mentioned above. But before that, if you are looking for or thinking of a unique domain name, you can use domain name generators. There, you'll find plenty of suggestions for available domain names.
1. Cloudflare domain
Among internet users, Cloudflare is a popular name when it comes to domain name registrar. Unlike other domains, CloudFlare registrar manages your domain names in a transparent manner. There are no hidden charges, addons or renewal fees.
It also ensures that your domain is secured by providing features like two-factor authentication, multi-user support, and a security-focused customer support team. Cloudflare also supports plenty of TLDs.
Moreover, you can also perform bulk domain transfer. You can also enable automatic domain renewal so that you do not hassle once your domain registration expires.
Features
Supports variety of TLDs
Two-factor authentication
Multi-user support
Automatic domain renewal
Developer friendly API
Registrar locking
Bulk domain transfers
2. Google Domain
Google Domain is an excellent domain registrar from developers at Google. It is a simple yet powerful tool. Using it is straightforward as the interface is simple and easy to understand.
Google Domain makes sure you pay less and still make the most of your domains. It provides added values at no added cost. This includes privacy protection and 24/7 customer support.
Besides, Google domains are trustable and reliable since it runs on Google infrastructure. You can tie up with website builder partners to create a modern website too.
Features
Added value at low cost
Reliable and trustworthy
Integrate with Gsuite
24/7 customer support
Secured and protected
3. Domain.com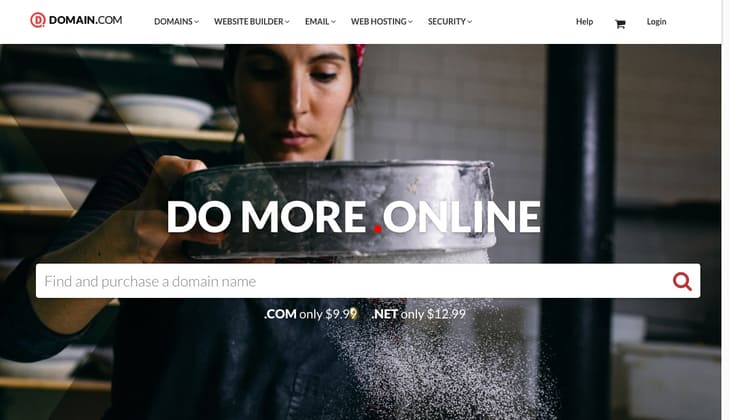 Hands down, Domain.com is the biggest domain registrar in the world. It provides highly secured domains at an affordable price. To add to that, it also includes plenty of add-ons, such as G suite during the domain registration process.
Regardless of your business size, you can use Domain.com for all purposes. It offers the most flexible price range and has all features included. It also provides domain management tools.
Besides, domain registration, domain transfer, DNS management, email, and other additional services are also available. Moreover, you can also choose to use the hosting services provided.
Features:
Free SSL encryption
Email forwarding
DNS management
Transfer lock
Suited for all
4. GoDaddy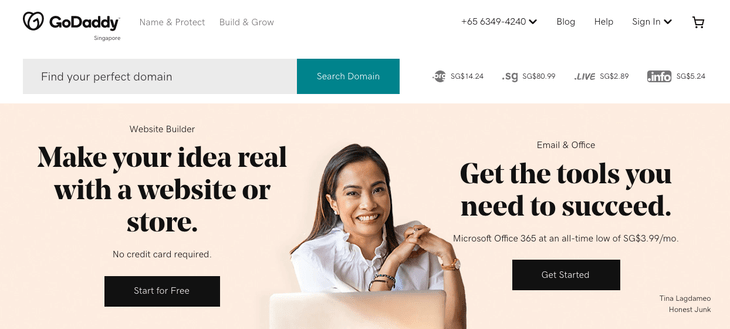 GoDaddy is one of the well-reputed domain registrars with satisfied clients all over the world. They have an excellent customer base of around 18 million. What makes GoDaddy stand out from the rest is its competitive pricing. Unlike other domain registrars, GoDaddy offers a significant discount on the first year of domain registration.
It has an extensive collection of domain names of a wide range that you can choose from. It features an interactive domain management interface that permits domain transfer and settings adjustments.
The featured list of domain extensions is quite impressive. And, the support is world-class. All of these are plenty of reasons to opt for Go Daddy as a domain name registrar.
Features:
24/7 award-winning support
Wide range of domains to choose from
Low price and multiple options
Reputed and Trustworthy
Real-time monitoring
Quick, simple tools
5. Namecheap
Lastly, we have Namecheap, which is another brilliant option for a domain registrar. Namecheap features a powerful domain search tool that can help you find the right domain name. If a domain name is not available, Namecheap suggests you with a proper domain name.
With Namespace, you get plenty of add-on services like domain privacy and premium DNS. Moreover, domain privacy is free with all the domain names.
The only downside of this domain name registrar is it doesn't have a user-friendly interface. Users often complain of facing troubles while logging into the domain management panel.
Features
Privacy and security
Excellent support
Domain transfer
Web Hosting
G-suite
SSL certificates
Conclusion
There are hundreds, if not thousands of domain registrars. That is why people find it hard to get the right domain name registrar for themselves. This article lists the best domain registrar along with its set of features and download links.
Besides, the article guides you on how to choose the best domain registrar with its comprehensive content. We hope you'll find everything that you're looking for in the article above. Also, check the best web hosting providers and Please share your experience in the comments section below.