Finding the ideal domain name for your website can be a daunting experience. Especially, when there are around 330 million registered domain names, and you want to stand out.
A domain name should be able to describe the brand. In addition, it needs to be catchy, memorable, and easy to recall.
You may think: Well, that's pretty easy.
But wait, there's more!
You need to check if the .com domain is still available. Since the .com domain has a high demand on the web, chances are it's already registered. In that case, you are again back to the drawing board, and the process keeps repeating until you find one.
To make this process easy, there are domain name generators. Domain name generators help you find the perfect domain name easily using keywords. Enter a word, and you'll find plenty of suggestions of available domain names.
In this write-up, we have listed the 10 best domain name generators. Go through the entire article and find the one that serves your purpose.
Things to Consider While Choosing Domain Name
Domain name generators offer you different domain ideas to choose from. These tools inform you about domain availability. But, picking the right one out of those suggestions is still your call. Following are the things you need to look for in a domain name:
Catchy and Memorable
A Domain name should be something that can quickly get stuck in your head or something that you can easily remember.
Brandable
A domain name marks your identity on the internet. Make sure your domain name makes you stand out and establish yourself as a brand.
Sounds Reliable
The domain name of the website can make a lasting impression on its users. Your website must sound reliable to your visitors.
Unique
Until you have a unique domain name, you cannot get the domain. So, it's crucial to have a unique domain name.
List of 10 Best Domain Name Generators
Here are the 10 best domain name generators that help you find a perfect domain name for your website.
Lean Domain Search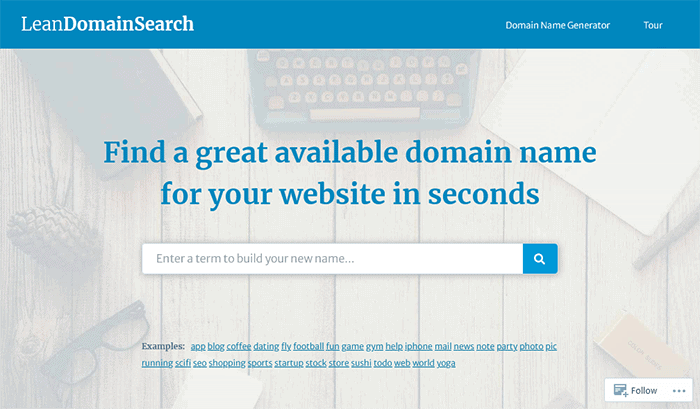 Lean Domain Search is hands down one of the most prominent domain generator tools for finding the right domain names. It gives you the best possible names within a matter of seconds, which is an exceptional speed. The best part – it comes free of cost.
The app uses the search keyword and looks for other keywords frequently found in similar domains to give you an appropriate suggestion. The loading speed is lightning fast; however, the accuracy of the result is doubtful.
Features
Instant search/ high-speed
Multiple filters to filter available domain names
Keeps track of your search history
How to Use
Using Lean Domain Search is easy. Simply provide one word as a single keyword – something that defines your niche in the best way. You will then notice a long list of possible domain names that are unregistered or available.
Pros and Cons
| Pros | Cons |
| --- | --- |
| Add favorites | Checks for only .com domains |
| Register domain straight from the tool | |
| Shows history | |
NameStall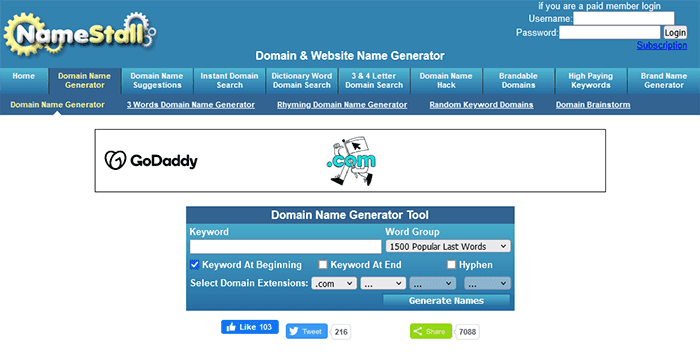 Unlike other online tools, the NameStall tool is a suite of three different domain name generators. This includes a domain name generator, a three-word domain name generator, and a rhyming domain name generator.
All in all, NameStall is an advanced domain name generator with other tools embedded within it. For example, parts of speech, popular keywords, basic English words, etc. Besides, there are options available for choosing where you want your keyword. You can also add hyphens to your domain name.
Features
Many tools within the package
Keywords can be placed anywhere in the domain name using position specifying buttons
Supports hyphens in domain names
How to Use
To use the NameStall tool, write your keyword in the keyword field. Then, Select a word group that you relate to from the dropdown list. If you want to place your keyword at the beginning, Select the Keyword At Beginning option.
Likewise, there's also an option for Keyword At End. Additionally, there is even an option for adding hyphens to Use Hyphens. Lastly, select your preferred TLDs and click on Generate Name, and you'll see a list of possible domain names.
Pros and Cons
| Pros | Cons |
| --- | --- |
| Excellent options for customization | Limited searches in free version |
| Allows you to choose where you want to keep the keyword | |
| Checks for multiple TLDs | |
NameMesh
If you have multiple keywords but can't find the right domain name for your site, you should use the NameMesh tool. It gives you a comprehensive list of possible domain names, further divided into a handful of categories: Common, New, Short, Fun, and SEO.
Since the resulting list offered by NameMesh is a long one, you can use the filters like domain extension, unregistered domains, and maximum length to filter out specific results.
Features
Supports multi-keyword search
Well categorized results
Advance filters for finding what you are looking for
How to Use
Start by putting in keywords. You can enter one or many keywords. Once you've entered keywords, select the TLDs that you prefer. You will then see a huge list of generated domain names with information, whether it's available or not. As you get the idea about domain name availability, you can choose the one for your website.
Pros and Cons
| Pros | Cons |
| --- | --- |
| Massive list of results | Not all domains are available |
| Interesting categories | |
Bust A Name
Bust A Name is a domain name generator tool for perfectionists. It is so because it allows you to have multiple filters that make the domain name even more specific.
You can specify what keywords you want your domain name to start or end with. There's also an option for choosing how natural you want your domain to look. Choose one among the available options from the dropdown and add a character limit.
Filtering domains using extensions such as .com, .org, etc. is also possible. One of the unique features of this simple tool is that it also suggests similar keywords.
Features
Allows adjusting how natural your domain sounds
Random domain suggestion
Similar Keyword suggestion
Advanced filtering for specific results
How to Use
It all starts with a keyword. Feed in a keyword and choose whether you want to place it at the beginning or end of your domain name. You can also select how natural you want your domain to sound. Lastly, specify a limit to the number of characters in your domain name and choose the TLDs you prefer.
Pros and Cons
| Pros | Cons |
| --- | --- |
| Catchy and interesting list of domain names | You can add keywords only at the beginning or end of your domain name |
| Lets you save domain names for later | |
| Price comparison | |
| Random domain name suggestion, in case you're out of fresh ideas | |
Panabee
Panabee serves multiple purposes. It is a domain name search tool, a business name generator tool, and a domain name generator tool. The good thing about Panabee is that it will search through social media platforms and let you know if your ideal domain name is already being used elsewhere.
It uses keywords to find the right domain name for you. If you're not satisfied with the results, Panabee also suggests related terms that you can search for.
Features
Multipurpose tool
App name availability
Related suggestions
International domains
Social media usernames
No domain theft
Searches even through social media
How to Use
All you have to do is provide at least two words or a domain name in the textbox field. Once you hit search, you'll see a list of suggested names. Not just that, Panabee also suggests you related keywords and searches if the name you specified is used elsewhere in social platforms.
Pros and Cons
| Pros | Cons |
| --- | --- |
| Suggests related names | Requires two words |
| Check for social media username | |
NameBoy
One of the oldest and well-reputed tools for generating interesting domain names is the NameBoy tool. NameBoy gives you domain names with different TLDs other than the standard .com.
NameBoy combines common words, random words, prefixes, suffixes, and the entered keywords to create a unique domain name for your website. Besides suggesting names, it also checks if the domain name is available or already registered.
Features
Works for generating names for different purposes.
Supports multiple TLDs
Checks if the domain is registered already
How to Use
To make the most out of NameBoy, provide two keywords, one primary and the other secondary. It's up to you to determine if you want to add hyphens, but we suggest you not to do that as it affects your SEO rankings in one way or another.
Pros and Cons
| Pros | Cons |
| --- | --- |
| Supports multiple TLDs | Buying domain name directly might be unsafe from NameBoy |
| Shows you domain names available for resale | |
| Allows you to add hyphens | |
Domain Puzzler
Domain Puzzler is among the most straightforward tools with multiple options. First, there's an easy option where you enter your keyword. Besides that, there are options like advanced, magic and Pagerank. All of these help you improve specific aspects of your domain name.
The best thing about Domain Puzzler is that you can add multiple keywords separated using comma and space. The tool does its magic by combining these keywords into different variations.
You can add interesting results to your list of favorites and continue to experiment with different domain names.
Features
Simple and easy to use interface
Supports multiple TLDs
Check for page ranking
Supports multiple keywords
How to Use
The designers of Domain Puzzler have kept things simple and still managed to design an excellent interface. It includes a textbox for keywords where you can enter multiple keywords separated by commas. In the advanced option, you can also use additional words to combine your keywords.
Pros
Easy to use interface
Supports all TLDs
Supports multiple keyword
DomainsBot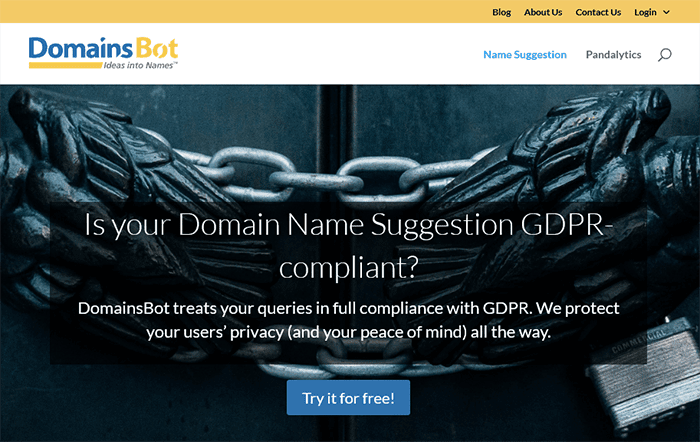 DomainsBot is a domain suggestion as well as a search tool. It allows you to search for a domain using keywords, or you can also choose to enter the domain name that you like, and you'll get suggestions on similar domain names.
DomainsBot supports almost all major TLDs. Not just that, but you can add your synonyms along with prefixes or suffixes. You can use this tool to get insightful data and better understand your customer base.
Features
Get insightful data to understand your customer
Supports a wide range of TLDs
Add synonyms, prefixes, and suffixes
How to Use
To use DomainsBot, start by providing one or more keywords. Once you finish the first initial search, you can then customize the synonyms, suffixes, and prefixes and check for available TLDs.
Pros and Cons
| Pros | Cons |
| --- | --- |
| Excellent customization options | The names could be more creative |
| Multiple TLDs | |
| Shows various registrars where you can buy the domain | |
Namecheap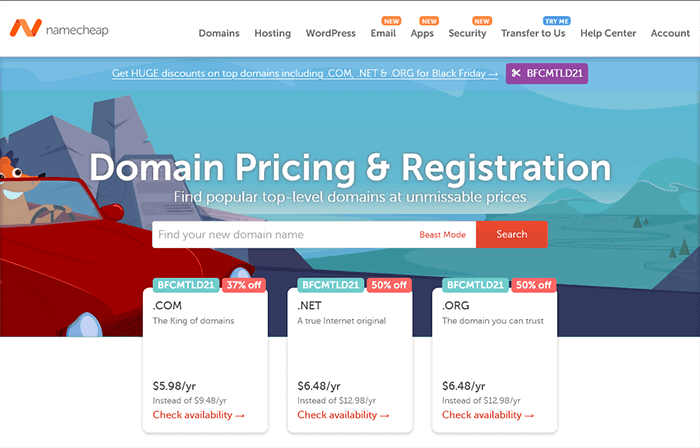 Unlike any other domain name generators, Namecheap is a go-to tool if you're looking for a bulk-search tool. It uses a domain name generator called Beast Mode to generate ideal domains for your business. It also shows you the price for all the available domains and helios you grab the best deal.
You can even refine your search using the Beast Mode generator. You can specify the price range, use domain hack, drop the last vowel, pluralize nouns, hide unavailable domains, and some more filtering.
This handy tool allows you to add prefixes and suffixes to already registered names. This makes searching for the right domain name easier.
Features
High-speed performance
Unbelievable search limit
Add prefix and suffix to already-registered domains
Uses advanced filters
Pros and Cons
| Pros | Cons |
| --- | --- |
| Advanced filtering options | You need to be prepared with a list of keywords |
| Fast searching | |
| Ideal bulk search tool | |
HostPapa
Though HostPapa is famous for its hosting services, it also provides users with options for finding the right domain name.
HostPapa lets you search for a domain name, whether it is available or not. Additionally, it gives you hundreds of options for alternative domains along with different TLD extensions.
With HostPapa, you can also transfer domain names. Once you find the right domain, you can choose your hosting plans too.
Features
Clean and elegant interface
Transfer domain
Extended option for TLD extensions
How to Use
Simply type the keyword and hit search. It will show you whether the desired domain name is available or not. Along with that, you'll also receive premium and alternative domain suggestions.
Pros and Cons
| Pros | Cons |
| --- | --- |
| Easy to use | Not a domain name generator primarily |
| Supports all major TLDs | |
| Plenty of suggestions for premium, alternative, and country-specific domains | |
FAQs (Frequently Asked Questions)
What is a domain name generator?
Domain name generator is a tool that provides you with domain name suggestions based on your inputs. Domain name is the name that you enter on your browser to access your website. A domain name generator helps you generate domain names based on the keywords you enter. 
How to get a catchy domain name?
One of the significant challenges for someone starting fresh with a new WordPress business site is finding the right domain name that suits your brand and is catchy. While choosing a domain name, make sure your domain name is short and reflective of your brand. Besides, check out the list of the 10 best domain name generators and their features, choose one, and hopefully you'll find the right domain name for your website.
How can I get a free domain?
There are a few web hosts that offer free domains. However, it is generally bundled with web hosting, which comes at a price after the trial period. 
Why should you use a domain name generator?
Finding the perfect domain name manually is a tedious process. First, you need to come up with a name and then check if it's available. The chances of finding the right domain name this way are pretty low, and also it is a time-consuming process. Thus, using a domain name generator helps you save a lot of time and hassle. 
Conclusion
There are hundreds of domain name generators available online. Here, we've listed the 10 best domain name generators that are currently leading the market. These are ranked based on the features specified above as things to consider. We hope you find the right domain name generator for you.
Once you've decided on the name, you can use some help to choose the best domain name registrar for quick domain registration. Do share your experience in the comment section below.