Cloudways is a fantastic website hosting platform with tons of powerful features. If you aim to rely on their platform to power your WordPress site, we encourage your decision.
But, do you want to learn more about Cloudways before purchasing their package? If yes, we provide you an exhaustive review of each of their features and pricing plans.
With Cloudways, you can choose to get cloud hosting services from the best IaaS provider. Some of them are Google Cloud, Digital Ocean, AWS, and so on.
You can make a well-informed decision after getting complete information on their services. So, let's dive into Cloudways review starting from our honest opinion!
Is Cloudways Worth Your Money?
Before we start our Cloudways review, I want to give a short overview. If you want a quick answer to whether it is worth your money or not, My answer is YES.
Cloudways has a variety of cloud servers to select from. Some of them are VULTR, Google Cloud, DigitalOcean, etc. Besides, each of these platforms has more than ten pricing plans with different features.
Limitations of Cloudways Hosting
I believe that in terms of website hosting service, you won't regret your decision to trust Cloudways. However, there are a few limitations that might or might not be your primary concern.
For instance, you cannot host email addresses and can't purchase a domain name from Cloudways. If these things bother you, then we suggest you search for another cloud hosting provider instead.
Cloudways Overview
Cloudways is an excellent cloud hosting platform that manages more than 250,000 websites. They cater to every website type, such as small-medium businesses, agencies, and individuals.
Cloudways also has an excellent pay-as-you-go pricing policy. This method helps you to save money by paying only for the server resources that you use.
Besides, their Virtual Scaling feature helps you increase the amount of server resources that you want for your site. With Cloudways, you get to choose from more than 60 data centers to power your website.
Cloudways has their offices situated in Mosta, Malta, and Karachi, Pakistan. You can contact them regarding any issues via inquiry form, telephone, and other channels.
Cloudways Performance
Cloudways optimizes your website's load time and enhances your site's execution. It has built-in advanced caches, such as Memcached, Varnish, Nginx, and Redis. These combined caches result in unbeatable website performance.
You can integrate CloudwaysCDN with just a few clicks. This simple and powerful feature delivers top-of-the-chart global response times. Cloudways also supports the HTTP/2 servers that boost the communication speed between server and browser.
An interesting thing about its performance is that it has auto-healing managed cloud servers. This feature resolves any server-related issues automatically without interrupting your website uptime.
Detailed Features of Cloudways
Cloudways allows you to grow your business with more freedom. Without the restriction on customization settings, you can power your WordPress site to facilitate your business growth. Let us dive into the detailed features of this cloud hosting provider.
1. More Control Over Web Server
Cloudways allows you to customize diverse elements of your server. For instance, which Infrastructure as a Service (IaaS) provider do you prefer for your website? Cloudways supports Google, Amazon, and other world-class providers.
You can install more than ten applications and several WordPress and Magento sites with a single click of a mouse. Cloudways also supports the latest version of PHP and all PHP based apps.
Cloudways lets you scale up your storage. You can extend this space without altering other server parameters. It provides a custom control panel for enhancing other attributes of your server, like RAM, CPU, etc.
2. Smooth and Collaborative Workflow
Cloudways is a perfect platform to manage multiple websites. It lets you create Projects and classify applications by grouping them. With its hosting control panel, you get to transfer your server ownership to your clients.
You can even invite multiple team members to your project. Cloudways lets you generate SFTP credentials for individual collaborators. Based on the tasks, you can provide full or limited access to your server or apps.
Also, Cloudways makes it easy to make changes to your WordPress site without breaking the live version. You can test the application changes from the dedicated Staging environment before publishing it.
3. Easy-to-Use User-Interface
You will get an easy-to-use interface to customize server settings with Cloudways hosting. An example includes the one-click backup option that saves your file at an off-site location. It also lets you restore the files or revert them quickly.
Cloudways supports the latest version of Command Line Interface for WordPress (WP-CLI). This platform also lets you manage the scheduled task with its built-in Cron Job Manager tool.
You can even control the Varnish cache rules using its advanced or custom settings. It lets you exclude/include the URLs and cookies based on the requirements. Cloudways makes it easy to change the webroot of an app to serve files from a new location.
4. Multiple Integrations and Add-Ons
Cloudways lets you integrate various add-ons/extensions using your hosting control panel. An example of add-ons include CloudwaysBot, that sends real-time notifications from Slack, HipChat, and other channels.
Another add-on is the RESTful API, which helps you develop, integrate, and manage your servers. Cloudways also includes a migration-related app that migrates your website with zero or minimal downtime.
Besides, Cloudways supports the RackSpace Email extension. With this add-on, you can power your inbox with supreme protection, guaranteed uptime, and 24/7 support. Other add-ons include DNS Made Easy, STML, Application Upgrade, etc.
5. Proactive Security Practices
You don't need to be scared about your website's safety with Cloudways. Their servers include dedicated (OS-level) firewalls to block out malicious traffic. Cloudways has Two-Factor Authentication that adds an extra security layer from intruders.
With its Bot Protection Technology, your website stays safe from traffic congestion. Common causes of that include malicious bots, Denial-of-Service (DoS) attacks, etc. You can even whitelist specific IP addresses that are harmless to your site.
Cloudways provides a Let's Encrypt Secure Socket Layer (SSL) certificate for free. You can install it for your site in just one click of a mouse. Also, you get a regular OS security patching that provides you a secure managed cloud server.
6. Around the Clock Server Monitoring
With Cloudways, you get 24/7/365 real-time server monitoring. You can observe 16 different server performance parameters. This platform also has an AI-based smart assistant that sends you insights regarding your server and other issues.
This information helps you optimize and enhance your servers and applications. Additionally, Cloudways lets you enable the New Relic integration. It helps you troubleshoot and identify the causes of bottleneck issues.
Pricing and Packages of Cloudways Hosting
Cloudways categorizes its pricing packages under five different types of data centers. Each of the data centers has a variety of hosting plans. Let us take a look at Cloudways pricing strategy in detail.
This cloud hosting provider has DigitalOcean data centers in London, San Francisco, Singapore, etc. All of Cloudways plans include CDN support, free migration, unlimited application installation, etc. DigitalOcean's four featured/popular packages are:
A. DO1GB Cloudways Server
The least expensive package of Cloudways' DigitalOcean data center costs $10 per month. You get 1GB RAM, 25GB storage space, one core processor, and 1TB bandwidth.
B. DO2GB Cloudways Server
The cost of hosting with a DO3GB server is $22 per month. Its storage space is 50GB, and you get 2TB bandwidth with 2GB RAM. However, the core processor is the same as that of the DO1GB server.
C. DO4GB Cloudways Server
The DO4GB server got this name with its 4GB RAM. With this package, you get two core processors. It also has 80GB of storage space and 2TB of bandwidth. Its cost is $42 per month.
D. DO8GB Cloudways Server
With the DO8GB server of Cloudways' DigitalOcean data centers, you get four-core processors. Its RAM is 8GB, storage space is 160GB, and bandwidth is 5TB. You can purchase this package at $80 per month.
You can choose the Linode data centers of Cloudways from Newark, Dallas, Frankfurt, Sydney, and other locations. This package includes automatic backup service, auto-healing, and other features. Its major pricing plans are:
A. Linode1GB Cloudways Hosting
You can purchase the Linode1GB hosting plan of Cloudways for $12 per month. Its specifications are 1GB RAM, one core processor, 25GB storage space, and 1TB bandwidth.
B. Linode2GB Cloudways Hosting
Get 2GB RAM, 50GB storage space, and 2TB bandwidth with this package. The core processor is the same as that of the previous one. Its cost is $24 per month.
C. Linode4GB Cloudways Hosting
Linode4GB package of Cloudways provides two core processors. Its cost is $50 per month and is the most popular option for Linode data centers. This package has 4GB RAM, 80GB storage space, and 4TB bandwidth.
D. Linode8GB Cloudways Hosting
This package has some powerful features, like 8GB RAM, 160GB storage space, 5TB bandwidth, and four-core processors. This package comes with a price of $90 per month.
The Vultr data centers are in Silicon Valley, Chicago, Amsterdam, Paris, Singapore, etc. You can select from its Standard and High-Frequency packages. Here are four of the pricing plans from the Standard package.
A. VULTR1GB Cloudways Hosting
The starting package of the VULTR data center comes with a price of $11 per month. You get basic specifications with 1GB RAM, one core processor, 25GB storage space, and 1TB bandwidth.
B. VULTR2GB Cloudways Hosting
The second pricing package of the VULTR data center has a price tag of $23 per month. It includes 2GB RAM, 55GB storage space, and 2TB bandwidth. You get one core processor, which is equal to that of the previous package.
C. VULTR4GB Cloudways Hosting
The VULTR4GB package from Cloudways comes with a price of $44 per month. You get powerful features like 4GB RAM, two core processors, 80GB storage space, and 3TB bandwidth.
D. VULTR8GB Cloudways Hosting
With four core processors, the VULTR8GB hosting package comes with a price of $84 per month. It has more powerful features, like 8GB RAM, 160GB storage space, and 4TB bandwidth.
Cloudways has Amazon Web Services (AWS) data centers situated in North Virginia, Oregon, Seoul, Montreal, Stockholm, etc. You can choose from 14 different pricing plans. The four featured packages are:
A. AWS Small Cloudways Hosting
The AWS Small package from Cloudways comes with a price of $36.51 per month. This plan has configurations like a 1.75GB RAM, one vCPU, 20GB storage space, and 2GB bandwidth.
B. AWS Medium Cloudways Hosting
Some of the specifications of this package are the same as that of the previous ones. Examples include a 1vCPU processor, 20GB storage space, and 2GB bandwidth. However, the RAM is 3.75GB, and its price is $86.77 per month.
C. AWS CO Large Cloudways Hosting
With AWS CO Large package of Cloudways, you get 4GB RAM and 2vCPU processor. Other features are the same as the previous packages, like 20GB storage and 2GB. Its price is $158.26 per month.
D. AWS Large Cloudways Hosting
The AWS Large Cloudways package also has 20GB storage space, 2vCPU processors, 2GB bandwidth, etc. But, it has a higher specification than others with 8GB RAM.
Cloudways has Google Cloud data centers in North Carolina, Oregon, London, Belgium, Taiwan, etc. It has 12 different pricing plans providing diverse hosting services. We have described four of them in this section.
A. GCE Small Cloudways Hosting
The GCE Small package has 1.7GB RAM, 1vCPU processor, 20GB storage space, and 2GB bandwidth. It is the least expensive plan with a cost of $33.63 per month.
B. GCE n1-std-1 Cloudways Hosting
Its specifications, like processor, storage space, and bandwidth, are precisely the same as that of the previous one. The difference is its RAM, which is 3.75GB. Its price is $75.29 per month.
C. GCE n1-std-2 Cloudways Hosting
GCE n1-std-2 has a 2vCPU processor, which is higher than the previous ones. Other specifications are 7.5GB RAM, 20GB storage space, and 2GB bandwidth. The price for this plan is $142.48 per month.
D. GCE n1-std-4 Cloudways Hosting
Get 15GB of RAM with the GCE n1-std-4 package of Cloudways. Its processor has four vCPU. The rest of the features are the same as that of the other ones. Its price is $232.8 per month.
Cloudways Expert Support System
You can contact Cloudways' technical team at any time of the day, every day in a year. Besides, they also have a comprehensive knowledge base with documentation and self-service resources.
They also provide a sales inquiry form on their website. This form sends an email to their customer support team. You can request for a call back as well using the email form.
When it comes to customer support, Cloudways' team is ready to resolve every hosting issue on your WordPress site. They have divided their level of support into three categories. They are as follows:
A. Standard Support
Standard support is more the majority of Cloudways customers who occasionally need their technical help. It includes 24/7/365 live chat and ticketing, infrastructure support, platform support, and more. Also, this support package is free.
B. Advanced Support Add-On
You can take your support package one step further with the Advanced Support add-on. It includes priority support from senior engineers, troubleshooting of plugins and themes, on-demand database optimization tweaks, etc.
Advanced Support add-on costs $100 per month and includes all the features from the previous package. Additionally, Cloudways lets you customize your server by deploying additional packages, specific configurations, and more.
This support package also speeds up your response time. Cloudways' team of experts will collaborate with your members to better understand your server errors.
C. Premium Support Add-On
Cloudways has a great support system for mission-critical websites. If you own such a website, then you cannot afford any failure in uptime. They provide a private Slack channel to connect your team with their technical experts for such businesses.
Additionally, you can call their Senior Support Engineers any time of the day. Their 24/7/365 support via both Slack and phone calls comes with a higher cost of $500 per month. This support add-on also includes a dedicated Account Manager.
Customer Satisfaction With Cloudways Hosting
Cloudways' customers are delighted with their extraordinary services. They boost customer happiness scores, upto 94.7%. Let us take a look at some testimonials from digital agencies, bloggers, and small business owners.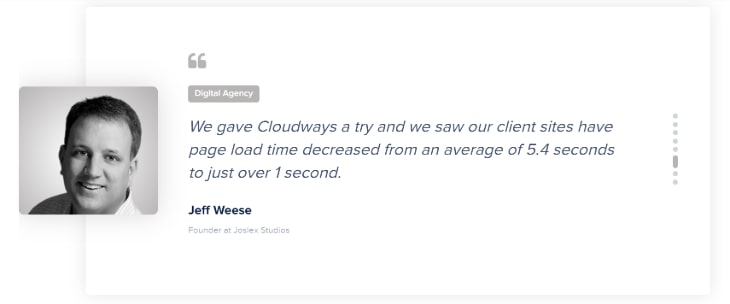 Cloudways Hosting – Pros and Cons
Every hosting provider has some benefits and limitations. It would help if you made your purchase decision based on both aspects. We will state the advantages (pros) and disadvantages (cons) of Cloudways in this section.
Pros of Cloudways Hosting
Option to select from five different types of cloud servers
Get SSL certificates for free to keep private information safe
Best-in-class support system with 24/7/365 access to live chat
Provides control over your applications and servers
Excellent user-interface with smooth and collaborative workflow
Cons of Cloudways Hosting
You get a limited duration of the trial period (3 days)
It does not provide an option to host your email address
Need to look somewhere else to purchase a domain name
Frequently Asked Questions (FAQ) About Cloudways
Q. Will my WordPress site load faster with Cloudways?
A. Cloudways features cutting-edge technology to provide among the fastest website loading speeds. When it comes to WordPress, you can load your website in just 79 milliseconds after optimizing a few settings.
Q. Should I choose Cloudways for ecommerce hosting?
A. Cloudways provides reliable, scalable, and fully-featured hosting services that help you scale up your online business. Thus, you can rely on them for your e-commerce sites. 
If you are planning to set up an eCommerce site then please have a look at the top 10 best woo-commerce hosting websites. You can create sites as powerful as those listed here using the Cloudways platform.
Q. Will my website remain safe from hackers with Cloudways?
A. You don't need to worry about server safety with Cloudways. They protect your site information with a dedicated firewall, SSL certificates, and regular backup. Their security hardening techniques prevent different kinds of hacking attempts.
Q. How is Cloudways different than other web hosting providers?
A. When you compare this platform with other hosting providers, you find several differences that make Cloudways better. Some include the lesser technical tasks, more applications, lower cost, fewer restrictions, and so on.
Q. What payments methods does Cloudways support?
A. You can purchase their services using two payment gateways. The first one is via using PayPal, and another way is to use a credit card. They accept major card providers, such as Visa, MasterCard, American Express, etc.
Wrapping Up!
We have mentioned almost every aspect of Cloudways here. However, if you want to get detailed insight, then please visit their official website. They will also answer each of your pre-sales queries, so feel free to reach out.
Did you make your decision regarding hosting your WordPress site from Cloudways? Please mention your opinion in the comment section below.