Picking out the best web hosting provider is a pivotal decision for any website owner. The hosting plan and service you select make a significant impact on the performance of your website.
But with a great deal of options in the market, choosing the best hosting provider can be much more complicated than it seems. You should indeed find the most suitable dedicated hosting provider if your website has a high volume of traffic. But why is it so?
To make things clear, a hosting service is quite similar to renting a virtual space for your website. On the cheaper end, shared hosting is like having a small room in a shared apartment.
On the higher end, we have dedicated hosting. As the name suggests, dedicated hosting is like a property you own, where you'll have the entire server to yourself. Here, you do not have to share any resources such as CPU, RAM, or bandwidth with any other websites.
Therefore, a dedicated hosting plan delivers robust performance, high uptime rates, and fast page loading time for your website. But, not every dedicated hosting plan performs equally. There are several dedicated hosting plans designed for different purposes and needs.
In this article, we've handpicked some of the best dedicated hosting providers to help you find the perfect match for your website.
Let's get into it.
What is Dedicated Hosting?
Dedicated hosting is a web hosting package where the physical server is explicitly dedicated to a single user. In these hosting plans, the clients have full control over the server. Hence, they can make all the necessary changes and optimize the package as per their requirement.
It is much more reliable, secure, fast, and flexible than shared and VPS hosting services. Dedicated plans are specially designed for large enterprises or WordPress websites that have a significant amount of traffic.
Dedicated hosting comes in both managed as well as unmanaged plans. Compared to shared or VPS hosting, dedicated hosting is far too expensive. However, the price is mostly influenced by high performing resources such as RAM, storage space, and bandwidth.
Since you will be the sole tenant of the dedicated environment in dedicated hosting, you'll have more control and flexibility. If you want to add new software, make any changes to server configurations, or adjust the available resources, you can easily do it with this hosting.
Moreover, dedicated hosting also delivers high performance to support even the most demanding applications. The dedicated hosting providers also let you customize your server to fulfill your security and compliance needs.
How Does Dedicated Hosting Work?
Typically, a dedicated server is ideal for an eCommerce website that needs to manage high traffic. Such websites can not afford to bear downtimes. These websites facing downtime can mean a massive loss for their business. So, instead of putting their business at stake, these websites choose dedicated hosting. It guarantees unlimited data transfer speed, high uptime, excellent data protection, and tech support.
In this platform, the hosting provider leases a dedicated server to its clients. The server can be custom-configured to the clients' application, including a private cloud, website, VOIP, web hosting, gaming, or other needs. Unlike shared or VPS hosting, you do not have to share your server with other websites. Although the hosting provider leases you the server, it is all up to you to manage.
Likewise, your hosting plan does not have to limit to a single server. If you need higher performance, scalability, and security, you can combine multiple dedicated servers to meet your requirement. This feature is appealing for large businesses with intensive workloads and applications, including AdTech, AI, VFX, and gaming.
What are the Advantages of Dedicated Hosting?
There are numerous benefits of choosing a dedicated hosting service over shared and VPS hosting. They are:
Exclusive Use of Dedicated Resources
Unlike shared or VPS hosting, you get the entire server exclusively for yourself with dedicated hosting. Thus, all the dedicated resources, such as disk space, CPU, RAM, and bandwidth, are exclusively available for your use.
This is a significant advantage over shared and VPS servers because you'll get top performance with exclusive resources, even at peak business hours.
Reliability and Performance
Since dedicated hosting provides a single server and dedicated resources for your use, it offers top performance and reliability all the time. Not only that, but server crashes are rare.
With dedicated hosting, you'll have enough resources to accommodate high-volume traffic. If you're likely to use high-quality images and videos on your homepage, you'll have enough bandwidth to handle the burden. Besides, the powerful performance, storage, and bandwidth guarantee optimum customer experience.
Although often overlooked, dedicated hosting provides top-level technical assistance. Even if you're a professional, you might need technical assistance. With managed hosting, you'll always have experts at the server end to resolve the issues.
Control
One key advantage of using dedicated hosting over shared hosting is better access control. Most basic hosting plans do not let you have access to your root directory. It means without root access, you'll have to limit yourself to the packages offered by the web hosting providers. The hosting company themselves will dictate all the available applications.
But, with dedicated servers, you'll get full access to your root environment and SSH. Therefore, this hosting plan allows you to configure settings, add your software, and access the server logs to make the necessary changes.
Data Protection and Security
Dedicated servers are known to provide excellent data protection and security. When it comes to disaster recovery plans, data backup is, without a doubt, the most significant aspect. Therefore, compared to other hosting platforms, dedicated servers provide advanced backup solutions.
Unlike shared hosting, a dedicated server is specifically dedicated to a single client. The hardware firewalls or IDS/IPS of these servers are usually not allowed in any shared hosting environment as they might interfere with the server traffic. Hence, dedicated servers provide much better security and data protection.
Additionally, dedicated hostings use multiple servers in multiple locations. Therefore, it is much easier to prevent interruption or loss of your data.
Best Dedicated Hosting Provider Reviewed
InMotion Hosting has long maintained its reputation as the best web hosting provider in the market. Located in over 175 countries, they've managed to bring a complete suite of open source digital products and infrastructure technologies.
In a highly competitive market, InMotion hosting is known to deliver powerful and secure web hosting solutions. However, with the dedicated hosting solution, they've set the bars on a whole new level.
With top-notch uptime and loading speed, the managed dedicated servers of InMotion Hosting makes a perfect match for high-powered businesses and websites. They offer five different plans, like Essential, Advanced, Elite, CC-1000, and CC-2000, under the managed dedicated server.
The essential dedicated hosting plan starts at USD 159.99 per month, offering 4 Core / 8 Thread Intel Xeon E3-1246 v3, 6 TB data transfer, 16 GB DDR3 RAM, 1 TB SSD, and five dedicated IPs.
On the higher end, they have CC-2000 at a whopping price of USD 599.99 per month. But with Dual Intel Xeon Silver 4214, 192 GB ECC DDR4 RAM, 15 TB data transfer, and 15 dedicated IPs, the price is reasonably justifiable.
All the dedicated hosting plans of InMotion hosting comprises cPanel and WHM features. It is effortless to manage the SQL databases, subdomains, and site users directly from the central dashboard with these features.
These hosting plans integrate Smart Routing Technology that is specifically designed to provision and manage uptime. The Tier 1 Network delivers predictable, redundant, consistent, and ultra-reliable performance. Their bi-coastal data centers also facilitate all the resources to ensure reliable and consistent performance for your visitors.
In terms of security and data protection, InMotion Hosting integrates a multi-layer defense that ensures next-generation security. Additionally, it also includes a commercial-grade custom firewall designed to protect your applications from cyberattacks.
Moreover, InMotion's dedicated hosting packages are bolstered by industry-leading technical and customer support. If you come across any technical difficulties, you can reach out to their support team via live chat, phone, and email.
As if all these advanced features were not enough, InMotion also provides a 30-day money-back guarantee. Thus, if you are not convinced with their products or services for some reason, you'll receive a full refund straight away within the first 30 days of purchase.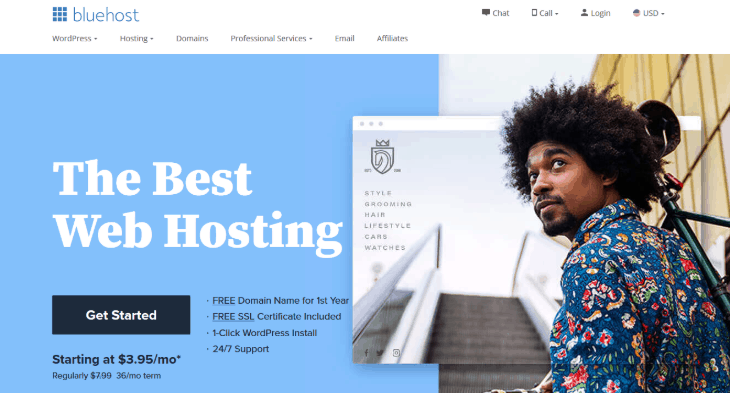 Bluehost is the largest and most reliable web hosting provider globally, with nearly two decades of experience. So far, they've powered more than two million websites worldwide.
Mostly known for WordPress hosting, Bluehost provides all kinds of web solutions, including domain registration, website hosting, email registration, and so on. For websites that require high performance, security, and control, Bluehost provides the best-dedicated web hosting servers on the market.
With all the dedicated hosting plans, Bluehost provides one year of free domain registration. Additionally, it also features a free SSL certificate that ensures a secure connection to your site and protects your personal information for added security.
Bluehost has three dedicated plans for you to choose from — Standard, Enhanced, and Premium.
The Standard plan integrates 4 cores at 2.3 GHz, 500 GB storage, 4 GB RAM, and 5 TB bandwidth at the monthly price of USD 79.99. The Enhanced plan comes at USD 99.99 per month and combines 4 cores at 2.5 GHz, 1 TB storage, 8 GB RAM, and 10 TB bandwidth. On the higher end, it has the Premium plan at USD 119.99 per month. It features 4 cores at 3.3 GHz, 1 TB storage, 16 GB RAM, and 15 TB bandwidth.
With their unmanaged dedicated server hosting, advanced users have unrestricted access and control over the entire operating system. Besides, every dedicated configuration comes with the option of their improved cPanel-based interface. Therefore, it is relatively easy to manage your websites, emails, domains, and resources from a single central location.
If you need more than one hosting server, Bluehost dedicated hosting also features multi-server management. With this feature, you can simply add a shared hosting plan, VPS hosting plan, or even another dedicated hosting plan to your existing account as per your needs.
In addition to that, Bluehost also provides optional add-ons to enhance your account security, marketing, and email upgrades. It includes domain privacy and protection to prevent your account from identity theft, spam, and phishing attacks. With SiteLock, these hosting plans automatically detect and fix vulnerabilities and threats, so you no longer have to worry about site attacks and malware.
You also get industry-leading customer support with all the dedicated servers available 24/7 via phone or live chat. If you're not pleased with their hosting plan for some reason, you can cancel your subscription and get your entire payment back within the first 30 days of purchase.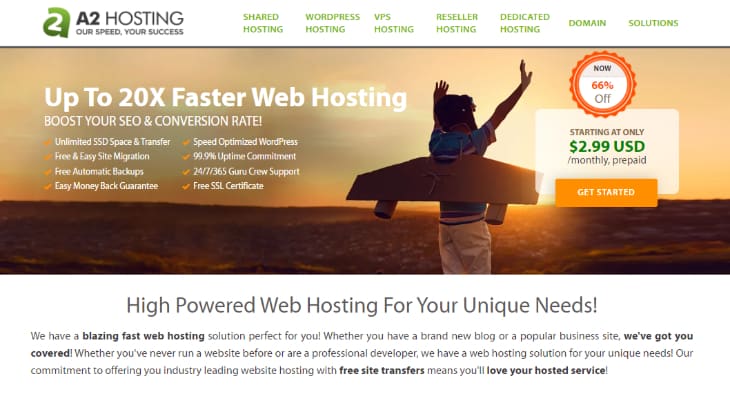 If you're in search of the fastest web hosting provider out there, A2 Hosting is your best bet. This hosting service is known to improve your SEO ranking and conversion rate with its 20 times faster turbo servers.
Apart from that, A2 Hosting has a large selection of hosting services, including reseller hosting, shared hosting, VPS hosting, WordPress hosting, and dedicated hosting, to ensure unique website solutions. Dedicated hosting is their top of the line hosting service without a shadow of a doubt.
Unlike other hosting services, A2 Hosting provides a wide range of hosting plans for dedicated hosting. It offers Unmanaged Servers for developers, Core Servers with root access, Managed Servers without root access, and Discount SSD servers.
Unmanaged Dedicated is their most powerful hosting server designed for experienced developers who need full administrative privileges. Their Unmanaged Dedicated Server starts from USD 99.59 per month. This server provides full administrative level root access and an option to choose your choice's operating system.
The unmanaged server also guarantees up to 20 times faster Turbo option with 99.9 percent uptime commitment. Additionally, it integrates Webuzo one-click software installer that provides you the simplest way to install and manage your web applications.
Managed hosting is a fully managed hosting solution designed with more power and support compared to Shared Hosting. The price of Managed Servers starts at USD 141.09. It provides a free cPanel Control Panel along with HostGuard management. Similar to the Unmanaged server, Managed hosting also ensures 99.9 percent uptime commitment. However, it does not offer root access. So, you do not have any control over your server.
Discount SSD Server is quite similar to Managed Server, starting at slightly cheaper USD 129.30 per month.
On the other hand, Core Server is a fully managed hosting solution with full root access starting at USD 141.09. Like Managed and Discount SSD Server, Core Server also offers a free cPanel Control Panel and HostGuard management. But unlike them, it provides full administrative level root access, so you have complete control of the server.
It has excellent security features to keep your account and website protected from any kind of attack and malware. If you stumble upon any issues regarding your server, you can directly contact their team of experts at any time of the day. Additionally, if you're not content with any of their services, they also offer a 30-day money-back guarantee.
For the most part, A2 Dedicated Hosting offers excellent performance, service, and support at very competitive pricing.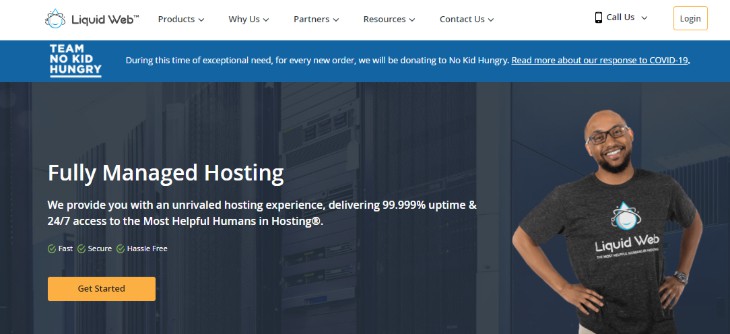 Liquid Web is so far the most underrated hosting provider in the market. Although their hosting plans offer the highest performance and security level, not many people have heard of their plans.
Liquid Web has all kinds of web hosting plans in store, including VPS, dedicated, cloud-based, eCommerce, and reseller hosting. But in terms of dedicated hosting plans, Liquid Web is simply on the top tier. They provide fully customizable dedicated hosting plans that ensure 100 percent power and network uptime and provide real-time monitoring.
They offer three dedicated hosting services — Intel Xeon 1230v6, Intel Xeon Gold 6226R – Single, and Intel Xeon Gold 6226R – Dual. Intel Xeon 1230v6 is their most affordable plan, starting at USD 199 per month. This hosting plan is designed for high traffic websites or small applications with four cores at 3.9 GHz Max, 32 GB RAM, 1 x 1 TB SATA Backup Disk, and 5 TB Bandwidth.
Liquid Web offers Intel Xeon Gold 6226R – Single for the middle of the ground package, starting at USD 299 per month. Likewise, they have Intel Xeon Gold 6226R – Dual as the most premium plan, costing USD 499 per month.
Both these plans have similar specs with 64 GB RAM, 2 x 480 GB SSD Primary Disk, 1 x 2 TB SATA Backup Disk, and 8 TB Bandwidth. However, the Dual plan integrates 32 cores at 2.9 GHz (3.9 Max Turbo) while the Single package includes 16 cores at 2.9 GHz (3.9 Max Turbo). The core difference makes the Dual plan ideal for large SaaS, big databases, multi-user apps, and virtualization.
Apart from that, all the dedicated hosting plans of Liquid Web allows you to take complete control of your server environment with root-level access. These plans also consist of Cloudflare CDN that helps to speed up your site. You also have an alternative to choose your control panel between Interworx, Plesk, or cPanel and get centralized hosting management.
For security, Liquid Web includes Standard DDoS Protection that allows you to get real-time monitoring to reduce threats and protect servers from attacks. You can even optimize your security setting with their exclusive feature ServerSecure Advanced Security. Additionally, all the plans offer dedicated IP addresses to improve security and the accessibility of your server.
Suppose the regular features are not enough for your server. In that case, Liquid Web also provides loads of essential add-ons to enhance software, database, storage and backup, performance, security and compliance, and email.
Serving the industry for over two decades, Liquid Web is known for delivering its best customer support. If you run across any technical issues, you can entirely rely on their 24/7/365 expert support without worrying. You can reach out to their support team instantly via phone, chat, or email.
HostGator is arguably the most popular web hosting provider across the globe. With exceptional uptime rate and load time speed, they are among the most reliable hosting companies on the market today.
Although they are mostly known for their shared hosting plans, their dedicated hosting plans are second to none. Their dedicated hosting plans are certainly the ones you should consider looking for a more powerful performance.
HostGator offers three different plans — Value Server, Power Server, and Enterprise Server, in its dedicated server. The introductory price for Value Server is USD 89.98 with a 4-core/8-thread processor, 8 GB RAM, and 1 TB HDD.
Likewise, the Power Server starts at USD 119.89 with an 8-core/16-thread processor, 16 GB RAM, and 2 TB HDD / 512 GB SSD. On the higher end, Enterprise Server costs USD 139.99 and offers an 8-core/16-thread processor, 30 GB RAM, 1 TB SSD.
With that said, all the dedicated hosting plans are powered by Intel Xeon-D CPU. These plans are compatible with both Linux and Windows operating systems. They offer 100 percent server control to have complete control of the system resources at your disposal.
For security and data protection, it is integrated with DDoS Protection to keep all your resources protected in an attack. Moreover, it also consists of an IP-based firewall that keeps your server safe to deliver optimal performance.
Overall, HostGator's dedicated plan offers maximum configuration, customization, and flexibility. One best thing about HostGator is their best-of-the-best tech team supports. So, if you get yourself into any technical issues, you can directly reach out to their award-winning customer support any time via phone or live chat.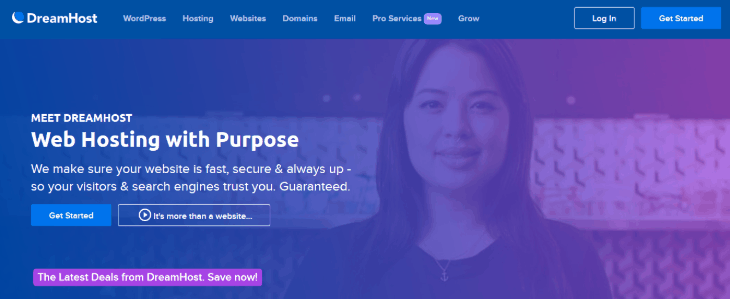 DreamHost is a terrific web hosting provider that guarantees fast, secure, and consistent performance. With nearly two decades of service in this industry, they have consistently delivered top-class hosting services for businesses of all sizes.
They've so far hosted 1.5 million websites in more than 100 countries worldwide. DreamHost is popular for providing professional, dedicated hosting services at an affordable price.
The fully-managed dedicated server boosts your website with power, performance, and control. All the dedicated plans use industry-leading hardware and software available in the market to ensure your site is always up and running.
They offer two dedicated hosting plans to meet your website needs. The Standard plan is their most affordable package costing USD 169 per month. It features 4 GB RAM, 1 TB HDD, 4-core processor, and RAID 1 storage.
For advanced users that need to handle high-traffic, DreamHost offers an Enhanced plan boasting up to 16 GB RAM, a 12-core processor, and 2TB of space.
Other than that, every dedicated hosting plan includes 100 percent network uptime for consistent performance. With full and shell access, you can remotely access your server and change the system accordingly.
The high-quality RAID 1 storage guarantees reliability and performance. Your website can handle countless amounts of traffic with these plans — much credit to the uncapped bandwidth. The custom-built panel is simple and straightforward that allows you to manage your websites and databases.
With all their dedicated plans, you can also create an unlimited amount of sub-accounts to manage your website access, client accounts, FTP, and billing. Moreover, DreamHost also offers 24/7 in-house to diagnose as well as resolve all the issues you encounter.
IONOS is a German-based web hosting with over 30 years of experience in the business. With more than 8 million customers, they are one of the largest hosting companies in all of Europe.
Their hosting and cloud partner options are ideal for small and medium-sized businesses. With that said, they do not compromise on any of their product and services.
However, if you're looking for hosting servers with powerful hardware and an easy-to-use interface, you should consider checking their dedicated hosting plans.
IONOS offers four different hosting plans for SSD and HDD storage each. Their SSD hosting plan starts from USD 45 up to USD 140 per month.
The cheapest plan includes basic features, such as an 8-core processor at 2.4 GHz, 8 GB RAM, and 240 GB Intel SSD storage. Their most expensive SSD plan comes with a 4-core (HT) processor at 3.8 GHz, 64 GB RAM, and 800 GB Intel SSD storage.
On the other hand, their HDD hosting plan starts from USD 47 and ranges up to USD 120 per month. Their most affordable HHD plan features a 4-cores (HT) processor at 3.1 GHz, 12 GB RAM, and 1,000 GB storage. Likewise, the most expensive HHD plan integrates a 4-cores (HT) processor at 3.8 GHz, 64 GB RAM, and a massive 2,000 GB storage.
Other than that, all the dedicated hosting plans by IONOS offer improved performance and a better user experience with their dedicated hardware. With these packages, you can manage unlimited traffic and up to 1 GBPS connectivity. IONOS also has its mobile application called IONOS Hosting Manager, allowing you to access your control panel on your smartphone or tablet directly.
With 62 data centers worldwide, their Content Delivery Network delivers top-notch performance and lifts user loading time by caching your website. Additionally, these plans integrate the HTTP/2 network protocol that also helps to boost your page load time.
In terms of security, all the dedicated hosting plans DDoS protection that identifies incoming DDoS attacks and automatically secures your site. The integrated SiteLock protects your site against vulnerabilities, malware, and any other online threats. It also features a Wildcard SSL certificate that reassures all the visitors to your website are secure enough.
Moreover, IONOS also has a local support team at service 24/7/365 to help resolve your issues directly through phone and live chat.
AccuWeb Hosting is a highly reliable web hosting provider with more than 17 years of service. It offers all sorts of website solutions, including web hosting, cloud hosting, domain registration, email delivery service, and reseller plans.
AccuWeb features self-managed and fully managed servers for both Linux and Windows operating systems as for dedicated hosting. It features nine dual-processor dedicated servers and six single-processor dedicated servers, making 15 different plans for you to choose from.
AccuWeb's cheapest dedicated hosting service starts at USD 80 and goes all the way up to USD 300 per month. These plans come with a wide range of RAM options ranging from 8 GB to 512 GB. AccuWeb has 12 different server locations, including the US, the UK, Canada, Australia, and Singapore. Therefore, you can choose the server closest to your location for optimum performance.
With most of their dedicated hosting plans, AccuWeb offers pre-configured Software RAID. They also set up the Hardware or Software RAID for a few specific location servers on request within RAID 10, RAID 6, RAID 5, RAID 1, or RAID 0.
Most of their dedicated servers also feature unmetered bandwidth. However, if you have a mission-critical website that requires a lot of bandwidth, you can even choose unlimited bandwidth.
Besides that, AccuWeb also provides Server Monitoring. There's no doubt about how painful things can be when a server goes down for hours. To mitigate that, they have set up a host alive alert for all the dedicated servers. So, whenever they receive an alert, their team takes immediate action. Additionally, if you choose a fully managed service, they'll set up monitoring alerts for all the essential services by using their proactive monitoring tools.
Moreover, all the dedicated hosting plans of AccuWeb come with top-notch anti-DDoS technology to protect your website against complex and sophisticated attacks. If the regular features are not enough for you, AccuWeb also provides a dedicated server add-on for hardware firewalls, antivirus applications, load balancers, and SAN storage.
Hostwinds is another lesser-known hosting provider on the market. Although highly underrated, they provide super-fast servers at an affordable price. With a 99.9999 percent uptime guarantee, your website will always be up and running with Hostwinds.
You can choose among their four different dedicated servers, ranging from USD 79.50 to 105 per month. Hostwinds also provides the option to customize all of these plans as per your need. And customizing your plans are simple and straightforward with a few simple clicks.
All Hostwinds Dedicated Server ensures dedicated resources. It means that with these servers, you will have complete ownership of the resources and full access to its network link. With these plans, you can order a custom-made server depending upon the amount of RAM and type of CPU. You can even personalize the size of the disk and how they are configured to meet your exact needs.
Hostwinds also provides you the option to select your RAID configuration as per your requirement. They allow you to choose the configuration based on the number of disks ranging from RAID 0 to RAID 60.
Hostwinds is famous for its high-quality networking with incomparable speeds and reliability. You can also make the most out of their multiple server locations by selecting the data center that is closest to you for optimum performance.
With Hostwinds, you no longer have to worry about losing your data. They offer nightly backups add-on service to automatically protect your server's data. With these backups, you can access your data anytime you want and retain them for as long as you want.
In addition to that, this hosting provider also integrates server monitoring add-ons to monitor your service 24/7. Therefore, if your server comes across any issues, their expert team will automatically open a support ticket for you and resolve it as soon as possible.
With Hostwinds, you'll have 24/7/365 guidance right at your fingertips. If you stumble upon any technical issues, you can reach out to their team of experts anytime via phone, chat, or ticket.
TMDHosting is one of the most underrated hosting providers out there. Even though it is far lesser-known compared to other top dedicated hosting providers, TMDHosting provides exceptional speed and power at a highly affordable price.
There are basically four fully managed dedicated servers designed for different categories of clients. These dedicated servers range from USD 79.97 per month to as far as USD 149.97 per month. TMDHosting provides free installation services and premium support on all of these plans.
The cheapest hosting plan of TMDHosting features 1 TB RAID-10 storage, 8 GB DDR4 RAM, 4 CPU cores, and 8 threads. Likewise, TMDHosting's most expensive plan comes with 2×2 TB RAID-10 storage, 32GB DDR4 RAM, 8 CPU cores, and 16 threads. Moreover, this dedicated hosting provider has 7 different server locations all around the world. Thus, you can easily choose the server nearest to your proximity for optimum performance.
Unlike others, TMDHosting provides unmatched connectivity. It integrates SSAE-16 certified network. All the plans are connected to Tier 1 providers with dual 10 Gbe networks for better connectivity. Additionally, this hosting provider features premium security with a free web-based firewall and SpamExperts mailbox protection. Likewise, all the data within this server is audited regularly by senior staff.
Other than that, TMDHosting is blazing fast compared to some other hosting providers. All of the dedicated hosting plans of TMDHosting features high-performance SSD and SATA clusters. With millions of IOPS and proprietary compression algorithms, this hosting provider delivers top speed with up to 50% of data compression to your website.
This dedicated web hosting provider holds the intention that you do not experience any outages. For that, TMDHosting has doubled each component with N+1 redundancy. Additionally, they use Cisco and Arista gears in all of their server locations across the world to ensure DDoS-free service and highly available networking. With RAID-10, not only are your data served fast but they are also kept safe.
TMDHosting offers 24/7/365 human monitoring to proactively maintain the health status of its server infrastructure. To resolve all your problems and issues, this dedicated hosting provider offers an industry-leading 15-minute response time.
FAQs (Frequently Asked Questions)
Which is the most suitable dedicated server hosting provider?
A handful of top-level dedicated hosting providers offer different hosting plans to suit all kinds of requirements.
However, if you're searching for the best overall dedicated hosting provider, we'd recommend you go with InMotion Hosting. They're unquestionably one of the best in the business for high-powered businesses and websites.
InMotion Hosting delivers superb uptime and loading speed. All of their dedicated hosting plans are simple and straightforward to manage with cPanel and WHM features. They also provide exceptional security and data protection with their integrated multi-layer defense. With their commercial-grade custom firewall, you no longer have to worry about cyberattacks with InMotion Hosting.
Moreover, this hosting provider also offers excellent technical and customer support. So, you can simply contact them via live chat, email, or phone if you come across any issues.
With five different hosting plans, InMotion Hosting is an excellent choice for all kinds of users. In case you're not convinced with their hosting plans for some reason, you can simply cancel the subscription and get a full refund within the first 30 days of purchase.
What to look for while choosing a dedicated hosting plan?
Your business website deserves top-level web hosting plans to ensure optimum user experience. But, with so many terrific alternatives in the market, choosing the right dedicated hosting plan can be a tough decision to make.
There is no doubt that dedicated hosting plans are the most powerful, reliable, and secure hosting server than any other hosting. You'll still need to reflect on a few essential things to make sure that the dedicated server you choose can meet your requirements.
Here are a few essential elements you need to look for while choosing the best dedicated hosting plan for your business:
• Hardware Quality
• Server Reliability
• Network Quality
• Server Uptime
• Bandwidth Usage and Speed
• Quality of Data Center
• Operating System
• Site Backup
• Security and Data Protection
• Application Scalability
• Tech Support
Is dedicated server hosting better than other hosting plans?
To simply put, yes, dedicated hosting is much better and powerful compared to other hosting plans. But don't get it twisted. Shared and VPS hosting are excellent choices for small businesses.
However, once your business expands to a certain extent, upgrading to a dedicated server makes a lot more sense. Dedicated hosting offers complete control over the server. So, you can fully customize the server as per your desire, and no one will be affected. Unlike shared servers, you do not have to come across those instances of downtime with dedicated hosting.
Besides that, dedicated hosting also offers much better security and more storage than other hosting plans.
How much does a dedicated server cost?
With its powerful performance and reliability, a dedicated server does sound like a great deal, right? But that being said, these hosting plans cost relatively higher compared to any other hosting services. To set up a website on a dedicated server will most likely cost you around USD 100. On the other hand, the shared servers are far more affordable.
Depending on the hosting provider, there are dedicated plans costing as little as USD 50 per month and can range up to hundreds of dollars. But, that's already a lot of money compared to other hosting services.
The server's price is likely to rise with the level of storage, memory, and performance. The price of the package may also vary depending upon the managed or unmanaged dedicated servers.
If you choose managed dedicated servers, you do not have to deal with any hardware, monitoring, performance, or security. Such responsibilities are fully handled directly by the hosting company.
Additionally, managed dedicated servers deliver the highest level of performance and data security via real-time traffic monitoring, network uptime, and power. But at the same time, this server costs a lot more compared to unmanaged hosting.
On the other hand, if you choose unmanaged dedicated servers, you'll be in complete control of your server and have full responsibility for your hosting servers and software. In this plan, the hosting company will only be responsible for ensuring that the overall infrastructure operates smoothly from the hardware perspective. You will be in control of the overall management of the server. Therefore, unmanaged dedicated servers are relatively cheaper than managed dedicated servers.
In addition to that, most dedicated servers want their audience to commit for a longer period. So, if you choose to buy their package for a year or three years, the price drops significantly compared to that of one month. We highly recommend you to look for a longer commitment if you want to reduce the price.
Conclusion
And that's a wrap! That is all for the best dedicated hosting providers in the market.
If you're considering starting an online business or website that requires high server power and performance, there is no better option out there compared to a dedicated hosting provider. It is because a dedicated server delivers enhanced performance, reliability, control, speed, and security.
With dedicated hosting, you'll a server specifically dedicated to a single client. It ensures that these servers are not allowed in any shared environment for uninterrupted performance, better uptime, and improved security and data protection. All the web hosting providers featured in this article are the best choices for dedicated hosting servers. Each of these servers provides a unique set of features that makes them remarkable compared to their competitors. However, if we would have to recommend the best dedicated hosting provider, we'd certainly go with InMotion Hosting.