On-Page SEO! Why you matter so much!
It really hurts when you write great contents and Google doesn't even show them. What sucks, even more, is that some low-quality blog is getting all the traffic for your keyword. It's like search engines friend-zoned you for some bad guy.
You can change that!
You just have to make your website more attractive to search engines like Google, Bing, and others.
In the Internet world, it is called SEO (Search Engine Optimization). SEO is a way of making your website/blog search engine friendly.
There are two ways of SEOing your website: On-page SEO and Off-page SEO.
Off-page SEO requires a lot of hard work and time. We will talk about it in another post.
On-Page SEO, on the other hand, can be mastered by following simple techniques, most of them while posting an article/page on your website/blog.
In this article, I will be talking about 7 On-Page SEO techniques that will boost your ranking.
And, to make things even easier, we will be using an SEO tool to check your On-Page SEO.
Keynote: Make sure your content management system allows you to modify all the 7 On-Page SEO tricks. If it doesn't, I recommend you to switch to WordPress. In this guide, I will be focusing more on WordPress, but, as long as you can alter all the 7 On-Page SEO tricks described here, you can use this guide for any CMS.
SEO Tools to Use for WordPress
Used by more than 8 million websites, Rank Math is the only SEO plugin that you will ever need to make your content appear on SERP (Search Engine Results Page).
Rank Math is free and also offers services more than just SEO. It's BATMAN for your blog! It has the ability to…
Run detail SEO Analysis to identify issues
Verify Google Webmaster Tools
Measure and track keywords ranking
Advance Schema Generator
RSS Optimization
Edit your robots.txt and .htaccess file
NO-INDEX pages
And much more!
If you are using another SEO plugin on your WordPress, you can easily import your data to Rank Math with SEO Data Transporter.
Now, let's nail On-Page SEO!
Note: Some of the links in this guide are affiliate links. We earn a certain amount of commission if you buy services/products through the links, without any extra cost to you. That being said, we don't recommend products that are not worth.
7 On-Page SEO techniques That Matters
1. Loading Time of Your Website
I love slow loading websites because it saves my time (I can close the darn thing and go to another website. Thus, saving my time which would, otherwise, have been wasted reading the content). Also, I know not to go to that slow loading page in the future. Saves more time!
Well, what do ya think? Do you love waiting for a website to load?
According to stats, site speed matters more than you think. You might lose a significant number of visitors if your website is slow.
Besides user experience, site speed is also an important factor for On-Page SEO. In 2010, Google officially announced that it will factor Site Speed in its search algorithm. Also, after Google announced mobile-first indexing in late 2016, you should be more worried about your website's speed. It will matter more in search results now.
Therefore, go ahead and check your website's speed on Pingdom.
You can also use Google's PageSpeed Insights to inspect the problems and solutions of your website.
But, the best speed tester, in my personal experience, is GTmetrix. It provides you with recommendations to improve your website's speed.

To check the mobile-friendliness of your website, you can use Google's Mobile-Friendly Test.
So, is your website's speed test result bad? Well, there is one way to find out. Check your competitor's speed. Go here and enter your website and your opponent's for side by side comparison.
How to improve website's speed instantly?
Update WordPress, WordPress Themes, and Plugins.
Remove unnecessary and poorly coded Plugins. Always check reviews and last updated date while installing a plugin.
Cache your WordPress contents using plugins like WP Fastest Cache or W3 Total Cache.
Optimize your images before using them on your website. You can use Photoshop or other image compressing tools to optimize images. There are also WordPress plugins like Smush Image Compression and Optimization that you can use.
Use a good hosting company to host your website. I recommend Bluehost.
Use the Content Delivery Network (CDN). Sometimes just having good a web host is not sufficient, the location of web hosting servers can also have an impact on loading speed. With CDN, all your visitors, local and international can experience faster loading speed. CloudFlare and MaxCDN are good and popular CDNs. Check them out.
2. Optimized Slug
Shorter the slug, better it is for ranking.
A slug is an URL for your posts and pages.
The slug should contain your keyword(s) and should be easy to remember. A good slug not only helps with SEO but also enhances user experience.
If the slug is relevant to the content of your post, users might even come back to your post directly in the future. And, some users will not even visit your website if your slug doesn't contain the keywords they are searching for.
To alter the slug, you first need to change your Permalinks settings on WordPress.
Go to Settings > Permalinks on your WordPress dashboard.
Now, select Post name under common settings and click Save Changes.
After you make changes to the Permalinks settings, WordPress will create a slug for you based on the topic. You can also manually edit the slug if you don't like the one that is automatically generated.
3. Aesthetic and Accuracy of Your Content:
The content of your website should be pertinent to the topic, shouldn't have critical grammar and spelling errors, and should be well formatted.
You should include your keywords in your body text. The best SEO practice is to include your primary keyword in the H1 tag (only once). You can use your keywords any number of times on your body, but only if the context demands it.
Don't overuse your keywords or put them forcibly. The main idea is to increase the user experience. You don't want a high bounce rate on your content. It will hamper your website in the long run.
Additionally, you can improve user engagement by formatting your content properly. Use heading tags, tables, lists, images where appropriate. If you are writing a long article, make a table of content for easy navigation.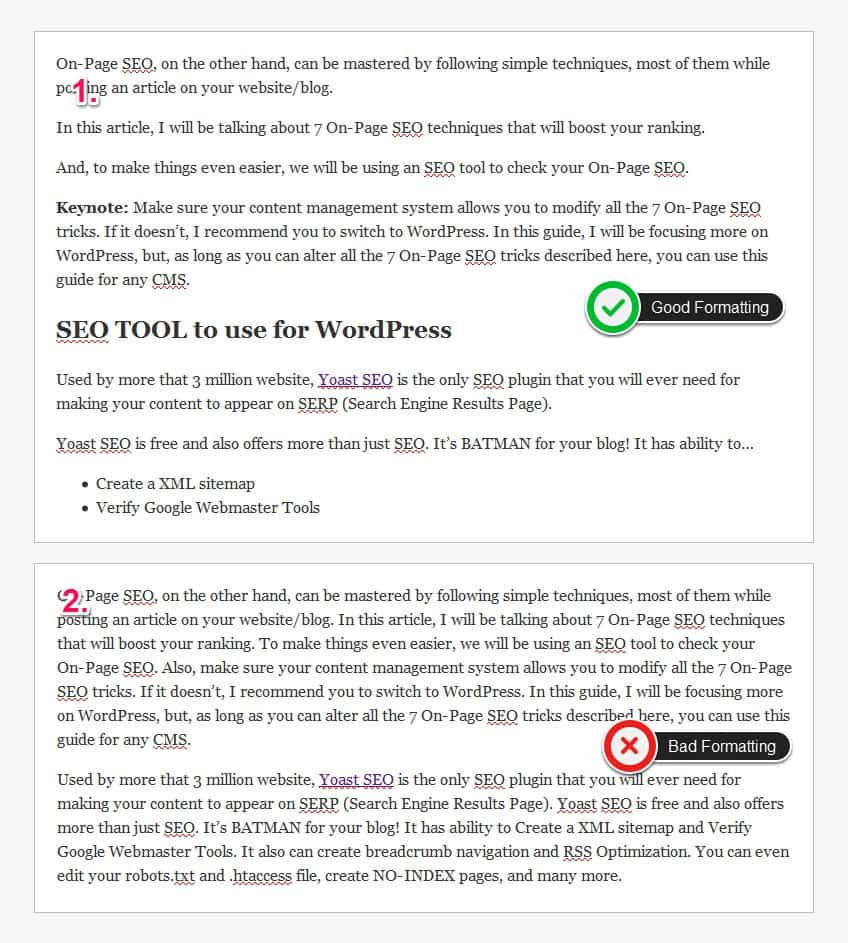 Finally, check for grammar and spelling errors in your writing. And, use simple language to increase readability.
You can use Grammarly to check grammar. For readability, Rank Math will give you real-time suggestions on its readability section. You can also use the Hemingway App or WebPageFX's Readability Test Tool.
4. Use of Internal and External links
If you are trying to become the authority in your niche, links (internal, inbound and external) are necessary on a post.
What the hell are links?
Internal Link: An internal link connects different pages/posts on the same domain. You add a link that takes readers to some other pages/posts on the same website while internal linking.
Inbound Link: When other websites link to your website, it is called inbound link. It is also called backlink. Creating backlink is off page SEO trick. Therefore, I won't be talking about it in this article.
External Link: Also called Outbound link, an External link takes your visitor to another website (different domain) from your website. Why would anyone want to do that? We will talk about it in a moment.
DO's and DON'Ts of Internal Linking
The main purpose of internal linking is to help people find what they're looking for. The idea is to link people to the articles on your website that you think will help visitors.
As an authority blogger, your aim should be to provide visitors everything about the topic within your website.
Besides user experience, internal linking also helps search engine bots to navigate around your website. If you have tons of article and pages deep inside your website, internal linking to those pages will help crawlers to find them and index them on search engines.
Internal linking will increase the value of your website. Users will have prolonged sessions on your website. Bots or spiders will have clear paths of your website. And, this is good for On-Page SEO.
However, be careful while using this great SEO asset.
| | | |
| --- | --- | --- |
| | DOs of Internal Linking | DON'Ts of Internal Linking |
| 1 | Link only to relevant pages | Don't link to pages that don't have content |
| 2 | Link to deeper pages on your website | Don't link to top-level pages like home page |
| 3 | Use link only when appropriate | Don't use hidden links |
Pro Tip: You don't need to count or worry about the number of internal links on a page. Some websites might say you shouldn't use more than 100 internal links on a page. Don't believe them. There is no definite number of links. You can use any number of internal links as long as they are relevant and provides value to users.
DO's and DON'Ts of External Linking
Linking to outside domains can help in user experience. People will trust you if you link to good sources.
External linking also helps search engine's crawler to identify the nature of your website and rank you for your keywords.
Also, an external link can help you get visitors on your website. How?
When you link to a website, the website owner of the outgoing link will notice the traffic going from your website and might probably visit your website. If they like your content, they might link back to you in future posts.
An external link is a great tool to increase your network on your niche.
But again, like internal links, you should use it carefully.
| | | |
| --- | --- | --- |
| | DOs | DON'Ts |
| 1 | Link to good and authority websites | Don't link to websites with poor content |
| 2 | Use appropriate anchor text | Don't use hidden links |
| 3 | Link to relevant websites | Don't use manipulative links |
What are Manipulative Links?
You own many blogs, and you link to each other without disclosing your ownership.
You gain benefits from the link (affiliate's/ referral programs) and don't tell your visitors that the links are sponsored.
Pro Tip: Link to authority sites that have good content. If you are using affiliate programs, disclose it on the page and use "no-follow" tag on your link. You will be penalized if you place manipulative links. For best practice read official Google guide.
5. Image ALT Tags
You should always enter the ALT attribute in the image.
Your featured image should contain the target keyword. And, you should name your images properly- give relevant names.
Google looks into alt attribute to understand what the image is about. Therefore, describe your image in the alt tag.
Don't worry if you forget to input alt attribute, Rank Math will warn you if your images don't have alt tag.
Similarly, always optimize your image size before uploading it to your website. As I said earlier, it will slow down your website.
A good title, alt description, and well-optimized image size will significantly improve your On-Page SEO.
6. Optimize Title Tag
A good headline will attract users. But, a good title tag will attract both users and spiders. The headline appears above the post while the title tag appears in SERP.
You should include your keyword in your title tag (at the beginning of the title tag if it is possible). And, you should always write your title using H1 tag. If you use WordPress, you don't have to worry about it. Wordpress automatically uses H1 for the title.
The optimal length of a title is 50-60 characters.
You can edit your Title tag using the Rank Math plugin. Rank Math will, by default, suggest you if you haven't included your keyword in the title or if your title is too long. So, you don't have to always be super careful.
Note: Your title tag and headline can be different if you want. However, the headline and title tag should be similar. You don't want to surprise visitors with a completely different title and headline. They will leave your website immediately, which is a bad thing for SEO.
To change the title tag, click "Edit Snippet" on Rank Math. Enter your title tag in SEO title.
7. Optimize Meta Description
Although meta description doesn't "technically" matter much SEO-wise these days, you should, however, put your effort to write it.
A meta description appears on search results so users will read it before clicking on the link. Therefore it is an important element to attract web users to your website.
Also, social media pulls the meta description while sharing, so write a description that is attractive.
Rank Math allows you to change the meta description with ease. Click "Edit Snippet" on Rank Math and enter meta description. The length of the meta description should be between 120 to 156 characters.
Wrapping Up!
Well, that's all the on-page SEO that you need to double your website traffic. Now, go and start using them on your website immediately.
Make search engines fall in love with your website!
But, search engine optimization alone cannot grow your website. You have to invest in other approaches, like social media integration, content marketing, etc. Check out this blog that includes 7 effective ways to increase website traffic for free.
Please mention if you have any queries or suggestions in the comment section below.