Are you looking to showcase your content-creating skills in the best way possible? If so, having a stunning gallery section on your website is a must.
That's where the gallery plugin comes into play.
Gallery plugins help you present your simple content in a manner that enhances its impact on users and leaves a remarkable impression on them.
In this article, we'll explore the 20+ best gallery plugins for WordPress in 2022. This list has been prepared exclusively considering the features, compatibility, flexibility, support, and many other aspects.
Why Should You Use a Gallery Plugin for WordPress?
While you can add images to posts and pages with the default version of WordPress, it only offers limited features. Compared to the top-level sites you see every day, that's very basic. If you're serious about growing your website, you'll need to level up your game.
Gallery plugins can do just that or even more for you!
They help you create attractive galleries that can instantly make your website more interactive. With effects and animations, they can make all the difference in user engagement. Not only are gallery plugins helpful visually, but they also add great functionalities to your website.
You can organize all your media files and sort them easily from one place. Gallery plugins are easy to use and are designed to save you a significant amount of time. Besides, some gallery plugins even optimize and compress media files for better performance.
If you want to stand out with your visual content, we suggest using a gallery plugin. We have even tailored a fine list of 20+ best gallery plugins for WordPress. Check them out.
Meanwhile, if you're a professional photographer looking to showcase your portfolio in style, choosing a photography WordPress theme can be an excellent alternative to gallery plugins.
List of Best Gallery WordPress Plugin for Your Website
Here are the 20+ best gallery plugins for WordPress.
#1 FooGallery
FooGallery is the best plugin on our list that excels all other plugins. It lets you create stunning photo galleries to make your website fun and interactive. It features plenty of gallery layouts to help you bring a unique touch to your gallery section.
FooGallery is a responsive and retina-ready plugin that looks great on any screen size. The loading speed of the photos in the gallery is commendable. Moreover, the plugin comes with a lazy loading option, which further enhances the user experience.
With its live preview option, FooGallery lets you see the changes in real-time as you tweak the elements. This easily configurable plugin is an excellent option for developers as well. You can add extra functionalities as the plugin is extendable.
Most of all, FooGallery is extremely easy to use. It features a drag-and-drop interface for the reordering of images and galleries. You can even use it for multiple sites as it comes with multisite support.
Features
Six Beautiful Image Gallery Templates
Gutenberg Ready
Lazy Loading
Live Previews in Admin
Retina Thumbnail Support
Gallery Widget
Built-in Media Library
Drag-and-Drop Interface
Gallery Picker to Insert Shortcodes
Multisite Support
#2 Photo Gallery
Photo Gallery plugin is one of the best in the game, offering features like premium image optimizer and real-time backup service. This plugin is best suited for photographers, visual artists, and imaging professionals.
First, the Photo Gallery plugin optimizes your images to produce high-quality results that use minimum resources. This makes your website three times faster by compressing 90% of the image without any loss at all. You can specify the exact compression type you want from conservation, balanced to extreme compression mode.
The design element of this plugin is compelling, with 15 lightbox transitions that enhance user experience. Likewise, there are 10 premium gallery views that you can choose from directly. Since the plugin is fully responsive and mobile-friendly, it ensures that you'll have an uninterrupted experience across any browsing device and browser.
The plugin offers four widgets that can add extra functionality to your website. It is optimized for Google and is integrated for Instagram. Furthermore, the plugin provides 24/7 live chat support if you ever come across any issues.
Features
15 Lightbox Transitions
10 Premium Gallery Views
Responsive and Mobile-Friendly
Watermark and Protection
Gallery Group and Tags
Four Custom Widgets
Export/Import Extension
Optimized for Google
Instagram Integration
Google Photos Extension
#3 Modula
Modula can help you build stunning galleries right out of the box. It makes your life easier by letting you create awesome galleries quickly. There are multiple gallery types available for creating attractive galleries.
Modula plugin features a super cool custom grid builder that gives you total control of the layout. The drag-and-drop builder comes in handy for building, managing, and customizing your own gallery section. The plugin comes with the Lightbox feature that makes your visual content stand out.
You can use blocks or shortcodes to insert galleries on posts and pages. You can also add buttons for quick social sharing as the plugin supports social share buttons. The galleries you create using this plugin also support video files. Other features like automatic image optimization and lazy loading significantly enhance the performance aspect of the Modula plugin.
Moreover, the plugin offers security services like password protection and watermarks. There are also frontend Ajax filters available for gallery items.
Features
Multiple Gallery Types
Lightbox Feature
Image Captions and Titles
Insert Galleries with Block or Short codes
Social Share Button
Frontend Ajax Filters
Video Gallery Support
Password Protection and Watermarks
Image lazy Loading
Automatic Image Optimization
#4 NextGEN Gallery
NextGEN Gallery is truly a next-generation gallery plugin for WordPress. It lets you manage, display, and sell photos like a pro. With over 30 million downloads, the NextGEN gallery plugin is the most popular gallery plugin with satisfied customers.
NextGEN Gallery plugin provides a comprehensive platform for image management. It comes loaded with photo proofing tools and provides an excellent eCommerce platform for selling photos.
You can publish and manage unlimited galleries using this plugin. The gallery types include Mosaic, Masonry, Filmstrip, Film, Blog style, Side scroll, Tiled, and Image Browser gallery. This plugin supports Stripe and PayPal gateways as options for payment. Other exceptional features like deep linking, frontend search and image protection further enhance the user experience.
If you want to share photos across multiple social platforms, you can always use the social sharing option available with the plugin. Moreover, you also receive excellent support from professional and dedicated team members.
Features
Lightbox Galleries
Dedicated Image Management Tools
Image Proofing
Image Protection and Watermarking
Frontend Image Search
Built-in eCommerce Feature
Stripe and PayPal Gateway
Deep Linking
Social Sharing
Frontend Search
#5 JetGrid Builder
JetGrid Builder lets you build attractive grid layouts for all kinds of galleries. With this gallery plugin, you can simply drag and drop the posts to the desired grid area, and you're good to go! You can build grids for various purposes like a blog grid, a product grid for an online store, image galleries, and many more.
You will find two widgets with the JetGrid Builder — Post Grid Builder and Terms Grid Builder. This plugin allows you to create custom posts and product posts. You can also add pages, posts, categories, and subcategories.
Everything you build using this plugin is sure to be dynamic and responsive. The plugin supports two popular page builders — Elementor and Gutenberg. While Elementor offers a number of style settings for every page element, Gutenberg applies its default style.
All in all, the plugin is extremely lightweight, which allows you to use your resources efficiently. It is RTL compatible and can be used anywhere in the world.
Features
Grids for Various Purposes
Lightweight Code
Highly Responsive
RTL Compatible
Post Grid Builder and Terms Grid Builder
Supports Elementor and Gutenberg
Plenty of Style Settings
#6 Envira Gallery
Envira Gallery is among the highly responsive WordPress gallery plugins in the market. It lets you create an appealing gallery section with eye-catching images as well as videos.
The super intuitive drag-and-drop builder makes it easier to build, customize, and manage gallery layouts. To further ease the process, this plugin also includes premade gallery templates available. You can start building galleries right away by customizing one of these templates. Anything you create using the plugin is responsive and mobile-friendly.
Envira Gallery lets you organize your photos and videos through albums and sort them with tags. It comes with full social media integration, allowing you to share your content across multiple social platforms easily. Moreover, the plugin works great with the WooCommerce plugin. So, it includes everything you need to set up an outstanding online store.
In terms of security, the Envira plugin protects you from all kinds of piracy with its watermark feature.
Features
Drag and Drop Builder
Gallery Templates
Responsive and Mobile-Friendly
Albums and Tags
Social Media Integration
eCommerce Store
Watermark and Protection
Deep Linking and Pagination
Video Support
Supersize Lightbox Images
#7 Global Gallery
Global Gallery is a top-notch gallery plugin to create fully responsive and adaptive galleries on your website. It supports unlimited image sources and can be used anywhere in the world.
Global Gallery offers four gallery layouts to help stylize your website. You can use these layouts to display fixed image sizes, columned disposition, masonry engine, or also through the awesome photo string layout.
This plugin works great as an image management tool. The image tags, filter, and search options help you sort and organize images properly. The image to the gallery function available in this plugin lets you use the image box to trigger an entire gallery.
Setting up and using the Global Gallery is easy, thanks to its built-in six preset styles. If you face any problem, there's also a dedicated team for fast and awesome support. Moreover, this plugin offers automatic updates to save precious time and minimize your workflow too.
Features
Unlimited Image Sources
Four Gallery Layouts
Image Slider and Carousel
Watermarking System
Automatic Galleries Creation
Gallery Collections
Seamless WP Galleries Integration
Responsive and Adaptive
Quick Customer Support
Automatic Updates
#8 Media Boxes Portfolio
Media Boxes Portfolio is a go-to plugin for all purposes. It is a fast, powerful, and responsive plugin for media galleries, portfolios, blogs, products, services, testimonials, and more.
The best thing about the Media Boxes plugin is its powerful filter system. You can add categories or tags, use multiple filters, search, sort, and configure your filtering system. You can even customize your thumbnails for fast loading.
Media Boxes come with multi-column layouts for different resolutions. It features two of the best lightbox popups, namely FancyBox and Magnific popup. Besides, the plugin supports deep linking and comes with a user-friendly admin panel.
On top of all that, the plugin offers excellent technical support. Try out the Media Boxes plugin with advanced CSS effects for your next project and see the difference for yourself.
Features
Fully Responsive Layout
Powerful Filter System
Advanced Search System
Real-time Sorting System
Adjustable Thumbnails
Layout for Different Resolutions
Multiple Columns
Deep Linking
User-Friendly Admin Panel
Lazy Load Feature
#9 Justified Image Grid
Justified Image Grid lets you present your images in the most beautiful, authentic, and justified way. It is power-packed with features that let you create premium quality galleries within a few minutes. The plugin is an ideal solution for photographers, creative designers, journalists, and others.
Justified Image Grid is easy to use, even for beginners. It gives you complete control over your galleries with no knowledge of coding whatsoever. If you want to explore further, you can check out the advanced settings options at every level.
The plugin can integrate perfectly with other popular addons like WPBakery Page Builder. You can add special effects and customize many different elements to add to your style. With the help of contextual information, you can tweak other setting options as well.
This plugin is WPML compatible, which means you can translate it to any language you prefer. You can find detailed video tutorials to help you install and set up the plugin.
Features
Automatic Justified Layout
Responsive Gallery
Special Visual Effects
Advanced Filtering
Video Gallery Support
Bundled Lightboxes
WPML and Translation Ready
Animated GIF and Transparent PNG
NextGEN Display
#10 Gmedia Photo Gallery
Gmedia Gallery is a versatile plugin with an easy-to-use and comprehensive interface for handling images, audio, video, and other galleries. You can create unlimited photos, galleries, playlists, albums, and more.
Gmedia Photo Gallery comes with a unique gallery module, the Cubik Lite – 3D Cube Gallery. The module is fully responsive and is built with HTML, CSS3, and JS. This plugin can handle all file formats and supports importing images from WordPress Media Library, Fla-gallery plugin, and NextGen Gallery plugin.
There are plenty of module options that can help you embed galleries in your posts and any pages. You will find full-page gallery templates in the Gmedia Photo Gallery plugin. You can also create custom templates for Gmedia Cloud pages.
Gmedia Photo Gallery is bundled with top-class features, advanced functionalities, and a wide range of customization options.
Features
Unique Gallery Layouts
Distinct Image Management Interface
WordPress Media Library Support
App for Managing Galleries
Google Maps Integration
Private Galleries
Supports Comments on the Gallery
Widget for Album and Gallery
Supports Custom Templates
#11 Meow Gallery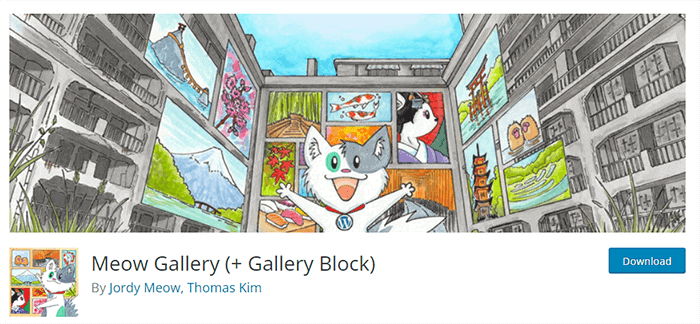 Meow Gallery is the go-to plugin for image lovers! This responsive plugin is retina-friendly, has modern layouts, and is optimized for high-speed performance.
Meow Gallery comes with popular layout options like Tiles, Masonry, Justified, Square, Map, etc. As the plugin is built with CSS, it won't slow down your pages and the rendering process.
The plugin is ideally built to work with WordPress as smoothly as possible. Hence, it works seamlessly with any other WordPress theme or plugin. Further, the plugin is optimized for SEO, which enhances your SEO rankings.
The plugin comes loaded with features like lazy loading for a smooth browsing experience. You can add animations to your galleries to make your website fun and engaging.
Features
Seven Unique Layouts
SEO Friendly Plugin
High Compatibility with Other Themes and Plugins
Lazy Loading
Professional Carousel
Supports Animations
Custom Crop Positions
Native WordPress Block
Drag and Drop Ordering
#12 Essential Grid
Unlike other gallery plugins, the Essential Grid plugin is a premium quality plugin that lets you create audio, image, and video galleries from multiple sources.
You can use the Essential Grid for multiple purposes since it supports various content types and comes with various layout options. The adjustable row/column spacings make it easy to adjust your site according to the layout.
For customization, you can choose one of the dozens of skin options available with the plugin. With the help of Visual Skin Editor, you can even build and customize your skins easily. Moreover, the plugin also supports custom templates.
The available documentation and tutorials will help you install and set up the plugin easily in no time. If you're a beginner, you'll find a dedicated video tutorial channel for easy installation.
Features
50+ Starter Grids
Multipurpose Usage
Boxed, Full-Width, Full-Screen Layouts
Adjustable Rows/Columns/Spacing
Various Animation Types & Preloaders
Responsive and Mobile Optimized
Easy-to-Use Import/Export Skins
Visual Skin Editor
Extensive Documentation
Video Tutorials
Excellent Customizability
#13 Everest Gallery
Tailored with rich features and stunning design, Everest Gallery is one of the most versatile gallery plugins for WordPress. It comes with more than 30 exclusive gallery layouts designed to showcase your media files in the most appealing way.
As you expect from any top gallery plugin, Everest Gallery supports just about all gallery items, including images, videos, posts, and audio. In addition, you can even add beautiful image filters to flaunt your photos and videos in a unique way.
You can make the best use of 35 pre-designed overlay hover animations to fetch your gallery items smoothly. If you do not prefer ready-made templates, you can adjust the available design as per your preference by adding your own custom CSS.
Managing your gallery and gallery items with Everest Gallery is a breeze. It comes with an intuitive drag-and-drop gallery ordering feature that allows you to adjust your gallery just the way you like.
Features
30+ Gallery Layouts
35 Pre-Designed Hover Animations
10 Filter Designs
Multimedia and Social Network Support
Lightbox with Various Options
Custom CSS Insert Option
Drag-and-Drop Gallery Ordering
Gallery Import/Export
Backend Font Selection Functionality
#14 Photo Gallery by Supsystic
Photo Gallery by Supsystic offers you the perfect platform for creating responsive media galleries and albums. With plenty of options for gallery types, this plugin provides you the opportunity to customize gallery styles to perfectly fit your needs.
With Photo Gallery, you can create responsive and mobile-friendly galleries that look great on any device. The plugin is SEO optimized, which helps your website rank higher across all search engines.
Photo Gallery outperforms many of its competitors when it comes to speed and performance. The lazy loading feature helps to load your content faster and enhances user engagement. Likewise, this gallery plugin includes excellent image compression and optimization features.
Besides, you can add images to the gallery from FTP and social media. Sharing your galleries across social media platforms can also help you increase the traffic on your website. Moreover, the plugin is translation-ready, so you can translate it to any local language and start using it right away.
Features
Fully Customizable Gallery Styles
SEO Friendly
Responsive and Mobile-Friendly
Load More Button and Pagination
Lazy Loading Feature
Social Sharing
Watermark Option
CDN Options
Image Compression and Optimization
Add Images to Gallery from FTP and Social Media
#15 Responsive Lightbox & Gallery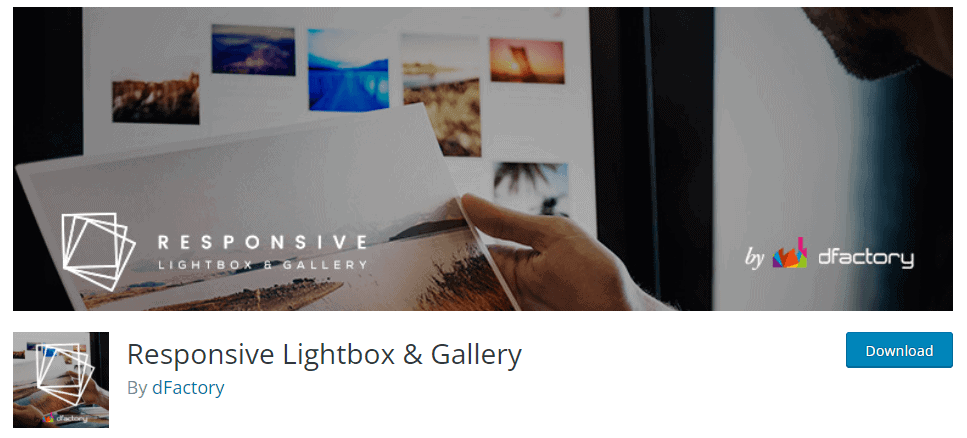 Responsive Lightbox and Gallery is a top-notch plugin featuring powerful drag-and-drop gallery builder and lightbox functionality. With over 300,000 active users, this plugin has gained an excellent reputation among the WordPress community.
The built-in drag-and-drop Gallery builder not only lets you create beautiful galleries but allows you to customize them too. With this plugin, you can build the gallery of your choice within minutes. The plugin is built considering SEO and performance. As a result, it is SEO-friendly, lightweight, and fast.
You will find plenty of premium extensions available for extra flexibility and customization options. You can use the Responsive Lightbox and Gallery plugin for creating outstanding sliders too.
There are three premade gallery templates available for you if you want to instantly get started on your next project. The plugin comes with support for multisite, which means once you install the plugin, you can use it across multiple sites.
Features
Easiest Gallery Builder
Vast Customization Option
SEO-Friendly and Lightweight
Premium Extensions
Three Gallery Templates
Media Folders with Drag-and-Drop Interface
Gutenberg Editor Compatibility
Popular Page Builders Compatibility
Gallery Widget
Multisite Support
#16 Image Gallery by Robo
If you're looking for a fast, easy-to-use, attractive, and customizable WordPress gallery plugin, the Image Gallery plugin is the perfect option for you. Even beginners with no knowledge of coding can use this super intuitive gallery plugin.
You can set up the Image Gallery plugin with just one click using the one-click setup wizard. The plugin allows you to add unlimited photos to your galleries or album. It doesn't matter which device you use to browse your website; you'll have a smooth browning experience with Image Gallery. Thanks to its advanced settings for different screen sizes.
The plugin comes with added effects and animation like fade effects and hover effects. Besides, you can change color, fonts, and many other elements of your website. The lazy loading option adds value to the user experience by boosting your page loading speed.
Some of the unique features included with the plugin are the polaroid gallery feature, video support, batch image upload, etc. Like any other modern-day gallery plugin, this plugin also provides you the option for social sharing, which can, in turn, increase traffic to your WordPress site.
Features
One-Click Setup
Gutenberg Block
Fully Responsive and Mobile Features
Batch Images Upload
Auto-Resizing for Thumbnails and Images
Hover Effects and Overlay Effects
Polaroid Gallery
Social Sharing
Lazy Loading Options
SEO Code Optimization
#17 Edge Gallery
Edge Gallery is among those few gallery plugins that give you complete control of your content. It is perfectly suited for photographers, bloggers, artists, online publications, and many more. The plugin is simple, intuitive, and powerful.
Unlike other plugins, the Edge Gallery plugin features a super intuitive drag-and-drop builder for creating galleries. In addition, the plugin works great for creating and customizing galleries as well as sliders.
Edge Gallery helps you monetize your content while increasing your web traffic organically. You can create images as well as video galleries using this plugin. Whatever you create looks great on any device with the Edge Gallery plugin, thanks to its responsive features.
The pro version includes some cool features like password protection for the gallery, the option to print photos, and social media integration. All of these features make Edge Gallery one of the best gallery plugins in the market.
Features
Drag-and-Drop Builder
Group Uploads
WordPress Slider Gallery
Fully Responsive Design
Show/Hide Photo Description Option
Show Photo/Video Credits
Deep Linking
Multiple View Options
Social Media Integration
Password Protection
#18 The Grid
Although The Grid is not your typical gallery plugin, it allows you to create stunning galleries for your website. You can build grids for any post type and pages with tons of possibilities using this plugin. This includes a blog, staff page, testimonials, portfolio, online store, and so on.
The Grid features a powerful and intuitive skin builder with unlimited options for customization. You can even create custom layouts right from scratch as you get complete control of your website. Using the skin builder, you can change fonts, edit hover state, select media, add animations, define excerpts, and resize elements.
The plugin is available with three layout options: Grid, Masonry, and Justified. The Grid comes with support for custom post type and social stream. Besides, it offers features like Live Ajax Preview, Import/Export Grids, a drag-and-drop interface, resizable elements, and a one-click demo install.
If you want to get started with your gallery right away, there are over 30 premade unique skins bundled with the plugin. This plugin is WPML compatible, meaning you can use it anywhere globally as it supports multiple languages.
Features
Supports Visual Composer
WooCommerce Integration
WPML Ready
Built-in Lightbox
Multi-Row Slider
Built-in Post-Like System
40+ Animation Styles
Multiple Instances
100% Responsive and Mobile-Friendly
SEO Optimized
#19 WP Easy Gallery
Just as the name says, WP Easy Gallery is a plugin that easily lets you create beautiful galleries on your website. Besides making things easy for you, the plugin is lightweight and uses minimum resources, enhancing the browsing experience.
WP Easy Gallery is known for its outstanding performance. It uses code caching that keeps your website from slowing down with an overly bloated codebase.
The WP Easy Gallery integrates seamlessly with the WordPress Media Library. With this tool, you can upload or download images as per your preference. The free version of the plugin offers multiple display modes. There are even more options available in the pro version.
The plugin provides options for sharing gallery images across multiple social platforms. You can even sort images in the order you like. If you're looking for an easy-to-use plugin that does not slow down your WordPress website, WP Easy Gallery is the best choice for a gallery plugin.
Features
Image Slider Gallery
Lightbox Popup Gallery
Multiple Display Modes
Supports Custom Thumbnail
Social Sharing
Image Sorting Option
Thumbnail-Style Gallery
Lightweight and Fast
Masonry-Style Gallery
#20 Easy Media Gallery
The Easy Media Gallery plugin lets you create much more than just an attractive gallery. With this gallery plugin, you can effortlessly create a photo gallery, albums, portfolio, image carousel, video gallery, and audio gallery for your website.
This highly customizable plugin comes with an intuitive control panel. Hence, this plugin allows you to adjust color, positions, media sizes, hover effect, and so on. As this plugin comes with an easy-to-use interface, it is ideal even for beginners who have absolutely no coding knowledge.
You can easily adjust rows, columns, and spacing to fit your needs. The plugin supports CSS3 and works across all modern browsers. You can also add different animation types to further enhance the user experience.
Moreover, the plugin is fully responsive and highly optimized for speed and SEO. Easy Media Gallery offers a 24/7 technical support line to help you with any problem during installation, setup, or use. You can also go through the extensive documentation and tutorial videos for those purposes.
Features
Easy Media Shortcode Generator
10+ Lightbox Styles
Unlimited Galleries and Photo Albums
Image Carousel
Embed and Display Videos
Adjustable Gallery Rows/Columns/Spacings
CSS3 Support
Various Animation Types
Backup and Restore Settings
24/7 Technical Support
#21 Image Photo Gallery Final Tiles
Image Photo Gallery Final Tiles is an exemplary gallery plugin that allows you to exhibit your photos, display albums, and showcase products.
This freemium plugin features flexible grid layouts. These layouts help you to mix landscape and portrait images of all sizes. Moreover, you can also use a Pinterest-type photo gallery or a tiled gallery and add videos to your website.
Image Photo Gallery Final Tiles is 100% responsive that seamlessly adapts to any browsing device. Besides, it assembles CSS3 properties, which makes your website easy to access from mobile devices as well. This plugin also features smooth animation and effects to make your website visually appealing.
This advanced gallery plugin is a perfect fit if you need a wedding album photo gallery, a photography portfolio photo gallery, a products showcase photo gallery, or a designer portfolio photo gallery. Since the plugin supports social sharing, you can easily share your gallery across different social platforms to enhance visibility.
If you want to access advanced features and functionalities, you can always upgrade to the premium version. The pro version integrates features like caption hover effects, WooCommerce support, image hover effects, and many more.
Features
Fully Responsive and Mobile-Friendly
Tiles and Masonry Layout Options
Adjustable Image Margin
Video Gallery
Social Sharing Option
7 Lightbox Feature (Pro)
Caption and Image Hover Effects (Pro)
Image Loaded Effects (Pro)
Custom Posts and Recent Posts Galleries (Pro)
WooCommerce Support (Pro)
FAQs (Frequently Asked Questions)
How do I create a photo gallery on my website?
There are two ways to go about creating a photo gallery. One is the default option provided by WordPress with many limitations, and the other way is to use a gallery plugin. These plugins help you create attractive galleries for multiple purposes. You can pick any of the above-listed gallery plugins and start creating galleries for your website.
Which is the best photo gallery plugin for WordPress?
Frankly speaking, any plugin listed in this article serves as a decent choice for your website. However, if we have to stick to a single plugin, we highly recommend the FooGallery plugin.
This gallery plugin is the best on our list with its beautiful-designed gallery elements, feature-packed control panel, and excellent support. With this plugin, you can create stunning galleries for your website and flaunt your photos and videos.
How to add a gallery plugin to WordPress?
After logging in to WordPress Dashboard, click on the Add New button from the Plugins menu. You can now see the Install Plugins page for installing gallery plugins directly from the dashboard.
After that, You need to type the name of the gallery plugin you want on the search bar. You will then get redirected to the Install and Activate page to install the desired plugin and activate it for your website.
Similarly, you can also look for your best gallery plugins on third-party websites and download the respective plugin's zip file. Once you download the zip file, you can directly upload the file on the Plugins section to install and activate the gallery plugin on your WordPress website.
Is it easy to create a scrolling gallery in WordPress?
Yes! You can easily create a scrolling gallery in WordPress. However, to do that, you need to install and activate the Magic Scroll for WordPress plugin.
After activating this plugin, open a page or post in WordPress to create a scrolling gallery. Now, simply place your cursor in the area where you want to insert the image carousel. After that, click the Magic Scroll icon and then select the name of the image carousel you want to insert.
You can then find a Magic Scroll shortcode appearing on your page or post. Preview the page or post to see if the carousel is working on the web page.
Conclusion
There you go!
That's the list of 20+ best gallery plugins for WordPress. Hopefully, you have found the right plugin to add a stunning gallery section to your website.
If you're still confused about whether or not to get yourself a gallery plugin, we suggest you go through the article thoroughly. There you'll find reasons why you should get a gallery plugin. If you did find one already, make sure to try it and share your experience with us in the comment section below.
However, if you're seeking an alternative to WordPress gallery plugins to make your website fun and interactive, here's an article on the 20+ Best WordPress Slideshow Plugins.
Likewise, if you want to organize your website's media files, including images, videos, and audio, without much hassle, you should consider using a WordPress Media Library plugin. You can go through this article: 10 Best Plugins to Organize WordPress Media Library to find the right plugin to organize your WordPress Media Library.