Instagram is an excellent platform for sharing and building networks. With more than 1 billion users worldwide, it is one of the largest social media platforms out there.
With an Instagram account on your website, you can tell the world what you do and what you are all about. In addition, you can integrate your Instagram feed into your website to create visually engaging content for your visitors. Plus, you can also establish your brand presence.
But how do you incorporate Instagram into your site?
Well, the answer is Instagram plugins.
There are various Instagram WordPress plugins in the market to choose from. To save your time from extensive search, we have listed the 9 best WordPress Instagram plugins for your site.
All of these plugins are explained based on their best-selling features and functionalities. Similarly, the added user ratings and other key details should help you choose the best one for your website.
Also, you can get more insights on the Instagram plugins with our detailed FAQs section.
Now, let's get into the details!
What Features to Look For in an Instagram WordPress Plugin?
First, let's look at must-have Instagram plugin key features before choosing any for your website.
Responsive/Mobile friendly
Users access websites from various devices, such as laptops, tablets, mobile phones, desktops, etc. Thus you should always get a responsive WordPress theme for yourself. This way, your Instagram feed will look seamlessly beautiful on all devices and screen sizes.
Multiple Instagram Accounts in One Feed
If you have multiple Instagram accounts, you may want to display them together on your site. Therefore, you should go for the plugin that supports multiple Instagram accounts in a single post feed.
Multilingual Ready
If you want your feed to be of another language apart from English, you can choose a multilingual Instagram plugin. It will allow you to create content in your desired language. Besides, your users can enjoy your site's feed in their regional language.
Customization Options
Always pick an Instagram plugin that you can easily customize. You should have the luxury to change the color scheme or the typography of your feed. So having a plugin that comes with full customization options is a must.
Speed
If your Instagram feed on your site loads slowly, it can be a bad user experience. It is better to pick a plugin that doesn't affect the page loading time of your site. It's always essential to have a speed-optimized plugin. The feeds on your site will run fast, and your site will not lose its traffic.
Best Free and Premium WordPress Instagram Plugins
Here are the best free and premium WordPress Instagram plugins to show your feeds or images on your website:
1. Feed Them Social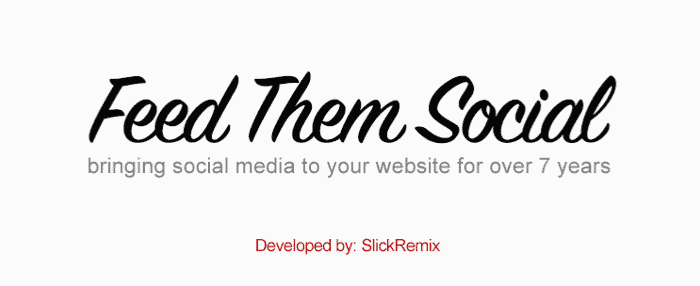 Feed Them Social is a versatile WordPress plugin for Instagram feeds that you can easily set up and use. This plugin can be used by artists, photographers, developers, or anyone who wants to create awesome, easy-to-use galleries.
You can use this modern plugin to create responsive social feeds for your Instagram, Twitter, Youtube, and Facebook pages. In addition, easy import is possible for Instagram content under hashtags and usernames.
Similarly, you can choose to disclose the user's profile stats if you don't want to show additional details. Feed Them Social also lets you set up galleries and style the layout, focusing on your brand.
For Instagram, the Feed Them Social plugin comes with two different gallery styles that you can choose. You can add a lightbox to the popup feed section or add an infinite scroll.
Overall, this plugin is a good option if you want a feed for any social account, not just Instagram.
Key Features
Easy to use and setup
Responsive social feeds
You can use the premium version to set as many posts and images for each social feed
Add a like and follow button near feeds
Share options available for other social media like Twitter and Facebook
Awesome support
Add the desired number of social feed
Easy shortcodes generation for any feed
Other Details
Active installation: 80,000+
WP.org Rating: 4.5 stars
2. Instagram Slider Widget

Instagram Slider Widget is simply a beautiful and customizable Instagram plugin for WordPress. You can use this plugin to seamlessly add your Instagram content on your WordPress website in minutes.
You can easily customize your Instagram feed to appear the way you like, and it will blend well into your site. In addition, your Instagram content will be displayed within 30 seconds once installed as it does not involve any confusing steps.
There is no limitation when it comes to authorizing several Instagram accounts and showing multiple feeds. You can easily link to a user's profile, image URL, custom URL, attachment URL, etc.
Instagram Slider Widget is fully responsive. It works smoothly on mobile phones, tablets, desktops, and laptops. You just need to upload your images on Instagram and they will instantly appear on your website thanks to this amazing plugin.
Key Features
Easy to set up the plugin
It has flexible layout settings
Display pictures in soldier or thumbnails
No API is needed
Fully responsive for mobile devices
The style for your feed and the number of images can be customized
Other Details
Active Installation:100,000+
WP.org Rating: 5 stars
3. BlosssomThemes Social Feed

BlossomThemes Social Feed is a WordPress plugin that lets you add Instagram profiles to your website. You can increase interaction between you and your followers using this plugin.
It will help you grow your Instagram followers, which is an exciting way to introduce yourself.
The plugin also generates Instagram shortcodes that you can add to your posts. These shortcodes facilitate you to do nifty things with minimal effort. You can embed videos and other media across the web directly into your website.
You can show your latest posts and pictures on your website to boost your business engagement. The feed can be displayed in an attractive layout so you can enthrall new visitors.
To configure your Instagram profile on your website, you can start installing and activating the BlossomThemes Social Feed plugin. If you want to use another Instagram account, you can easily do so with the process once again.
Key Features
Easy optimization
Display a maximum of 25 images with a maximum of 10 in each row
You can choose where to display your Instagram feed on your website (inside your posts or on the sidebars).
The plugin generates shortcodes and widgets
Works best with BlossomThemes' theme
Easy to use
Other Details
Active Installation:40,000+
WP.org Rating: 3 stars
4. Spotlight – Social Photo Feeds

Spotlight – Social Photo Feeds is a simple WordPress plugin to share your Instagram content. You can embed any Instagram feed in no time. All you have to do is connect to your account, design a style for your single feed or custom feeds, and add it to any page, sidebar, or post.
Spotlight is a 100% responsive plugin that can be easily customized as per the device. Besides, you can connect multiple Instagram accounts and create unlimited feeds across your website.
With this plugin, you can boost your social media platform engagement and increase your Instagram followers. Whenever you add a new post on Instagram, Spotlight will add them to your website instantly.
The Spotlight plugin does not store any details provided by users, making it a secure plugin. You can also preview what you are designing before embedding it on your website.
Key Features
You no longer need any complex shortcodes
Unlimited Instagram feeds
Multiple Instagram accounts can be combined in a single gallery
Customize the number and size of posts in the feed
Order posts by date, randomly, or based on popularity.
Use Spotlight Pro to level up your Instagram feeds
Other Details
Active Installation:10,000+
WP.org Rating: 5 stars
5. Instagram Journal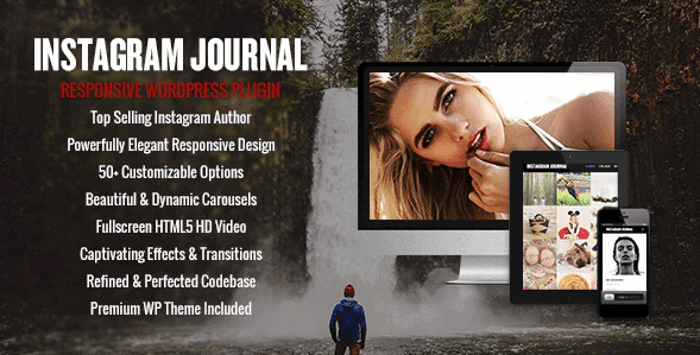 Instagram Journal is a premium and versatile WordPress Instagram plugin. This plugin is ideal for models and photographers who are seeking to showcase their latest works.
You can easily add feeds from any of your accounts. It is an affordable premium plugin that offers a lot more than its free version. This plugin helps you display everything from your photos, photos from friends' accounts, particular hashtags images, pictures of any locations, photos you have liked, and more.
Instagram Journal is an elegant and highly flexible plugin. It is fully responsive and comes retina-ready. As a result, it always looks great on any device and adapts to any screen size.
You can now showcase your photos like never before for just $20 with Instagram Journal. In addition, you can specify the photo gallery size and photo size to create a stunning profile to get more followers.
Key Features
Unlimited updates included with 6-month premium support
Multiuser and multi-tag Instagram feed
Collage, section, infinity slider, and large carousel display for your photos
Fully responsive and supports full-screen mode on desktop and mobile devices
Retina ready design
6. Instagram Feed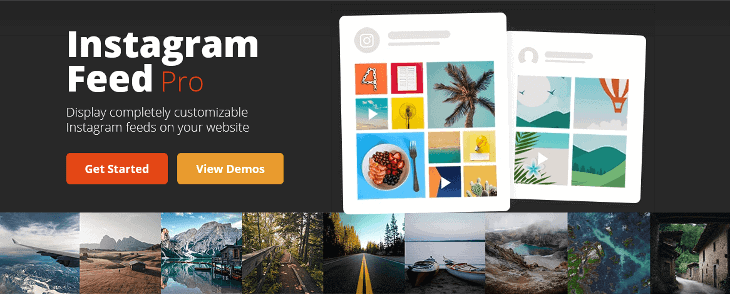 Instagram Feed is one of the simply beautiful and customizable Instagram plugins for WordPress. You can use this plugin to increase engagement between you and your Instagram followers.
By paying $49, you can add a lot more to your free version of Instagram Feed. You can customize how to present your photos. You can decide to display content from any username, hashtags, and location on your site.
You do not have to update your photos on your site. The images posted on Instagram will automatically display on your website. It also comes with mobile optimization, so your content will look fantastic and adjust on any device.
The Popup mode in this plugin opens photos in full size or plays video in the feed. Besides, you can make your Instagram Feed shoppable with a button that links your posts with the corresponding product.
Key Features
Easy setup
Multiple layout options; grid, carousel, highlight, and masonry
Highly customizable
Privacy consent with GDPR settings
Comes with an SEO booster
Highly reliable
Feeds on the website loads lightning fast
Shoppable Instagram feed
7. Grace

Grace is an easy WordPress plugin for Instagram to add stunning Instagram feeds in your sidebar or blog post. You can embed photos based on your likes, hashtags, and location to display your Instagram feed in your desired layout.
You can get Grace for $19 and start adding images from any of your accounts. It works well with any WordPress theme. The plugin comes with handy design options which can be good for your website.
Similarly, you can benefit your brands or business with this flexible WordPress plugin for Instagram feed. The Grace plugin enables easy sharing for social sharing so that you can share each photo directly from within your site.
Grace is fully responsive. It supports basic features like swipes for sliding and lightbox galleries. You can customize and set how you want your feed to appear on various screen sizes from smartphones to desktops. Plus, you can easily recolor your Instagram posts, change design layouts, and reposition elements around the feed.
With Grace, you can display stunning Instagram galleries on your website or blog. It helps you engage your audience on your website, get more social shares from your website, and grow your network.
Key Features
Highly customizable
Responsive design and retina ready
Lightbox galleries with attractive animations, smart media loading, and sharing tools
Moderate your feed by excluding posts of distinct words, username, or URL
Fantastic gallery layouts like masonry, grid, justified galleries and image slider are available
Create card content with DIYcard template builder
8. 10Web Social Photo Feed
10Web Social Photo Feed is a user-friendly Instagram plugin for WordPress. You can use this plugin to display the Instagram feeds and content on your website. This plugin is suitable if you are a blogger and own photography, travel or food blog.
You can easily flaunt your Instagram feed, display content, captions, like and profile information on your website. You can get started by installing the plugin and connect your Instagram account from the settings page in a matter of seconds.
10Web Social Photo Feed is responsive and mobile-friendly. Thus, your feed will look just as good on mobile devices, tablets, laptops and desktops. You can display as many Instagram feeds as you want, set the number of images to be displayed, and use Infinite scroll.
Besides, it comes with stunning display layouts, custom styling features, image lightbox effects and many more to add appeal to your website's overall look and feel.
The 10Web Social Photo Feed plugin comes in 5 pricing options and is constantly updated and offers quick support. At this price, you get advanced features that best suits your needs.
Key Features
Social sharing button
Blog style layout feeds
Masonry layout feeds
HTML5 video support in lightbox
Infinite scroll for the feed
Other Details
Active Installation: 60,000+
WP.org Rating: 4.5 stars
9. Instagram Feed Gallery

Instagram Feed Gallery is a beautiful and user-friendly Instagram plugin for WordPress. It is flexible and easy to use. You can add your Instagram content to your blog or eCommerce, business or any niche website.
This effective plugin allows you to flaunt your images from the WordPress dashboard to showcase your products and services. You can easily customize the layout of the display, flaunt your stunning photo galleries or use carousels.
The Instagram Feed Gallery plugin offers a one-click setup and all you have to do is login into your Instagram. Thanks to its token generation feature, you can simply copy-paste the Instagram token and you are done.
It comes with support for multiple Instagram user accounts so you can showcase your content from any desired account. You can utilize the option to display the user profile avatar image, username, custom description and add a load more button.
Additionally, Insta Gallery is fully responsive and compatible with most web browsers for a smooth user experience.
Key Features
Mobile-friendly and responsive
Multiple user accounts
Display image popup
Masonry gallery and carousel layouts
Instagram token setup
Other Details
Active Installation:70,000+
WP.org Rating: 4.5 stars
Which Instagram WordPress Plugin is Best for You?
All of the 9 plugins mentioned in this review work in their own ways. In fact, all of these Instagram plugins equally help you incorporate your Instagram profile into your website.
While it could be challenging for you to choose the best one among these options, here are our final thoughts:
If you want to boost your social media platform engagement and increase your Instagram followers – Spotlight.
If you prefer lightbox galleries with attractive animations, smart media loading, and sharing tools – Grace.
FAQs (Frequently Asked Questions)
Why should I use the Instagram plugin?
If you want to increase engagement between you and your Instagram follower, you can use Instagram plugins. It is a great way to grow your traffic and business.
You can use the Instagram plugin to display photos or content from an Instagram account directly on your website. Similarly, you can also enhance your branding, keep your audience engaged and make your site content attractive. 
Instagram plugins even let you show posts you have been tagged on, hashtag feeds, IGTV videos, and Instagram stories.
How often should you update your Instagram plugin?
Often developers add additional features or updates to Instagram plugins. As a result, you need to regularly upgrade your plugin to use those new and exciting features. Similarly, regular updates help to increase the security of Instagram plugins and keep them safe from intruders.
Are Instagram feed plugins safe?
Most of the Instagram plugins are user and developer-friendly. You can check the quality of Instagram plugins through the reviews of the plugin and brand reputation. 
Sometimes there can be vulnerabilities in the older versions. In short, make sure to use the latest version of the plugin.
Conclusion
There you go! You can use any of these 9 best WordPress Instagram plugins to incorporate your Instagram profile on your website. With that, you can add images, videos, or posts to your site and make it more attractive.
Similarly, you can also advertise your products if you have some business or shops to gain more customers. By embedding Instagram feeds on your website, you can convert your visitors into costumes. With extra features, it will help boost sales and conversion.
If you want to read more articles related to WordPress Plugins, you may look at the following:
We hope you found this write-up helpful. If you have any other Instagram plugin suggestions excluded in the above list, let us know in the comments section below.