Adding a notification bar on your WordPress site has multiple advantages. It comes in handy to share news, advertise a sale, grow your mail list, or drive traffic to the specific landing pages.
It is a simple addition yet very effective tool to increase your conversions. The best news is that it only takes a few clicks to add it to your site using the WordPress notification bar plugin.
Below, you will find a list along with the details of the 10 best WordPress notification bar plugins. By the end, you can figure out which one stands as the best fit for your needs.
First, let's fuel up with the must-have features in a good notification bar plugin.
What Should a Notification Bar Plugin Have to be the Best?
The WordPress marketplace has a long list of notification bar plugins and comparing each one with the other is not feasible. Also, not all the plugins have the features you need.
For example, some WordPress notification bar plugins have a simple build and don't have proper settings for hiding or showing notifications. Likewise, others may not have the functionality to add important elements such as countdown timers and CTA buttons to boost conversions.
Basically, what you need is a floating bar plugin that meets your site's goal, increases conversions, extends your email list, and shows announcement alerts.
Here are a few important features you should look for in a WordPress Notification bar plugin:
Targeting and Cookie Settings
An efficient notification plugin should have targeting settings that let you customize messages for different sections of the site. Also, the plugin should have the cookie functionality to remember what users have seen on their last visit. Such features improve user experience significantly.
Dynamic Elements
A good notification plugin also should allow you to add important elements such as a countdown timer, animation effects, CTA buttons, and others to boost your conversion rate.
Newsletter Integrations
Integration of your notification plugin with popular email and newsletter services will help to gain more subscribers.
Support Options
A good and responsive technical support team is always an asset for any plugin or other product.
List of 10 Best Notification Bar WordPress Plugins
Here are the ten best WordPress notification bar plugins on the market today. Some are free options, while others have both free and paid versions. You can select the one that appeals best to you. Let's dive into their details:
1. Hello Bar
The Hello Bar is one of the popular notification plugins that has been around for quite some time. It has an easy-to-use interface with straightforward settings, making it a beginner-friendly option. The plugin works effectively with any type of website, be it e-shop, blogs, or other business modules.
With this plugin, you can choose among a handful of pre-built designs, customize them, set your target message, and publish them on your website. Moreover, the plugin also integrates with popular email services for increased conversions.
You can even add sliders, bars, and popups for better visuals. The Hello Bar plugin has both free and paid options. Although the free version does not have many settings options, you can still add basic customizations to your notification bar.
Pros:
It has an easy-to-use interface.
The plugin is able to collect unlimited subscriber emails.
The plugin allows live split testing of your notification bars.
You can integrate the notification bar with major email services.
Cons:
The free version allows only 5,000 views per month on your notification bars. For more views, you have to upgrade to a premium plan.
The free plan gives access to only basic customization options.
Pricing:
Free = allows 5,000 views per month
Growth = $29 per month (allows 50,000 views per month)
Premium = $49 per month (allows 150,000 views per month)
Elite = $99 per month (allows 500,000 views per month)
2. WPFront Notification Bar
WPFront Notification Bar is a free and easy-to-use plugin that lets you add a notification bar with a few clicks. You can place the bar at the top or the bottom of the page. The plugin lets you add start and end dates so that you can toggle the bar on and off based on your needs. Such a feature comes in handy for promoting events or sales.
You can also add a CTA and display news for better conversions. The plugin does not have a premium version.
Pros:
You can display notification bars at the top or bottom of the page. The Sticky Bar option allows you to display the bar continuously as well.
You can fully customize the color of your notification bar.
You can set the start and end date for the bar.
Cons:
Other customization options beyond the colors are limited.
No analytics.
You can create only one notification bar at a time.
Pricing:
The plugin is free to use.
3. WP Notification Bars
WP Notification Bars is a lightweight plugin with an extremely user-friendly interface. The plugin is easy to use for both professionals and beginners.
This plugin is a perfect option for promoting events, growing social media following, increasing your email list, advertising sales, and many more. You can create unlimited notification bars and add posts, social media buttons, and others.
A notable feature of the WP Notification Bars plugin is its settings for Facebook or Google visitors. That means you can choose to display the bar to only Facebook visitors or the ones that landed from Google.
In the meantime, the plugin also lets you set the priority of the notification bars so that your site displays the ones that are the most important. You can see your bars' performance by split testing them and also tracking the views and clicks.
Pros:
You can create unlimited notification bars for your website.
You can display the bars for specific audience groups, i.e., from Google visitors or Facebook visitors.
You receive free forum support.
Cons:
The plugin only offers basic customization options.
It has limited targeting options.
Pricing:
WP Notification Bars plugin has both a free version and a $29 paid version.
4. Top Bar
Top Bar is a simple notification bar plugin from WP Darko. It has a little basic build that lets you design the topbar on your own terms. You can also add messages, call-to-action buttons, and links to your bar.
The plugin also offers a sticky bar feature. Using this feature, you can continuously display your notification bar. However, there are only limited customization options.
With the premium version of the Top Bar plugin, you get a lot of advanced features. For instance, it allows you to close the Top Bar, choose an initial state, and set a time before the Top Bar appears.
Pros:
You can select any color for the notification bar.
You can add a custom message, links, and buttons to your bar.
The sticky bar feature lets you display the notification all the time. It may come in handy to increase conversions.
Cons:
The plugin offers limited customization options.
There are no trigger settings.
Pricing:
It has a free version. For more amazing features, you can upgrade to a paid option that starts at $16 per year.
5. OptinMonster
OptinMonster is one of the best optimization softwares that comes with multiple market-centric tools. These tools will help you turn your site visitors into customers and subscribers.
It lets you build a notification bar and load it with your designs and colors. Also, there are several beautiful templates that you can use on the go. The drag and drop builder feature of this plugin adds to user-friendly customizability.
The advanced targeting system lets you personalize your bar's notification based on your site goals and visitors' past behavior on the site. You can even add a notice on your bars for WooCommerce, add a discount alert bar, add a newsletter, or add a link to your landing page.
You can also use OptinMonster to create popups of all sorts, including spin opt-in forms, fullscreen welcome mats, and many more.
Pros:
You can create your own custom templates.
The personalization feature allows you to target the customers using several options directly.
You can display the alert messages and various other popups.
You can also include a countdown timer.
Cons:
No internal analytics.
The plugin lacks official integration with SendGrid Marketing Campaigns.
Pricing:
Basic: $9 per month (for one site)
Plus: $19 per month (for two sites)
Pro: $29 per month (for three sites)
Growth: $49 per month (for five sites)
6. SeedProd's Notification Bar Pro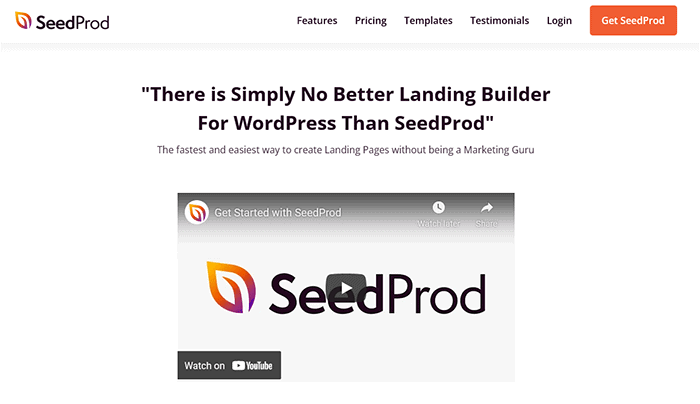 SeedProd's Notification Bar Pro is a versatile plugin that is popular as a "Coming Soon" plugin. However, their floating bar plugin will let you create a dynamic notification bar effortlessly. This notification bar plugin comes in a package of the SeedProd bundle.
The plugin comes with tons of features to land on the top ten list on our list. You can create your distinct notification bar with a live preview. You can also add custom CSS to the floater. Such a feature adds to user-friendliness and ease of use.
With this notification bar pro plugin, you can include or exclude pages on your to show the bar. There is a free-to-use version of this plugin as well, known as WordPress Notification Bar. However, you don't get many features and flexibility when it comes to customization.
Pros:
You can add custom CSS to the bar.
It shows a live preview of your notification bar as you design it.
Multiple customization options.
Drag and drop customizer.
Cons:
The free version doesn't offer all the features. You need to sign up for a premium plan to enjoy all the features.
Pricing:
Basic: $39.50 per year
Plus: $99.50 per year
Pro: $199.50 per year
Elite Bundle: $239.60 per year
7. TrustPulse
TrustPulse is a unique notification bar plugin that takes advantage of the FOMO effect. It offers real-time social proof notification. This feature lets your visitors know what is happening on your site right now. It comes in handy, especially in eCommerce sites, as it tells who recently bought your product.
You can use the plugin straight out of the box with the options to change the colors, messages, and notification images. It integrates nicely with all top eCommerce plugins and also gives relevant analytics for conversion reviews.
You can also track various interactions by setting up TrustPulse. For example, you could opt to show a notification every time a user subscribes to your emails.
The plugin starts off at $5 per month. However, you may also use its free version that shows notifications for up to 500 user visits.
Pros:
Offers real-time social proof notification letting you know what's happening in your site in real-time.
You can change colors, messages, and images in your notification.
Integrates nicely with all top eCommerce plugins.
It gives you useful analytics, showing which pages are delivering the highest conversion rate.
It is user-friendly.
It includes an advanced targeting system.
Cons:
Limited options for customizing the notification bar.
Pricing:
Free: allows notification for up to 500 sessions
Basic: $5 per month ( 2500 sessions per month)
Plus: $10 per month (10,000 sessions per month)
Pro: $19 per month (25,000 sessions per month)
Growth: $39 per month (100,000 sessions per month)
8. Easy Notification Bar
Easy Notification Bar is a simple and free plugin. It is not as advanced as other options on the list. However, for a free plugin, it does pretty great with how you can add your notification bars.
This plugin packs basic features such as type-in text, font size setting, custom links, and custom colors. However, other competitive features like popups, analytics, and eCommerce integration are missing on this plugin.
If you want a website with general alerts, this plugin would be a decent choice. For example, if you run a restaurant website, you could use this plugin to alert your customers about the change in business hours, temporary closure, and such.
Pros:
It is free and easy to use.
Allows you to put an alert on your website.
You can change the text, font size, and colors in your notification.
Cons:
It has limited features.
It doesn't let you create other various types of popups.
Pricing:
This plugin is completely free to use.
9. Hashbar
Hashbar is a free, lightweight, and open-source plugin for creating an offer and alert bars instantly. The plugin is effortlessly compatible with Visual Composer and WPBakery page builder. Thus, tweaking the changes is very easy, even for beginners.
The Hashbar plugin lets you add texts and buttons to your notification bar for a vivid appearance. You can set the bar's position on the page and also set on which pages it appears. In the meantime, you can also schedule the notification.
You can easily customize the notification bar by changing the background color, button color, texts, and even the opacity.
Pros:
Multiple display options.
Compatible with popular page builders.
You can add text and buttons on the notification bars.
Easy to customize colors and transparency of the bars.
Notification scheduling.
You can choose which URL to display the bar.
Easy position management.
Cons:
It does not offer advanced customization options.
Pricing:
It is a free plugin.
10. Notibar
Notibar is another free plugin on our list that helps you add a notification bar on your site using your built-in WordPress customizer. For a quicker setup, you can use the preset styles for your notification bars. Such features make it super easy and super fast to add a bar to your site.
Its live preview mode is particularly handy in the customization process. Using this feature, you can set colors, typography, alignment, and width of the bar while getting a real-time preview of how it looks.
The plugin also lets you add buttons and CTAs to your bars, making it more persuasive in generating leads. Furthermore, you can set the URLs to display the notifications.
Pros:
WordPress customizer with live preview.
Fully responsive.
Preset styles for effortless setup.
Highly customizable.
You can add buttons, texts, and CTAs to the notification bar.
Cons:
No analytics.
Limited targeting feature.
Pricing:
It is a free-to-use plugin.
Which is the Best WordPress Notification Bar Plugin – Conclusion
Whether you want more traffic on a particular page, want to increase your email list, or make an announcement, using a notification bar plugin is the best way to go.
We just listed the 10 best WordPress notification bar plugins on the market today. However, picking out the best among these plugins depends on your choice and budget.
If you are looking for a premium option, you can go with OptinMonster or SeedProd's Notification Bar plugin. Both these plugins pack multiple customization options and have affordable prices. For a free option, Hashbar or Notibar would be better. They give ample customization options, even similar to other paid options, and offer more control over the notification bars.
Having it said, feel free to use any of these plugins. Neither one will disappoint you.