After the GDPR, i.e., General Data Protection Regulation came into effect on May 25, 2018, it caught worldwide attention. Ones who don't comply with the GDPR rule may end up facing 4% of their annual global revenue or €20 million, which is more than $23.5 million.
This has left many WordPress users questioning how to make WordPress websites GDPR compliant. To address this issue, we have done a whole comprehensive article on making your WordPress GDPR compliant.
However, the easiest way of making WordPress GDPR compliant is by using the best GDPR WordPress plugin. Luckily, there are tons of GDPR WordPress plugins that improve compliance.
We reviewed several of such plugins and have curated the best 10 among all. This article covers a basic introduction of GDPR, why it is necessary, and the 10 best GDPR WordPress plugins to improve compliance with the rule.
Now, let's get started!
What is GDPR?
The General Data Protection Regulation, commonly known as GDPR, is a European Union (EU) law that gives better and stronger control to EU citizens over how their data is being collected, tracked, stored, and used by websites and online portals.
The goal of GDPR is to change the data privacy approach of organizations that serve online such as online businesses and website owners/developers in and outside the EU.
This rule replaces the Directive on Data Protection rule of October 24, 1995, and is also more extensive than the 2011s Cookie Law.
Here are a few terms related to GDPR that you should know:
Controller: A controller determines the means and purpose of personal processing data.
Processor: A processor is responsible for all the personal data processing on behalf of the controller.
Personal Data: Personal Data refers to any information that leads to identifying an individual, even when indirectly linked with other information.
Why is GDPR Necessary?
The EU has imposed the GDPR rule with the goal of protecting consumers' data from being illegally recorded, tracked, stored, or used. This protects from reckless data handling, management, and breaches.
While the hefty penalty may sound alarming, it is mainly imposed to get the attention of larger companies such as Amazon, Facebook, and Google, which keep personal records of large populations. Further, this encourages organizations to give more emphasis on protecting people's rights.
Here are the main things under GDPR law:
Asking visitors for their content for data collection, tracking, storing, and processing.
Providing notifications about data breaches concerning the users.
Allowing users to request a copy of deletion of their data.
In fact, GDPR also protects the various right of the users, such as:
Right to be informed: Users have the right to know how their personal data is being collected, tracked and used.
Right to access: Users get the right to access their personal information and download it in an electronic copy from the website free of cost.
Right to rectification: Users can rectify any personal data or complete it if it is incorrect or incomplete respectively.
Right to Erasure: Users get the right to leave a website and have all their information and personal data erased anytime. It is also known as the right to be forgotten.
Right to Restrict Processing: Users have the right to restrict their personal data from being processed anytime.
Right to Data Portability: Users can download and reuse their personal data for their own purposes.
Right to Object: Users can prohibit the use of any data for marketing or any other purpose anytime.
Right to be informed about Data Breaches: Users have the right to be notified by owners within 72 hours of knowing about any data breach.
Rights related to Automated Decision Making: Users reserve the right to negate any decision made without their active involvement.
List of Best GDPR WordPress Plugins
As mentioned earlier, using a GDPR WordPress plugin is the easiest way to make your WordPress GDPR compliant. Here are the 10 best GDPR WordPress plugins for the job:
MonsterInsights – Google Analytics Plugin
MonsterInsights is a GDPR-friendly Google Analytics WordPress plugin. The plugin lets you add Google Analytics tracking code to your website and displays powerful real-time reports on your admin panel.
The plugin makes it much easier to anonymize and even disable personal data tracking. One term under GDPR is that you must get explicit consent from EU residents before collecting or processing their personal identifying information. MonsterInsights makes it easier to get their consent. Further, you can use Popupsmart to show cookie consent on your website.
For automatic data anonymization, the MonsterInsights EU Compliance add-on comes in handy. This add-on also allows you to get consent for tracking personalized data and integrating the Cookie Notice plugin that we have detailed below. Now, the plugin does not load the analytics script unless users provide their explicit consent.
Furthermore, the plugin is seamlessly compatible with the cookie opt-out system and Chrome browser opt-out extension.
Features of MonsterInsights:
Several EU compliance features such as anonymizing IP addresses, disabling the information for remarketing and advertising, disabling UserID and author name tracking, and more
Real-time stats on your WordPress admin
Enhanced eCommerce tracking system for WooCommerce
Affiliate link and ads tracking
Page-level analytics
Page-level cookie notices
Mobile responsive
Pricing:
MonsterInsights is a premium plugin that offers three tiers:
Plus: $79 suitable for small businesses (usable on one website)
Pro: $159 suitable for eCommerce websites (usable on 5 websites)
Agency: $319 suitable for marketing and web development websites (usable on 25 websites)
WPForms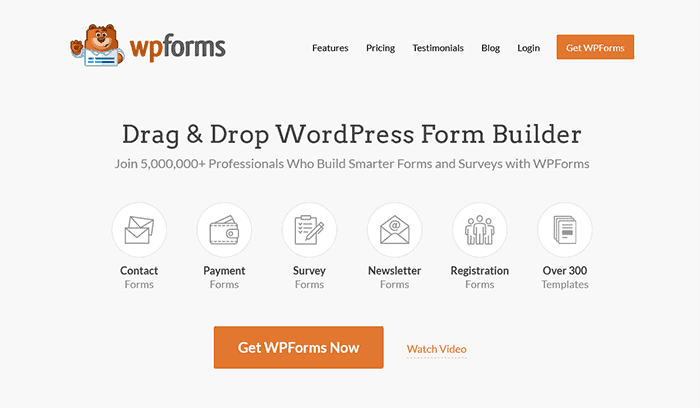 WPForms is a contact form WordPress plugin that is also GDPR friendly. You can use this plugin to create any type of form, including registration forms, contact forms, booking forms, order forms, surveys, and many more.
The plugin helps your form comply with GDPR without any effort. All you need to do is:
Go to the WPForms option on your dashboard.
Click on the Settings option.
Enable the "GDPR Enhancements" option.
Now, you can insert the GDPR agreement checkbox on your forms to gain users' consent.
After you do this, your forms will not collect users' information, such as IP addresses, without their consent. There are several other GDPR options, such as disabling storing details of browsers and operating systems and disabling user tracking cookies.
WPForms also is flexible enough to let you choose which individual forms to make GDPR-ready and which to exclude. Plus, you can add a special checkbox field for GDPR Agreement to your forms.
Features of WPForms:
Easy to use drag-and-drop form builder interface
Built-in form templates to build any type of form, including surveys, contact forms, newsletters, and more
Smart Conditional logic
Custom CAPTCHA
GDPR-ready
Pricing:
WPForms is available in the following pricing plans:
Basic: $39.50 per year
Plus: $99.50 per year
Pro: $199.50 per year
Elite: $299.50 per year
You could also try the free version with limited features. The free version is also GDPR compliant.
CookieYes
The CookieYes plugin is a GDPR Cookie consent and compliance notice plugin that assists in making your site GDPR compliant without any effort. The plugin has over a million active users. In addition to making your WordPress GDPR compliant, CookieYes also supports cookie compliance.
Along with the GDPR compliance, this plugin also aligns with the CNIL of France, LGPD of Brazil, and CCPA (California Consumer Privacy Act) that intend to promote and enhance the users' privacy rights and their protection.
You can create an alert bar on your website with the Accept and Reject options. This allows users to make an informed decision on accepting or rejecting the cookies. Besides, the plugin is pretty straightforward and lets you customize the cookie notice the way you like. You can adjust the colors, fonts, positioning, styles, and more.
Owing to all these features, CookieYes is undoubtedly one of the best GDPR WordPress plugins. However, you need to make sure to list the specific cookies for the plugin to restrict. CookieYes cannot block all the cookies, or else it may break your site
Features of CookieYes:
Automatic scanning and cookie categorization with a single click
Adjusting the appearance of your cookie notice, including the color, font, style, position on the page
Option to accept cookie policy if users scroll
Cookie Audit Module to show what cookies to display on your website
WPML compatible for multilingual websites
Features the "Show Again" tab
Pricing:
CookieYes is a free plugin. However, it also has paid plans if you wish to update to a premium version with more features. Its paid plans are as follows:
For single site: $49 per year
For upto 5 sites: $149 per year
For upto 25 sites: $249 per year
Cookie Notice and Compliance Plugin
Another plugin to consider is the Cookie Notice and Compliance plugin. It is a free WordPress plugin that gives options to users whether to accept or refuse the cookie consent on your website. Such a feature helps your WordPress comply with GDPR rules and also the CCPA (California Consumer Privacy Act), similar to the CookieYes plugin.
You can customize your cookie notice and include links to your privacy or other legal pages. The plugin is simple to use and helps to get cookie notice running quickly. Moreover, this plugin is SEO-ready and is fully compatible with the WPML plugin.
Finally, you could also integrate the MonsterInsights plugin we talked about earlier and hold on to the Google Analytics code until the users give you the cookie consent.
Features of Cookie Notice and Compliance:
Link to your 'Do Not Sell' page (supports CCPA Sec.1798)
Cookie autoblocking (complies with GDPR Art.7)
Seamless integration with the WPML plugin for localization
Cookie autoblocking (complies with GDPR Art.7)
Cookie Categories (complies with GDPR Art.32)
Pricing:
Cookie Notice and Compliance Plugin is completely free. It does not have a premium version.
OptinMonster Plugin
OptinMonster is another powerful plugin to create a GDPR-complying cookie notice popups and email signups. The plugin comes as a standalone tool to make your WordPress GDPR compliant.
The OptinMonster plugin lets you create a wide range of newsletter signup forms and optins from its built-in templates. The plugin ensures that your signup forms comply with the GDPR rules. It is easy to add a privacy policy page and even a customizable checkbox to gain user consent before the form submission.
The plugin has a dedicated GDPR Audit Concierge team to help you with the GDPR auditing. Furthermore, you can target your visitors based on their geographical locations. This way, you can make sure that you are showing the GDPR-friendly optins to your visitors from the EU region.
Features of OptinMonster:
Drag-and-drop interface
Geo-location targeting
Exit-intent technology to show special messages to users when they are leaving
Mobile-friendly popups
Campaigns insights and triggers
Pricing:
OptinMonster is a premium plugin with the following prices:
Basic: $9 per month (for a single site)
Plus: $19 per month (for up to 2 sites)
Pro: $29 per month (for up to 3 sites)
Growth: $49 per month (for up to 5 sites)
WP GDPR Compliance
WP GDPR Compliance plugin is a popular tool that helps your WordPress website comply with GDPR rules. It assists by providing common tips. The plugin automatically adds a GDPR checkbox to your website, including registration, comments, and WooCommerce pages.
The plugin makes it easy for the users to request to view the data that you've stored in your database. Moreover, it assures the "right to be forgotten." That means users can request the deletion of their data whenever they want.
Overall, the plugin is powerful and effortless to make the site GDPR compliant. It further offers integration with other popular plugins such as Contact Form 7, Gravity Forms, WooCommerce, and WordPress native comments.
Features WP GDPR Compliance:
Automatic cookie scanning
Automatic consent checkbox addition to where it is needed on your website
Easy anonymizing of the user data
Users can have their data deleted at any time
Seamless compatibility with other popular plugins such as Gravity Forms, WooCommerce, Contact Form 7, and more
Supports localization up to over 40+ languages
Pricing:
The WP GDPR Compliance plugin is completely free for users to use on their website.
Complianz
Complianz is a simple and user-friendly plugin that helps you make your WordPress GDPR compliant in a few minutes. The plugin does not only comply with GDPR but also DSVGO, CCPA, PIPEDA, COPPA, and more. Complianz plugin allows specific cookie management so that your website aligns with the law in the EU, US, UK, Canada, Australia, and South Africa.
You can use the plugin to create a GDPR-friendly cookie wall and various other banners. A remarkable feature of the Complianz plugin is that it automatically scans your website for cookies so that you can add cookie descriptions depending on geo-location or target population.
The premium version of this plugin also offers the A/B testing feature to improve the cookie acceptance ratio, generate legally approved documents, and more. Additionally, the plugin is compatible with WordPress multisite network.
Features of Complianz:
Cookie configuration for specific regions or worldwide
Cookie consent along with Conditional Cookie Notice in customizable templates
Records of consent
Legal pages to generate a Privacy Page, a page with cookie information, and others
Integration with Analytics and Tag Manager
Pricing:
The plugin has three tiers as premium options:
Personal: $45 (for single domain)
Pro: $165 (for up to 5 domains)
Agency: $355 (for unlimited domains)
You could also try the free version of the Complianz plugin. However, it has limited features.
GDPR Cookie Compliance
GDPR Cookie Compliance plugin from Moove is a useful plugin that enables users to enable or disable the cookies on their website. This plugin helps your site comply with GDPR as well as CCPA regulations.
The plugin lets you fully customize the cookie consent notice with your own colors, texts, logo, and fonts. The premium version of this plugin includes a cookie wall or full-screen layout that prevents users from seeing your website until they either accept or reject cookies. This feature also comes along with other features like:
Geo-location
Language-specific scripts
iFrame blocker
Accept cookies on scroll/hide timer.
However, you need to add scripts that use cookies in the plugin's settings or the plugin cannot block them.
Features of GDPR Cookie Compliance:
Full control over the cookies, including the ability to revoke the consent
Fully customizable cookie consent notice
Ability to set the position of the cookie consent banner
Fully flexible
Consent expiration settings
Link to Privacy Policy page.
SEO friendly
Responsive
Pricing:
The plugin has three premium options:
Single License: £49 or $67.13 (for a single site)
Developer License: £99 or $135.64 (for up to 5 sites)
Agency License: £199 or $271.65 (for up to 25 sites)
You could also try the free version, but it has limited features.
Iubenda
Iubenda is an all-in-one GDPR-compliance plugin that includes features and functionalities to make your site GDPR and ePrivacy compliant.
You can automate the GDPR compliance process by providing the customizable cookie banner, blocking scripts, and managing all aspects of cookie consent. It also lets you record, review, and maintain comprehensive GDPR records to gain consent for your web forms.
The Iubenda plugin also reduces the need for direct code interventions by integrating iubenda's cookie solution. You get a fully customizable cookie banner, cookie generation policy, and automated management of cookie-related consent.
Features of Iubenda:
Autosaves the users' cookie preferences
Compatible with Google's AMP (Accelerated Mobile Pages)
Fully-customizable cookie banner
Cookie generation policy
Limits prior-blocking and cookie consent requests
Allows auto-detecting, limiting prior-blocking, and showing cookie consent requests only to users from the EU
Pricing:
There are various pricing plans of the Iubenda plugin:
Basic: Free version
Personal: $29 per year
Business: $108 per year
Pro: $29 per year
Ultra: $129 per year
EU Cookie Law for GDPR/CCPA
EU Cookie Law is a lightweight plugin that lets you easily create a customizable cookie notice banner with your cookie policy for your site. You can create popups and various options to lock scripts before cookie acceptance. Now, users can click to accept cookies to see your privacy policy. You can add and customize your cookie notice banner with your cookie policy.
Additionally, you can add shortcodes to prevent your site sections and texts from showing up in case the user does not accept the cookies.
The plugin is mobile-friendly with a responsive design as well as SEO-friendly. Furthermore, the plugin is compatible with the WPML plugin in case you run a multi-language website. Likewise, you can set cookie expiry, set cookie consent by clicking, scrolling, or navigation, and customize the cookie banner's colors, position, and strings.
Features of EU Cookie Law for GDPR/CCPA:
GDPR compliant
Customizable cookie consent banner (color, position, strings)
Consent by either clicking, scrolling, or navigating.
Shortcode to revoke cookie consent.
Set up cookie expiry
Responsive design
Compatible with WPML
Seamlessly compatible with Jetpack infinite scroll and Disqus
Pricing:
The EU Cookie Law is an open-source, free plugin for anyone to use.
Which GDPR WordPress Plugin Should You Choose?
We provided information about the 10 best GDPR WordPress plugins that will help improve your website's compliance with GDPR rules. However, choosing one among them depends entirely on your needs. All of these plugins will help your WordPress website comply with the GDPR rules.
If you are not sure, we recommend using the MonsterInsights plugin. It is a powerful plugin that lets you add and control Google Analytics tracking. You can see the real-time reports on your admin page. The plugin is straightforward and lets you anonymize or even disable personal data tracking. These features make it a perfect choice for any type of website.
The next plugin to consider is WPForms. You can create various GDPR-compliant forms such as contact forms, booking forms, registration forms, survey forms, and more using this plugin. It then adds a simple checkbox before users can submit their forms, thus making your forms GDPR ready.
Another decent GDPR plugin at the job is Cookie Notice and Compliance. It lets you add a simple cookie notification and optin with ease. This plugin includes settings to help you add custom messages, links, and buttons to accept or refuse cookies.
Frequently Asked Questions (FAQs)
Does GDPR apply to my WordPress website?
Yes, GDPR does apply to all the websites and businesses that take data from EU citizens. Not obeying the law can result in up to 4% of your total annual revenue or a $23.5 million+ penalty. 
However, the penalty doesn't escalate to that level quickly. First, you get warnings, then reprimand followed by suspension of data processing. If you still continue not following the law, you are in for the penalty mentioned above.
Is WordPress GDPR compliant?
Yes, WordPress is GDPR compliant from version 4.9.6 and above. WordPress core team has made several GDPR enhancements to make sure of GDPR compliance. It's important to know that we mean the self-hosted WordPress.org.
Are plugins GDPR compliant?
Most of the plugins nowadays offer a built-in GDPR option to make sure your WordPress is GDPR compliant. However, no single plugin or theme can offer 100% WordPress compliance. The GDPR law can vary depending on the type of your website, the data it stores, and how you process that data.
How to make WordPress GDPR compliant?
There are various ways to make your WordPress website GDPR compliant such as: 
– Updating your privacy policy.
– Offer visitors a way to access their data. 
– Ask for visitors' explicit consent.
– Only install and use third-party plugins and themes that are GDPR compliant.
– Get permission before storing, using, and sharing personal data.
– Offer data portability to the visitors.
What are the seven principles of GDPR?
The UK GDPR has set out seven principles as follows:
Lawfulness, Fairness, and Transparency: Processing the data should be lawful, fair, and transparent. 
Purpose Limitation: Personal data is to be collected for an explicit, legitimate, and specific purpose and should be used only for that purpose. 
Data Minimisation: Personal data must be relevant, limited, and adequate to only what is necessary. 
Data Accuracy: Personal data must be accurate and should be kept up to date. 
Data Storage Limitation: Personal data should be kept for the shortest period possible in an identifiable form.
Integrity and Confidentiality: Personal data needs to be processed by ensuring data security. 
Accountability: The controller is fully responsible for demonstrating compliance with all these principles.
Who needs GDPR compliance?
Any website or entity collecting or processing the personal data of EU citizens must comply with the GDPR rules. Thus, it basically applies to all the businesses and websites unless they discretely ban EU citizens from their service, which is not a wise decision.
What is the penalty for violating GDPR?
The EU GDPR rule has set a penalty of 4% of the annual global turnover or €20 million (i.e., more than $23.5 million), whichever is greater.
Final Words
GDPR is a great concern when running a website. If your website receives an EU citizen, you are bound to comply with the GDPR rule.
Using a GDPR-friendly plugin is an easy way to ensure WordPress GDPR compliance. In this article, we listed out and detailed the 10 best GDPR WordPress plugins to improve compliance with GDPR rules. There are other ways as well to make your WordPress website GDPR compliant. Do check them out.
For any further queries, leave a comment below.
If you want read more articles related to WordPress, you may look at the following: