If you're an aspiring blogger starting out with your website, there are many things for you to learn. The themes offered by Rara Themes offer a lot of features that can nudge you towards the right track. But maintaining a website can get complicated as you need to pay attention to many different factors, like user experience, SEO, and web security.
How can you take over the maintenance of your website with zero coding knowledge? Fortunately, the best WordPress plugins for blogs can make the job much easier for you. So, we have gathered a list of 40+ best WordPress plugins to help your website perform better in key areas, like loading speed, SEO, advertisements, and security.
Here are the best WordPress plugins for every purpose for blogs built with Rara Themes.
Speed Optimization Plugins
Loading speed is an essential aspect of web design that impacts various features of your website's performance. This Think with Google research claims that your bounce rate can go up to 90% if your load time is more than 5 seconds. Loading speed is also a crucial factor in your SEO ranking and for excellent user experience too. Thankfully, some excellent plugins help improve your blog's loading speed through caching and other features.
1. WP Rocket ($49 – $249)
WP Rocket is a popular WordPress plugin when it comes to speed optimization. This plugin offers an excellent collection of features with a user-friendly interface that is miles ahead of any other speed optimization plugin.
This plugin immediately activates page caching features the moment you activate it. You can enable lazy loading of images to reduce bandwidth load. You can use the static files compression feature to set up a lighter website.
The cache preloading feature speeds up your website indexing by search engines. There are some other tools such as database optimization, as well as Google Analytics integration. WP Rocket also supports Content Distribution Networks (CDN), a critical speed tool for speed optimization.
2. W3 Total Cache
W3 Total Cache is a freemium WordPress plugin for speed optimization that comes with some advanced features. This tool is equally compatible with shared hosting, VPN servers, and dedicated servers to easily integrate them with your website.
This plugin comes with some advanced caching features, including caching compressed pages and posts, compressed CSS and Javascript, and database objects. At the same time, it also gives you multiple options for caching methods — Local Disk, Redis, Memcached, and XCache are just some of them.
This theme also comes with the minification function of pages, posts, JavaScript, and CSS. It also supports some essential tools for speed optimization, Content Distribution Networks (CDN), and Accelerated Mobile Pages (AMP).
Google Analytics Plugins
Having an excellent tool to keep track of your website's performance is also quite essential. This way, you can plan out promotional strategies and see their effectiveness. Google Analytics is a necessary tool in the blogger's toolbox, yet the best analytics plugins help present relevant data in some very actionable ways.
3. MonsterInsights
MonsterInsights is one of the top WordPress plugins for analytics. This plugin allows you dashboard integration of Google Analytics so that you can gather insights straight from your WordPress dashboard.
This plugin comes with a lot of powerful features that are integral to gain actionable data. MonsterInsights integrates seamlessly with WooCommerce to track your e-commerce performance. Using data like your top referral sources and conversion rate, you can find key action points.
You can also track your Google Adsense ads' performance to discover which ad locations are the best for conversions. The plugin also has an addon to improve your compliance with EU privacy laws as well.
4. Analytify
Analytify is an excellent analytics plugin with a user-friendly design that is approachable to non-technical professionals. With this plugin, you can easily explore all the relevant numbers and charts directly through your dashboard. It even supports front-end reporting of statistics.
This plugin is excellent for running different marketing campaigns as it has the relevant charts to track your campaigns' performance. This includes social media campaigns as Analytifiy can display visitor numbers from individual social media platforms.
This plugin also works with WooCommerce or Easy Digital Download for enhanced e-commerce analytics.
This is an excellent plugin for non-technical editors who just want to see their individual posts' performance. Not only does this plugin support front-end reporting, but you can also view individual statistics of each post.
Image Compression Plugins
Another aspect of maintaining a fast-loading website is image compression. You want to ensure that your webpages are lightweight so that they can load quickly. However, this is something that requires dedicated work. Images are essential but can easily put a strain on your readers' bandwidth. You need a dedicated image compression plugin to ensure that your images.
5. EWWW Image Optimizer
EWWW Image Optimizer is a free image compression tool that automatically operates on any new image uploads as they come. This plugin offers premium compression services that maintain the image quality while reducing the file size.
This plugin comes with different plans, including a free version that runs on your server. You can also get the Compress API key or the cloud service, which comes with additional services.
With this plugin, you can also bulk compress images uploaded at earlier dates. The plugin supports integration with NextGEN and FlaGallery plugins, too, for compression by folder.
EWWW is also compatible with cloud uploader services like WP Offload Media and Azure Storage, and Dreamspeed CDN for faster processing.
6. ShortPixel
ShortPixel is an image optimization plugin that boasts a 90% compression rate with both lossy and lossless image compression forms. With this plugin, you can convert your images into a few different file formats, including jpeg, png, gif, and webp.
This plugin also ensures smooth operation with any web hosting service and supports the popular gallery and e-commerce plugins like NextGEN and WooCommerce.
ShortPixel takes care of any new image upload on the fly and even allows you to compress image thumbnails for an extra edge. You can also compress images in batches by selecting folders.
You get a number of free uses with this plugin, and it keeps a separate count when you purchase the paid version — you always get 100 free compressions of the plugin.
7. Imagify
Imagify is an easy-to-use image compression plugin that comes with essential user settings. This plugin has a free version with a 25 MB per month maximum quota.
This plugin excels at providing detailed options for compression levels. You get three levels of compression, which includes a lossless compression. You can also provide the plugin with custom height and width specifications.
Imagify automatically optimizes your images as you upload them to your website. You can choose to keep a backup of the original images, too, allowing you to recompress them to different levels.
The plugin supports jpg, png, pdf, and gif formats and also allows you to save the EXIF metadata.
Backup Plugins
Having a backup of your entire website is a standard security process. All websites face issues every now and then. So, you need to have a good backup mechanism that saves your data periodically. This way, you can just restore your website back to normal in case of a major problem.
Everest Backup WordPress Plugin enables you to schedule automated backups of your WordPress files and databases effortlessly. You can set up regular backups and restore your blog quickly in case of any data loss.
Additionally, the plugin's premium version allows you to back up not only your entire website but also specific folders, themes, and plugins separately. You can exclude certain files or directories from the backup and provide a custom name for your backup files.
Moreover, the Everest Backup Restore Clone allows you to clone and restore your WordPress website in a simple process. Whether you need a duplicate site for testing or want to recover your blog from a backup, this plugin offers an intuitive interface and easy-to-follow steps.
You can also sync your backups with Google Drive to add an extra layer of security with Everest Backup Google Drive Integration. This ensures your backups are stored in a separate location and can be accessed from anywhere in the world.
Jetpack Backup started as an independent product called VaultPress. This tool is part of the Jetpack plugin, which offers a host of other facilities alongside website backups.
You can choose between real-time backups and daily back-ups according to the needs of your website. You can go with the daily backups for low cost unless you run online forums or similar websites where important actions are taken every moment.
This plugin also comes with an Activity Log that tracks every action taken on your website. It is a great tool that can let you pinpoint the action that broke your website. Jetpack Backup also comes with the benefit of remote backup restore. You can restore your website through the WordPress mobile app no matter where you are, saving you crucial time.

BackupBuddy plugin provides complete website backup beyond the WordPress database, including media files, settings, users, and other elements.
This plugin covers a lot of ground for you when it comes to backups. You can maintain off-site backups of your website as the plugin supports different cloud services like Amazon S3 and Google Drive. You can even download zip files of your entire website to keep a local backup.
You also get a database and page rollback feature. With this feature, you can recover specific pages or files if they get corrupted. This way, you can avoid having to recover the entire website.
BackupBuddy also comes with WordPress Migration — this plugin allows you to migrate your website to a different host and domain, which is a pretty handy feature.
This WordPress backup plugin is one of the best solutions to backup and migrate your WordPress site. What makes this plugin stand out from the rest is its ability to backup and migrate regardless of the size of your website.
This plugin supports many backup locations, including OneDrive, Dropbox, Google Drive, Amazon S3, FTP/SFTP and more. Using the plugin, you can perform both manual one-click backups and scheduled backups. Backups can be scheduled at daily, weekly, monthly or custom specified intervals.
Selective backup is another major plus of the plugin. If you want to backup your site database or any specific site files, you can easily do that with the intuitive interface of the plugin. So, if you are looking for a simple tool to backup or migrate your WordPress site, this plugin is one of the best options you can find.
Security Plugins
Cyber threats are real and always around for any website. You need to put numerous safety precautions in place to stay safe from hackers and cyber attacks. A dedicated security plugin that casts a wide net is the best bet for keeping your website safe.
Sucuri is a complete solution for your web security. Its Web Application Firewall (WAF) supports your website against all manners of threats to your website like hacks and DDoS attacks.
The security monitoring provided by Sucuri takes different forms, including SSL certificate monitoring, DNS monitoring, and SEO spam scanner. The plugin also blocks malicious traffic automatically.
This plugin also has systems to help maintain your website performance. Security issues can get you security warnings from blacklist authorities, which results in a drop in traffic. Sucuri also works to get you removed from those blacklists so that your website can get healthy traffic again.

Wordfence Security offers a firewall system that runs at the endpoint, giving you better protection than cloud security options. Endpoint firewall allows this plugin to prevent data leaks and keep your data safe with advanced encryption.
You also get real-time protection from malicious requests. The integrated malware scanner automatically blocks malicious requests and even IP addresses trying to hack into your servers. You can use advanced IP blocking rules to block potential attackers.
Content safety check is another cool feature that keeps track of the content uploaded to your website, including posts and files, to ensure that nobody uploads dangerous links or content to your website.
This plugin also offers login security features, including CAPTCHA and two-factor authentication.
SEO Plugins
Having good number of visitors is key if you want to make it as a blogger. It is important to tap into your organic traffic — organic searches can take up over 64% of your traffic, and great SEO performance is essential if you want to gain those visitors. A good SEO plugin looks over the key aspects of SEO, including your content and indexing, and improves your SEO performance.

Yoast SEO is a common go-to SEO plugins for WordPress. This plugin takes care of a few different aspects from your SEO, including content SEO and indexing. You can work through all these features without having to deal with the technical aspects.
This plugin comes with a powerful keyword optimization tool that allows you to optimize your content for all possible forms of your chosen keywords, including synonyms and even related keywords. Use the in-built readability detector to ensure that your content is easy to read and can keep the readers engaged.
Yoast SEO also builds an XML sitemap to ease your indexing by search engines. The Redirect Manager allows you to redirect visitors to new links any time they click on an old one.
The plugin also gives you suggestions for internal links in your content.
15. Rank Math

Rank Math is a simple yet excellent tool for taking care of your SEO needs. You can set up this plugin's various settings through an easy-to-use setup wizard.
There are numerous options to set up your structured data and automatic tests for 30 SEO factors. The plugin supports 15 data Schema data types to control how search engines display your structured data.
The plugin also keeps track of Google indexing issues to alert you about 404 issues and more. The plugin generates an XML sitemap for your website to help search engines index your website more easily.
Rank Math also supports content optimization with automatic suggestions. You can keep track of your SEO performance with features like keyword rankings, right from the dashboard.
Travel Booking Plugin
A travel booking plugin is a niche tool essential for travel bloggers and agencies to sell travel packages online. WordPress travel booking plugins form complete packages to create travel packages on websites and a payment gateway to complete the purchase.
16. WP Travel Engine  
WP Travel Engine is a complete solution for building travel packages for your travel and tour packages. This plugin allows you to control easily every aspect of your travel bookings website from building the tour packages to taking payments for them.
You can get started with this plugin for free, but the premium version gives you access to 24 add-ons that greatly extend its functionality. You can use the Coupon Code add-on to run discount campaigns and boost your conversions. The Currency Converter tool is also quite handy as it displays trip prices in the currency relevant to the visitor.
WP Travel Engine also has an elaborate set of trip builder features. The Advanced Itinerary Builder allows you to further develop your trip pages with descriptive content about the package to attract the visitor and increase conversion chances.
You also get the Midtrans Payment Gateway and the PayU Money Payment Gateway, two add-ons that allow greater payment method choices to customers.
Advertisement Plugins
As a blogger, ad revenue is one of the main sources of your income. While WordPress themes often come with in-built advertisement spots, you can find many new possibilities with advertisement plugins. They come with a collection of creative ad positions to help you merge your ads seamlessly with the content. You can even find templates that help drive up clicks and as a result, your ad revenue.
17. Ads Pro
Ads Pro is a comprehensive ads manager that provides you 20+ ways to display your advertisements. This plugin can make it very easy to showcase your stats for potential ad spot buyers, take payments for ad placements, and place your ads across your website.
This plugin comes with a user-friendly interface that allows you to control all its elements. You also get a front-end interface to display relevant statistics to your ad customers like your billing models.
The 20+ ad positions are very versatile, and you can get positions such as slider ads, pop-ups, floating ads, full-screen layer ads, and much more. This plugin comes with a nifty ad detector, which can help you save potentially lost revenue with visitors using ad blocker software.
Adning allows you to create, place, and manage advertisements on your website and is compatible with most ad networks like Google Adsense and Yahoo Advertising.
You can sell ad spots with this plugin through the WooCommerce plugin. Adning comes with numerous ad positions and is compatible with custom post types and even social networking plugins like bbPress so you can easily integrate your ads anywhere on your website.
The plugin is also fully responsive — it automatically detects the user's device type and displays device-friendly ads that maintain great user experience. It also allows for targeted advertising, which is a great way to boost your ad revenue.
Gutenberg Plugins
Gutenberg is the standard block editor that allows you to customize your theme layout on WordPress. If you rely upon this plugin regularly to make changes to your website, you should consider getting plugins to supplement the Gutenberg block editor. These supplemental plugins come with additional blocks that extend the possibilities of what you can do with the free page builder.
19. Advanced Gutenberg
Advanced Gutenberg is a must-have plugin if you use the Gutenberg block editor to customize your layouts. This free plugin offers you a collection of essential website elements to create a premium user experience without any additional cost.
The editor profiles are a key feature of this plugin. You can set up individual users for this plugin and disable specific blocks for certain users.
The plugin comes with blocks to display the latest items from your WooCommerce store or blog. Detailed video and image controls enhance the visitors' multimedia experience.
Advanced Gutenberg also comes with blocks to create effective buttons, lists, separators, as well as contact forms, email forms, and testimonials.
20. Ultimate Blocks
Ultimate Blocks is a free library of Gutenberg blocks that are designed to engage the visitors and boost your conversion rate. Built with a strong code base, this plugin is optimized for speed and SEO, ensuring that your website continues to perform well.
The plugin comes with blocks, such as the Call-to-Action button, Countdown, and Progress Bar, to engage the visitors. You can also integrate social media sites with social share buttons and Click-to-Tweet buttons.
This plugin is an excellent tool for eCommerce sites as well. It comes with some items that can help boost your sales like Testimonials, Star Ratings, FAQs, and Reviews.
Translation Plugins
If you plan to target audiences across international borders, you will also want a plugin to set up your website in multiple languages easily. Some plugins help you keep track of your translation works and integrate seamlessly into your website.
21. WPML
WPML is a popular WordPress translation plugin compatible with most WordPress themes. This plugin supports 40+ languages and allows you to add language variants through the language editor.
WPML comes with a simple user interface that allows you to keep track of your translation works. You can submit texts for translation and view the status of your translation works.
The plugin also allows you to configure domains for different language versions of your website. You can integrate them into the same domain, a sub-domain, or set them up under different domains altogether.
This plugin also connects you with professional translation services if you want your website copy's perfect translation job.
22. Polylang
Polylang is a lightweight plugin that utilizes core WordPress functions to give you speedy performance. This translation plugin is quite handy as it allows you to translate not just posts and pages but also tags and categories.
You can easily set up a language switcher and begin translating your website to the desired language. This plugin can take care of most of your visible content, even widgets, URLs, and custom post types.
This plugin also takes care of your multilingual SEO and allows you to create SEO-friendly URLs. You also get a special Polylang plugin for WooCommerce that can be purchased separately. This package allows you to translate data relevant to eCommerce stores, like your product categories, sales data export tools, and more.
23. Loco Translate
Loco Translate is one of the most popular plugins to help you manage multi-language web development projects. Loco has an effective system that allows you to easily keep track of your translations and connect translation works with the developers.
This plugin supports many translation file formats, including Android, iOS, PHP, JSON, and many others. This allows you to integrate your translations across different platforms.
You can keep track of your translations and assign translation tasks through the Loco dashboard. You can use the plugin API that can help you automate many tasks like importing and exporting translation files and automatically adding assets.
Email Subscription Plugins
Email newsletters are a common form of marketing, especially for bloggers. You need a good email subscription plugin to build your newsletter opt-in forms, place them on your website, and manage your newsletter emails.
24. Mailchimp
The Mailchimp plugin boasts more than 25 million downloads to date and comes with an expansive set of features, many of which can be used for free. This plugin supports form logging to gather valuable user data, visual customizations, and creative form placements.
This plugin offers you several different form placement areas, including posts and widget areas. You can even create comment forms and a checkbox function for the user to subscribe to your newsletter.
Mailchimp also integrates with plugins like Events Manager and the membership plugin MemberPress. You can gather valuable data of your users that can come in handy to craft better content to your mailing list or even suggest products to your online store customers.
25. MailOptin
MailOptin is a very capable plugin to help you build your mailing list and manage your email newsletters. You can display pop-ups at various locations, build newsletter forms, and use multiple triggers to display forms.
This plugin allows you to use various user actions as triggers to display newsletter forms and boost your newsletter signups. You can reward engagement by detecting scrolling actions, page views, repeat visitors, and also target your visitors according to their device type.
The plugin enables you to automate your newsletter emails. You can organize your newsletter emails by categories and tags and even segment your email list to build targeted email campaigns.
You even get some custom email templates to create attractive newsletter emails. MailOptin can integrate with a variety of email plugins like MailChimp and Active Campaign to extend your functionality.
Membership Plugins
Memberships are a common system for content distribution. You might even want to set your own website to allow readers to log in with a personal account. Membership systems can be set up to create layered access to content and build an online community for discussion and engagement.
26. MemberPress
MemberPress is a powerful tool to create a membership-based website. This plugin allows you to control content access of users in detail. Its large collection of features allows you to offer an elaborate user experience with promotional campaigns, newsletters, membership levels, and more.
MemberPress integrates well with several key plugins to give you extended functionality. These include payment gateways, such as Stripe and PayPal, analytics plugins like Monster Insights, and affiliate management plugins like AffiliateWP.
You can also use coupons to build promotional campaigns. The plugin allows you to set up membership levels and groups to control user access to content and build an exciting user experience.
LMS Plugins
27. LearnDash
LearnDash is a complete Learning Management System plugin with an extensive set of functions that allow you to create vibrant online courses. This plugin gives you in-depth control over your online learning platform from course creation, pricing, content access, grading, and more.
This plugin comes with an easy-to-use ProPanel dashboard, where you can see all the updates regarding your courses. You can build your courses with tests, advanced quizzing tools, and set up certificates and badges for students who complete them.
You can release your content gradually from lesson to lesson with the useful drip-feed lessons feature. With LearnDash, you can also organize your students into various interaction groups to add a social aspect to your courses.
28. LearnPress
LearnPress is another LMS plugin for WordPress that is quite popular. This plugin is used extensively and comes with a long list of features. Despite that, it also has a free version that can set up online courses with some great features.
LearnPress allows you to take payments through various payment gateways, including PayPal, Authorize.net, and Stripe. You can also integrate the WooCommerce plugin to manage your payment systems.
There are different types of assignments, like three quiz types and multiple-choice questions. This plugin can also be integrated with social plugins, like bbPress and BuddyPress, to develop social networking platforms in tandem with your online courses.
Contact Form Plugins
Contact forms are an effortless and effective way to generate new leads. They allow a convenient channel for interested visitors and readers to approach you with queries. The right kind of form-building plugins can help you out with a host of other features, too, like offering security features and supporting different data entry types.
29. Contact Form 7
Contact Form 7 is the most commonly used WordPress plugin for building forms. It is a free plugin with simple yet effective features.
The plugin comes with basic security features, such as CAPTCHA and Akismet spam filtering. You can also use cookies, track users, and save the data that is given by users to external servers.
If you need a simple and effective tool for building forms, this plugin is the one to go. Contact Form 7 is compatible with most WordPress themes too.
30. Gravity Forms 
If you want some advanced features to go with your forms, Gravity Forms is well worth the money. You can build your forms with a simple and intuitive form builder and add different functions to suit your uses.
This plugin comes with 30+ form fields to support every kind of data input. Add that to conditional logic features; you can minimize invalid form entries. The plugin also comes with various addons for extended features, such as coupons and advanced security features.
The plugin also supports integration with a host of related plugins such as MailChimp for newsletters, PayPal and Stripe for setting up payment gateways, and more.
Redirection Plugins
Broken links are a common aspect of website maintenance and cause your website to lose its edge if they go unchecked. They can totally disrupt an engaged reader's user experience and stop them from engaging further. Redirection plugins are the solution to this issue. These plugins redirect visitors to working links whenever they click on broken links, allowing them to continue exploring your content.
These plugins also keep track of your broken links so that you can fix them easily.
31. Redirection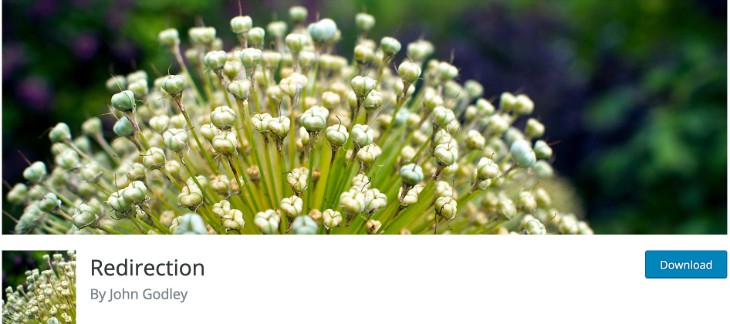 Redirection is a free tool that takes care of most needs when it comes to maintaining a clean website. Not only does it record 404 errors for you to fix later on, but this plugin also comes with a bunch of conditions that help you offer more relevant redirects to visitors.
This plugin records essential data of your visitors who face redirects to help you narrow down the problems behind dead links. You can export this data for record-keeping too.
You can also manage 301 redirects and set up conditional redirects. This means that you can custom-build redirects for users of certain browsers, referred visitors, specific IP addresses, and more.
eCommerce Plugins
Bloggers often put out their own products for sale on their website, like books, merchandise, or travel guides. You can also set up an online store on your website with an ecommerce plugin. This way, your dedicated readers won't have to be troubled with finding your products for purchase. There are properly built eCommerce plugins that allow you to set up a complete online store on your very own blog.
32. WooCommerce 
WooCommerce is the most popular eCommerce plugin for the WordPress platform, used by 28.24% of websites. This plugin can help you set up your online store with all the essential features.
WooCommerce is best known for its large number of extensions for every aspect of the eCommerce sales process. You can find extensions to support additional payment gateways, add new marketing tools to your online store, enhance your check-out process, and much more.
You also get features to keep track of your sales for tax and record-keeping purposes. The plugin comes with a WordPress dashboard so you can even stay updated through your phone. You can make use of this well-built plugin completely for free, and there are free add-ons for the plugin to extend its functionality too.
33. Easy Digital Downloads
Easy Digital Downloads is a popular eCommerce WordPress plugin for selling digital products. The plugin supports a host of marketing and tracking functions and has a large collection of official and third-party extensions.
The plugin has a solid set of core functions, such as a smooth shopping cart. Customers get a profile page, where they can keep track of their personal purchase history. The plugin also keeps detailed records of purchases and downloads, such as time and IP addresses.
You can also allow customers unlimited downloads of purchased products or restrict downloads by a number of attempts. Run discount-oriented marketing campaigns using discount codes function.
The professional pass also allows you to set up a digital marketplace where third-party sellers can come and place their products.
Social Media Plugins
Social media is one of the major opportunities for you to promote yourself and engage with your audience. Having profiles on the major social media platforms is a must if you are a blogger. There are numerous creative ways that can help boost visitors' engagement with your social media links.
Social media plugins offer them to you through a single plugin. Many also offer you some functional benefits, like keeping track of your readers' response to your social media profiles and buttons.

For such a low price, Easy Social Share Buttons offers an impressive list of functions that can handle all aspects of your social media integration and marketing.
This plugin supports 50+ social media platforms and comes with 30+ share button positions. You can also add some advanced social media integrations, such as Instagram feed and live chat through social media profiles.
Once you have optimized your social media functions, you can track the relevant data related to social media integration. The plugin keeps records of the most effective positions to place your share buttons, clicks, and even records which devices were responsible for the clicks.
35. Smash Balloon  
Smash Balloon is a highly capable tool that offers you in-depth control of your social media feeds for Facebook, Instagram, Youtube, and Twitter. Using this plugin, you can seamlessly merge your social media posts with your website content and develop new interaction points.
The plugin allows you to showcase any kind of Facebook post on your website, including Facebook events. Visitors can also comment on your posts through their Facebook profiles.
The Instagram shop feeds are another cool feature that allows you to link your Instagram feed posts to shop pages within your website. You can display follow and other interaction metrics from your social media profiles as social proof to boost your credibility. You also get great customization settings to ensure that your social media feeds look just the way you want.
Other Popular Plugins
Besides these essential plugins, many other aspects of running a WordPress website range from marketing and maintenance to security. Here are some popular plugins that can ease your workload in some crucial aspects of running a website.
36. Easy Affiliate
Easy Affiliate is an essential plugin if you want to run your affiliate program. This plugin allows you to create affiliate programs and manage your affiliates easily.
The plugin keeps track of your affiliates' performance, including clicks generated by each affiliate and sales originating from your affiliates. This way, you can keep track of the commission to be paid to each affiliate.
Easy Affiliate also allows your affiliates to log into their affiliate dashboard directly through your website easily.
You can also offer your affiliates with ad banners, including animated GIFs, to attract more visitors to your website.
37. NotificationX 
NotificationX is a simple yet powerful tool to boost visitor engagement and increase your conversions. This plugin allows you to set up pop-up notifications that draw the viewer's attention and
Pop-up notifications are a great way to establish your credibility and build social proof in the visitor's eyes. You can use NotificationX pop-ups to display notifications of product purchases, reader activity on your blog, and so on. These notifications can establish your credibility in visitors' eyes and persuade them to take desired actions, like purchasing your products.
NotificationX can integrate with various plugins, like Zapier, LearnDash, and MailChimp, to build custom notifications to suit different needs, including newsletter subscription notifications.
38. Filebird
Once you get started on your WordPress journey, you need a reliable tool to keep track of all the media files that are sure to begin piling up. Filebird is a plugin that supercharges your WordPress media management.
This plugin allows you to create virtual folders within your WordPress media library, allowing you to organize your media files. The plugin offers a simple drag-and-drop function for moving files around the virtual folders.
Of course, being able to sort your WordPress media library into category-wise files is going to do tons in terms of productivity and ease of use. This plugin also ensures that the permalinks to your media files do not get damaged when you move your media files around.
39. Elementor
Elementor is a powerful and versatile WordPress page builder plugin. It is a drag-and-drop page builder that allows you to create web page designs from the front end seamlessly.
The plugin comes with some great design elements, many of which are also included in the free version, including hover effects and animations. The plugin also comes with ready-made blocks to set up key website elements such as testimonials and call-to-action buttons.
The pro version comes with 300+ templates and a separate WooCommerce builder that allows you to craft the perfect online store. There are some eye-catching elements, such as background gradients, shape dividers, and parallax backgrounds.
You can create unique and attractive web page designs without writing a single line of code. The plugin even allows you to export your designs in JSON format.
Insert Headers and Footers is a useful free plugin that allows you to add code to your website's headers and footers easily.
Many WordPress plugins, like Google Analytics, ask you to add certain code to the website header and footer. However, it can be a tough job if you are not trained to code as the direct way to do this is by editing the header and footer PHP files.
This plugin creates a dedicated option in the WordPress setting that easily adds code to your website header and footer. The plugin also saves the codes you have uploaded across theme changes and updates.
41. Broken Link Checker

Broken Link Checker adequately supports a key function of monitoring broken links. This plugin continuously monitors your website for broken links and notifies you about them. You can also use this plugin to redirect visitors from broken links to other pages.
The plugin checks link throughout your website, including posts, pages, comments, and any custom fields if you may have them. You can choose to stop the indexing of broken links by search engines while you work to fix them. Broken Link Checker also monitors your website for missing images.
You get emails about broken links, but you can also keep track of your broken links through the plugin dashboard. The plugin menu allows you to fix the broken links directly without much fuss.
42. Pretty Links
Pretty Links is quite a powerful tool for bloggers that works with links. This plugin can mainly create short links and keep track of your affiliate links' performance.
Affiliate links are generally quite long and confusing, confusing to transfer across different mediums like audio. A short, easy to read link can be easier to remember and manage.
This plugin comes with a number of other features to help you ease your link-related marketing efforts. Some great features include placing an automatic hyperlink in your posts based on keywords you define beforehand.
The plugin also tracks clicks on your various links to understand how your affiliate links or key internal links are performing.
43. CleanTalk
CleanTalk is a plugin that helps protect your website from spam. Having good protection against spam content can help you grow your website in the right direction.
This is a cloud-based plugin that detects and blocks spambots and spam users without using visible methods like captcha. CleanTalk not only detects log-in attempts by spam users or bots but also protects your forms from spam content, like comment forms and contract forms.
The plugin keeps a record of all spamming attempts along with time and IP addresses, sending you weekly records so that you can be aware of persistent spamming attempts on your website.
44. Really Simple SSL
Really Simple SSL is an effective plugin that allows you to migrate your website to SSL security so that it can run on https.
Websites without SSL security run on http and you need to migrate your entire database to run over https once you get your SSL certificate. This plugin allows you to migrate your site to SSL with a single click.
The plugin takes care of all issues related to SSL migrations, including changing all your links to https from http, and also fixing mixed content. Really Simple SSL also gives you a reminder whenever your SSL certificate is about to expire.
45. Advanced Custom Fields
Advanced Custom Fields allows you to create fields anywhere you want on your website. This plugin comes with 30+ field types to create any kind of data entry fields or specific buttons on your website.
This plugin is super intuitive and you can set up field groups immediately. The tool is quite complete in itself and allows you to create range fields, checkboxes, file upload fields, accordion fields, and many more. You can also set repeater fields and more to suit any needs.
The plugin also has 170+ extensions from third-party creators that can greatly extend your functionality to meet your data fields-related needs. You can even create forms and search widgets with these extensions, among other uses.
46. Duplicator

Duplicator does the simple job of creating a copy of a website. This simple function can have numerous uses and really ease your workload when it comes to migrating websites and creating backups.
This plugin can bundle all the data of your website within a single zip file that is easily managed. You can save a backup of your website in any cloud storage service and migrate them to a different domain or host without any downtime.
This zip bundle feature also eliminates a lot of manual reconfiguration of WordPress themes for developers. If you use similar configurations and themes for your websites, then you can simply bundle up one of your websites with the required configurations and use then again.
47. Easy Table of Contents
Easy Table of Contents is a free and capable plugin if you need to insert a Table of Contents on your posts or across your website. This plugin automatically sorts through your contents for headers to create a Table of Contents.
This plugin is compatible with the popular page builder plugins, like WPBakery, and has options to customize the look of your table.
You can also use hierarchical or nested listings to organize your table of contents better visually. There are options to exclude certain headers from all tables of contents across the website or in certain locations.
The plugin is also compatible with the Rank Math plugin for SEO and allows for nofollow of links included within the table of contents. Nofollow instructions stop search engine scrapers from associating your website with those you have linked to, helping you maintain your SEO rankings.
48. Essential Addons for Elementor
Essential Addons for Elementor is a must-have add-on for the Elementor page builder plugin. This add-on drastically extends your possibilities with Elementor and comes with 40+ widgets in the free version alone.
This add-on really opens up the possibilities for presenting information on your website with elements, like Interactive Cards, Flip Carousel, interactive Promo, and Content Timeline.
At the same time, you also get access to a variety of essential tools that cover your bases such as social media feed widgets, Testimonials, Progress Bar, and Event Calendar. You can set up your website with the essential functions and sections, such as Pricing Tables, Advanced Google Maps, a variety of form-creation widgets, and more.
Conclusion
These plugins can give bloggers a good edge in managing their website and also help them perform better. The right set of plugins can take over time-consuming actions helping you provide a seamless user experience to visitors with the least effort.
At the same time, these essential WordPress plugins for blogs can provide you with the necessary web security and offer you actionable insights on your blog's performance.