You need the best WordPress plugins for your life coaching website because the competition has been getting tougher online.
In 2020, over 40% of life coaches started offering their services exclusively online.
This means that if you are a coach or a guru you need to up your website game.
As a life coach, your website is one of your most essential tools in helping you connect with your clients and grow your business.
And, a normal website won't cut it anymore.
You need to create a better online experience for your students. Your coaching website should give an experience of one-to-one interaction. Your clients should feel your presence on your website.
Does it sound complicated?
Rest easy!
WordPress plugins are gonna help you create a competitive, and better, life coaching website.
In this article, we are going to look through 9 must-have WordPress plugins for life coaching websites.
Before that, let's shed light on some of the reasons to use plugins in your life coaching websites.
Why Are Plugins Essential For Your Life Coaching WordPress Website?
WordPress is undoubtedly a powerful content management system.
But, plugins make it versatile and customizable.
Plugins are the lifeblood of a WordPress website. You can use plugins to make your life coaching WordPress site come alive with tailored features and options.
If you're looking to build online courses, add contact forms, or improve SEO – there's likely a plugin out there that will suit your needs!
You can create a perfect site for coaching clients by installing usable plugins for features like assessment tools, course management, appointment scheduling, and speed and SEO optimization.
Plugins will help you convert visitors to potential clients.
There are thousands of free and premium WordPress plugins to choose from. And, we recommend the top ones for every sort of intent.
List of 9 Best Coaching WordPress Plugins
1. Wheel of Life – Best Assessment Tool for Lead Generation
Wheel of Life is an assessment tool for life coaches to generate leads from clients and know them better.
The plugin helps you understand your coaching prospects and provide a talking point during early consultations. Coaches can also use the information to help set goals for their clients.
Wheel of Life focuses on five major areas in life– purpose and values; social skills; cognitive factors; physical health; and financial stability. These five points are essential to examining oneself:
Wheel of Life also has a built-in Call to Action feature, which encourages website visitors to sign up for consultations or services.
In addition, the assessment results can be tracked and compared over time. This can help you provide valuable feedback for clients on their progress.
The tool is easy to use and can be customized with different colors and appearances to match your coaching website.
Key Features
Unlimited wheel of life assessment creation for your clients.
Call-to-Actions Integration encourages your clients and website visitors to sign up for your services or book an appointment.
User Registration to allow your clients and website visitors to take assessments.
Analytical Dashboard to see the total number of assessments and view their history.
Fully customize the assessment tool to your requirements.
Pricing
The free version of Wheel of Life has basic features.
The Basic Plan is available for $99 per year, while the lifetime plan costs $199.
2. Rank Math – Best SEO Plugin for WordPress

Increasing the number of clients is an important goal for every business. And, as a life coach and a speaker you definitely want to reach maximum people.
And, in the online world, SEO is a crucial factor in increasing client counts.
If you want to become successful online, you must have an SEO-optimized website. And, that's where Rank Math comes into play.
Rank Math is a WordPress plugin that makes SEO easier for you. Rank Math provides a range of benefits for ranking your coaching website.
It runs a detailed SEO analysis to identify issues based on 30 known factors to help you improve your website ranking.
Rank Math also helps to optimize titles, descriptions, and keywords for each post and page on your website.
You can also use the Artificial Intelligence of Rank Math to intelligently write your content– with dynamic suggestions and intelligent recommendations.
In addition, it dynamically adds links to your articles as well.
Rank Math has 15+ built-in modules. You can enable and configure them based on your requirements.
And, all these advanced features come with a clean and easy-to-use user interface.
Key Features
Detailed SEO analysis
Use Artificial Intelligence to write SEO optimized content
Dynamic Suggestions and Keywords
Intelligent Questions (With Schema Markup)
Full Control via Role Manager
Pricing
The free version of Rank Math comes with limited features.
Rank Math Pro costs $59 per year. The business and agency annual plans are priced at $199 and $499, respectively.
3. Tutor LMS – Best Learning Management System for WordPress
With Tutor LMS, you can easily create a powerful and profitable life coaching website. It's packed with features that will make creating, protecting, and selling courses a breeze.
The plugin comes with built-in support for videos from YouTube and Vimeo. You can also upload and add videos directly to your website.
Tutor LMS also makes it easy to manage students and instructors. You can even award custom certificates to successful students.
You can also test students with quizzes to ensure they're learning.
Plus, if you need advanced analytics, Tutor LMS has got you covered as well.
Overall, it is the best tool for anyone wanting to create and sell courses online.
Key Features
Create and Manage Courses
Manage Students and Instructors
Award Custom Certificates
Test Students with Quizzes
Advanced Analytics
Communication and Monetization
Pricing
The free version of Tutor LMS offers fundamental features.
There are three premium pricing options in Tutor LMS: Individual, Freelancers, and Agencies. The starting fee is $119.20 per year.
4. WPForms – Best Form Builder for WordPress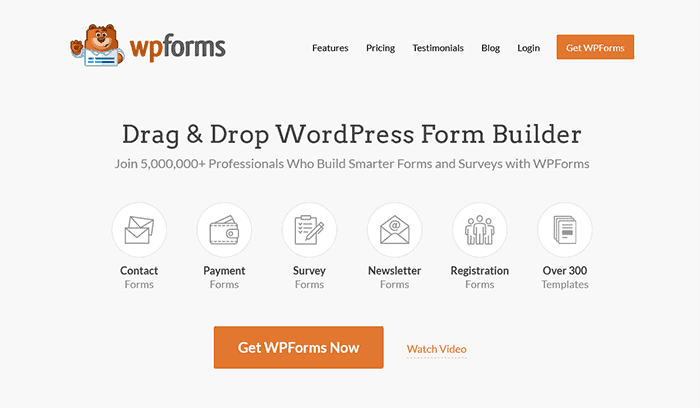 The more you get in touch with your audience, the more chances of business.
And, forms are one of the best ways to get connected to your visitors online. Forms are the mighty swords to obtain leads. So, you need a spectrum of them on your website.
And, WPForms comes with over 300 pre-built form templates, so you can create any type of form in minutes.
With its drag-and-drop contact form builder, it's easy to create mobile-ready, SEO- friendly, and speed-optimized forms in an instant.
You can access all the fields and features you need to succeed easily on the WPForms WordPress plugin.
Another great feature of WPForms is its ability to create surveys and polls. This is a great way to get feedback from your customers or to get ideas for new courses and topics.
Also, the plugin comes with payment forms, donation forms, and booking forms templates. You can easily accept payments, donations, and book appointments online through PayPal, Stripe, and Square integration.
WPForms is the perfect solution for creating forms on the WordPress website.
Key Features
Drag-and-Drop Contact Form Builder
300+ Pre-Built Form Templates
Mobile Ready, SEO-friendly, and Speed-optimized
Surveys and Polls
Conversion optimized for forms
Pricing
WPForms Lite is a free version with basic features.
There are four tiers of WPForms Pro: Basic, Plus, Pro, and Elite. The base price for the Basic Tier is $39.50 per year.
5. MonsterInsights – Best for Website Analytics
It excels in real-time analytics. You can track visitor behavior on your website as it happens.
It provides you with insights into your marketing ROI and website's performance across Google Search Engine Optimization (SEO) and Social Media channels.
It includes eCommerce tracking so you can see how well your online store is performing.
In short, the MonsterInsights WordPress plugin is the monster of insights.
It provides you all the numbers you need to monitor and grow your WordPress website.
You can also track your SEO ranking reports to see how you're stacking up against the competition.
And, if that's not enough, MonsterInsights also lets you track affiliate links and ads.
Plus, all those monster features come with a user-friendly interface that turns heads.
To add a cherry on the cake, the plugin is GDPR-friendly and provides users with a user behavior report showing how people interact with your website. So, you can rest assured of GDPR compliance as well.
Key Features
Provides Real-time Analytics
Comes with E-commerce Tracking
Generates User Behavior Report
SEO Ranking Reports
Affiliate Links and Ads Tracking
GDPR Friendly
Pricing
The free version of MonsterInsights has basic analytical features.
The most popular Pro Plan costs $199.50 per year.
6. Embed Calendly – Best for Scheduling Calendar
Embed Calendly is the best plugin for any life coaching WordPress site looking to schedule appointments.
You can embed your Calendly scheduling page on your WordPress website in a few clicks.
Best of all, you can fully customize how your calendar looks with the new flexible and intuitive widget customizer found in the WordPress dashboard.
You can also import all of your event types from Calendly and view them right on your WordPress site.
Plus, you can just copy the automatically generated shortcode and add the event type scheduling page to any post or page.
Key Features
Easily add your Calendly scheduling page on any WordPress page or post using shortcode.
Customize how your embed widget directly from the WordPress dashboard.
Import and view all your Calendly event types on WordPress.
Pricing
Embed Calendly offers a free edition with basic capabilities.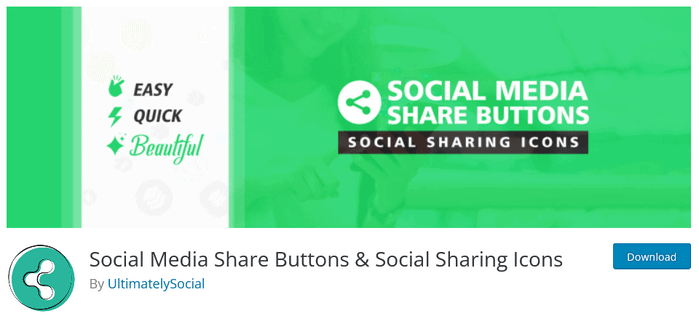 The simplest approach to building your audience and getting them interested in your site is to share on social media channels.
And, Ultimate Social Icons WordPress plugin is the easiest way to transform your site into an interactive social media hub instantly.
You can connect an unlimited number of custom share buttons (Facebook, Twitter, and more) and set them up on any page or WordPress posts.
With the plugin, you can easily enable floating or sticky elements so that visitors will never miss your call to action. They can also easily subscribe to your blog by email with just a few clicks.
And, with the handy social media counts, you'll always know how popular your content is.
Ultimate Social Icons also allows animations. You can add effects like automatic shuffling and mouse-over to your social media buttons.
You also have an option to pick from 16 different designs for your social media share icons on this WordPress plugin.
Key Features
Pick from 16 different designs for your social media share icons.
Give an animation to your social media icons.
Allow visitors to subscribe to your blog by Email.
Add 'counts' to your social media buttons.
Easily display a pop-up.
Pricing
It includes a free edition for basic usage.
The Pro version has advanced features and is available for $29.98 per year.
8. MC4WP – Mailchimp for WordPress
Mailchimp for WordPress (MC4WP) offers a powerful integration between Mailchimp and WordPress.
The plugin will make your Mailchimp lists grow and help you write better newsletters right from your website's dashboard.
As one of the popular email marketing services, Mailchimp also has an Amazon Web Services-powered list builder that allows users to create a steady stream of leads in no time. That too, in a straightforward platform.
The plugin from Mailchimp also has a user-friendly interface and integrates with many of the most popular WordPress plugins.
You can create good-looking opt-in forms or integrate them with any existing form on your sites, like, comment, contact, or checkout form.
Key Features
Connect with your Mailchimp account in seconds.
Seamless integration with various plugins like WPForms, Gravity Forms, WooCommerce, and more.
Complete control over the form fields.
Detailed Reports and Analytics
Pricing
Mailchimp for WordPress comes with a free base plugin.
Your license plan of Mailchimp for WordPress Premium starts at $59 per year.

Wordfence Security plugin protects your WordPress site from malware and brute-force attacks. It also offers a powerful firewall and real-time malware scanning.
The login security controls used by the plugin are some of the most robust in the industry.
And, the team at Wordfence Security makes sure that their malware scanning database is constantly updated with the latest information.
This means that, if you activate this plugin on your WordPress site, your website will be protected from intrusions, malware, and brute-force attacks.
Wordfence Security also offers two-factor authentication and IP access control to secure your site further.
On top of that, it offers various tools for free on a user-friendly interface– making it ideal for centralizing security events, template-based security configuration management, and other IT tasks.
Key Features
Login Security includes brute force protection, XMLRPC protection, and reCAPTCHA.
Provides robust 2FA for your admins and users using secure open standards.
Malware Scan feature blocks intrusion attempts, detects malicious activities, and provides robust security.
The Wordfence Firewall protects against the vulnerabilities which are deployed in real-time.
Centralized Management
Pricing
Wordfence offers a free version with basic tools.
Wordfence Premium is a premium package that costs $99 per year.
Conclusion
Having the right WordPress plugins can make a world of difference when it comes to the functionality of your life coaching website.
And, when choosing the right WordPress plugins for your life coaching website, it's important to consider your needs and budget.
For example, if you're looking for a comprehensive security solution, Wordfence Security is a great option. And, if you want a plugin for lead generation and assessment tools, Wheel of Life Tool is a top choice. Likewise, for easy appointment booking, Embed Calendly is hard to beat.
With these 9 must-have WordPress plugins in place, your life coaching website will be ready for anything!
Have you ever used any of the plugins mentioned in this article? If so, what was your experience like? Share your thoughts in the comments below!