Google Analytics is a free analytical software that is a part of Google's Marketing Platform. It provides detailed information about your visitors regarding who they are, where they are from, what pages they are visiting, and much more. Thus, linking websites with Google Analytics is very beneficial to ensure target-based success.
Luckily, the WordPress community offers several Google Analytics plugins to do the job. These plugins not only add the tracking code to your website but let you see the analysis data in your dashboard.
But, with the growing list of such plugins, choosing the right one gets more confusing. Here, we have listed the 7 best Google Analytics plugins for WordPress along with their details. We will also answer a few of the common questions relating to the Google Analytics plugin in the end.
Why Do You Need a Google Analytics Plugin for WordPress?
Firstly, Google Analytics provides all the necessary information about your website's visitors. This information includes who your visitors are, where they have landed on your site from, which page they are visiting or mostly visit, how long they stayed on your website, and a lot more.
With such crucial information, you can make informed and data-driven decisions that will ultimately lead to increased conversions.
Now, you could add Google Analytics manually or opt for using the Google Analytics plugin, which is a much easier way. With the Google Analytics plugin, you not only can add Google Analytics to your WordPress, but also view reports and customize them to your needs.
The plugin helps you know your audience easily. Thus, you can plan specific arrangements on your website. It also generates reports generated from the plugins to help you keep track of the progress of such targeted campaigns. Besides, you can plan your content using the insights from those data.
List of Best Google Analytics WordPress Plugins
Following are the 7 of the best Google Analytics plugins for WordPress available on the market. Let'sLet's go through the details of each.
1. MonsterInsights
MonsterInsights is undoubtedly one of the best Google Analytics plugins for WordPress. It is a powerful and user-friendly plugin with multiple features to get the job done- no wonder the plugin enjoys over 2 million users.
When it comes to tracking information, the MonsterInsight plugin is super-efficient. It lets you track User ID, forms, downloads, links, SEO scores, categories, media, and a lot more. Most of these features do not even require javascript and can be done using simple shortcodes.
The MonsterInsights plugin excels in reports generation too. Besides the Analytics Overview report, this plugin helps you generate multiple other specific reports, like media reports, content reports, and more. These real-time stats help you keep track of your website's progress and also plan for the future. With the customizable dashboard widget, you can easily access and manage the data.
You can integrate the MonsterInsights plugin with almost all popular plugins. These include plugins such as Woocommerce, WPForms, Easy Digital Downloads, ContactForm7, CookieBot and many more.
Features
Universal Tracking
EU Compliance
Enhanced Link Attribution
Analytics overview report
Real-time reporting
SEO friendly analyzer
Customizable dashboard widget
Page insights in Admin Bar
PDF exports
Email summaries
Woocommerce integration
Supports many popular plugins
2. Site Kit by Google
Site Kit is Google'sGoogle's official WordPress plugin that provides insights to website owners on how users find and use their website. You can directly get the information on your WordPress dashboard. These insights are helpful in improving and monetizing your content.
Since Site Kit is Google'sGoogle's official product, it integrates smoothly with any other Google products like Search Console, Analytics, PageSpeed Insights, and others. The plugin is very easy to set up and configure. Plus, the insights are real-time and up to date, thus, giving you authoritative ideas on effective ways to best plan your website content.
With Site Kit, you can get specific page insights directly in your WordPress dashboard. To keep you motivated, this plugin features a cool notification alert whenever you hit a milestone.
The clean design and minimal layout make it easy to understand the data. Whether you're a site owner, a developer, or a hosting provider, Site Kit can serve all with its wide range of features. Even a beginner can get along with it without any hassle.
Features
Supports Google services like Search Console, Analytics, PageSpeed Insights, and Adsense
Easy to understand
Official insights from Google tools
Quick and easy setup
Distilled and aggregated insights directly on your WordPress dashboard
Updates and improvements from Google
Manage roles and permissions
Flexible UI
Progress snapshots
Per page insights
3. Lara's Google Analytics
You can use Lara's Google Analytics plugin if you want data from Google Analytics directly to your Admin dashboard. The plugin adds a full-width Google Analytics dashboard widget on your WordPress admin interface and inserts the Google Analytics tracking code to all your site pages.
This plugin gives you full access to session analytics and all of its elements, like users, page views, bounce rate, and more. You can easily set up the plugin using the Express setup option in no time.
You also get detailed figures about page visits. The beautiful full-width graphs on your dashboard give you site insights while making it look beautiful. Moreover, you can also find other details like the browsers used, languages, operating systems used, screen resolutions, device types, and more.
Features
Full access to session analytics
Easy and fast setup
Beautiful graphs at full width
Details of pages visited on your site
Languages spoken by website users
Operating systems used by visitors
Info about screen resolutions
Info about device types
Multisite multi-network and full permission control
Real-time active users
4. Analytify
Analytify plugin is a top-performing plugin that makes Google Analytics simple on all site elements, such as posts, pages, and custom posts type. You can either integrate the Google Analytics dashboard into your WordPress admin dashboard or use it separately.
You don't need coding knowledge to use this plugin. It is easy to use and has a beginner-friendly interface. You can install the plugin with just a single click.
After the plugin, you can easily track the data of your visitors, such as their location, browsers, and device. The best thing is you can also track the user's footprint on your site using the bounce rate tracking feature.
The Analytify plugin is excellent for content management and SEO optimization. If you need additional features, you can sign up for the premium version of the plugin.
The Analytify plugin offers analytics for every page, post, and custom post type, such as galleries, portfolios, testimonials, and more. With such a wide scope, it's no wonder that this plugin has over 40,000+ installations.
Features
Super easy installation
Enhanced eCommerce Google analytics Tracking Add-ons
Social media statistics
Mobile device statistics
Real-time statistics
Supports shortcodes
SEO optimized
Easy to customize
Easy API support
General statistics
Top keywords analyzer
5. Enhanced Ecommerce Google Analytics Plugin
Specially targeted for eCommerce businesses, the Enhanced Ecommerce Google Analytics plugin helps you integrate Google Analytics with your WooCommerce stores without breaking a sweat.
The Enhanced Ecommerce plugin is easy to use and requires no coding knowledge at all. You can install, set up, and use the plugin on the go. You can then track each and every piece of information about user interaction with your website. You can then use that information to develop future strategies accordingly.
Besides simple tracking, this plugin also generates advanced reports, including audience reports, behavior reports, and acquisition reports. For an eCommerce website, these data can be of great advantage for planning the pricing and improved conversion.
The Enhanced Ecommerce plugin works great with the latest Google Analytics 4. It supports local currency conversion and IP anonymization as well. For more features, you can go for the pro version of this plugin.
Features
Quick and easy 5 minutes installation
4 enhanced eCommerce reports in Google Analytics
Linking to Google Ads account
Guest checkout functionality
Enables Audience, Acquisition & Behavior reports
Supports local currency
Google Analytics opt-out
IP Anonymization
Compatible with newly launched Google Analytics 4 dual setup
6. Exact Metrics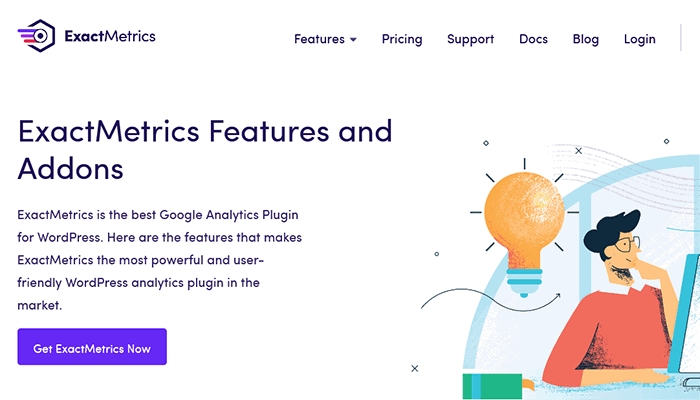 Exact Metrics is another best Google Analytics plugin for WordPress that blends powerful features with a user-friendly interface. With advanced tracking, automated analytical reports, and wide integration, this plugin holds the edge over most of its competitors.
The Exact Metrics plugin is a flexible plugin that lets you track all kinds of details relating to your website, such as affiliate links, SEO score, downloads, forms, etc. These details will help you make data-driven decisions by deriving user information through various sources.
This plugin generates multiple reports, including some specific ones like eCommerce report, forms report, etc. These reports help you know your site's current situation better and plan for future improvements.
It supports all major popular plugins like Woocommerce, WPForms, Contact Form7, Easy Digital Downloads, and others.
Features
Universal tracking
EU compliance
eCommerce, Link, Download, User ID, SEO score, and more tracking
Data-driven decisions
Google Analytics Dashboard
WooCommerce analytics
Affiliate link tracking
Enhanced eCommerce
Google Analytics for AMP
WordPress stats dashboard
Customizable dashboard widget
Access control for custom reports
Popular plugins support like WooCommerce, WPForms, Easy Digital Downloads
7. Google Analytics by 10Web
Google Analytics by 10Web is a nifty plugin with better features that let you view and customize all your Google Analytics reports directly from your WordPress dashboard. This outstanding plugin provides you with a comprehensive interface to view Google Analytics reports.
The plugin features a powerful admin panel that lets you manage the analytics data and set your targets using the same interface. Besides, it perfectly integrates with Google Adsense and Google Ads to help you monetize your website.
Unlike other plugins, this plugin constantly keeps you updated with alerts and automated emails. Google Analytics by 10Web is a simple plugin that gets all the job done.
Moreover, it offers excellent customer support from a dedicated support team. For more functionalities, you can upgrade to the premium version of the plugin.
Features
Powerful admin panel
Comprehensive dashboard
Well integrated with Google AdSense and Google Ads
Support CSV reports export
Automated email reports
eCommerce tracking
Custom notifications and specific trigger
Custom event tracking codes
Supports filtering of tracked data
Outstanding customer support
Advanced premium version available
Frequently Asked Questions
Which is the best Google Analytics plugin for WordPress?

The MonsterInsights plugin is one of the best and most popular Google Analytics plugins on the market. It is suitable for all purposes and suits every level of user with uniform efficacy. 
It is easy to use and more powerful than most of the plugins available on the market. For a better price, the Google Analytics plugin offers added features with advanced functionality.

What to look for in a Google Analytics plugin?

While choosing a Google Analytics plugin for WordPress, do not forget to check the dashboard interface. It should be easy to understand and use. Different plugins have varying types of tracking and reporting functions. So, go with the one that you are most comfortable with. It is also best that you check the plugin's support for other plugins. 

Can beginners use the Google Analytics plugin?

Yes, Google Analytics plugins are user-friendly with a clean and easy-to-use interface. You don't need any coding skills to use and understand the data shown on your dashboard. 
The plugins we have mentioned in this article have a one-click installation process. You can start using the plugin right away. Moreover, these plugins display the site-related data straight on the dashboard with a clear label, so you know exactly what it is about. 
Conclusion
Google Analytics plugin is a handy and powerful tool to add to your WordPress. This tool helps you analyze the current site scenario and make adjustments accordingly to result in more conversion and lead generation.
We have mentioned the 7 best Google Analytics plugins for WordPress in 2022. These plugins are the best ones at the job, given their powerful features, easy-to-use interface, and effective results. Plus, you can easily integrate the plugin with other plugins to add features and functionalities to your website. 
You can choose either of these plugins, and rest assured that they will get the job done with minimal or no effort at all. A few of them have premium versions as well with more or optimized features. You can choose the one that you find the best for your site.
Hopefully, this article has helped you find the best Google Analytics plugin for your WordPress site. Let us know your thoughts in the comment section.