Ever noticed a chat box popup as soon as you log in to a website. That's a live chat plugin doing its job.
A Live chat plugin can personalize users' browsing experience. The more personal it is, the more connected users feel with your website.
Besides, it can also drive conversions and assure reliable service to the users by constant human presence.
Why Do You Need Live Chat Plugins for Your WordPress Site?
Live Chat WordPress plugins are excellent tools for adding a personal touch to your website. It helps you to connect with your audience on a personal level. Many people love using chat for conversation rather than phone calls or emails as it allows them to multitask.
Live chats help you address your customers' comments instantly in real-time, thus enhancing user engagement. It can drive more leads to sales conversions.
No one likes to wait for hours for replies. That is why Live chats use chatbots for automated messages as well as human operators for flawless interaction.
How to Choose a WordPress Live Chat Plugin?
We understand everyone wants the best live chat plugin for their website. But what exactly makes the best plugin? Let's take a look.
Purpose
Depending on the purpose of use, you can choose different live chat plugins. For example, some users are focused on sales conversion, whereas others are focused on increasing leads and customer loyalty. Choose the plugins based on what you want to achieve.
Features
Different products come with different features. So, if you're clear on your purpose, get the one that serves your purpose. There's no point in paying for plugin features that you won't be using.
For example, if you want a plugin with advanced tools for reporting, look for a plugin with this feature.
Third-Party Integration
While using a plugin, it is important to check whether the plugin works well with other third-party plugins. A typical website combines multiple tools and plugins integrated to function at its best. So if your plugin is not integrable, that might create problems on your website.
List of Best WordPress Live Chat Plugins
1. LiveChat

LiveChat is a brilliantly designed live chat tool that is easy to set up and use. You can integrate this tool with dozens of other analytical tools and CRM to make the most out of it.
This responsive chat plugin is mobile and retina-ready. It allows your customer to connect to your support team no matter where they are and what device they use. The lightning-fast speed of this plugin is another feature that stands out.
With the Live Chat plugin, you can also add surveys before or after the chat conversations to get more information about the user and improve customer service. In case you're offline, this plugin lets your visitors submit support tickets too.
Moreover, this chat plugin can increase your revenue by maximizing sales conversion. You can use the LiveChat plugin from anywhere in the world as it is translation-ready and supports multiple languages.
Key Features
Integrates Seamlessly with Major Third-Party Plugins
Proactive Chat Invitations
Effective Customer Service
Multiple Chat Sessions at Once
Built-In Ticketing System
24/7 Customer Support
Easy to Customize and Extend
Lead to Sales Conversion
Pros and Cons
| | |
| --- | --- |
| Pros | Cons |
| Very easy to set up | The automatic greeting can be improved |
| Excellent design | |
| Fast loading speed | |
2. Tawk.To

Another, we have the Tawk.To plugin on the list. This plugin is a simple live chat plugin free of spam, ads, and other hassles. It is easy to use and helps you connect to your audience in real-time. The best thing about this WordPress live chat plugin is that it is 100% free.
Tawk.To is one of the most popular live chat plugins in the world. One reason for its tremendous success is that it lets you monitor your website visitors through a single dashboard. You can also connect with your website visitors through mobile, ensuring quick response and better customer satisfaction.
This plugin is compatible with all popular browsers. It means you will be able to connect to your customer in real-time irrespective of the browser they use. Likewise, the plugin works great with all operating systems too.
Tawk.To integrates perfectly with any WordPress theme. If you face any problems while integrating this plugin into your website, you can always reach out to the dedicated support team.
Key Features
Completely Free
Easy to Use
Single Dashboard for Managing Users
Real-Time Live Chat
Responsive and Mobile-Friendly
Better Conversions
Compatible with Modern Browsers
Seamless Integration with All Themes
Dedicated Customer Support
Better Customer Management
Pros and Cons
| | |
| --- | --- |
| Pros | Cons |
| Totally free | Lack of advanced features |
| Increased sales | |
| Compatible with operating systems and browsers | |
3. Sendinblue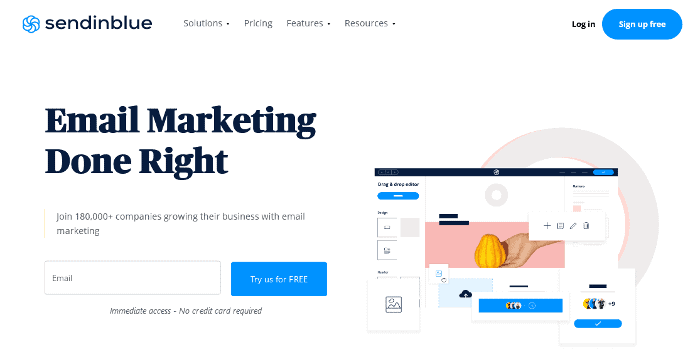 Sendinblue is much more than just a live chat plugin. It includes SMS marketing, email marketing, and many more functionalities. Designed with a marketing goal in mind, you can use this plugin for email list segmentation, retargeting FB ads, and other market automation.
Sendinblue is a powerful tool that lets you create engaging campaigns. This hassle-free tool helps you specify the send time and optimize it in the best way possible.
Though it has advanced features, it is pretty easy to use. Just use the inbuilt drag and drop tool to set up special marketing operations. Unlike other live chat plugins, with Sendinblue, you get a simple embed code that you can attach to the footer.
Sendinblue is an all-in-one tool for communicating with your customers through multiple channels; one of them is live chat.
Key Features
Create Beautiful Campaigns
Constant A/B Testing
Send Time Optimization
Advanced Reports
Landing Pages
Unlimited Contacts
80,000+ Customers
Email Marketing and SMS Marketing
Pros and Cons
| | |
| --- | --- |
| Pros | Cons |
| Built-in email integration | Chat service is available only in premium plans |
| Workflow organization | |
| Extremely easy to use | |
4. Formilla Live Chat

Next, we have the Formilla Live Chat, which is available in both free and premium plans. As you would expect, the free version is limited in many ways compared to the paid version.
The premium version of this Live Chat plugin allows you to customize your chatbox as you want. Moreover, it also allows for real-time visitor monitoring. Users of the premium version can access chats via Android, iOS apps, or Formilla interface.
The premium version also includes extra features like the proactive chat option, offline email forms, and chat queues. With that being said, the plugin also has a good feature set for free users.
The language support feature in Formilla Live Chat can customize live chat widgets in online and offline forms. In addition, you can translate the live chat form into any language you want.
Key Features
Instant Installation
Mobile Apps Available
Responsive and Mobile-Ready Chat Widget
Real-Time Visitor Monitoring
Language Support
AI Chatbots
Proactive Chat
Smart Messages
Multiple Live Chat Agents
Advanced Customization
Pros and Cons
| | |
| --- | --- |
| Pros | Cons |
| Supports file sharing | Configuring might be hard for some |
| Desktop notifications | |
| Offline chat available | |
5. Olark

Olark is one of the most flexible live chat tools in the market. You can either use a plugin or a code snippet to install this live chat tool on your website. Both methods are easy to follow and integrate well with Salesforce, Google Analytics, and more.
With Olark's live chat feature, you can connect to anyone from anywhere. Likewise, monitoring your visitors or reaching out to them is pretty easy through live chat. Olark live chat is accessible using a third-party plugin from iOS or Android devices.
Besides, you can also get real-time reporting on chat volume and in-depth analysis of chat history. Olark can dramatically improve your sales and support and bring your business to life. It supports Google Analytics integration for better leads to sales conversion.
With over 40,000 installations, Olark is undoubtedly one of the best live chat plugins of 2022. Get it, and you won't be disappointed.
Key Features
Detailed Chat Reports
CRM Integration with Salesforce, Nutshell, and Many More
Customizable Chat Settings
Helpdesk Integration
White Label Feature
Chat History Search
Pros and Cons
| | |
| --- | --- |
| Pros | Cons |
| Easy and convenient | Some commands need manual input |
| Super active chat feature | |
| Generates real-time reports | |
6. Drift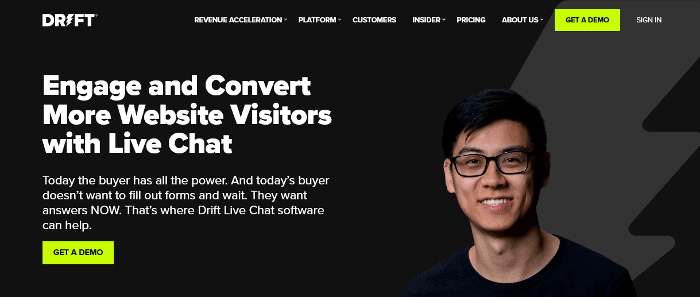 Drift is more than just a live chat plugin. It is a revenue-accelerating platform that shortens sales cycles and offers higher leads to sales conversion.
Drift can be integrated with all CRM and email marketing services. The live chat software features a Drift bot, anonymous visitor intelligence, account-based marketing, scheduling meetings, and more.
With Drift, you can create more personalized conversations rather than using Contact Forms. This enhances the user experience and boosts your website conversion. It also features automated chatbots that come in handy when you're not around for real-time conversations.
The built-in chat to call or chat to zoom feature allows you to instantly connect with your possible customer and get them on board. Moreover, you can also create multiple drift inboxes to manage different types of conversations.
Key Features
Live View
Conversational Analysis
Internal Notes for Internal Communication
Conversational Ratings
Saved Replies for Fast Replies
Multiple Inboxes for Easy Management
Drift Playbooks
Chat to Call
Drift Meetings
Chatbots
Pros and Cons
| | |
| --- | --- |
| Pros | Cons |
| Appealing user interface | Expensive for small enterprises |
| Easy to install and use | |
| Smooth CRM integration | |
7. Tidio Live Chat

Tidio Live Chat is by far the most effective and effortless live chat plugin out of all. Simply download the plugin, install it, and you're good to go!
The chat boxes that come with the Tidio Live Chat are in three primary colors. They are highly customizable and flexible. You can handle anything related to Live Chat from the Tidio Chat tab in the WordPress dashboard. Or, you may as well use a dedicated desktop, iOS, or Android app.
For offline conversation, Tidio Live Chat provides you with an option to send offline messages to your inbox directly. Even if the user leaves the chat, you can continue the conversation via email. The live chat session is backed up by automated bots to deliver a better customer experience.
With the free version, you can have one chat agent and one chat option. However, if you want unlimited chat functionality and other benefits, you can buy the premium plugin at $16.80 per month.
Key Features
Live and Optional Automated Bots
Faster Communication
Built-In Email Marketing
Seamless Integration with Third-Party Apps
Quick Setup
Customizable Widgets
Pros and Cons
| | |
| --- | --- |
| Pros | Cons |
| 300,000+ installations | Limited filtering |
| Faster communication | |
| Built-in email marketing tools with email notifications | |
8. SnapEngage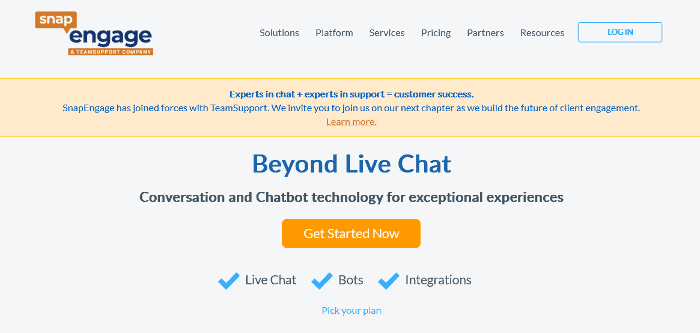 Unlike other live chat plugins, SnapEngage is an omnichannel chat solution. This means you can communicate with your potential customers across multiple platforms like Facebook, SMS, Twitter, WeChat, and so forth.
SnapEngage works great with all major popular CRM software tools. It also includes a callback request feature and has customizable chat widgets. Besides, it ensures active engagement with the user using advanced rules and triggers or by using bots for immediate response when offline.
This conversational platform is designed to drive more leads to your website, retain them, and ensure customer satisfaction. In addition, the support you receive from the team at SnapEngage is simply exceptional.
Other than that, SnapEngage excels in Reporting and Analytics while ensuring security and privacy.
Key Features
Easily Integrates with CRM Software Tools
Customizable Chat Widgets
Advanced Rules and Triggers
Better Customer Engagement
Reporting and Analytics
Security and Privacy
Pros and Cons
| | |
| --- | --- |
| Pros | Cons |
| Requests for a callback | Expensive |
| Automatic chat invitations | |
| Supports multiple channels live chat | |
9. LivePerson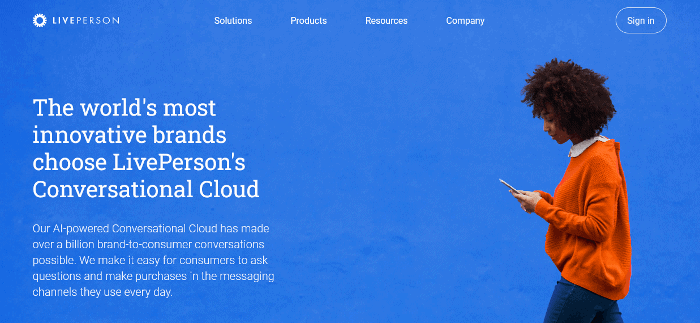 LivePerson is an AI-powered conversational cloud designed to improve and enhance user experience.
The inbuilt Intent Manager helps you understand consumer intentions in real-time. Not only that, but it also shows how well you're fulfilling that customer's needs. It also features AI-powered chatbots that work in coordination with human operators to make your work more efficient.
There's also a Conversation Builder that helps you manage conversation flows and engage with customers. You also get detailed analytics of conversations for further breakdown. You can use Conversation Analytics to monitor your marketing, sales, and customer care KPIs in real-time.
Furthermore, it also supports multiple live channels to chat, including automatic messages, apps, email, social networks, etc.
Key Features
Excellent Design and Functionality
Intent Manager
Conversation Builder
Conversation Analytics
Multiple Conversational Channels
Outstanding Customer Care
Program and Customize Conversational Cloud
Enterprise-Grade Security
Reliability
Pros and Cons
| | |
| --- | --- |
| Pros | Cons |
| Features chatbots | Limited reports |
| Multiple channels live chat | No customer information |
| Robust | |
10. Crisp Live Chat

Crisp Live Chat is the last name we have on our list. It is an excellent choice for users who want to grow their email list, generate leads, and boost customer relationships.
This free WordPress plugin allows you to embed a free live chat module on your site to let your visitors chat with you in real-time. With this, you can answer questions regarding your business or talk about your product/services directly via live chat.
Besides, Crisp Live Chat also features an automated chatbot builder to ensure an exceptional offline experience for your visitors. It includes both mobile and desktop apps to make sure that your visitors can talk to you from any device.
Lastly, you also get access to Crisp Inbox for Marketing, Crisp Helpdesk, and their support team with Crisp Live Chat.
Key Features
Embed a Free Live Chat Module
Real-Time Notifications
Mobile and Desktop Apps
AI-Integrated Chatbot
See What Your Active Visitor is Typing
Add Multiple Plugins
Wide Range of Integrations — SMS, Slack, Messenger, Twitter, and Telegram
Pros and Cons
| | |
| --- | --- |
| Pro | Cons |
| Real-time notifications | Sometimes it removes your formatting |
| Fair pricing | |
| Mobile and desktop apps available | |
Frequently Asked Questions (FAQs)
Which Live Chat plugin should you use?
In this article, we recommend the LiveChat plugin. It is an easy-to-use plugin that you can set up instantly. Besides, this plugin offers an excellent design that grabs user's attention and keeps them engaged. Unlike other plugins, this plugin helps your website load faster compared to other similar plugins.
Can you chat with multiple visitors at once using the live chat plugin?
Yes, of course. Using a live chat plugin in WordPress, you can chat with up to 99 visitors at one time.
Can live chat windows be customized?
Yes, live chat windows can be customized. You can customize the background, logo, theme, and many more.
Conclusion
This concludes our review article of the 10+ Best WordPress Live Chat Plugins of 2022. We hope you found the right live chat plugin for your website. 
If you want to read more articles related to WordPress plugins, you may check out the following:
Let us know about your experience in the comment section below.