Did you know that 1.82 billion people log onto Facebook daily as per stats? No wonder it is a popular social media platform.
Nearly 75% of high-earners use Facebook. Likewise, 60% of people want to communicate with other brands via Facebook. All these stats highlight the fact that Facebook is an excellent platform for marketing as well as providing services.
So why not promote your WordPress website on Facebook?
To make it even easier, you can use any of the 10 best free WordPress Facebook plugins that we listed here. These plugins will help you connect your website with Facebook and provide your service over social media profiles with only a few clicks. Moreover, any level user can find comfort in installing and using these plugins.
So, let's begin with the article without any further delay:
What is a WordPress Facebook Plugin?
WordPress Facebook plugin is a tool that helps you link your WordPress website with Facebook. Whether you want to connect to the masses, display your posts, advertise your product, or introduce your website, the Facebook plugin will make it easier.
Why Do I Need a Facebook Plugin?
The primary purpose of using a Facebook plugin on WordPress is to market the website appropriately. Facebook boasts billions of users all over the world. Thus, Facebook is an excellent social network website to extend your reach on the market. Besides this, here are some ways that a Facebook plugin helps your site:
You can let your visitors know that you have a Facebook page and prompt them to follow it.
You can give the Facebook users a sneak peek at your posts.
You and your visitors can share your site's content, such as images, posts, and pages on Facebook.
Your site can perform better on SEO through Facebook.
You can provide your services through your Facebook page.
It makes your site visually attractive and keeps your visitors engaged.
Adding a Facebook widget on your site improves interaction on both users' ends.
Your business/brand gets better recognition.
You can grow your audience through Facebook.
Adding the Facebook widget saves you the effort and time to update audiences on both platforms.
Some Facebook plugins even make your site more visual with the picture galleries.
List of 10 Best Facebook WordPress Plugins
Let's look at the details of the ten best free WordPress Facebook plugins on the market today:
1. Widget for Social Page Feeds
The Widget for Social Page Feeds is a simple widget that connects your Facebook feed to your WordPress. You can place the widget anywhere you like, such as headers, footers, or sidebars. Activating and using this plugin widget should take no more than a minute. Connect your Facebook page, activate the widget where you want, and be done.
The widget is a lightweight solution to your Facebook integration needs. It reveals a basic box that contains your most recent post. You can toggle the settings for showing or hiding certain posts. You can also adjust the language, header, and width.
Features
The plugin displays your Facebook feed on your WordPress. Its lightweight widget form comes in handy for this purpose.
You can use a shortcode to place your entire Facebook gallery anywhere on your site.
Activation and configuration of this widget take only a few seconds.
You can set the dimensions of the post, language, titles, covers, width, and more.
You can add the react buttons you received over various social media networks. Such a feature allows your visitors to react to your post and also share it.
You can set the number of posts to display from your Facebook feed. You can even hide or show specific posts.
The customer support feature of this plugin is very responsive.
Who Should Use This Plugin?
The Widget for Social Page Feeds plugin is a lightweight solution to link your Facebook with your site. It requires minimal settings, and any level user can use it on the go. You don't have to worry about customization. Plus, you get the option of shortcodes as well as widgets. So, if you already have multiple widgets on your WordPress, this might be a suitable option for you.
2. Custom Facebook Feed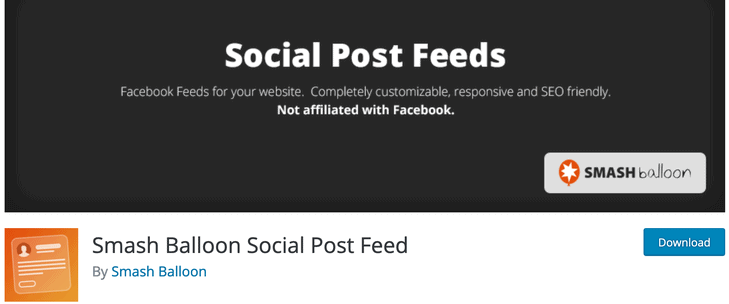 Custom Facebook Feed is a fully customizable, responsive, and SEO-friendly social media plugin. The plugin is an easy solution to integrate the website with Facebook profiles. The plugin is very user-friendly and suits any level user. You can instantly install and use the plugin without any hassle.
The plugin comes with easy installation options and advanced features. Custom Facebook Feed is probably one of the best plugins at its job. It comes in both free as well as paid options.
Features
The plugin is entirely customizable to suit your needs.
It is SEO-friendly that helps you spot better ranks on search engines.
It has a responsive and mobile-friendly design.
You have the option to display multiple feeds on your site.
It offers a custom CSS option.
It is easy to install and set up.
It supports Facebook tags.
It is translation-ready.
There are some added features in the premium version, such as:
PHP standalone.
Option to add multiple sites.
Supports HD, Live Videos, and 360o videos.
Popup Lightbox.
Options to display likes, comments, and shares below each post.
Display or hide certain post types.
More frequent updates and features
Who Should Use This Plugin
If you want to integrate your site with Facebook easily, this plugin may be the best option. You don't need technical knowledge to set up this plugin. The plugin is user-friendly and super easy to use. Moreover, with options of customizations, you will feel right at home with this plugin. For extra features, the plugin also offers a premium version.
3. Easy Facebook Like Box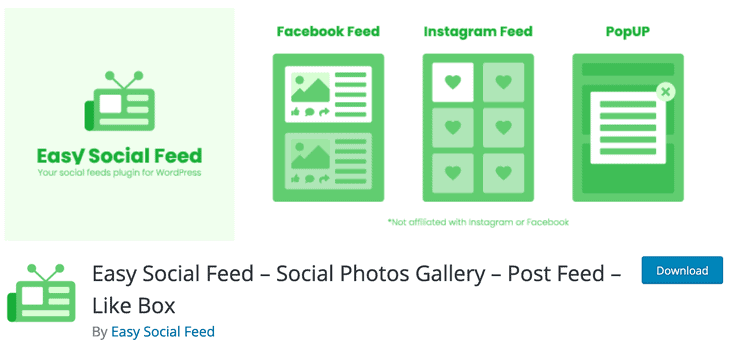 Easy Facebook Like Box is another handy plugin to integrate Facebook profiles on your site in no time. The plugin is useful and comes with multiple features, such as a custom Facebook feed, Auto popup, and Facebook page plugin.
Another decent feature that we liked in this plugin is hiding or showing certain posts and connections. You can even translate your post into multiple languages. The plugin is straightforward to install and set up. It is comfortable to work within every possible scenario.
Features
Custom Facebook feed, Auto Popup, and Facebook Page plugin
Fully customizable.
It caches your post, images, and other content to load your page faster.
Option to show or hide connections.
Option to display multiple feeds.
Responsive layouts.
It offers full-width, half-width, and thumbnail views.
The plugin supports up to 75 different locales.
Translation Ready.
The close button acts as "never show again."
It generates shortcodes in widget forms.
Who Should Use This Plugin?
The Easy Facebook Like Box is an easy-to-use plugin. It allows you to set your feed in multiple views with the popup gesture. The plugin suits any level user, be it a developer or a WordPress newbie.
4. WP2Social Auto Publish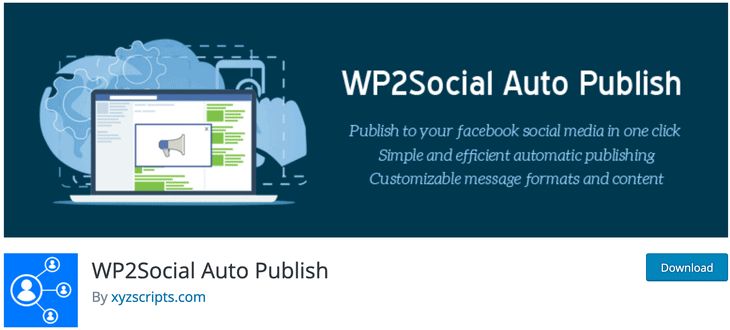 WP2Social Auto Publish is an efficient plugin that automatically links and shares your posts on Facebook after publication. The plugin has multiple options for content and formats. You can easily edit your Facebook post's description and title from your site.
You have complete control over which post to show and which ones to hide on Facebook. You can define categories to filter your posts. You can also add images, attachments, and other links to your post.
Features
Easy to install
Multiple features with a simple interface
Auto-publication of your content on Facebook
You can publish pages, posts, images, and other attachments straight from your WordPress dashboard.
Option to show and hide certain posts.
There are some unique features to enable premium ads and add credit links.
You can view the log of all the posts you share with your followers.
Fully customizable posts, including texts and images
Who Should Use This Plugin?
Automatic publishing of posts and pages can be tricky for some organizations. For instance, sharing the "About Us" page on Facebook every time you edit it does not make sense. So, if your site does not have many blogs to share, this plugin may not be a good option.
But if you run a website with multiple blogs, this plugin can be helpful. However, make sure to update the evergreen content. As the plugin automatically links your site with Facebook, updating a post, you released a few years ago does not make sense.
5. WP-Chatbot for Messenger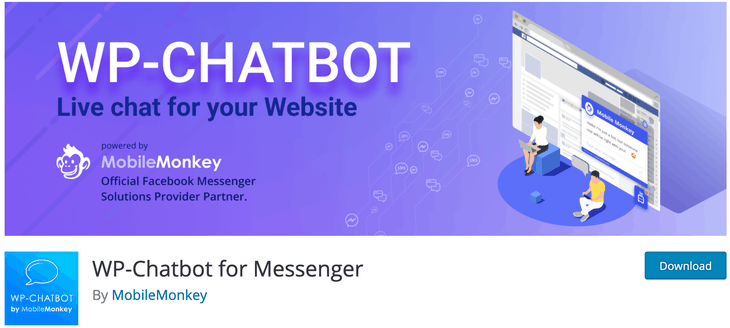 WP-Chatbot offers an easy way to integrate the Facebook customer chat on your website. This plugin has growing popularity due to its simple interface, user-friendly features, and promising results.
A unique feature of WP-Chatbot is that it helps manage your incoming messages with a single inbox. By adding a live-chat feature on your website, you can engage visitors and increase conversions.
WP-Chatbot is compatible with any WordPress version, themes, and plugins. You can rest assured to have a hassle-free experience with this plugin.
Features
One-click installation
It supports any version of WordPress, themes, and plugins
It stores all the incoming messages in a single inbox
24/7 live chat function
Smooth integration with Facebook messenger and Facebook business page
Constant support with the chatbot technology
Who Should Use This Plugin?
The WP-Chatbot is one of the easiest plugins to link your site and Facebook. We recommend this plugin to anyone who wants to experience a smooth and hassle-free Facebook integration on their website.
6. Facebook Widget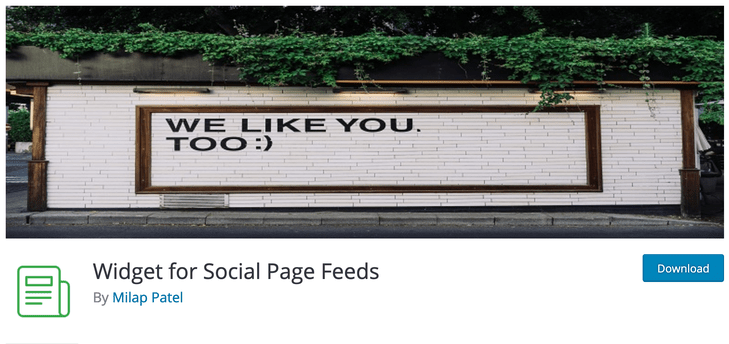 Facebook Widget is another good plugin on our list, boasting more than 1,212,000 downloads and over 100,000 active installations. This plugin has a lightweight build that keeps your Facebook integration needs at bay. Any user can link their site with Facebook easily and much faster.
With this plugin, you can display your Facebook posts on your website's sidebar in a simple yet attractive way. Apart from the posts, you can also show covers, timelines, and other elements to keep your visitors engaged.
You can fully customize the way you link your Facebook and website. You get all the elements you need to match your preference.
Features
Lightweight and simple interface.
User-friendly and easy to use.
It supports shortcodes.
Fast, helpful, and reliable customer support
Responsive and mobile-friendly.
Fully customizable.
You can add an application ID from your Facebook app.
Option to show or hide the timeline, cover, photo header, and any other element.
Option to select the width and language.
Who Should Use This Plugin?
With an easy-to-use interface, simple configurations, complete customizability, and fast customer support, this plugin suits anyone.
7. Facebook Feed

The Facebook Feed is a four-in-one plugin. It has a powerful tool with a simple interface that seamlessly adds a Facebook feed to your site.
It takes you no longer than a few seconds to install this plugin. The plugin suits any level user to begin linking their site with Facebook. The plugin directs your visitors to become your followers. You can engage them through group posts and feeds in a stylish popup.
Features
Fully responsive design
It has options for Like and Share actions.
It supports WPBakery (Visual Composer).
Who Should Use This Plugin?
To increase your visitors' engagement on your site, the Facebook Feed plugin is a perfect option. With the Like and Share functions, you can allow them to interact more on your posts.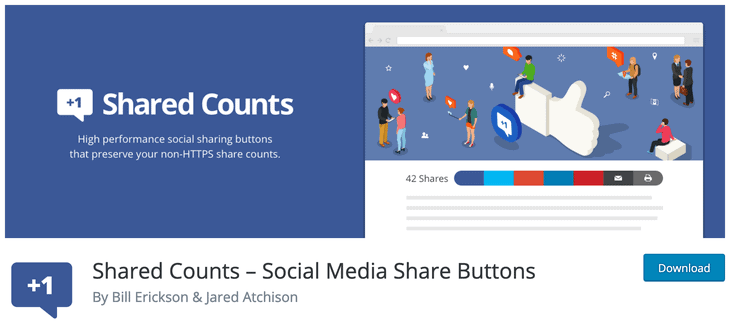 The Shared Counts plugin is an efficient tool to increase followers and traffic on your site. How?
Well, this plugin lets your readers share your post on their Facebook profiles with a single click.
Apart from the sharing feature, the plugin also shows the number of shares from each platform. Such a feature gives social proof as your viewers can see how many times your post has been shared by others.
The plugin supports various platforms besides Facebook, such as Twitter, Pinterest, Email, Yummly. LinkedIn, and many others. Plus, it is lightweight and is free without any hidden charges for extensions and upgrades.
Features
The plugin is free. You don't need to pay for its features and add-ons.
It is easy to configure and use this plugin.
Users can share your post with a single click across various social media platforms.
Users can see the count of shares on each of your posts.
The plugin performs at a fast speed.
Who Should Use This Plugin?
Most of the WordPress themes already have social sharing features. However, if yours doesn't, then using this plugin makes sense.
9. Nextend Social Login and Register
If you are thriving to gain followers on your Facebook page or other social media sites, this plugin comes into play. The Nextend Social Login and Register plugin generate areas on your website for the new users to create their profiles. Existing users can log in to Facebook with one click or even remove their social account if they want.
Besides Facebook, there are other options as well, such as Twitter, Google, and more. This tool is very helpful to increase users' numbers on your site. It comes in handy, particularly on online communities and membership sites where the process of signing up is tedious.
Features
One-click login or registration via Facebook, Twitter and Google.
Existing users can instantly connect their Facebook, Twitter, or Google profiles with their accounts.
You can define a custom redirect URL after the registration using any social account
Display Facebook, Twitter, and Google profile picture as your avatar
Customizable designs to match your website
User-friendly UI
Fast support
Who Should Use This Plugin?
This plugin is an excellent option for those running a membership website such as an online community or forum where the registration process is long and time taking.
10. Social Welfare Plugin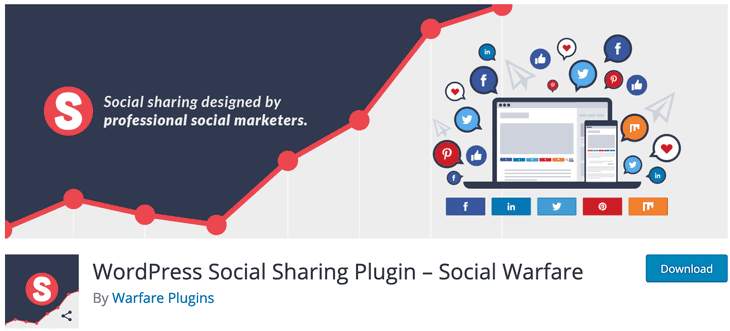 Social Welfare is one of the best social sharing plugins out there today. The plugin has a simple frontend to add social share buttons on your site. Those social share buttons are lightning fast as well as beautiful, unlike other social sharing plugins.
The plugin also helps to build social proof by displaying the share numbers on each of those social share buttons. Some sharing plugins accumulate all the share counts, regardless of any social platforms. However, the Social Welfare plugin breaks it down to let users know the exact share counts on each social network.
Apart from Facebook, this plugin also supports Google, Twitter, and Pinterest. You can choose where to display those share buttons, such as header, footer, sidebar, or between the content. You can modify the thumbnail size, size, and theme for each post on Facebook and other platforms.
Features
The plugin includes beautiful social share buttons for Facebook and other platforms.
The plugin supports Twitter, Reddit, and Mix apart from Facebook.
You can display the social share buttons wherever you want on your site.
Each button has a share counter on them. Your visitors can know the exact number of shares on each platform.
You can fully customize your post to fit on Facebook, such as thumbnail size, theme, text, and more.
The plugin includes shortcodes as well.
The content protection feature safeguards your content from hackers trying to steal or link to your content.
Click tracking, link shortening, and other analytics are possible.
Who Should Use This Plugin?
If your theme does not already have the social sharing button on it, this plugin is your best bet. You can easily share your content from your site to other social networking platforms. It is an efficient way to earn visitors and followers on your site.
Wrapping It Up
So, this was our review on the 10 best free WordPress Facebook plugins in the business today. You can use these plugins to start linking your website posts with Facebook on the go. These plugins are powerful as well as efficient. Moreover, they are easy to use and free to install. So, why wait to reach out to the masses.
If you want to read more useful articles regarding WordPress plugins, you can take a look at the following: