As a site owner, you might need to change your site's URL. Other times, you may find a canonical page URL or want to address a different page with the URL you are using.
If you don't redirect the current URL, your page may display a broken link error, 403 error, or so. You might end up losing your visitors and even your SEO rank if you don't fix it soon.
That's the thing every site owner fears the most.
Luckily, there are redirect plugins to help you fix this issue and manage your web pages efficiently.
Moreover, you don't even need to keep checking manually. The plugins make your life easier as they provide platforms to manage, track and fix the issue.
Why Should You Use a WordPress Redirect Plugin?
Having a redirect plugin can help you in many different ways. Like any other plugin, the redirect plugin serves a specific purpose. Further, it also makes it easier to run a WordPress site.
Redirect plugins help you manage all the broken links within your website. It benefits large websites with many web pages as it is time-consuming to check every page manually.
Additionally, it provides the platform to manage those links. You can also fix multiple links easily with redirect plugins. This helps in building credibility amongst your visitors and establish a good and trustworthy relationship.
Redirect plugins also help you enhance the SEO performance of your website. The better your web pages respond, the higher it ranks among search engines. It directs your users as well as the search engine crawler to a static page.
For in-depth details, check out How to Redirect a URL in WordPress.
Now that you know what a WordPress redirect plugin does let's look at the 10 best WordPress redirect plugins.
Best Redirection Plugins For Your Website
1. Redirection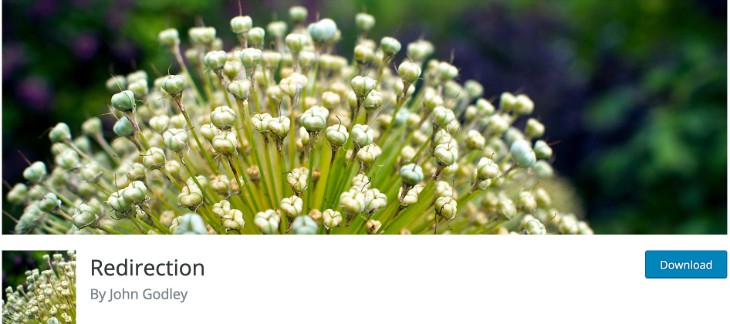 Redirection is a highly reputed WordPress plugin that's been around for more than 10 years. It is a free plugin that helps you solve redirection errors while also improving your site rankings noticeably.
The Redirection plugin lets you redirect any URL. To use this plugin, you do not need knowledge of Apache or Nginx. All you need to do is make sure that your WordPress supports permalinks. The plugin also supports regular expression giving you the flexibility to create regular expression patterns to match any number of URLs.
You can use the Redirection plugin for a site with few pages and large sites with hundreds of pages. Its advanced feature allows you to monitor when permalinks are changed and automatically redirect the new URL.
Besides, you can add conditional redirects, which redirect the URL based on certain conditions. The plugin comes with a fully featured import and export system. In case you face a problem, there's support available too.
Key Takeaways
Conditional Redirects
Compatible with PHP 5.6 and onwards
Supports regular expression
Advanced logging
Supports HTTP headers
Track 404 errors
Query parameter handling
Migrate permalinks
Apache and Nginx support
Fine-grained permissions
Import and Export
Search regex compatible
Dedicated support
Download Link
2. Safe Redirect Manager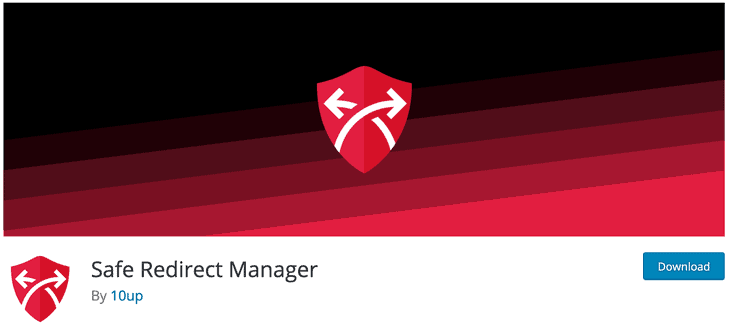 Safe Redirect Manager is a WordPress redirect plugin that stores redirects as custom post types, unlike other plugins. This is a simple and powerful plugin that's free from all unnecessary hassle.
Safe Redirect Manager creates a safe and easy environment for creating and storing redirects. This plugin delivers top performance while making your data portable and your website scalable. It offers just what you need and keeps you away from unwanted options.
Configuring the Safe Redirect Manager is as easy as it can be. Once you install the plugin, you can find it in your administrative panel within the "Tools" option. It is simple with no overarching settings. The plugin offers an option to enable regex if you want.
By default, this plugin only allows storing up to 250 redirects to avoid performance issues. Besides, the plugin uses Transient API for caching. This enhances the performance of the plugin. Overall, you'll find the plugin easy to use even if you're a beginner.
Key Takeaways
Store redirects as custom post types
Easy configuration
Powerful administration panel
Options to enable regex
Wildcards in 'Redirect From' paths
'Redirect to' supports wildcard and regular expression replacements
HTTP status code
Caching using Transients API
250 redirects supported by default
Simple to use
Download Link
3. SEO Redirection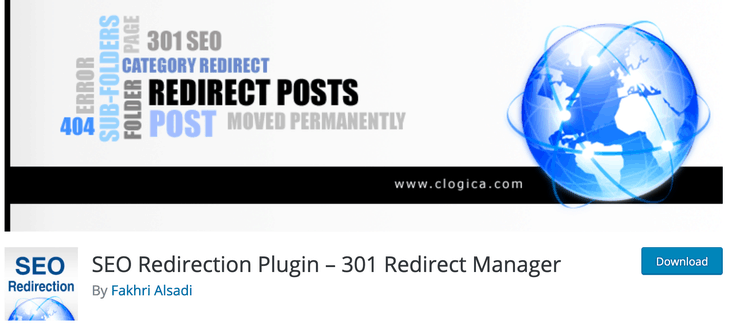 SEO Redirection is a simple and easy tool to manage 301 redirects on your website. This plugin allows you to set up 301, 302, and 307 redirects on your website from a simple redirects manager dashboard.
You can use 301 redirects when you move your website to a new domain or change the url of certain existing pages on your websites. The 301 redirect lets your visitors know that the url of the page has changed and leads them to the new link.
This plugin also allows you to fix Google crawling errors, or add an automatic 301 redirection when a post's url changes. By maintaining fully functioning links, this helps your website to maintain your SEO ranking.
SEO Redirection also keeps track of total hits in the redirects list, as well as the last access time of your redirects.
Key Takeaways
Import/Export redirect lists
Automatically add 301 redirects when detecting URL change
Maintain log of redirected URL and tracking how many times redirection was used
Multiple redirection methods including login status-based, redirection to random pages, referrer-based, etc.
Works fully inside WordPress without Apache .htaccess
Download Link
4. Simple Website Redirect

Unlike other redirect plugins, the Simple Redirect Plugin lets you redirect an entire website to another website. It is easy to install a plugin that supports temporary as well as permanent redirects.
With the Simple Redirect plugin, you do not need to worry about SEO performance as the plugin is fully optimized for SEO. The plugin preserves URL path and query string and is extremely easy to use. Once you install the plugin, go to "Settings," click on "Website Redirect," Enable the new URL, and you're good to go.
The plugin is updated to work with the latest versions of PHP and WordPress. There are over 9000+ installations of the Simple Website Redirect plugin. This shows that the plugin is well-reputed for its services among users.
The plugin comes with a clean and easy-to-use interface. Similarly, the plugin of frequently updated, which makes it one of the best WordPress redirect plugins.
Key Takeaways
Redirects entire website
Preserves URL path and query string
Extremely easy to use
Supports temporary and permanent redirection
SEO optimized
Supports PHP version 5.4 and above
9000+ active installations
Supports WordPress 4.0 and higher
Frequently updates
Download Link
5. Broken Link Checker

Just as the name says, the broken link checker checks all the broken links on your website, either internal or external. You can fix broken links using the plugin and enhance the user experience. While you're at it, you can also improve your SEO rankings.
Broken Link Checker plugin monitors any broken links, images, or redirects on any posts, pages, comments, etc., and lets you fix it. Whenever the plugin finds the error, it notifies the admin with an email or dashboard notification.
You can search and filter links by URL, anchor text, and so on. Once the plugin has detected broken links, you get an option to "Edit URL," "Unlink," "Not Broken," and "Dismiss." Likewise, you can also adjust the options that direct search engines not to follow broken links.
Altogether, the plugin is highly configurable and also supports custom filters. The plugin is extremely easy to use, which is also why it has 70,000+ installations. Moreover, the plugin is frequently updated with the latest features, which makes it a desirable plugin.
Key Takeaways
Monitors internal and external links
Detects broken links, images, and redirects
Email or Dashboard notification
Different display for broken links in posts
Directs search engine not to follow broken links
Search and filter links by URL, anchor text, and so on
Directly edit links from the plugin's page
Highly configurable
Supports custom filter
700000+ installations
Download Link
6. 404 Solution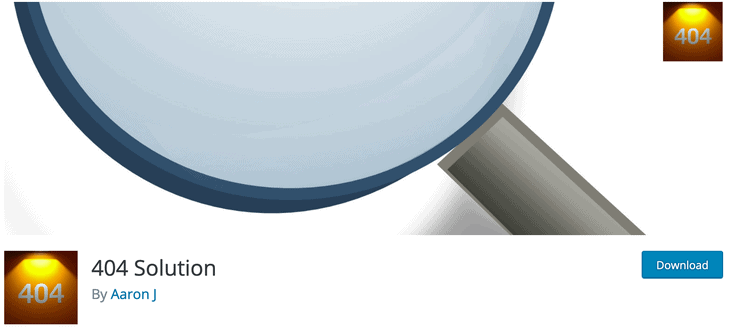 404 Solution is a plugin that redirects 404 errors to an existing page and also helps you keep logs of the errors. The advanced redirect feature helps you find the best possible match for the URL that the user is trying to reach.
With the 404 solution plugin, you can redirect any 404 error to a working URL of your choice. This plugin is compatible with Woocommerce. This plugin ensures that none of your products go missing on your website as it automatically redirects the users to the closest possible match.
Unlike other plugins, this plugin offers basic plugin usage statistics. These statistics are helpful to find out pages with errors and fix them without having to go through each of them individually. One of the best things about the 404 Solution plugin is that it automatically removes the redirects when the URL matches a new page or post.
Moreover, the plugin supports regular expressions, which makes it a highly flexible plugin. Overall, the plugin ensures a better and smooth browsing experience.
Key Takeaways
Highly configurable
Automatically create redirects
Get a list of 404s as they happen
Logs of 404 pages and redirects
Woocommerce compatible
Supports shortcodes for displaying page suggestions on a custom 404 page
Basic plugin usage statistics
Auto removal of redirects when URL matches new page or post
Auto removal of manual and automatic redirects once it's of no use
Supports regular expressions
Includes query data
A better and smooth browsing experience
Download Link
7. 301 Redirects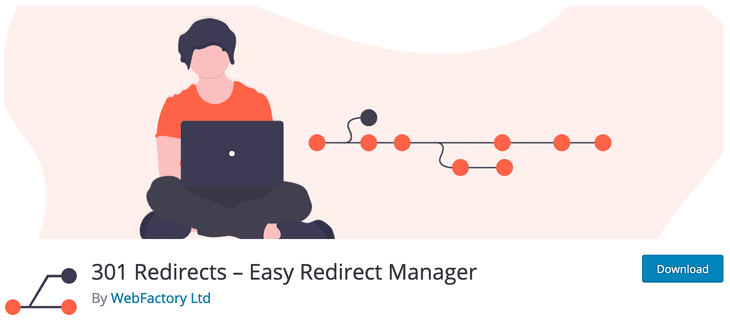 301 Redirects is the ideal plugin for those looking for 301, 302, and 307 redirects for your WordPress site. It helps you create and manage a redirect page that offers a better user experience and helps improve your website's SEO ranking.
301 Redirect is a plugin with a clean and intuitive interface that is easy to use. If you do not want your visitors to come across a 404 error while browsing through your website, you should use the 301 redirect plugin. Not just your users, this plugin also lets search engines know that the requested URL has now permanently moved to a new URL address.
This plugin helps you maintain a 404 error log for future reference. You can also add a 404 error log widget to your theme. The plugin comes with import/export features making it perfect for bulk redirect management.
You can also track the amount of redirection using the simple redirect stats available with the plugin. Lastly, the plugin is fully compatible with translation plugins like Weglot, TranslatePress, and more.
Key Takeaways
Custom destination URL
Redirect pages, posts, custom posts types, Archives, and Term Archives from the drop-down menu
Retain query settings across redirects
Superfast redirection
404 error log
404 error log widget
Import/Export feature
Bulk redirects management
Simple redirect stats
Fully compatible with translation plugins like Weglot, TranslatePress, GTranslate, Loco
Translate
Download Link
8. Quick Page/Post Redirect Plugin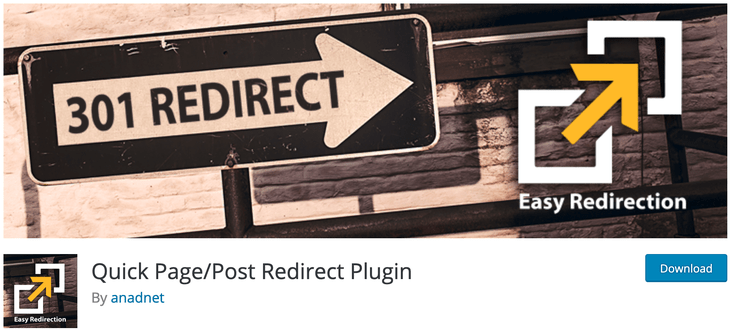 Quick Page/Post Redirect Plugin lets you add redirects quickly and easily. There are two options for redirects, including "Quick Redirects" and "Individual Redirects." You can redirect links from an old website to a new WordPress site and old URLs to new URLs within a website.
Redirecting is easy with the Quick Page/Post Redirect plugin as you do not even need an existing page or post setup. All you need to set is the Request URL and Destination URL, and you're good to go.
For posts/pages that already exist, the plugin offers an option meta box to define the redirect location and type. Such redirects are useful for menu items, duplicate posts, and more. You can specify options in the settings page to support any WordPress custom post types.
The plugin supports the import/export of redirects for backup and bulk redirects. You can also use the built-in FAQs for regular updates on relevant questions. The plugin works perfectly with the latest version of PHP 5.2+ and WordPress 4.0 and above.
Key Takeaways
Works with WordPress Nav Menus
Supports WordPress Custom Posts Types
Redirected page in a new window
Redirect without creating page or posts using Quick Redirects
Options screen to set global overrides
View a summary of all redirected pages/posts, custom post types, and Quick Redirects currently set up.
Plugin clean up function available
Add bulk quick redirects
Import/Export of redirects
Built-in FAQs
Optional column for list pages to easily show if a page/post has a redirect set up and where it will redirect to.
Helper functions for adding or removing redirects programmatically.
Download Link
9. Easy HTTPS Redirection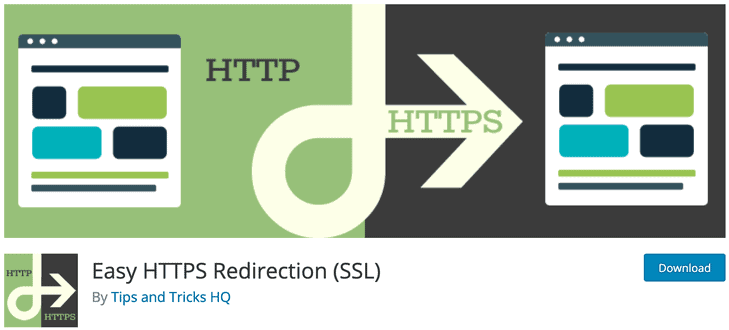 If you've installed an SSL certificate on your site, you should opt for the Easy HTTPS redirection plugin. You will also need HTTPS to work correctly on your website to be able to use this plugin. One of the best things about this plugin is that it guides your user to use the HTTPS version by automatically redirecting them to the HTTPS version.
Users can either choose to redirect an entire domain to HTTPS or just a few pages. You can force to load static files using an HTTPS URL. This eases the load on your website and also reduces the chances of getting an SSL error.
The Easy HTTPS Redirection plugin not only redirects users to the HTTPS version it also forces search engines to index the HTTPS version. The plugin is compatible with WordPress 3.5 version and above.
Likewise, you can also translate this plugin into other languages. There's a detailed guide available on how to use the plugin in any local language.
Key Takeaways
Forces visitors to follow HTTPS versions of the page
Force load static files using HTTPS
Auto redirect the whole domain
100,000+ installations
Supports WordPress version 3.5 and higher
Download Link
10. RankMath SEO

RankMath SEO is among the top SEO plugins for WordPress. It offers a platform where users can easily create, manage, enable, or disable redirects at any scale. However, the plugin is much more than a simple redirect plugin.
Firstly, the plugin is extremely easy to use with an easy-to-follow setup wizard. The plugin configures itself and lets you do things related to SEO that might otherwise require a lot of time and effort.
The plugin features a built-in Smart Redirection manager that takes care of all your needs for redirection. There is also a 404 monitor feature that allows you to monitor, find, resolve 404 errors. One of the unique things about the plugin is that it is multisite-ready.
RankMath SEO is easily integrable with other plugins like Google Analytics too. Moreover, the plugin is super fast and is lightweight too.
Key Takeaways
Easy to follow the setup wizard
Clean and simple UI
Advanced SEO analytics module included
Google Analytics integration
Rank Tracker
Optimize unlimited keywords
Google keyword ranking
Module-based system
Smart redirection manager
Multisite ready
Download Link
Frequently Asked Questions
Which is the best redirect plugin for your WordPress site?
Firstly, we suggest you use the Redirection plugin. It is one of the best plugins as it comes with all the advanced features. Further, it provides you the flexibility to redirect your users through regular expressions and conditional redirects. Besides, you can also track all 404 errors within your site.  It also supports import/export for bulk redirection. 
Our second choice is 301 redirection. 301 Redirect plugin is the best choice for those looking for 301, 302, and 307 redirects for your WordPress site. It  also helps you maintain a 404 error log for future reference.
Finally, if you're using RankMath SEO, you can easily create, manage, enable, or disable redirects at any scale.It is a lot more than just a simple redirect plugin.
Is it necessary to use a redirect plugin?
For a large website, it is challenging to keep track of all your webpages, broken links, redirecting users, and fixing them. So, it is important to use a redirect plugin to perform all the tasks above efficiently while also saving your time. 
Redirect plugin further helps to reduce bounce rate. Suppose your site contains broken links, unavailable page or server 404 errors. In that case, it is not user-friendly, which leads to an increased bounce rate. Thus, redirect plugins are essential in retaining your website visitors.
Are there any free WordPress redirect plugins?
Yes, of course. Many WordPress redirect plugins are free. If you are not ready to commit to a premium redirect plugin, free WordPress redirect plugins are the best options.
Conclusion
Here are the best WordPress redirect plugins for your website. All these plugins stand out from their competitors in one way or the other. These redirect plugins help you maintain a good relationship with your site visitors. Besides, they also ensure your website does well among search engines.
Besides that, if you want to learn more to enhance your blog's performance, be sure to read up 7 Effective Ways to Increase Website Traffic For Free and Best WordPress Plugins for Blogs .
Hopefully, you have gone through the article and found the right plugin for your website. Do let us know about your experience of using these plugins through the comment section below.