Do you want to optimize your website's database without using any code?
Are you aiming to keep your site information safe from various threats? In that case, you need to install a reliable WordPress database plugin.
A perfect database plugin will take care of your entire website content. You don't need to adjust the settings manually every time to create regular backups.
This blog presents you with a list of the top 11 best WordPress database plugins in 2023. With these tools, you can optimize your website's database to keep your content safe, enhance load speed, and more. 
Before we dive into the top 11 list, let's start with the importance of database plugins. 
Why Do You Need a Database Plugin for Your WordPress Site?
You need to understand the concept of website databases to know why database plugins are essential.
First of all, a database refers to systematically keeping records of every piece of information on your site.
Let us consider your website visitor fills up a form providing their details, like name, address, contact number, etc. You need to store that information to keep track of all your prospects/potential customers.
When you organize the visitors' data on the computer, you are managing your website's database.
WordPress uses PHP (Hypertext Preprocessor) to keep track of your site's information. This programming language also makes retrieving your data more manageable. You can access your database from wp-config.php, which is a configuration file.
WordPress not only saves your audiences' details but your website files as well. Examples include your posts, pages, categories, tags, comments, settings, and several others.
Now, coming back to the point, you need a database plugin to manage all these processes. It's much easier to allow an extension to handle all the technicalities of storing and retrieving your website information.
Besides, with a database plugin, you can make your website load faster. It removes the corrupted information that could damage your site. You can also throw away the unwanted files, which frees up a lot of storage space.
Another benefit is that you don't need to worry about losing your database information. These plugins keep backup of your crucial files in case your website faces any external threat.
Database plugins are an excellent option for keeping a backup of your site data. You don't need to install other extensions for this purpose. This feature also helps in migrating your website to another CMS or hosting provider.
List of 11 Best WordPress Database Plugins
Now that you know the importance of database add-ons, it's time to move to the main content. Here is the list of 11 database plugins that works best for your WordPress site in 2023.
Everest Backup
Everest Backup WordPress Plugin is a top contender among the best WordPress database plugins. This plugin provides a comprehensive solution for backing up and restoring the database of any WordPress website. 
What sets it apart is the added advantage of various cloud storage options for securely storing your valuable database remotely.
The plugin's free version offers an array of impressive features. With Everest Backup, you can effortlessly back up your WordPress database and ensure its safety. Should the need arise, you can restore your database with just a single click, simplifying the entire process.
By default, Everest Backup recommends using Google Drive for optimal database storage. This reliable option ensures your data is safeguarded. Additionally, this plugin boasts an intuitive interface and user-friendly functionalities, making it accessible to users of all skill levels.
In conclusion, Everest Backup WordPress Plugin is a remarkable solution for WordPress database management. With its extensive features, including database backup, restore options, and multiple cloud storage choices, it stands out as an excellent choice for safeguarding your valuable data.
Key Takeaways
Over 4000 active installations
Store your database remotely in Google Drive for added security
Easy to use with one-click integration
Remove thumbnail images effortlessly with available options
Enjoy automatic and scheduled backup options
Restore your database with just one click
WordPress Link
Website Link
UpdraftPlus
UpdraftPlus is a highly-renowned WordPress plugin that helps you backup your website content. It stores your core site files, databases, themes, plugins, etc. Also, this plugin lets you restore your backup directly from WordPress's control panel.
You can use UpdraftPlus to encrypt your sensitive database information, such as customers' login credentials, list of users, etc. This plugin has an industry-standard AES encryptor to make database management more effortless.
UpdraftPlus includes several other tools to expand the list of features. For instance, UpdraftVault provides an embedded storage option for a zero-hassle download. The UpdraftMigrator tool helps in cloning and migrating your site quickly.
Additionally, UpdraftPlus has an easy-to-use interface that lets you backup and restores your files with a single click. NBA, Princeton University, NASA, P&G, Microsoft, and several other global brands use this database management plugin.
Key Takeaways
More than three million active installations
Expert help and support from WordPress developers
Supports cloning and migration features
Sophisticated reporting and emailing capabilities
Remote cloud storage at Dropbox, Google Drive, etc.
Backup multiple websites using state-of-the-art technologies
WordPress Link
Website Link
WP-Optimize
WP-Optimize is a revolutionary plugin that helps you clean the databases of your WordPress site. It also has other crucial features, like compressing large images, caching website files, optimizing load speed, etc.
Using the WP-Optimize plugin, you can minify and asynchronous both CSS and JavaScript files. This action enhances your website performance. It also removes the automatically saved data, like tables and posts revisions, to clear out database space.
Besides, WP-Optimize supports sophisticated scheduling of clean-ups regularly. You can set the clean-up routine as either weekly, monthly, and yearly. This plugin also provides the image lazy loading feature that loads web pages faster.
WP-Optimize helps you boost your website's SEO (Search Engine Optimization) performance. Its speed-related features help in reducing the bounce rate of your site. This plugin is compatible with multilingual and multi-currency.
Key Takeaways
More than a million active installations
Retains a set number of data during clean-ups
Removes old and useless drafts to free up database
Automatically compresses uploaded images
Includes advanced website caching rules
Deletes unwanted/orphaned images
WordPress Link
Website Link
BackWPup
BackWPup is a perfect WordPress plugin to keep your website safe from sudden crashes. It creates a complete backup of all your site data, databases, updated files, and other information.
You can choose among several platforms to store your backup files. BackWPup supports Google Drive, HiDrive, SugarSync, Microsoft Azure, S3 Services, FTP Server, RackSpaceCloud, and other networks for this purpose.
BackWPup is an official partner of WordPress VIP, an enterprise content management platform. It is also a verified WooCommerce expert. With this feature, you can backup all the elements of your online store, like product details, customers' credentials, etc.
Besides, this plugin lets you export your download file in various formats, like zip, tar, tar.gz, etc. BackWPup also supports the MultilingualPress (MLP) plugin. This add-on helps you create websites with multiple language options.
Key Takeaways
More than 600,000 active installations
Optimizes, checks, and repairs database
Encrypts the backup archives on your site
Provides personal premium support
Includes a standalone application for an emergency restore
Send logs and backups information via email
WordPress Link
Website Link
WP Cleaner Pro
WP Cleaner Pro helps you optimize your website's database and other files. It enables you to clean up unwanted content from your WordPress site, like pingbacks, drafts, orphan post meta, etc.
It provides an instance cleaning feature to save up your time. With this plugin, you can schedule the cleaning process of the WordPress database. It also lets you create backups of your database to prevent the deletion of crucial data.
There are a total of 26 types of data that WP Cleaner Pro can clean from your site. You can view the details of the items before removing them. This plugin also lets you filter and choose the files before cleaning.
WP Cleaner Pro provides a mobile-friendly admin dashboard. This feature helps you optimize your website from unnecessary items directly via your smartphone, tablet, or other hand-held devices.
Key Takeaways
Around 100 total sales
Uses PHP CodeSniffer to check codes
Removes subscribers with invalid email, expired transients, etc.
Gets Automatic updates from Envato Market
Includes english .po and .mo files for translation
Optimizes your website's load speed
Website Link
WP-DBManager
WP-DBManager helps you manage every aspect of your WordPress database. This easy-to-use plugin allows you to schedule automatic backups. Also, you can optimize, repair, and restore your database.
The WP-DBManager saves your database backup file in the wp-content folder. It uses the MySQLDump application to generate backups for your WordPress site. After that, it relies on the MySQL app to restore the files via shell.
Key Takeaways
More than 100,000 active installations
Empties tables and runs selected queries
Works perfectly with the WP-DB-Backup plugin
WordPress Link
Optimize Database after Deleting Revisions
The "Optimize Database after Deleting Revisions" plugin allows you to clean and optimize your WordPress database with a single click. It deletes several unwanted files from your website, such as pages, posts, and comments present in the trash folder.
With this WordPress plugin, it's easier to remove the orphaned post meta items from your website. You can also get rid of spammed comments, unused tags, pingbacks, trackbacks, etc.
The Optimize Database after Deleting Revisions plugin enhances your database table. It lets you exclude specific tables, posts, pages, etc., from optimization. Besides, you can create a log of customizations as well.
Moreover, this database optimization plugin is ready for translation. You can use it for your website for around 14 languages apart from English. Examples include Belarus, Danish, Dutch, French, German, Russian, etc.
Key Takeaways
More than 100,000 active installations
Quickly clears the OEMBED cache files
Automatic hourly, daily, and weekly optimization schedule
Supports multiple website optimization
Include the "Optimize DB" link in the admin bar
Removes "expired or all transients" data
WordPress Link
WP Databse Reset
WP Database Reset is a WordPress plugin for optimizing your database tables using its speedy approach. This easy-to-use database optimization extension is safe from any data loss.
It allows you to go back to the default database setting without modifying any files. You also don't need to re-install the plugin just to reset the database options.
We recommend you to use its sister plugin – WP Reset – to get its maximum benefits. Combining these two add-ons provides additional features, like individually resetting plugins, themes, media, etc.
The WP Database Reset plugin is open source, and several WordPress experts have contributed to its creation. It is also translation ready. You can easily add translation files for several languages.
Key Takeaways
More than 80,000 active installations
Takes database snapshots to restore sites easily
Resets WordPress database with a single click
Cleans all the unnecessary content from the database
Lets you specify a particular list of tables to reset
Provides support forum to resolve queries
WordPress Link
WP Database Backup
The WP Database Backup plugin helps you create backup files for your website database files. You can exclude saving some specific files, like tables, during the process.
With this add-on, you get to schedule automatic backups regularly. If your website crashes due to some reason, it helps you restore your database files quickly with a single click.
Besides, WP Database Backup stores the backup files on multiple destinations. You can choose either Dropbox, Google Drive, Amazon, FTP, and several other networks to keep your content.
This plugin helps you to clone and move your website to another platform. It also has an advanced reporting feature that sends emailed backups and reports to your email addresses.
WP Database Backup has three backup types: Only Database, Only Files, and Complete Database.
Key Takeaways
More than 70,000 active installations
Its simple configuration requires less than a minute
Removes older backup files automatically
Backs up zip level with the website name
Uses zip and MySQLDump tools for faster backups
Backups databases from multiple websites
WordPress Link
Advanced Database Cleaner
Advanced Database Cleaner is a perfect WordPress plugin to clean up the leftover files after deleting themes, extensions, etc. You can use this tool to remove several other website items, like old revisions of posts/pages, orphan post metadata, etc.
With this plugin, you can optimize and clean your database files. Examples include table information, like the number of rows, table size, and more. Advanced Database Cleaner also repairs the corrupted/damaged tables present on your site.
The Advanced Database Cleaner plugin also provides an overview of the database status. It provides reports about the number of unused and orphaned items, like old auto drafts, pingbacks, etc.
Besides, you can specify which items to clean, optimize, and repair. This extension lets you select a frequency to execute a scheduled task, like once an hour, twice a day, thrice a week, monthly, etc.
Key Takeaways
More than 60,000 active installations
Search/filter items based on names and values
Displays option information, like option name, value, size, etc.
Setting options autoloading to either No or Yes
Compatible with multiple website installations
Provides quick, premium support
WordPress Link
Website Link
VaultPress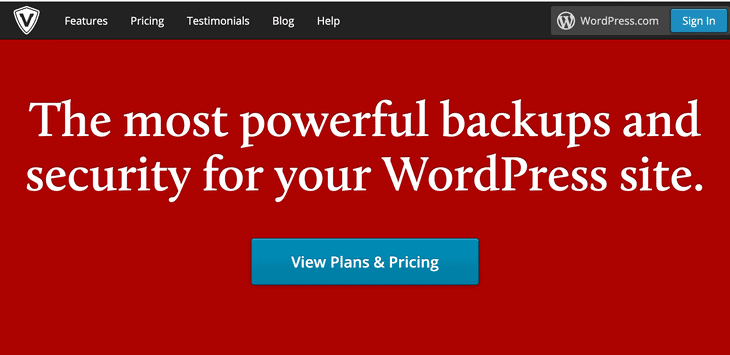 VaultPress is a safety-related plugin that protects your WordPress site from common to severe threats. Examples include hackers, host failures, viruses, and more. It creates backups for your entire website content, like databases, themes, uploads, etc. 
This real-time backup add-on is part of the Jetpack plugin. With VaultPress, you can easily migrate/switch your hosting provider. It lets you browse your entire backup history and downloads your site files instantly. 
VaultPress is a partner with the Akismet plugin, which is the industry leader for protecting websites from spam. You can prevent your SEO performance from declining using this anti-spam extension. 
Moreover, VaultPress has a dedicated WordPress expert team to help you with backup, restoration, and fixing your website. You can contact them for any safety-related issues regarding your WordPress site.
Key Takeaways
More than 60,000 active installations
Stores every post, comment, media file, revision, etc.
Restores your website to its former glory in case of threats
Provides real-time information about backups and scans
Protection from user errors, exploits, malware, and other threats
Supports multiple website installations
WordPress Link
Website Link
Which Database Plugin Should You Pick For Your WordPress Site?
Did you select a WordPress database plugin from this list? If not, we can help you make a decision quicker. The best item for optimizing your website databases is the UpdraftPlus add-on.
This plugin is 100% trustworthy and will protect your website from all types of threats, like hacking, server crash, user error, etc. UpdraftPlus keeps your website information, including sensitive database files, safe and ready-to-use, anytime you want.
Another highly-effective plugin for optimizing WordPress databases is WP-Optimize. Not only does it take care of your database files, but it also compresses your images and caches your web pages. 
These two extensions are our best recommendations. You can check their free version and purchase the premium package if you like.
However, we suggest you check the detailed functionalities for all the plugins. Please list out the requirements that you want from your database plugin and then make your final decision.
Frequently Asked Questions (FAQ) About WordPress Database Plugins
Q. What Should I Look For in a WordPress Database Plugin?
A. The essential features in a database plugin are automatic deletion of unwanted content, creating a backup for databases, etc. The secondary features include clearing cache files, multilingual support, image optimization, etc.
Q. Does Every Database Plugin in This List Create Backup For My WordPress Site?
A. No. The majority of these plugins create a backup for your website, either automatically or manually. However, some items, like the Optimize Database after Deleting Revisions plugin, do not store your files.
Q. How Does Cleaning Up Databases Enhance My Website's Speed?
A. When you clean your unwanted database files, it saves up your storage space. This action helps create a lightweight website that consumes lesser server space and enhances the load speed.
Q. Do All These Database Plugins Provide Both Free and Premium Versions?
A. No. There are several plugins from our list, which provide both free and premium pricing packages. But, not all of them offer the same feature. For instance, WP Cleaner Pro does not offer a free alternative for its product.
Q. Why Do I Need to Backup My Website's Databases?
A. When you backup your databases and other website content, you can quickly retrieve them if it faces a severe threat. Examples include hacking, malware, accidental human errors, etc.
Wrapping Up!
We believe that this blog helped you choose the perfect database plugin for your WordPress site. Do you think there are more items which we should include here? If yes, it would be great if you mention them in the comment section below.
Please share this blog with your fellow website owners. It might help them to install the best extension on their website. Moreover, we suggest you check out the list of 47 best WordPress plugins to power your website.