You have probably come across quizzes while you're browsing through the internet.
Users tend only to like exciting quizzes. This can increase the time spent by users on your site resulting in better search engine rankings.
As a website owner, embedding quizzes on your posts can have significant benefits. They increase your website's traffic, provide user's information, and help you plan your business with data-driven decisions.
Quiz plugins for WordPress help you create quizzes instantly and use them on your WordPress site. With these plugins, you need to add your questions, and the plugin does the rest. So, unlike creating quizzes manually, using plugins can save you time while giving you better results.
To know more about quiz plugins and understand why you should use the quiz plugin for WordPress, you'll need to go through the section below. Followed by that is the list of 10 best quiz plugins for WordPress.
Why Should You Use Quiz Plugins for WordPress?
Quizzes demand user attention and increase user engagement. When you attach a quiz to any post, the user's engagement time on that particular post increases as users need extra time to answer the quiz.
The higher the time spent on a post, the higher is its SEO ranking. Besides, information from the quiz itself can be helpful in marketing campaigns and future strategies.
Email marketing is a reliable marketing approach for increasing user engagement. In addition, social sharing options in modern-day quizzes allow users from various backgrounds to know about your website.
Moreover, quizzes are best known for better conversion rates. Surveys and quizzes help you understand your users better. Quizzes can help you connect to your audience personally and help you understand what they want.
Now let's find out the 10 best quiz plugins for WordPress.
List of Best WordPress Quiz Plugins
1. WP Poll
WP Poll lets you add a customizable polling system with many options to control your WordPress website's poll. In addition, it allows you to collect information from users using multiple approaches.
There are 10+ theme variations and 5+ timer styles available with the WP Poll plugin. Additionally, there are more than 7 input-type animations available. This helps to enhance your user's engagement by making it more interactive.
With WP Poll, you'll find plenty of shortcodes that can help you display the results of a poll anywhere easily. In addition, there are specific add ons available for the plugin like the WP Poll survey and WP Poll Quiz, which can create unlimited surveys and polls.
This plugin is available in the premium version too. Added functionalities with better integration make the premium version of this plugin one of its kind. This plugin is frequently updated and has over 4000+ installations.
Features
Single and Multiple votes
Unlimited polls supported
10+ theme variations
5+ timer styles
7+ Input type animation styles
Graphical reporting
Option for new users to create a new option
Ready widgets
Supports shortcode
Multiple add-ons available
Download Link
2. HD Quiz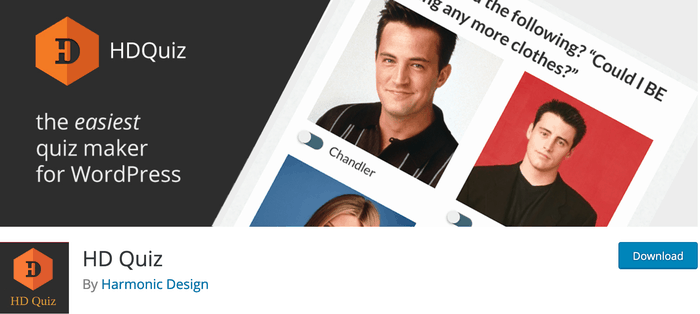 HD Quiz is a simple yet powerful plugin. It lets you create an outstanding quiz as a simple test with multiple-choice questions. This plugin is fully responsive and looks great on any WordPress theme.
HD Quiz is a user-friendly plugin that lets you build unlimited quizzes and easily embed them on your WordPress posts or pages. You can create professional questionnaires or opt for BuzzFeed-style quizzes.
Other elements like image-featured questions and the ability to answer through images increase the user engagement time. There's also a quiz timer that allows you to set a specific time frame for completing the quiz. That way, your users can also challenge themselves to complete the quiz in time.
The social media integration feature available with the plugin helps you share quizzes across multiple social platforms like Facebook and Twitter. Besides, the plugin supports basic translation features, so you can start creating quizzes right away.
Features
Unlimited amount of quizzes
Individual options for each quiz
Mobile friendly
Touch-friendly
Supports animated gifs
Works across Facebook and Twitter
Quiz timer support
Multiple Question types
Pagination
Sample questions
Basic translation feature
Download Link
3. WP Viral Quiz
The WP Viral Quiz is a premium quiz maker plugin packed with features. It supports two types of quizzes: Personality and Trivia. You can create trendy and highly functional quizzes using the WP Viral Quiz.
It does not matter what operating system you're running on, whichever device, the WP Viral Quiz is a fully responsive plugin that works great on all devices. You can create quizzes similar to BuzzFeed using the WP Viral Quiz.
This plugin works great with almost all the themes in WordPress. If you've never created a quiz before, you can import a ready-made quiz. You can use it in your quiz or use it as a reference. Besides, you can enjoy the comprehensive analytics offered by the plugin and plan for the future accordingly.
WP Viral Quiz is perfect for monetization too. It offers a platform to place Ads around each quiz, which can, in turn, help you make more money. Other features like social media integration for increasing subscriber count and social share are also useful features available with the plugin.
Features
Works with all WordPress themes
Personality and trivia quiz
Fully responsive
Import/export other quizzes
Multi-page quizzes
Great marketing features
Easy to integrate quizzes anywhere
Better monetization
Advanced analytics
Highly customizable
Supports multiple languages
Automatic updates
Download Link
4. Quiz Cat
Quiz Cat is another popular plugin that lets you create interesting quizzes for your WordPress site. It comes with an easy-to-use interface and supports two quiz types: Personality style quizzes and multiple-choice quizzes.
With Quiz Cat, you can add images to every question and answer and make your quizzes more interesting and engaging. This simple yet intuitive interface is easy to use and offers you quizzes with the BuzzFeed look and feel.
The Quiz Cat plugin is specially designed with powerful marketing abilities. You can use the social media integration feature to increase traffic to your website. Furthermore, you can grow your email lists using quizzes and market your content through emails.
This plugin is compatible with the Gutenberg editor. This allows you to easily add your quiz to a post with a modern WordPress post editor. Moreover, the plugin offers effortless integration with other popular plugins.
Features
Creates quizzes instantly
Powerful and fast
Multi-purpose quiz type
Unlimited quizzes
Make your blog posts stand out
Gutenberg compatible
Convenient shortcode publishing
Works on all devices
Fully translatable
Extensive support
Easy integration with email marketing tools
Social sharing button
Facebook Pixel integration
Download Link
5. Quiz and survey master
There are very few plugins that offer versatility, like the Quiz and survey master plugin. This plugin enables you to create engaging quiz types, including viral quizzes, trivia quizzes, customer satisfaction surveys, and employee surveys.
Quiz and survey master plugin supports multiple questions and answer types like multiple-choice, true and false, drop down, and other cool options. You can design quizzes as you like using the Quiz and survey master plugin's rich design features. This plugin features a simple builder with options like radio buttons, comments, and checkboxes.
With the Quiz and Survey Master plugin, you can add a countdown timer to your quizzes to make them more challenging and fun. You can even specify a grading system for your quizzes. Other features like a comment box feature and open answer feature offer users a unique option to comment on each question and a powerful survey option.
The plugin includes social media integration features, making it possible to share quiz results across social platforms. It also supports other email plugins like Mailchimp, Zapier, and Campaign Monitor Integration. You can choose between the premium version or the free version based on your needs.
Features
Easy to create a quiz of any type
Fully customizable
Multiple question types supported
Customize results based on the score
Emails after quiz
Highly flexible
Countdown timer
Easy integration with email plugins
Text, image, and video-based answers
Social media integration
Option to randomize questions
Download Link
6. Advisor Quiz
Advisor Quiz is a premium grade plugin for creating quizzes. Quizzes created using this plugin are engaging. They can help you generate leads and, in turn, provide content suggestions.
Firstly, the Advisor plugin lets you create 4 types of quizzes: Content Filter, Trivia, Personality, Count using 3 different layouts: Presentation, Image Grid, and Minimal. Whatever layout and quiz type you choose, all of them are fully responsive and customizable.
Features like social sharing and email capture can be great for marketing. You can either enable the social sharing option or ask the users before revealing the quiz results. This way, you can connect to a larger group audience through social media or email marketing.
Unlike other plugins, the Advisor plugin features powerful analytics that can track and provide lots of user data, which you can use to strategize. Then, simply embed the quiz anywhere you like using shortcodes, and the plugin will do the rest for you. The plugin supports multiple languages too.
Features
4 quiz types: Content Filter, Trivia, Personality, Count
3 different layouts: Presentation, Image Grid, Minimal
Fully responsive and customizable layouts
Social sharing and image capture
Powerful analytics
Easy embedding using shortcodes
Ads integration
Multi-lingual
Supports popular plugins like Woocommerce, Easy Digital Downloads
Content filter features
Excellent marketing tool
Download Link
7. ARI Stream Quiz
ARI Stream Quiz is a WordPress Quizzes Builder plugin that creates viral quizzes and increases traffic flow. It incorporates images in both questions and answers of the quiz making the quiz more interesting and engaging.
You can create unlimited quizzes with this easy-to-use plugin that does not require any coding skills. The plugin allows you to display one question in each page, increasing the page views and also increase ad revenue as there is more space to display the ads. It also displays a different question on reloading the page.
It supports the selection of multiple answers for personality and trivia quizzes. The plugin lets you show custom content at the end of each quiz based on the number of correctly answered questions.
The plugin is fully responsive, working perfectly fine in any screen size and device type. Both the frontend and backend of this plugin can be translated into non-English languages like French, Polish, Russian and Turkish.
ARI Stream Quiz is integrated with social media letting the users share their results on their social media platforms. The plugin collects and shows statistics and diagrams to visualize the data. You can choose to display the correct answer immediately after or on finishing the quiz.
Features
Capable of creating Unlimited Quizzes
Seamless Integration with Zapier, MailChimp, MailerLite, etc. for maximum lead generation
Optimized for increasing Page Views and Ad Revenues
Use of Shortcodes in descriptions, questions and results
Fully Responsive Design
Translation Ready
Loads quizzes via AJAX
Shows Custom Content at the end of the quiz
Displays questions in random order
Shuffles answers each time
Shows the "Play Again" button
Download Link
8. OnionBuzz
Another brilliant plugin on this list is the OnionBuzz WordPress quiz plugin. You can use this plugin to create well-designed BuzzFeed-style quizzes. The plugin supports five quizzes: Personality Test, Trivia, List posts, Flip card-based quizzes, and checklists.
Onion Buzz features a super-intuitive, professional and user-friendly UI that is set to leave a remarkable impression on your visitors. It is a full-responsive plugin with a front-end similar to BuzzFeed. You can create as many categories as you like using this plugin. One of the best things about the plugin is that it gives you plenty of options to make money by placing Ads in quizzes.
The Onion Buzz plugin offers options for email marketing, though only with the Mailchimp plugin. Likewise, the plugin also offers social sharing options that allow your users to share quizzes across multiple platforms. This helps you get new visitors coming through social media platforms.
This plugin comes translation-ready, which means you can use the plugin anywhere in the world.
All in all, the plugin offers detailed quiz statistics and is one of a kind.
Features
Multiple posts/quiz types
Unlimited categories
Attractive leaderboard
Social sharing options
Detailed quiz statistics
Multiple integration options
Supports WordPress widgets
Attractive and thoughtful design
Translation ready
Works with shortcodes
Promotes advertising
Mailchimp support
Download Link
9. Interact Quiz Maker
Interact Quiz Maker is a beginner-friendly quiz plugin with modern and attractive designs. One of the unique things about the plugin is that you can make quizzes through the Interact website. You can then embed these quizzes on your website using the plugin.
The Interact Quiz Maker is a customizable plugin that supports a variety of colors and designs. If you're confused about where to start, you can choose designs from the massive library of 800+ ready-to-use quiz templates. The plugin supports 3 different quiz types for personality tests, general tests, and score-based results.
The visual quiz builder that comes with the plugin lets you add images to your questions to make it more interactive. Users also get the option to answer with text or image-based answers. The possibilities are endless with the Interact Quiz Maker, as it lets you create unlimited quizzes.
Integration features like email marketing integration, Facebook advertising integration are also available in this plugin. With the premium version, you can gather analytics to better plan your marketing strategies.
Features
Beginner-friendly quiz makers
Modern and beautiful designs
Unlimited quizzes
Easy-to-use and straightforward drag and drop builder
800+ pre-made quiz templates
Embed quiz easily anywhere
Quiz branching feature
Integrate Facebook Integration
Text and image-based questions
Premium version with added features
Download Link
10. Thrive Quiz Builder
Lastly, we have the Thrive Quiz Builder that creates stunning quizzes for your website in no time. This plugin is power-packed with features and helps you build interactive quizzes for increased user engagement.
Thrive Quiz Builder supports questions of both texts as well as image format. Additionally, the plugin supports question branching where the next question is dependent on the user's previous answer. This plugin lets you create quizzes for specific purposes like increasing page views and boosting social shares.
Unlike other quiz plugins, the Thrive Quiz Builder plugin allows four options for quiz types based on numbers, percentages, categories, and personalities. The plugin supports features like email marketing integration, including the badge builder tool. You can increase your website's reach using these features.
The Thrive Quiz Builder plugin comes with a troubleshooter option that alerts you whenever something is wrong or stops working. Besides, the plugin offers powerful analytics in a comprehensive and easy-to-use dashboard.
Features
4 quiz types
Powerful analytics
4 Quiz templates
Badge editor
Easy quiz builder
Dynamic results
Supports data validation
3 question types
Setup wizard
Mobile friendly
Comprehensive dashboard
Download Link
Frequently Asked Questions
Which is the best quiz plugin for WordPress?
In this article, we recommend you the WP Poll plugin. This plugin is simple yet gets the job done, and that too in style. You can create polls and quizzes of any kind using the WP Poll plugin. With the perfect balance of features, design, layout, and availability, WP Poll beats all of its competitors by a fair margin.
How do I add a quiz to WordPress?
There are two ways that you can add a quiz to WordPress. You can either do it manually, which is a time and resource-consuming process. You can also use quiz plugins that are ideally designed to help you create quizzes and add them to your WordPress site.
How to choose the best quiz plugin?
Picking the suitable quiz plugin from the list above can be a challenging task. In the article, you'll find free as well as premium plugins. You can choose the one according to your budget. Besides, each plugin has its own set of features, so pick one that can fulfill your needs. Be clear on the purpose of use, and you'll find the best plugin for your site.
Conclusion
There you go. These are the 10 best quiz plugins for WordPress in 2022. These plugins are handpicked based on their functionality, ratings, reviews, and support. Each of the plugins listed above comes with a unique set of features for serving multiple purposes. You can choose the one that fits your need the best.  
If you are a blogger searching for quiz plugins, you might as well check out our list of 45+ Best WordPress Plugins for Blogs. This article contains all kinds of plugins required to build a fully functional blogging website.
Hopefully, you'll find the right plugin for your WordPress site in the list above. Do not forget to share your experience in the comment section below.