Looking for the best WordPress page builder for your website?
We've got your back.
In this article, we have prepared a list of 10 best WordPress Page Builder Plugins. These plugins are tested and compared based on their features and user reviews.
Go through the article, and you'll find the best page builder for yourself. But before you list out the names, here are a few things that you need to consider while looking for a WordPress Page Builder Plugin.
Things to Consider While Looking For WordPress Page Builder Plugins
Before picking a page builder plugin for your WordPress site, here are the few things you need to consider for an ideal page builder plugin.
Responsiveness
The responsiveness of a website defines how it is seen across different platforms. A responsive plugin can adjust according to the screen size and hence offers an uninterrupted browsing experience.
SEO friendly
Many people neglect the importance of having an SEO friendly page builder plugin. A Page Builder helps you structure your website. If it is SEO-friendly, it optimizes the structure is in a way that's best suited for search engines. You can also check if the page builder plugin is optimized for speed and performance too.
Ease of Use
Like in any other tool, one of the top priorities is to use it easily. The page builder plugins that help you structure your website should be easy to use. A simple, intuitive interface that's clean and easy to understand, along with simple drag and drop features, makes a perfect plage builder plugin. WYSIWYG (What You See is What You Get) builders that are getting popular these days allow you to see the changes as they happen.
Compatibility
Compatibility is a severe concern when it comes to choosing the right plugin. Since many different plugins, themes, and other third-party tools work together to form a website, they must be compatible with each other.
So, while choosing the plugin for your website, make sure it's compatible with most plugins, themes, and other third-party tools.
Support
There might be instances when your plugin is not configured correctly or faces some issues with the setup. In such cases, documentation and support can prove to be a lifeline.
Developers committed to addressing your problems and detailed documentation will keep you stress-free in the long run. Choose the plugin that offers both or atleast one.
1. Elementor
Elementor is by far the most popular page builder for WordPress to ever exist. It is the most comprehensive tool for page building. Recently, it has also evolved as a theme builder and a popup builder.
Thanks to its 5000000+ users and its unmatchable popularity, it has risen to fame in a short time. Glitch free interface, flexible styling options, and fast performance are what makes this plugin stand out from the rest.
Features of Elementor
Super elegant and outstanding design
Elementor incorporates powerful design elements that add exceptional features to your WordPress site. You can create 100% responsive and picture-perfect layouts using the drag and drop feature. Likewise, you can choose from thousands of font options along with a variety of color options to set the right mood for your site.
The customization option allows you to add scrolling effects, animations, and interactive elements. Unlike other plugins, Elementor allows custom positioning of elements with its ultimate freehand design experience. It also offers 26 different shape dividers that help to create appealing backgrounds.
Moreover, you can control your website's design elements from one place and apply them anywhere on your WordPress site. Some of the other advanced design features include Custom fonts, lightbox overlay, Inline elements, and Font Awesome.
Business-oriented
Elementor is focused on driving sales, increasing traffic, and leads to sales conversion. Firstly, it has an easy drag and drops feature allowing you to create landing pages that are flexible, powerful, and intuitive.
You can create engaging popups for promoting any products or services. Popups can also optimize your sales funnel, leading to higher conversions. With Elementor, you can build and design your visual form builder using just the frontend.
Furthermore, Elementor lets you easily integrate other marketing tools to achieve your marketing goals. Other advanced features include action links, lightbox overlay, star rating, and reviews.
Powerful and Extendable
One of the strong factors of Elementor is its powerful performance and extendable platform. It uses standard WP coding practices along with internal unit testing capabilities. The Elementor API also lets you create your widgets.
Elementor is a perfect platform for developers to expand their horizons further. It supports custom CSS, CLI integration, script optimization, RTL languages, and many more. Moreover, you can also use hooks to alter the default functionality.
Easy to use theme builder
The inbuilt theme builder allows you to control all major site elements, helps you manage the workflow, and create a structure for your website. The drag and drop editor makes it easy to control and access different parts of your WordPress site.
Theme builder works on any theme. It offers a wide range of dynamic widgets and supports dynamic content. It means once you build a template, you can use it anywhere and as much as you want. Other than that, pre-designed blocks, custom field integration are some additional features of Elementor.
Advanced and custom widgets
The Elementor provides you with the most comprehensive list of widgets for almost all your website needs. From basic widget elements to Pro elements to all kinds of theme elements and Woocommerce elements, you get it all with Elementor. Besides, the plugin itself supports 3rd party widgets and allows you even to create your own widgets.
2. Divi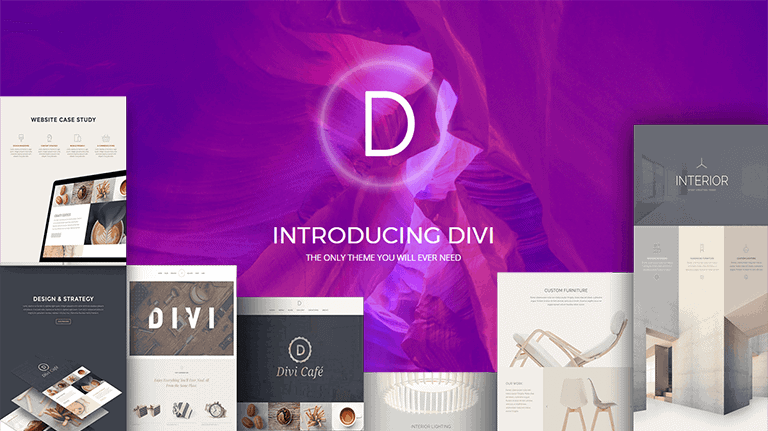 Divi is the ultimate WordPage page builder plugin that is getting popular with every passing day. Besides being a page builder, it is also growing as the best theme for WordPress in recent times.
Its revolutionary visual editor is highly superior to the standard WordPress post editor. You can create spectacular designs with ease. The efficiency of this page builder is incomparable.
Features of Divi
Build Visually
Divi sets a new standard in designing a website. It provides you a visual editing platform that's much more powerful than the standard WordPress post editor. It makes building a website easy and also ensures that the process is efficient in itself.
Divi offers a drag-and-drop option for ease of use that allows you to add, delete, and move elements easily. The visual editing feature lets you see the changes as you make them. The interface is simple, intuitive, and flexible, as it allows you to add custom CSS.
There are more than 40+ website elements ready for you to use on your website. Besides, there are also 800+ pre-made designs and 100+ full website packs that you can import and start using instantly.
Moreover, Divi builder is responsive by nature and is mobile-friendly too. Other than that, features like Inline text editing, saving and managing designs, global elements, style, and undo, redo, and revisions are also available.
Customization
Unlike other page builder plugins, Divi offers much more in-depth customization options. Firstly, there is the hover state styling that can make every little element interactive. Divi builder is responsive by default. However, it goes a step forward and gives you complete control over every design setting on all devices.
Any text on your website can be controlled and customized with Divi builder. It supports a wide range of web fonts. Shape dividers can further add value to your website by creating dynamic transitions between blocks of content. Using the Border editor, you can add borders to any element on your website.
One of the best things about Divi is that it allows you to transform elements in advanced ways. You can move them around, scale them up and down, rotate, and adjust as you wish. All thanks to its slick interface that makes the transformation easy to perform and understand.
Advanced options like code editing using the full-featured code editor is a delightful experience. Besides, there are features like filter and effects, drop shadow, text-shadow, animation, background images, color, gradient, etc.
Extra efficient
Divi is designed to make your work faster and easier. It has functions like multi-select and bulk editing that allow you to work on multiple elements simultaneously. Even while making changes, Divi enables you to make changes once and for all. The 'replace and find' function allows you to find and replace elements at a single go.
The Magic color feature keeps track of the last color you used. Moreover, it also creates and suggests a color palette using advanced color theory. It gives you a range of suggested colors that looks great on your website.
The copy and pasting of styles and designs is another excellent function that Divi offers. You can simply copy and paste previously used elements. Designing becomes a lot easier when the design is extendable.
Besides these, other features like Divi Quick action is an all in one finder and doer. Similarly, drag and drop features, searchable setting features, keyboard shortcuts, filterable settings, and search all increase efficiency.
Business booster
Divi is not only excellent in terms of the design and functionality of a website; it can boost your business in ways you cannot imagine. There are elements within the plugin that are designed specially to meet your business needs.
For example, Divi's email opt-in module makes it easy for businesses to build their email marketing list. Other than that, the plugin lets you build cool and appealing pricing tables, contact forms, and more.
Social media integration is another great feature that lets you expand your reach across many different social platforms.
3. Beaver Builder
Beaver Builder is a well-reputed name among WordPress page builders. Over time, it has built a reputation and is one of the most popular page builders in WordPress. It combines a complete design system, including a page builder and a framework theme.
Beaver Builder gives you total control over your website and makes your website faster than ever. The revolutionary theme framework can also help to ease your workflow. Above all, the support that you receive from Beaver Builder is top-notch.
Features of Beaver Builder
Advanced and modern page builder plugin
Beaver builder is a modern-day page builder plugin that has everything that you want in an advanced plugin. Beaver Builder lets you build your mobile-friendly and responsive website, which means you can see your website at its best no matter which device you use.
You can see the changes that you make on your website in real-time. The plugin also supports shortcodes and widgets, which lets you add extra functionalities to your website. The plugin also supports custom posts type. Developers can also extend and customize the plugin as it is developer-friendly.
No matter where you are, you can choose this theme for a website as it is translation ready. This plugin makes sure your website appears high on search engines as it is SEO optimized.
Excellent theme builder
Beaver Builder is built on the Bootstrap framework. It is a powerful plugin for developers and simple enough for end-users. No wonder it is one of the most popular page builders.
The built-in live customizer lets you see any changes in your theme. It makes editing the theme as easy as editing a page.
Above all, Beaver Builder is tested and proven for stability and applicable for any scale projects.
Help and Support
Beaver Builder is known for its world-class support. The support team from Beaver Builder is determined to answer your questions within a short time. Besides weekends, you'll always find the support team ready to help you.
Modules for all
The list of modules that the Beaver Builder plugin offers is of a wide range. Starting from photos, videos, text editor, sidebar, icons, slideshow, gallery, testimonials, there are many more modules that you can reuse whenever and wherever you want.
4. Brizy
Brizy is a next-generation plugin for WordPress that is innovative and intuitive. It is the plugin to go for if you're looking for a next-gen website builder for your WordPress site. Unlike other plugins with a crowded interface, Brizy shows you only what's needed, excluding everything else.
If you're a UI enthusiast, Brizy will surely impress you with its cutting edge design and interactive UI. Other than that, there are many outstanding features discussed below.
Features of Brizy
Powerful Page Builder
Right from the start, Brizy makes sure that users find it easy to build their website. You do not need to be a coding expert to use Brizy. You can even use it if you do not have any experience with web design.
This page builder is intuitive. So much that it only shows what's needed. Moreover, the plugin allows real-time editing, which means you can edit and see it as you proceed. All you need to do is simply drag and drop anything you like.
Since Brizy is built on React, this is the go-to plugin for UI. It comes loaded with forms, sliders, and tabs. Using Brizy, you can save a significant amount of time and effort to speed up your workflow.
Excellent Design
The design that the Brizy plugin offers is unbeatable. Not just that, it is also time-saving. The global styling feature lets you make changes once and for all. You can make the changes in design and implement it throughout the page, post, or website.
If starting to design from scratch seems a little intimidating to you, you can use the pre-built professional design or blocks. Gallery, Carousel, Contact Form, Maps, Images, Buttons are a few among the wide design elements available with Brizy.
To style your backgrounds, Brizy offers 42 shape dividers that add creativity to your design. Besides, you get the image and video filters that enhance the beauty of your website. Brizy gives you all the freedom to design your own custom style.
Dynamic
One of the great aspects of Brizy is that it is dynamic. The dynamic templates in Brizy let you customize any page from any corner of your website. It also supports major custom field plugins.
You can use navigation menus from the WordPress Database and customize it using Brizy. The block condition feature allows you to select where and what type of content to display. Besides that, you can display Woocommerce shopping elements on any page too.
Built for business
Brizy will support your business in all possible ways. You can add the power of advanced marketing tools to the already powerful Brizy by integrating it with such tools. You can also use WordPress tools to enhance the functionality of your website.
This plugin supports a wide range of media and fonts, giving you the flexibility to expand across various platforms.
5. WP Page Builder
WP Page Builder is among the most advanced page builders in WordPress. This plugin is packed with features and is extremely flexible. This plugin is designed for all regardless of their coding or web design skills.
This fully customizable, drag and drop page builder is an all-in-one page building tool suitable for beginners and professionals.
Features
Real-time customization
WP Page Builder takes site-building to a whole another level with its real-time customization feature. You can simply drag and drop any element you want for your website. The process is super fast and super-efficient.
This plugin does not demand any coding skills from its users. Anyone using a computer can opt to build a website using the WP Page Builder. This plugin is also compatible with almost all WordPress themes.
Flexible layout
WP Page Builder is responsive, mobile-ready, and retina ready, meaning you can view the content at its best using any device. Moreover, you can add rows, select columns, and adjust the column size & row padding.
No matter what you create with the WP Page builder, it is 100% responsive, which means adjusting itself according to the screen size.
Extensive Library
You can use anything you build using the WP Page Builder multiple times. This functionality of this plugin makes your work faster and brings uniformity across the design. The library of WP Page Builder is extensive.
You can also store all of your designs in the library so you can reuse it later. You can design special blocks for reuse too.
Predesigned blocks
If you want to build a website quickly while still maintaining quality standards, the WP Page Builder is the right plugin to go for. It speeds up your workflow and makes it a lot faster and easier. All you need to do is drag and drop, and you get what you want right in front of you.
Others
Many other features make WP Page Builder stand out from its competitors. It supports a wide range of widgets and addons. Likewise, it supports an extensive range of icons too. The export and import system is advanced, and the plugin is translation ready too.
6. Visual Composer
Visual Composer is a well-established website builder known for its easy to use drag and drop option and other features. It is user friendly and straightforward page builder coupled with premium templates, blocks, elements, and everything else you need to build a website.
This plugin packs 100+ premium features and gives you an ultimate solution for WordPress website builder.
Features of Visual Composer
User-friendly Interface
The developers of Visual Composer have put special effort into making Visual Composer the most user-friendly plugin. The drag and drop feature that allows you to manage elements across the page is easy to use.
You do not need any coding skills whatsoever to build a website with this plugin. Install and activate the plugin, and you can download additional content from the cloud. You can then choose to use the Blank Page Wizard or existing professional templates.
Other than that, you can name, duplicate, and hide elements with just a few clicks. Using keyboard shortcuts can be extremely handy, too, as it speeds up your workflow. All of these features make the interface of the plugin very user friendly.
Advanced Editor
The live editor in Visual Composer makes it possible to view changes as you make them, giving you a pixel-perfect frontend. The Inline editor allows you to edit the content on the go with just a click.
One unique feature of the editor is its Tree View editor that allows you to work with the website builder, just like Photoshop or any such tool. The plugin also supports custom CSS and Javascript, which means you can add your style and interactive elements to your website.
With Visual Composer, you get an in-built qualitative analysis tool that gives you a more in-depth insight into your site's performance. You can improve your SEO rankings, performance, and enhance the user experience. Additionally, the premium version offers options like header editor, footer editor, sidebar editor, popup builder, and more.
Powerful Elements
Visual Composer offers you a wide range of ready-to-use content elements. It can be anything from a simple image element to advanced animation buttons and more. You can add default WordPress widgets without even leaving the editor or create your custom widget too.
The plugin supports social media integration through which you can reach out to audiences across different social platforms. Besides, the plugin also supports Shortcode Element that allows you to add shortcodes.
This plugin works by assigning a unique Element ID to each element. You can extend any element with your custom CSS.
Style and Layout
The design options in Visual Composer are advanced. The parallax effect enhances the background and creates a visually appealing look. The premium version even allows for an advanced parallax effect.
You can add a linear or gradient to the background with the Visual Composer. Moreover, there's slideshow background, carousel background, and video background options too.
The plugin is responsive, which means your content looks great on any device. There are CSS animations that you can apply to any element or container of the Visual Composer.
7. WPBakery Page Builder
WPBakery Page Builder is an immensely popular page builder plugin that gives you full control of your website. This plugin is flexible to the extent that you can build almost anything from your imagination.
Get yourself started with the WPBakery Page Builder and experience the difference yourself. This feature-rich, easy to use tool lets you create awesome websites within minutes.
Features of WPBakery Page Builder
Frontend and Backend page builder
The WPBakery Page Builder allows you to build responsive websites and manage your content with ease. You do not need any programming knowledge and can create outstanding websites by merely using the Drag and Drop feature.
The pre-built content elements, template, and addons help you speed up your workflow. Since they are pre-built, you do not need to write a single line of code and can simply use and reuse these elements.
The advanced grid builder feature lets you organize your content in grids. There are 40+ predefined styles that you can choose from.
Customization
WPBakery Page Builder allows for deep customization. It has an in-built Skin Builder for customizing the color, design, and elements to align with your brand. You also have an option to use custom CSS and come up with your design.
This plugin is developer-friendly, meaning developers can create content elements by coding.
Professional online support
Developers at WPBakery Page Builder make sure they are available for dedicated support from Monday to Saturday. They handle all your requests and make sure you get your work done on time.
Others
There are plenty of other features provided by the WPBakery Page Builder plugin. For instance, this plugin supports multiple languages, custom posts types, Woocommerce, RTL, WPML, and more. It works great with any theme.
8. Page Builder by SiteOrigin
Another simple but powerful page builder plugin that has made it to our list is the Page Builder by SiteOrigin. It is a free, responsive, and outstanding plugin that takes website building to another level.
It's a simple and intuitive interface, along with efficient performance, makes it one of the top choices among WordPress users.
Features of SiteOrigin Page Builder
Easy to use
The Page Builder from SiteOrigin uses the simple drag and drop technique to move the elements around and build it easily. You do not need to deal with the coding if you're using this plugin. So, you get time to focus on growing your business. Besides, the plugin is lightweight and SEO friendly, helping your website load instantly and rank high in search engines.
Compatibility
No matter what theme you use on your website, the Page Builder from SiteOrigin is compatible with all. It guarantees that your content is unaltered and uniform. The plugin is also compatible with Widget Bundle plugins that help you with the building blocks and every other piece you need like buttons, images, maps, etc.
Customization
The PageBuilder plugin from SiteOrigin allows you to customize your website deeply. You can arrange rows, columns, move widgets all with your mouse. You can thus customize every little detail as long as you're not satisfied. The plugin is intuitive and doesn't sacrifice any aspect of functionality.
Fast and Efficient
The Page Builder is built following standard coding practices. Thus the codes are highly optimized for speed. So, no matter what, your content will always load quickly. The plugin is lightweight, too, when compared with similar other plugins.
9. Themify Builder
Themify is an excellent, powerful, and intuitive page builder plugin. It beats its competitors when it comes to design and layout. Above all, what makes it desirable is free and offers service like a premium plugin.
Themify comes with all features available in a modern-day plugin. It is intuitive, attractive, and requires no knowledge of coding whatsoever.
Features of Themify Builder
Predesigned Layouts
Sometimes it might be overwhelming to build a website from scratch if you're new to web designing. To help you with that, the Themify Builder comes with 40+ pre-made designs included in the Builder. You can simply import a layout, customize it to use for yourself, and that's it. You're good to go.
Easy design and customization
With Themify Builder, you can simply drag and drop elements to build a website. As you do that, you can also see the changes you make with the help of the Live Preview feature. There are options like Copy/Paste, Undo/Redo, Import/Export, and Duplicate to increase your workflow speed. The custom styling feature supports Google Fonts, Slider background, Video background, Parallax scrolling, color picker, custom post type, and more.
Responsive and Flexible
With Themify Builder, you can create your layout grid using the Builder column options. Whatever you make, whether backend or frontend, every possible combination is responsive. These layouts are also reusable within the Builder. Similarly, the design is modular in the Themify Builder plugin and optimized for better performance.
Optimized
The Themify Builder is SEO optimized, which helps your website rank higher in Search engines. The plugin comes with its cache system that reduces resource use resulting in faster processing. Once used, the Builder can power more than one website at a time. The builder code is localized and can be translated into any language.
10. Thrive Architect
Lastly, we have the Thrive Architect plugin. It is a newly packaged plugin with advanced features similar to Elementor. (Previously known as the Thrive Content Builder.)
This plugin is best suited for bloggers and affiliate marketers as it focuses on conversion rates. Thrive Architect's best thing is that you can use its default style right out of the box.
Features of Thrive Architect
Ideal for businesses and blogs
Just like the name suggests, the Thrive Architect thrives for higher leads to sales conversions. Built by a bunch of DIY entrepreneurs, this plugin emphasizes sales conversion. You can replace many of the plugins on your site by using the Thrive Architect plugin.
It includes customizable buttons, testimonials, countdown timers, lead generation forms, email marketing tools, and so much more. Other than that, there are 269 beautifully designed and 100% conversion-focused landing pages. Thus, you can create professional-looking sales pages, opt-in pages, webinar pages, and many more instantly.
Fast and easy to use
The Thrive Architect has a fast and easy to use design. The Click-to-edit option allows you to edit any element with just a click of a button. Likewise, the easy drag and drop options make it convenient for building the website.
Ultra-flexible layouts
This plugin lets you easily add, remove, drag, and drop resize columns. There is no extra hassle that you need to go through if you want to change the layout. If you want to create a background that spans the entire screen width irrespective of the theme that you're using and the screen that your visitors are using, this is the plugin you should opt for. You may as well create vertical splits to make it look extra appealing.
Advanced styling effects
With Thrive Architect, you can add background images with text overlaid on them and create an easily placeable visually appealing section.
At times, it might be difficult to read text on images. In such cases, you can add colored overlays or gradient overlays to your images. You can also control the topography using Thrive Architect. Work with more than 700 custom fonts to give your fonts a unique look that makes the brand stand out. Other advanced options include animation and hover effects. You can style every detail on your website without having to code a single line.
Conclusion
The article above contains every detail about the 10 best WordPress Page Builder Plugins. Each of them has been analyzed and studied thoroughly for a fair review. We hope you've found the right plugin for your website.
Follow the article thoroughly to know more about what to consider while looking for a page builder plugin. Each of these plugins specializes in one thing or the other. So, do check them in detail and let us know about your experience in the comment section below.