Calendars can be one of the most important aspects of business websites. They are an essential communication channel on your site to keep you connected with your prospective clients. If you are looking to add a calendar to your WordPress website, you must emphasize this single feature.
But, every business or website has different needs. Depending on your aims, you could do with a simple WordPress calendar plugin that displays dates and entries. On the other hand, you might need a calendar plugin that doubles as an event management tool and even a ticket booking platform.
The potential of a good events calendar to save you money is massive. This study by Accenture estimates that the healthcare industry alone has saved $3.2 billion worth of value by using online appointment scheduling.
There is no doubt that online ticketing is booming. Juniper Research predicts that users of mobile ticketing will reach 1.9 billion by 2023.
The best WordPress calendar plugins can connect you to your audience and your customers by providing a seamless user experience. Ultimately, you can gain user engagement or nothing less than a boost in your bottom line.
What to Look for in a WordPress Calendar Plugin?
WordPress calendar plugins cover a large spectrum in the functions they offer. Thus, it is a good idea to know what you need from your calendar plugin. Every case of use is slightly different so, make sure the plugin you choose meets your needs perfectly.
It can help to see calendar plugins as a critical point of interaction between you and your website visitors. Here are some key features of a good WordPress calendar plugin:
1. Need-Based Format
Calendar plugins come in a wide variety of forms. Not all of them are built for the same purpose. You can start with something as simple as interactive digital calendars to elaborate plugins to create multi-day schedules for seminars. So, you should start your search by knowing what sort of features you are looking for in your WordPress calendar plugin.
2. Events Integration
When it comes to WordPress tools, calendars often go hand-in-hand with event management tools. This feature is essential for event management sectors. Websites for musicians need event calendars to display tour dates. Appointment-based businesses like spas need an easy way for clients to book appointments. So, seamless integration of event management features is necessary to show events in a user-friendly way.
3. Intuitive Design
Calendar plugins are a powerful tool to transmit important information to your website visitors. With this in mind, you should look for plugins with a user-friendly design that intuitively displays events.
You also want a good design for event pages to display important information regarding your events easily. You don't want your website visitors struggling to find important information such as the event venue.
4. Customization Features
It is important to be able to personalize the looks of your WordPress calendar plugin. Simply being able to change your calendar's color allows you to match the tool to your website's design.
Layout choices are also important in a calendar plugin. Good layout choices allow you to present your information promptly. Look for options to display your basic calendar in a monthly view, a weekly view, or even a list view. You may also want choices in your event page's layout, which many calendar plugins offer.
5. Booking and Billing Function
The next step to an event-integrated calendar plugin is to have a sound booking system. This is a crucial function where every little detail matters, as it directly affects your revenue from ticket sales.
A complicated booking page may turn a potential attendee off from purchasing one of your tickets. In fact, Baymard Institute discovered that a complicated checkout process is one of the top three reasons for abandonment during checkout.
Similarly, offering more payment options makes it easier for attendees to pay for their tickets.
Depending on your needs, you may need custom fields in your booking form. This is especially important if you want to collect specific information about your attendees to create a customized event for them. Business appointments and workshops may benefit from having this feature. You can also use custom booking forms to collect business data to optimize your future events.
6. Synchronization and Export Features
Synchronization is an important feature for calendar plugins that allows users — both yourself and your website viewers — to synchronize your calendar entries to their personal calendar apps.
Synchronization is a core feature of the popular calendar apps that people use these days, like Google Calendar and iCal. It is part of what makes these apps so effective. You want to ensure that your viewers can synchronize essential entries in your website calendar to their personal calendar apps. Some plugins even allow you to add calendar entries directly from your phone's calendar app.
It is also useful to have a seamless export function that allows you to transfer data from one calendar plugin to another. This comes in handy if you ever switch from one calendar plugin to another.
7. Newsletter Integration
Being able to send out newsletter emails can be useful if events are important to your business. Some WordPress calendar plugins allow you to send out automatic emails about your latest events. If this is a feature you could do with, you should look out for compatibility with newsletter plugins like MailChimp.
List of 10 Best WordPress Calendar Plugins
Now that you know the WordPress calendar features that are valuable for your use, let's dive into our pick of the 10 Best WordPress Calendar Plugins.
1. The Events Calendar
The Events Calendar is one of the most popular calendar plugins for WordPress. It is also known for its extended feature set. As the name states, it is an excellent combination of calendar and event management functions in one tool. The various features like recurring events make it an excellent choice for organizations like churches or restaurants.
This plugin has a fully responsive design, allowing the calendar to adapt to different screen sizes. The plugin comes with multiple view types like day, week, month, and list view. You can choose the best one to highlight your events.
The Events Calendar also allows integration with some popular calendar apps and services. These include Google Calendar, iCal, and even Facebook Events. You can easily export files from these apps to your plugin.
Another valuable feature offered by The Events Calendar is event sales. By integrating the free Event Tickets plugin, you can create tickets for events through The Events Calendar. The plugin allows for payment through PayPal.
Visitors can even search for specific events they are looking for without having to scroll through your entire calendar.
Download Link
2. WordPress Appointment Booking by MotoPress
WordPress Appointment Booking plugin by MotoPress is great for handling online appointments on the website. You are free to use it for service-based businesses such as clinics, educational institutions, yoga centers, fitness studios, and other niches. A booking widget embedded into any page enables a hassle-free booking submission.
With the plugin, you can create an unlimited number of services with flexible duration and staff members. The working calendars you assign for each specialist may include breaks, lock-out hours, holidays and days off. In addition, an automated emails notifications system is developed to keep customers informed about the made booking. What's more, the WP schedule plugin supports Gutenberg, Elementor and Divi page builders.
The customers will enjoy the opportunity to make an appointment for a group, schedule multiple services at one go and pay for the services through PayPal, Stripe, a wire transfer or upon arrival. Dedicated widgets packed help you showcase your services, team members' profiles, pricing lists, and other information.
This WordPress calendar scheduling plugin features a built-in calendar to centralize the current statuses of bookings. It is available in a color-coded calendar view, individual booking preview, or timetable in chronological order. Additionally, there are Appointment Manager and Appointment Employee user roles defined. On top of that, you can set up a bookings synchronization with an employee's Google Calendar.
Download Link
3. EventON
EventON is the highest-selling calendar-booking calendar plugin at the Codecanyon marketplace and boasts a set of over 200 features. This plugin has a minimal yet engaging design with color control and the features allow you to offer up the most intuitive experience to the users.
This plugin allows you to add unlimited photos to any calendar event. This means that you can basically add a complete gallery to showcase what an upcoming event is about — from displaying the event venue to the main attractions.
There are multiple layouts to display your calendar events which include lists, grids, and even bubbles.
EventON also has a set of features designed to suit virtual events, called Live Now. You can integrate the plugin with online meet apps and live-streaming apps such as Zoom, Periscope, Youtube, and Facebook live. The live progress bar allows you to show how much time is remaining in an ongoing virtual meet.
You can also get addons to create tickets and RSVP forms for your virtual events.
The event card feature is another valuable feature offered by EventON. The event card displays the full details of any event to visitors in a single window. You can choose to display the event card as a slide-down window, a lightbox, or a complete webpage.
The plugin also integrates with your social media profiles and supports Google Maps.
Download Link
4. Event Espresso
Event Espresso is a great event and calendar plugin for WordPress with numerous features for ticketing and payments. This tool offers you a good deal of options that take care of most concerns regarding online tickets and payments.
Event Espresso allows you to set up custom event registration forms to gather important information. This can be valuable for workshops where you may want to understand the attendees' background or expertise to customize the event accordingly.
You can also set up events with multiple ticket types and multiple price options. There is a discount code function too, which can be used as a nice promotional tool to increase ticket sales.
The plugin offers you a few different payment gateways. Attendees can pay for tickets through credit cards, bank transfers, and PayPal. You can even offer offline payments with an invoice upon registration.
The single-page checkout allows for a hassle-free checkout process.
Attendees can add the events to their iCal, Outlook, or their Google Calendar. Integrate Google Maps to display your event locations. You also get multi-language functionality as Event Espresso supports 25+ languages.
Download Link
5. Events Manager
Events Manager is a great WordPress plugin if you need registration functions out of your event calendar. You can create a calendar with events and gain extensive user permissions through this plugin. Event Manager covers your bases when it comes to creating events, setting locations, payment methods, and so on. This plugin supports recurring and multi-day events too.
The plugin is quite customizable with widgets and customizable event pages at your disposal. You also get a shortcode generator that gives you various functions through simple lines of code that you can paste wherever you need.
You can get a variety of different calendar types to display your events. Special attention has been given to event location settings. You can add locations to assign events to later and even allow visitors to search for events by location.
Events Manager is also compatible with the BuddyPress plugin. This is one of the popular plugins for setting up a complete social media platform on your website. By using BuddyPress, you can create an entire online community surrounding your events.
The plugin allows for multiple ticket types with different pricings. You can protect your events from spam registrations by using reCAPTCHA. The default payment gateways include PayPal, Stripe, and Authorize.net, which allow for credit card payments.
Events Manager is also a great choice if you need a calendar in your local language.
Download Link
6. Amelia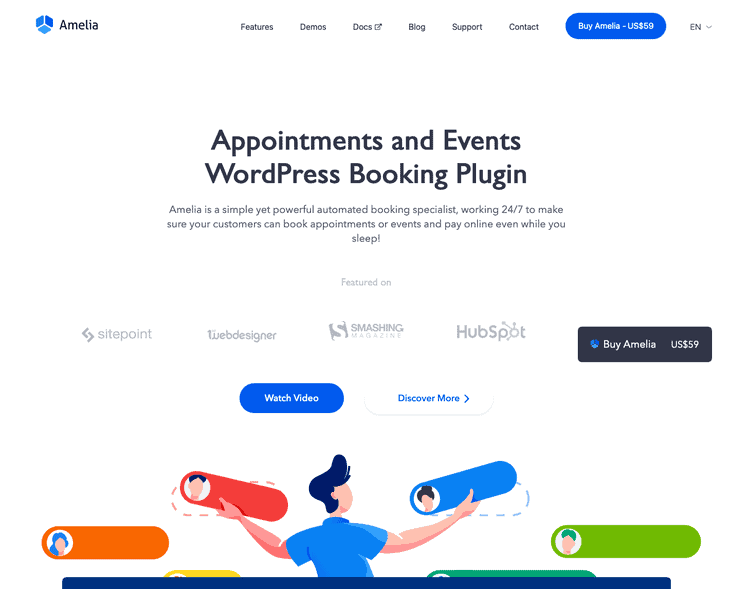 Amelia is a calendar booking plugin designed for businesses. It has a unique booking system that makes it especially suited for business appointments. This plugin features a user-friendly front end that gives a hassle-free booking experience to clients.
A key feature of this plugin is employee-specific bookings. Clients can ask for specific employees, and you can assign appointments by yourself too. Amelia makes sure to block booked hours so that there are no issues with double booking.
The plugin supports PayPal, Stripe, and WooCommerce as the default payment gateways. You can easily extend the options, especially as WooCommerce offers a ton of extensions, including many free ones. You can also use the coupon function to run promotional campaigns.
If you need additional data from clients, simply add custom data fields to gather the required information.
The theme also comes with notification functionality through email and SMS, both for the client and the employee. Events can also be synchronized with Google Calendar and Outlook as a further reminder.
The Admin Dashboard is another valuable tool. Amelia organizes key performance indicators in the form of easy-to-understand graphs and tables so that you can keep track of your business.
You can customize your calendar's color to match your website theme design. Amelia offers four ready-made demos that you can use, which are made to suit niches like beauty and business consulting.
Download Link
7. Simple Calendar
Simple Calendar is a basic solution to your calendar needs with a great, minimal design. The plugin is free to use but offers add-on bundles that you can purchase for added functionality. However, the authors of the theme only provide support for their premium customers.
This plugin is the perfect choice if you want a quality tool to add and display events on your website simply. This is a common need for schools and non-profit organizations, which conduct non-paid events regularly.
The best feature of this plugin is that it integrates seamlessly with your Google Calendar. Basically, you can add events to your website by updating your Google Calendar through your phone.
There are some layout choices so you can display your calendar in list view, month view, week view, and even day-wise view. You can color-code your event categories to help attendees navigate through your calendar easier.
Simple Calendar also supports integration with the Event Calendar Newsletter plugin to set up a newsletter service for your events. You can automatically send emails to subscribers about any new events that you add to your calendar.
Download Link
8. Modern Events Calendar
Modern Events Calendar boasts its own set of choices. This plugin gives you 50+ layout choices for your event calendar in different categories, including month or week-wise calendar, lists, grids, and so much more.
The plugin has an intuitive design that makes it super easy to create new events or control your key settings. You also get a responsive design, so your calendar adapts itself to the visitor's screen size for a good user experience.
This plugin supports bookings and ticketing so that you can use this plugin for both event registration or business appointments. Payment gateways include PayPal, Stripe, and WooCommerce.
Modern Events Calendar is a migration-friendly plugin. You can easily import events to and from this plugin to others, including The Events Calendar, Events Manager, EventON, Event Espresso, Google Calendar, and more.
Likewise, the plugin also supports integration with popular plugins for extended features. You can use the WPML plugin to create multi-language calendars. Modern Events Calendar is also one of the best calendar plugins for Elementor.
Modern Events Calendar also supports integration with the MailChimp plugin. This allows you to send out email notifications about events to your attendees.
Download Link
9. All-in-One Event Calendar
The All-in-One Event Calendar is the WordPress calendar plugin offered by Timely. While the plugin is free to download and use, you can also get a premium license that comes with extended functions.
This web calendar service focuses on ease of experience, which is reflected in its WordPress plugin. Creating and publishing a new event is super easy.
The plugin also supports easy import from common calendar apps like Outlook, Google Calendar, and Apple's iCal. You can synchronize the plugin with these apps to create and publish events directly from your phone device.
The plugin also integrates with your social media profiles to enable auto-sharing of your events on your social profiles like Twitter and Facebook. If you want to set up an event newsletter to update subscribers about your upcoming events, this calendar plugin works well with MailChimp for that purpose.
All-in-One Event Calendar also supports ticketing for your events. This can be done in multiple currencies, and there are flexible options for taxes and invoicing to suit your circumstances.
Download Link
10. Event Organizer
Event Organizer is a popular WordPress calendar plugin that has over 1 million downloads to date. This plugin has a growing list of extensions providing you with a comprehensive list of functionalities. However, you need to get the Pro version to access most of them.
The premium version of this plugin comes with a booking function. Attendees can pay through PayPal, Stripe, and the Authorize.net integration allows for credit card payment as well.
You can also create custom booking forms to gather important data from attendees, which is a valuable feature to some. The plugin also allows for custom messages on the booking confirmation email.
There are numerous shortcodes that you can employ for added functionality, including a search function for events. The plugin also offers a discount code extension. You can get access to all the extensions by purchasing the Business or Developer license.
Event Organizer also comes with Google Maps support so that you can display your event venues in interactive maps.
This plugin is also great for developers. Event Organizer is designed with WordPress hooks so that you can easily customize the plugin. You also get extensive documentation with function references and hook references included to help you make your way through its codebase.
Download Link
Which WordPress Calendar Plugin is Best for You?
Most of the plugins on this theme double as event calendars and come with a host of features that support event management and bookings. However, some of these plugins have more detailed features focused on specific areas.
If you are looking for a tool to enable appointment bookings at your business, Amelia is the plugin to go. This plugin is specifically catered towards business appointments and is well-suited for spas, business consultancies, and so on.
If you are simply looking for a plugin to display upcoming events on your website, try Simple Calendar. This plugin has a simple aim and offers you just the key features you need in the free version, including a few different calendar layouts. Schools and non-profit organizations can benefit from this plugin.
If you need an extensive event calendar plugin, you can also go check out our article on the best event calendar plugins.
If the looks of your plugin is an important factor for you, you should try Modern Events Calendar which comes with an extensive set of 50+ layouts.
Conclusion
A well-chosen WordPress calendar plugin can be a great boon for your website. It can act as an effective medium for communicating important information to your audience. In fact, you may even find new ways to promote your events through the right calendar plugin.
If you are looking for a complete set of tools to help build a complete blog or website, take a look at our list of 45+ Best WordPress Plugins for Blogs.
Did you find this article helpful in your search? Let us know in the comments.