Do you own a WordPress site that requires booking? Are you looking for a good booking system to add to your website? If so, this article is for you.
For managing services, appointments, and events, the right booking system can make all the difference. It can enhance the user experience on your site and overall improve your business-to-customer relationship.
In the article below, we've listed the 15 best WordPress Appointment plugins to help you choose the right one for your business. Without wasting any time, let's dive right in.
List of Best Appointment WordPress Plugins
1. WP Travel Engine
WP Travel Engine is a travel booking plugin that ranks at the top of our best WordPress appointment plugins. This plugin lets travel businesses and tour operators manage their travel websites while allowing users to make bookings easily.
The best thing about the WP Travel Engine Plugin is that it lets you create unlimited travel packages and add details like price, itinerary, description, and many more. The smart booking system allows you to book quickly and also makes it a lot faster.
Other features like email notifications, inquiry forms, and multiple pages support make this plugin even more desirable. Likewise, the advanced customization option makes the plugin even more.
Furthermore, the plugin supports multiple currencies for payments and is translation ready too. This makes the plugin suitable for any website anywhere in the world. If you ever face a problem, you can use detailed documentation and support for help.
Features
Unlimited travel packages
Smart Booking process
Itinerary Builder
Booking email notification
Unlimited trip facts
Multiple pages supported
Customizable and Flexible
Multiple currency supported
Translation ready
Detailed documentation and support
Pros and Cons
| Pros | Cons |
| --- | --- |
| Highly compatible with WordPress Themes | Shortcodes not supported |
| Comes with Multiple Extensions | |
| Smart Travel Booking Interface | |
2. Amelia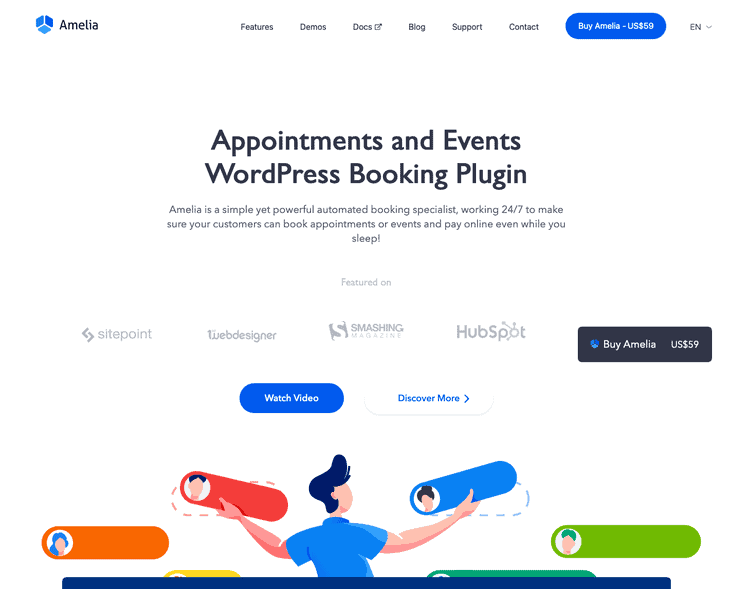 Standing on top of the list is one of the most powerful appointment booking plugins for any business. Once installed and configured, this automated booking solution works 24/7 so that you never miss a potential new customer.
Amelia is an easy-to-use form-based plugin for booking appointments. Features like support for multiple employees, local currency, service extras, email notifications, image galleries, coupons, plus color/ options for the front-end design make it an amazing plugin for appointments in WordPress.
Customers can use the dynamic calendar along with its unique booking wizard and faceted filtering to find a specific appointment. For payments, customers can use Amelia built-in payment gateways.
With Amelia, you can send SMS notifications to both customers and employees about their appointments. Moreover, the plugin also supports languages that use RTL writing.
Features
Google Calendar Sync
Manage multiple customers and employees
SMS notification
Supports Woocommerce integration
Interactive and Intuitive dashboard
Custom fields for forms
Custom service schedule
Pros and Cons
| Pros | Cons |
| --- | --- |
| Suitable for all Business Type | Not available in free version |
| Highly Customizable Stunning Design | |
| Extensive Admin Panel | |
| Insightful Admin Dashboard | |
3. Booknetic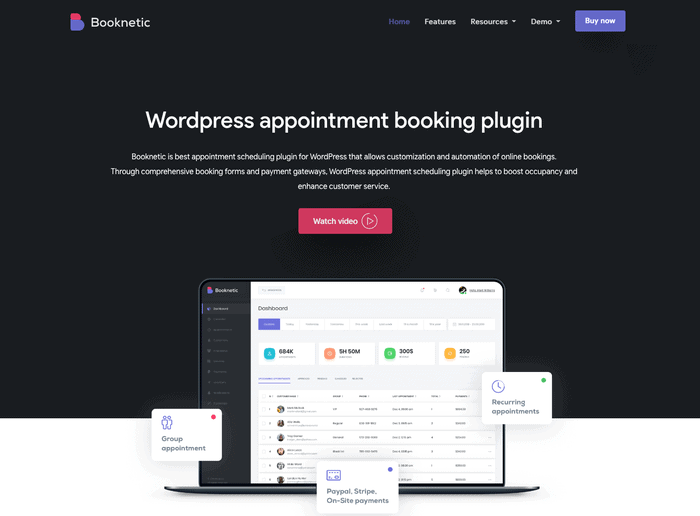 Booknetic is an excellent option if you want to manage your appointments and booking calendars for your growing business. It is a responsive, elegant, and modern plugin that is suited for businesses of all kinds.
As an appointment plugin, Booknetic allows you to create forms, process payments, utilize Woocommerce, and integrate into your website. It comes with a detailed dashboard that is easy to use.
Besides, you can also export your appointments to excel for better data management. The plugin has a built-in SMS and email notifications feature. It is synchronized two ways with Google Calendar too. This ensures your customer doesn't miss their appointment.
One of the many reasons why customers love this plugin is because it is WPML compatible. This ensures that all your customers around the globe get to use the service uninterruptibly.
Features
Export and Import data from anywhere
Recurring appointments
Supports Woocommerce
SMS and email notifications
Multiple language support
Customize custom fields
Customizable design with multi-level categories
Pros and Cons
| Pros | Cons |
| --- | --- |
| Notifications in different languages | Not available in free version |
| Built-in Email, SMS and Whatsapp alert | |
| Steps Reordering Option | |
4. Bookly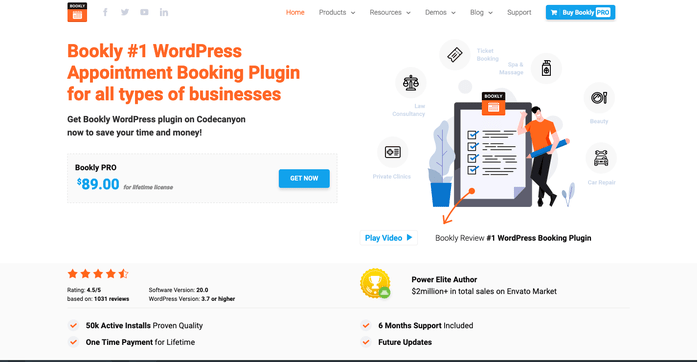 If powerful performance is what you're looking for in an appointment, the Bookly plugin is the right choice for you. This unique plugin is optimized for speed and offers you services that let you book appointments anytime and anywhere.
Bookly is a responsive and mobile-friendly plugin. On top of that, it is translation ready too. This ensures that your forms look great on any device and in any language. These forms are customizable, too, which lets you adjust them as you like.
This plugin comes with built-in support for email and SMS notifications. Your customers are notified in case they have forgotten about the meeting. This plugin supports Google Calendar sync too.
For businesses that charge at the time of booking, Bookly offers payment portal integrations like Paypal, Payson, PayUbiz, and Woocommerce. Other than that, the plugin includes color scheme options, flex schedules, currency exchange, and more.
Features
Fully customizable
Filter, Sort and Search booking list
Manage unlimited staffs
Organize services
Customizable email and SMS notifications
2 way sync with Google Calendar
Compatible with Woocommerce
Multi-language support
Pros and Cons
| Pros | Cons |
| --- | --- |
| Integration with Google Calendar and WooCommerce | Approve each client manually |
| Supports Multiple Payment Gateways | |
| Email and SMS Notifications to Clients | |
5. Appointment Booking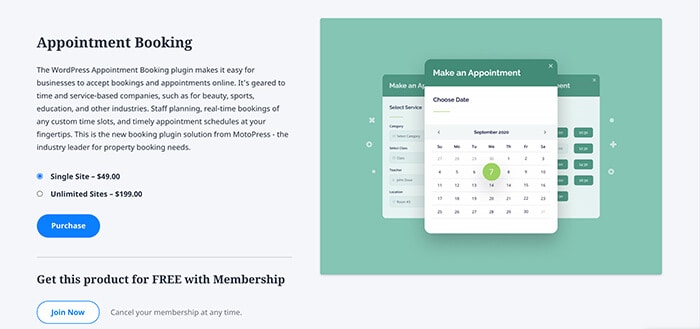 This appointment scheduling tool was developed by MotoPress – also known as the creators of the leading Hotel Booking software. The plugin works for all types of appointment-based websites, whether it's an individual specialist or a business/organization with multiple employees.
Owners of the website acquire the easiest booking tool for accepting and managing reservations directly from the WP dashboard. You have no limits on the number of services, employees, and locations. You can set up detailed profiles of employees, and make custom schedules for each one. You can set custom time slots for appointments starting from 15 minutes.
On the frontend, the plugin provides a user-friendly booking calendar in the form of a table. The calendar provides a three-step booking wizard. The first step allows users to choose the service, employee and location (if there are multiple offices). Then, users select the dates, and lastly, choose the available timing. The booking is automatic and does not require further confirmation steps (email or a phone call).
Features
Unlimited services & employees & locations
Flexible schedules (with lunchtimes, breaks & days off)
Custom time slots + buffer times
The ability to add one time or recurring services
Easy management on the backend
Pros and Cons
| Pros | Cons |
| --- | --- |
| Multi Booking option for adding multiple services to a cart | No payment options |
| Service capacity settings for setting min & max number of people per 1 service | |
6. BookingPress

BookingPress is a free booking plugin for WordPress that is easy to use and has many features. It would be great for any service-oriented business website. It's more dynamic, and it's jam-packed with features that make the scheduling appointments process more smooth and fast.
The BookingPress Plugin combines a classic step-by-step appointment booking wizard with a modern, user-friendly UI/UX that can be customized to match the needs of practically any business.
It's the only free WordPress appointment booking plugin that allows customers to pay using PayPal. You can make and manage appointments straight from the admin dashboard without the need for a third-party plugin.
Features
Excellent admin dashboard
Options for Quick and Easy Setup
24/7 Appointment scheduling
Unlimited services & bookings
Online payment processing with solid PayPal payment (Offline Payment option available)
Excellent Responsive design with great UI/UX
In-built spam protection
Page Builder support (Gutenberg, Elementor, WPBakery, Classic Editor)
Translation Ready (In-built translations for French, German, Russian, Dutch, and Arabic languages.)
Customized email notifications
This online booking plugin could be useful for salons, spas, tutors, barbershops, consultants, wedding planners, and other businesses.
Pros and Cons
| Pros | Cons |
| --- | --- |
| Great Admin Calendar View | Need to Add More Payment Gateways |
| Simple and Flexible structure | |
| Perfect for any type of Service business | |
| Provide PayPal Integration in FREE Plugin | |
7. Team Booking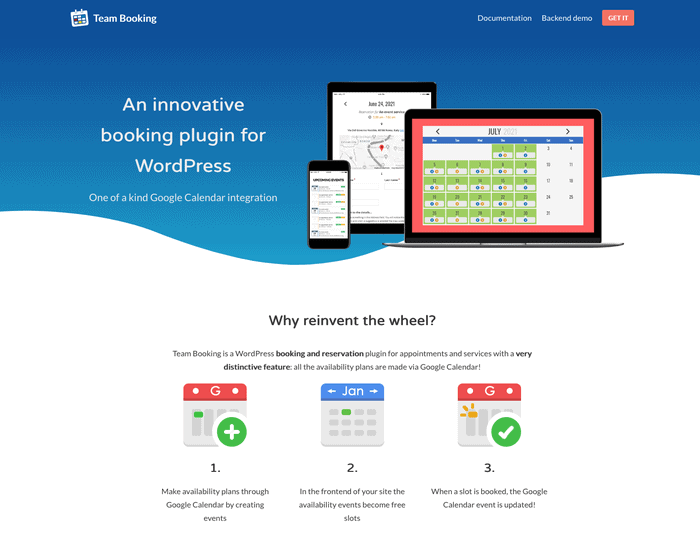 Team Booking is another excellent plugin for booking systems in WordPress sites. Unlike other booking plugins, Team Booking offers deeper integration with Google Calendar and Google Maps.
The Team Booking plugin makes its mark with its distinctive and responsive design. You can add functionalities to your booking system with just a click using a shortcode. It offers a complete solution for booking services, appointments, rooms, events, and so on.
The customization feature allows you to tweak general reservations, calendar style, a confirmation email, and many more. Using this plugin is equally easy as it works with a box of shortcodes. You can always change the language and time zone to adjust according to your local time.
Other features like email notifications, payments, promotion, and WPML compatibility are included in the Team Booking plugin. Moreover, you can export reservation databases which are downloadable as CSV files or XLSX files.
Features
Deep integration with Google Calendar
Promotes collaboration
Fully customizable
Easy and hassle-free
Time zone adjustment
Well designed forms
Payments and promotions
Email notifications
WPML compatible and multiple language support
Pros and Cons
| Pros | Cons |
| --- | --- |
| Reservation Form Builder | Some people might find installation complicated |
| WPML compatibility | |
| Multiple Services: events, appointments, services, rooms, and so on | |
8. Woocommerce Booking and Appointments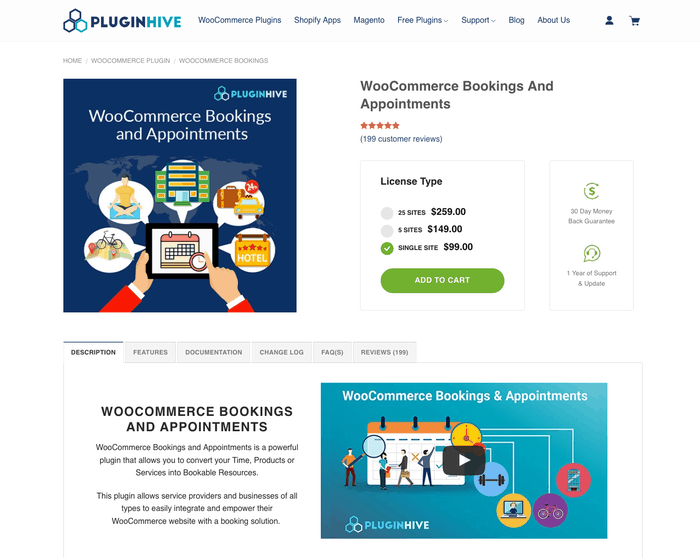 Whether your business is, Woocommerce Booking and Appointments can be an ideal appointment plugin for you. This flexible and user-friendly plugin lets you set up forms for booking purposes on your website.
The Dynamic Total Booking Cost calculation allows your clients to see the rate options while booking. It further allows you to enable booking addons for any extra services. Other features include name your price, file attachments, variable pricing, WPML compatibility, and multiple language support.
This plugin gives you an option for email notification as well as a cancellation. Since the plugin comes with a built-in Google Calendar Sync, it is easy for your clients to add or remove appointments accordingly.
Above all, the best thing about this plugin is that it lets you accept duration-based appointments. This means customers can choose to either select a one-day appointment or multiple days appointment.
Features
Bookings in minutes, hours, days, or months
Multiple appointments at a time
Booking cancellations
Email notification for booking, confirmation, and cancellation
Dynamic total booking cost calculation
Buffer time between bookings
Google calendar sync
Staff management
Pros and Cons
| Pros | Cons |
| --- | --- |
| Allows to add Custom Fields | Quite expensive |
| Dynamic Booking Cost Calculation | |
| Customizable Calendar Design | |
9. Book an Appointment Online PRO
Booking an appointment has never been as easy as with the Book an appointment online PRO plugin. First, the user chooses to reserve according to team members, service, and fixes on the date and time.
This is a highly responsive plugin that works quickly and easily on any device. The interface is simple, easy to understand, and yet stylish. Moreover, with the unique quick start feature, you can add teams and offerings.
You can choose as many staff members as you like. There is also an option to choose from 2 different working schedules and to set up a booking time format. You can add PayPal and other checkout options too.
Like most appointment plugins, you can choose to enable SMS reminders for upcoming appointments.
Features
Video conferencing
Multilingual
Multiple plugins integrated
Responsive design
SMS reminder
3 different schedules
Custom form fields
RTL ready
Pros and Cons
| Pros | Cons |
| --- | --- |
| Partial or Full Payment Options | Relatively new plugin compared to its competitors |
| Easy Installation and Start | |
| In-built Video Conferencing System | |
10. Easy Appointments

Just like the name says, Easy Appointments make setting appointments and meetings easy. With this quick and easy plugin, you can add appointments to your site easily. It is flexible and hence can be of use for any business.
Using Easy Appointments, you can create a flexible and advanced timetable for appointments. The plugin also supports multiple services, workers, and locations. While setting up the plugin, you can enable email notifications for booking confirmation, cancellation, or status updates.
The plugin is highly customizable, allowing you to create your calendar. The forms for filling out appointment details are easy to use and attractive. You can also create your form fields. You can also choose to display the output in 1-2 column layout, add prices and labels, localize the date picker, and such.
Overall, the plugin is exactly what it sounds like. The built-in reporting tool will help you keep track of everything.
Features
Multiple locations
Multiple services
Flexible Timetable
Email notification
Fully customizable
Two-column responsive bootstrap layout
Custom form fields
Google Calendar with 2 way sync
Woocommerce integration
Pros and Cons
| Pros | Cons |
| --- | --- |
| Custom Form Fields | Fewer features compared to other modern plugins |
| Translation ready | |
| Multiple locations, services, workers | |
| Flexible Time Table | |
11. Appointment Booking Calendar
The Appointment Booking Calendar is an excellent choice for businesses with more specific appointment booking needs. It is a free tool suited for all kinds of businesses.
This plugin offers excellent functionality for a free plugin. Features like bookable time slots, email notifications, printable booking lists, customization, and more are available with this plugin. Moreover, you can export to Google Drive, specify the number of times a user can book, and include bookable time slots.
However, to access some of this plugin's best features, you'll need to get the premium version. For example, this plugin allows you to accept online bookings from the available time slot. If you want your customers to pay for an appointment, you need to link the booking form to a payment system. By default, the free version only supports PayPal.
Features
Book any available time slot
Booking form connected to PayPal by default
Specify appointment booking capacity
Notification email
Multi-Page calendar
Multiple timeslot selection
Export appointment data to CSV files
Modern admin interface
Pros and Cons
| Pros | Cons |
| --- | --- |
| Multi-page Calendar to display many months | Advance features need a premium version |
| Time-slots Booking Option | |
| Confirmation Email Notification | |
12. Booked

Booked in an exceptional appointment plugin for the WordPress site. It has built a reputation over the years with its increasing list of features and functionalities. It comes at a reasonable price and offers decent service.
Though it might not be the most powerful plugin, it is powerful enough to get the job done. Using this plugin, you can add an appointment booking system to your WordPress site. You can use custom fields in your forms to collect all the information you need for an appointment.
Shortcodes can help you display your appointment booking calendar anywhere on your website. There are color options to adjust your color requirements. Moreover, you can add the payment functionality by simply integrating it with Woocommerce.
Not just colors, you can also customize other aspects too. You can allocate custom fields and time slots, create multiple calendars, and many more.
Features
Multiple calendars
Custom time slots
Endless color possibilities
Shortcodes for display
Responsive
Powerful appointment management calendar
Fully translatable
Color customizations
Pros and Cons
| Pros | Cons |
| --- | --- |
| Customizable Email Content | Lacks many features available in other plugins |
| Multiple Calendars | |
| Payment Support with WooCommerce | |
13. Start Booking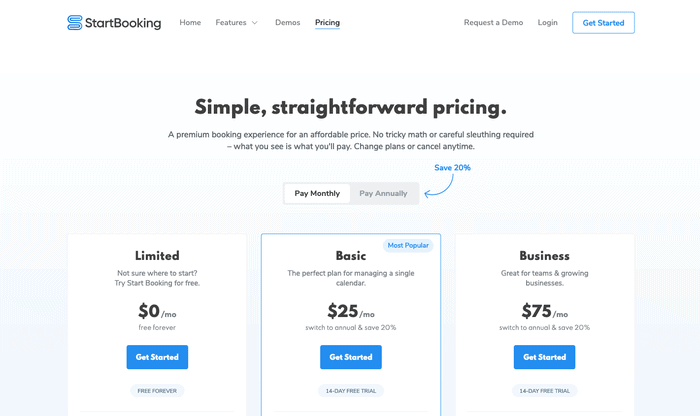 Start Booking is another full-fledged, fully customizable plugin that lets you add a scheduling feature to your WordPress site with ease. It is lightweight and works fast. That's plenty of reasons to get the plugin right away and start booking your appointments.
Unlike other plugins, this plugin makes sure you do not need to manage your WordPress admin's business bookings. It also integrates very well with WordPress and offers an excellent user experience.
The exemplary interface adds up to enhance the user experience. You can manage customers, services, and bookings using the Start Booking plugin. The plugin is ideally designed to increase leads conversion.
With power-packed performance in speed and optimization, the Start Booking plugin is undoubtedly a recommended plugin. It is fully customizable, giving you complete the flexibility to customize as you want.
Features
Power-Packed performance
Increase conversion
Fully customizable
View and select service
Staff/service management
Booking locations
Booking calendar
Pros and Cons
| Pros | Cons |
| --- | --- |
| Multiple Pricing Options | Limited features in the Free version |
| Integration with Zoom | |
| Group Bookings Support | |
14. BirchPress Scheduler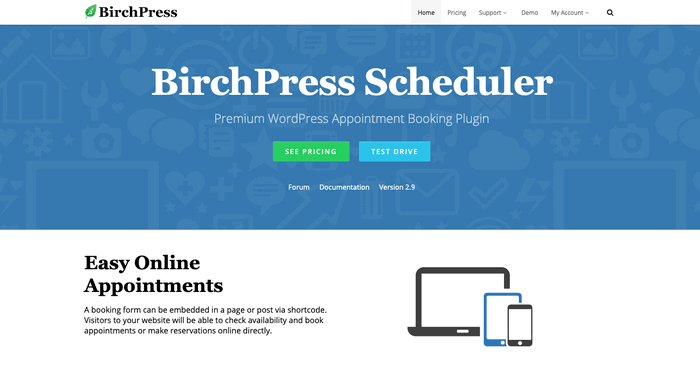 BirchPress Scheduler is a modern-day plugin that lets you create an advanced booking system and embed it on your WordPress site.
This plugin comes with support for all payment systems so that you can pay while booking. You can embed the booking form on a page or a post using a shortcode. Your visitors can also check for availability through your website.
This plugin is development-friendly. This means developers can play around with the functionalities without ever touching core code. You can sync it with the calendar you already have. It supports Google, iCal, iPhone, Android, or Outlook.
Automatic email notifications keep users updated about appointment status as well as upcoming appointments. This plugin is suited for all business owners, from health and education to anything that requires booking. There's detailed documentation available that you can go through to know more.
Features
Automatic email for cancellation, reschedule upcoming appointments, and booking status.
Excellent design
Supports popular calendars like Google, iCal, iPhone, Android, and Outlook.
Customizable booking forms
Supports online payments
Developer friendly
Pros and Cons
| Pros | Cons |
| --- | --- |
| Developer Friendly | Only paid version available |
| Customizer Booking Form | |
| Email Notifications and Reminders | |
15. Time Table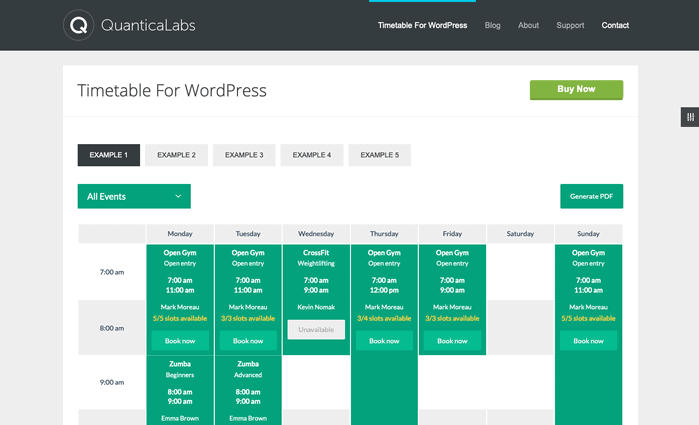 Time Table is a responsive scheduling plugin that lets you create a timetable for WordPress events. Users of the website can easily book appointments through your WordPress site.
With Timetable, you can use customizable widgets to present all the upcoming events for a day. Optionally, you can also use shortcodes to display lists of all upcoming appointments in a single event.
You can manage the bookings on your website easily using the Timetable plugin. The plugin supports Visual Composer integration. This allows you to drag easily and drop page builder and present your timetable in a better way to your customers. If you want, you can also create a dedicated page for schedules.
One of the outstanding features of Timetable is that you can generate PDF from your Timetable view. The plugin is fully customizable, so you can adjust the design and functionalities as you prefer.
Features
100% responsive and mobile-friendly
Export to PDF
Supports Visual Composer
Even Filtering
Unlimited Timetable, Events, and Occurrences
Fast and easy
Timetable shortcode generator
Widgets for upcoming events
Built-in Color Picker
Font Configurator
Pros and Cons
| Pros | Cons |
| --- | --- |
| Highly Customizable | No free version available |
| Plugin Demo Data Installer | |
| Fast and Friendly Support | |
16. WP Simple Booking Calendar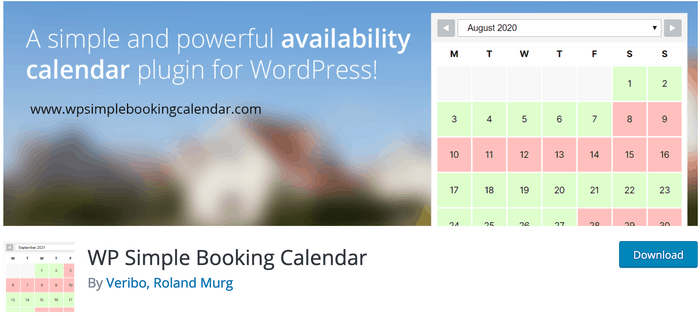 WP Simple Booking Calendar allows visitors to check the date availability without contacting the business operator via text or call. If you own a holiday home, hotel, tour company, vehicle rent, and looking for a responsive calendar plugin for the customers to book your service, this is the plugin for you.
The plugin has a simple user-friendly interface that can be easily used by beginners without any coding knowledge. It has a responsive layout that fits every screen size and device type. If your site is based on a language other than English, you can also translate this plugin into your preferred language. You can add and save booking information for each day using this plugin.
The premium version of this plugin lets you create an unlimited number of calendars on your site. It comes with a bulk calendar allowing you to edit multiple dates with a single click. You can change the first day of the week and highlight the current day.
Features
Simple user-friendly interface
Responsive Calendar Layout
Translation Ready
Backup/restore calendars and data
Sync calendars with Airbnb, Booking.com and other sites supporting iCal
Display multiple months
Display tooltip with info for each day
Multiple Calendar Overview
Export dates as CSV files
Create custom legend
Pros and Cons
| Pros | Cons |
| --- | --- |
| Available in Free and Premium Version | No Time-slot booking is available |
| Sync Calendars with Airbnb and Booking.com | |
| Translation Ready | |
17. Booking Calendar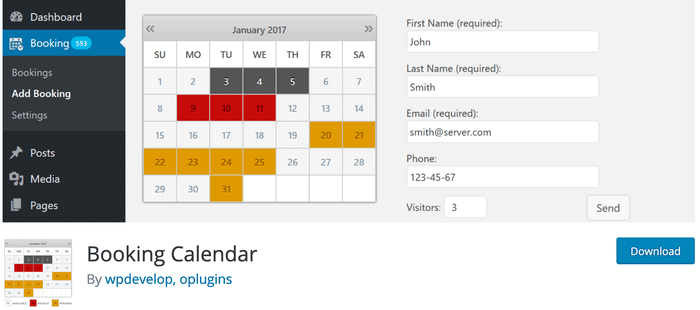 Booking Calendar is a booking plugin that enables you to display available dates and receive bookings for any kind of property and service. It has a simple user interface providing your customers a smooth booking interface.
You can accept bookings for the full day or also add time slots to be more specific. Once the customer selects a day, chooses a time slot, fills the booking form and submits the booking, you will receive a notification. You can then approve or decline the reservation.
The sleek Admin Booking Panel of this plugin lets you see all the bookings according to day/week/month in the Calendar Overview Panel or also called Timeline. You can also view the total number of bookings on the Booking Dashboard.
The plugin has a responsive front-end and back-end design and is highly customizable to fit your site design. It is extremely easy to install and set up this plugin. You can simply install, configure, and insert booking shortcode into the post or page and you're good to go.
Features
Flexible fitting any business type
Easy to use Booking Admin Panel
Booking Calendar Blocks for Gutenberg Editor
Responsive front-end and back-end display
Timeslots Booking Option
User-friendly Booking Interface
Booking Search feature with different parameters
Activate/deactivate certain fields
Supports CAPTCHA
Double Booking Prevention
Pros and Cons
| Pros | Cons |
| --- | --- |
| Time-slots Booking Option | No dedicated Support Available |
| Booking Calendar Blocks for Gutenberg Editor | |
| Multilingual Support | |
FAQs
Which WordPress Appointment plugin should you choose?
In this article, we recommend the Amelia appointment booking plugin. This plugin excels in multiple aspects. It is a powerful plugin that lets you manage both customers as well as employees through its dashboard. Other features like SMS alerts and attractive design also make this plugin an outstanding option. 
Besides, if you run a travel business, then the WP Travel Engine plugin is the best solution for booking appointments. This plugin features a smart booking process that is quick and smooth. The price gets automatically adjusted on the number of people selected for booking. Likewise, the booking form includes only the necessary booking fields making the process faster.
Similarly, the Woocommerce Booking and Appointments plugins come in handy for WooCommerce users. It comes with the Dynamic Total Booking Cost calculation that helps your clients to see the rate options while booking. It further lets you enable booking addons for any extra services.
What to look for in a WordPress appointment plugin?
Each appointment plugin has its specialty. Some allow you to book appointments easily, while some provide options to select multiple services. Thus, it is hard to decide what to look for in a plugin. First, you should list your requirements according to the type of business and check each feature of the plugin to see if it helps you.
Why do you need the WordPress appointment plugin?
Having a WordPress appointment booking plugin improves the operational efficiency of your business website. Appointment plugins dramatically reduce the hassle of booking appointments through the phone, both for users and service providers. It enhances the user experience and makes it easy to get service for customers.
Conclusion
These are the 15 best WordPress Appointment plugins that you can use for your website. We tailored this list of plugins based on user reviews and ratings. If you need a booking plugin for your WordPress site, you can choose any of the above based on your preference. We are sure you will not be disappointed. Do share your experience in the comment section below.
Since you are here, check out these following blogs: