For any successful website, top-notch and reliable customer support is the crucial element. However, sometimes, addressing the queries of each customer becomes time-consuming and repetitive. This is where the WordPress FAQ plugin comes in handy.
By using an FAQ plugin, you can easily add an FAQ section to your website. You can then address the common queries of your visitors on this page. It will save you loads of time, make your website seem professional, and show your visitors that you care.
You can add an FAQ page manually. However, one of these ten best WordPress FAQ plugins of 2022 can help you incorporate modern style and ease the customer support process.
Let's dive right in:
Why Does Your Website Need a WordPress FAQ Plugin
We can all agree that customer support is crucial for any website's success, especially if you sell services or products online.
Helping the visitors who come across problems helps boost your business. It increases trust, generates more leads, and improves the chances of continuing the same in the future.
Also, a happy customer means more user retention and more recommendations from them. It could benefit your brand reputation and even help in advertising it.
A study even states that the cost of recruiting new customers is six to seven times more than the cost of retaining the old ones.
Having said it, we understand that addressing every query of your customers can be troublesome.
That's why it is wise to set up an FAQ page using the best WordPress FAQ plugins. This way, you can answer the common questions proactively, so the visitors don't have to reach you.
Plus, you can't ignore the 67% of the customers that prefer self-service options rather than contacting the company's representative.
List of Best WordPress FAQ Plugins
Several FAQ plugins will help you put up an elegant FAQ page effortlessly. Here are the best ten at the job:
1. Ultimate FAQ
The ultimate FAQ plugin is one of the best WordPress FAQ plugins by the installation number. It strives to do everything you expect from a decent FAQ plugin.
The block editor optimization makes it super easy and extremely flexible to build and adjust the FAQ page on any site. It is responsive and also integrates WooCommerce. Also, you can work out your own layout, color, and styles.
The plugin also lets you add a FAQ search field to your website. With this feature, your visitors can find what they are looking for in an instance.
Ultimate FAQ plugin is the leading solution to your FAQ needs. For extended features, you can even sign up for one of their premium plans.
Features
Set up categories so that it is easier for the visitors to find answers to their questions.
FAQ search field for better user experience.
You can extract all the questions on the page in a PDF format and create a user manual.
You can style the FAQs posts using custom CSS.
WooCommerce integration lets you put FAQs on your WooCommerce page easily.
Schema integration helps to boost your SEO.
Multiple customization options, including layout, style, color, text, and more.
Gutenberg block editor for easy adjustments.
Three blocks related to FAQ.
Pros
Super-easy to use this plugin.
The FAQ search field makes it very easy for your visitors to find relevant questions.
WooCommerce integration.
Block Editor optimization.
Highly customizable.
Cons
The premium plans are a bit pricey than other options on the list.
The plugin does not display the FAQs on the sales page; instead it sets up a whole new FAQ page.
Pricing
The Ultimate FAQ plugin is free. However, for extended features, you can sign up for a premium plan. They offer three plans:
Single Site License: $30
Five-Site License: $100
Ten-Site License: $170
2. Accordion FAQ
The Accordion FAQ plugin helps you create multiple FAQ pages with just a few clicks. You can mold the page to your needs and style it in accordion, list, or block display types. For quicker operation, there are multiple custom templates to create FAQ sections.
Unlike the Ultimate FAQ plugin, Accordion FAQ lets you create pages easily so that you don't have to show the FAQs all on a single page. This way, you can add FAQs to individual pages and improve the user experience.
You have complete control over the customization part as well. You can easily adjust the icons, colors,border-radius, and font sizes. The custom shortcodes further increase the personalization possibilities. In addition, ongoing customer support offers a safe passage through the setup process and any bugs that might come along in the future.
Features
Multiple FAQ accordions
The shortcode generator helps in easy plugin setup.
Display the FAQs in various styles – list, accordion, or block.
Drag-and-drop FAQ reordering.
Easily adjust the icons, colors, font sizes, and border-radius.
Translation Ready
Step-by-step documentation
Customer support for setup, product features, and fixing bugs.
Pros
You can create multiple FAQ pages.
The plugin offers multiple customization options.
Custom shortcode generator.
Quick and reliable customer support.
Cons
Beginners may find this plugin a bit confusing to work with this plugin in the beginning.
Pricing
You can get the Accordion FAQ plugin at $17 as a one-time cost. At that price, you also get all the future updates and six months of free support.
3. Easy Accordion
The Easy Accordion is a lightweight and fast plugin that sets a buffet of multiple customization options. You can choose from multiple colors, icon sets, and typography sets.
The plugin is responsive and has an intuitive admin panel with drag-and-drop functionality. Such a feature lets you build your FAQ page effortlessly within a short time.
Easy Accordion also offers built-in themes to style your FAQs. In the free version, you get one theme, while the pro version offers 16 theme options.
Features
Responsive
Lightweight and fast
Intuitive admin panel
Multiple accordions
Drag and drop accordion sorting
Multiple customization options for color, theme, typography, and icon sets
Translation Ready
Custom CSS
Widget friendly
Premium Features
Advanced shortcode generator.
16+ unique theme options
Option for Accordion theme preview
Multi-level or Nested Accordion
WooCommerce FAQ Accordion tab
Ready for any page builder (WPBakery, Divi, Elementor, or others)
Multi-site support
Advanced typography options with option up to 840 Google Fonts
Pros
The drag-and-drop functionality makes it easy to sort the FAQs and customize them.
Multiple options for colors, fonts, and icons.
Lightweight design so that it does not bloat your site.
Cons
The free version has only one theme to style the FAQs. For more options, you need to upgrade to the pro version.
Pricing
Easy Accordion is a free plugin with multiple features. However, it also has a pro version with three options:
Personal – $29 per year (for a single site)
Business – $99 per year (for up to five sites)
Agency – $199 per year (for unlimited sites)
4. WP Responsive FAQ
The WP Responsive FAQ plugin marks a new standard for responsiveness. It makes sure to collaborate its responsive build with the collapsible FAQ design.
You can instantly add FAQs to your page or post by adding a shortcode. Further, you can also add the shortcode parameters to customize the displays.
The plugin also lets you limit the items on the FAQ section. There are also categories for organizing your FAQs. Thus, you can choose which ones are important. A unique feature of this plugin is that you can also set the transition speed. You could even add a thumb image.
You can begin with the free version if you only need basic features from the plugin. Then, for more options, you can upgrade to a pro version. The pro version has additional features such as 15+ predefined designs for FAQs with Accordion, WooCommerce integration, Drag-and-drop order change, Include/exclude FAQ, grid view, and better animation.
Features
Responsive build
Easy to install and use
Shortcode parameters
Limiting the number of items to show
Set the transition speed
Premium Features
WooCommerce integration
15+ predefined designs
Drag and drop reordering
Including and excluding FAQ
Grid view for FAQs
Better animation than the free version
Custom CSS editor
Pros
Responsive design
Shortcode makes it easy to add FAQ to the posts or pages
You can set the transition speed
Cons
The plugin offers only limited customization features in the free version. For extended options, you need to go for the premium version.
Pricing
You can download and use the WP Responsive FAQ plugin for free. However, it also offers a premium version with the following pricing plans:
Annual Yearly Access – $119 per year.
Lifetime Access – $299 per year
5. Knowledge Base for Documentation and FAQs
Coming with an intuitive and SEO-friendly design with a professional touch, Knowledge Base for Documentation and FAQs plugin is a must-have tool for any website. The plugin is extremely easy to configure, thanks to its intuitive setup wizard. In addition, you can easily organize the FAQs by products, services, or team using the tab layout.
One unique feature that this plugin brings to the table is its versatility. Instead of only letting you create your FAQ list in accordion style, this plugin builds an entire knowledge base for your site. That means:
you can now incorporate documents and share guides,
You can let your visitors search the questions easily,
You can style the knowledge base using any of the built-in themes.
What's more exciting about the plugin is its multiple customization options. You can choose from 26 predefined templates and 500+ icons. Personalizing the texts and colors is also possible, alongside adding buttons, tags, and comments to your documents.
For a free option, this plugin may even be better than most of the options on the list.
Features
Easy-to-use frontend editor
Basic, Category, and Tabs focused layouts
A fast search bar
Five documentation hierarchy
500+ icons with an option to upload as well
26 predefined templates
Multiple customization options
SEO friendly
Friendly support
Pros
The search bar adds to the user's convenience.
Multiple ways to customization the FAQs
Frontend editor for quick and easy adjustments
Customer support seven days a week.
Cons
You need to buy the add-ons separately for extended functionalities.
Pricing
The Knowledge Base for Documentation and FAQs is a free plugin. You can download and instantly begin using it without any restriction. For added features, you can buy their premium add-ons.
6. Heroic FAQ Plugin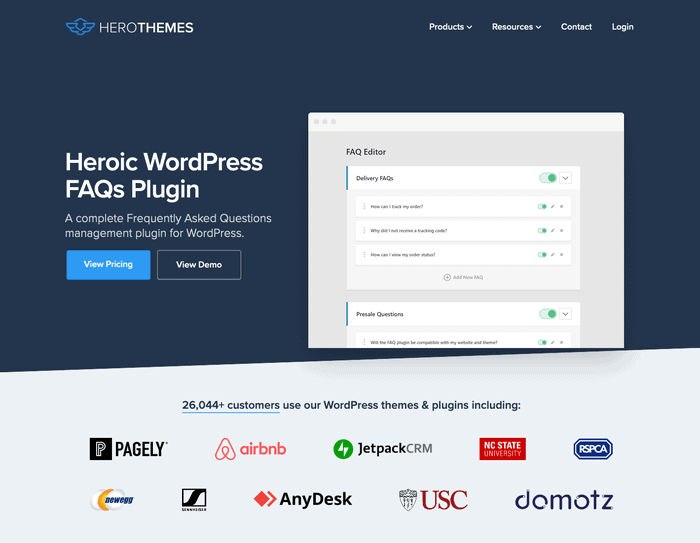 Heroic FAQ plugin is a complete solution for WordPress FAQ management. In addition, this plugin has one of the most enticing interfaces for easy customization.
With its visual editor and drag-and-drop interface, personalization is much easier and more fun. You can choose from five built-in styles and configure them as you need. The best thing is that you can do it all from the same page and bypass moving to and fro from multiple pages.
Its responsive design makes the FAQs look flawless on any device. Also, using the shortcode, you can add the FAQs anywhere on your page.
What's more, is its schema-enabled design for Google-rich snippets and dedicated support.
Features
Easy to use
Visual editor and the drag-and-drop interface
Five built-in styles
Responsive
Multiple customizations
CSS3 animations
Dedicated support
Pros
Super easy to customize using the drag-and-drop interface and visual editor
You can customize the FAQs in multiple ways.
Cons
The plugin does not offer a free version. However, they do give a 30-days money-back guarantee if you are not fully satisfied.
Pricing
There are three pricing plans of this plugin:
Heroic FAQ Basic: $49 (for a single site)
Heroic FAQ Pro: $69 (for three sites)
Heroic FAQ Business: $149 (for five sites)
7. Spider FAQ
Sometimes, a simple option is a better option. That is what the Spider FAQ believes. It is a simple plugin with ample options to add FAQs to your page/post with minimal effort.
You can easily customize the questions' sequence on your FAQ page. The simple editor comes to your aid on this. Each FAQ supports images so that your page looks versatile and professional. There are also options to make the likes, unlikes, and hits visible on the FAQs. Such a feature increases user interaction and helps to gain their feedback.
If you don't like the default settings, you can set your own categories and add collapsible sections. Further, the search function makes it easy to surf for the right question on your FAQ page.
While the plugin is free, you can also upgrade to the premium version to enjoy more features.
Features
Simple editor for easy sorting of the questions.
You can add images to each FAQ.
Like and unlike buttons help to gain user perspective.
Options to set categories, collapsible sections, and search functionality.
Premium Features
Drag and drop builder with over 40 templates.
22 customizable themes.
Options to adjust colors, fonts, and dimensions of each FAQ element.
Pros
Easy to use.
The simple editor lets you sort your questions.
You can take your visitors' feedback with the help of the "like and unlike" feature.
Cons
There are limited options for customization in the free version. For more options, you need a pro license.
Pricing
The Spider FAQ plugin has a free version and a pro version that starts at $20 for half a year.
8. Quick and Easy FAQs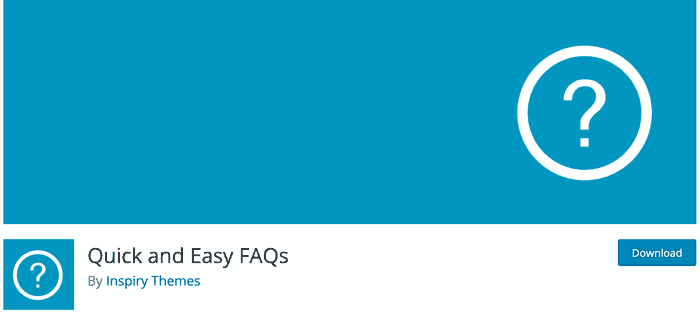 The Quick and Easy FAQs plugin lives up to what it says. This FAQ plugin makes it super easy to add an FAQ page to your site.
It offers a familiar shortcode system with custom post types. You can use this feature to display and add questions and answers. You can filter those questions based on your wants and also toggle on the accordion display.
You can toggle your FAQs' FAQs' text border color and background color directly from the dashboard. This plugin does not have many fancy features, but it offers all the basics to add FAQs.
Features
You can add custom post type
The plugin supports shortcodes for the easy addition of the FAQs.
Options to customize text, border, and background colors.
Filtering option for the questions.
Compatible with Visual Composer plugin.
You can add custom CSS codes.
Pros
Easy to install and use.
Custom post type.
Questions filtering option
Compatible with popular page builders
Supports shortcodes
Cons
There are not many features for customization or managing the FAQ page/post.
Pricing
The Quick and Easy FAQs is a free-to-use plugin.
9. Arconix FAQ
If you are looking for the perfect minimal and simple FAQ plugin for your WordPress site, Arconix FAQ would be the best choice for you.
You can add the FAQ items anywhere on your site by using the plugin-generated shortcodes. The plugin displays the FAQs using the jQuery toggle and accordion box.
Arconix FAQ lets you create your own custom formats and design your FAQ section. This plugin also provides a live preview of the FAQ design while you're customizing it. Moreover, the return-to-top link saves your customers' time and adds to the user experience on your website.
Features
Accordion display
jQuery toggle
Live Demo
Group Taxonomy
Custom Post-Driven
Pros
Frequent updates
Return-to-top link
Cons
Price
Arconix FAQ is a free-to-use plugin.
10. HTML5 Responsive FAQ
HTML5 Responsive FAQ is a simple WordPress FAQ plugin that is compatible with any WordPress theme. This plugin allows you to create a responsive FAQ section either as a sidebar widget or as a different page on your site.
You can create multiple FAQ sections using this plugin with custom titles, which will help your visitors to find the information quickly.
Features
Hide/Show FAQ
SEO-Friendly
Custom sorting options
Multiple Categories
Custom Title
Pros
Easy shortcodes
Universally compatible
Cons
Price
HTML5 Responsive FAQ is a free-to-use plugin.
Which is the Best WordPress FAQ Plugins- Conclusion
So, these were the top ten WordPress FAQ plugins of 2022. All of these plugins will help you add a FAQ page in no time. Some have more or fewer features than others. Yet, all these will get the job done. 
If you are looking for a free option, we recommend the Quick and Easy FAQs plugin. It gives you complete control over the colors, texts, and dimensions of the FAQs. Plus, you can use custom CSS to increase the user experience.
Likewise, for a paid option, you can go with the Ultimate FAQ plugin. It has everything you would ever need from an FAQ plugin. Starting with the ease to install and use, to WooCommerce integration, search field, custom CSS, and multiple customization options, the plugin offers everything.
If you want to read more articles related to WordPress Plugins, you may check out the following: