Are you tired of your web hosting plan that always causes problems?
If yes, you need a more powerful hosting option. While many may recommend you to start with basic packages, it may not be relevant all the time.
If you're craving to boost your business, consider looking for the best VPS hosting provider.
Usually, most of the smaller websites use shared hosting. Although it is relatively affordable, it limits the scalability and growth as you'll share an entire server with several other websites.
The server of VPS web hosting offers more stability, power, and flexibility compared to shared hosting. In the meantime, it is relatively low-priced when compared to the expensive dedicated hosting. The VPS hosting is more like a well-balanced middle-of-the-road service tier for your brand or business.
Similar to shared hosting, you'll be sharing a physical server on VPS hosting as well. However, you'll have a few dedicated resources, such as RAM or CPU, entirely reserved for your website on a virtual server. Those dedicated resources allow your website to accommodate more traffic and grow much faster.
However, if you gaze around, you'll find loads of VPS hosting providers out there. Having to choose the most suitable option can be quite a challenge. So, in this article, we have handpicked ten of the best VPS hosting providers to help you find the right match.
Let's get started.
What is VPS Web Hosting?
Virtual Private Server (VPS) is a web hosting platform that virtually imitates dedicated server environments within a shared hosting server. It is hands down the most productive way to host any website.
Lately, VPS hosting has become a popular choice among website owners because it provides better reliability, performance, and security than shared hosting at a lower cost than dedicated hosting.
In VPS hosting, you get root access to the server. Hence, this hosting platform provides the users the freedom to make necessary changes and install applications without reaching out to the hosting providers.
VPS web hosting is an excellent option for programmers, SaaS providers, and game creators. It is also ideal for companies and businesses that have outgrown their shared hosting and need a secure and affordable hosting service.
How Does VPS Hosting Work?
Virtual Private Server (VPS) is a type of hosting server that hosts multiple virtual servers using a single parent server. Unlike shared hosting, each server within a single VPS receives its own resources with complete root access, including CPU, RAM, and OS.
The hosting company uses the Hypervisor software to apply a virtual layer over the operating system to segment the virtual servers. This separation among the virtual walls lets each VPS user install their own operating system and applications.
Typically, VPS hosting is used for smaller websites that require consistent performance at an affordable price. You can use VPS hosting if you want to:
Host up to 10 different websites
Host email account
Host web servers
Store both customers as well as the company's data in the most accessible way possible
Deliver virtual workstations to remote employees
Build cloud-based services for customers
What are the Benefits of VPS Hosting?
VPS hosting delivers several significant advantages that combine some of the best features of shared and dedicated hosting. Some VPS features may vary depending upon your hosting company.
In general, there are a few significant advantages to VPS hosting. They are:
1. Reliable Performance
Even though you'll have to share the same server with several other users, your enterprise will remain independent in VPS hosting. Unlike shared hosting plans, you'll have your own allocated bandwidth and storage that ensures reliable performance.
It is incredibly significant to remain independent because websites that share the hosting plan can be affected by one another. For instance, if a website that shares the same server, bandwidth, and storage as your business receives high traffic, it can significantly slow down your website performance.
However, with VPS hosting and its separate resources, your website's performance will never be affected by other sites.
2. Value
There was a time when small brands and businesses would normally opt for shared hosting plans simply because VPS or dedicated hosting was too expensive. Even though VPS hosting's performance, speed, and security are unmatched by shared hosting, businesses seldom used it.
However, in recent years, VPS hosting's cost has significantly decreased, making it an ideal hosting option for almost any business. Along with technological advancement, most hosting providers have started offering VPS hosting plans for less than USD 10 per month, nearly as much as most shared hosting plans.
3. Control
One of the most typical issues while using a basic hosting plan is lack of control. Those hosting plans do not offer you access to your root directory. Without root access, you'll have to rely entirely on the hosting providers' software packages. In that case, all the available softwares will be dictated by the host, and softwares that are not supported by your hosting service will raise security concerns.
However, with VPS hosting, you'll get full access to SSH and root environment. With root access, you can make all the necessary software changes freely within the server.
4. Scalability
If you have a small business and have no plans to expand it, you may not have a problem predicting the amount of traffic on your website. But, if you're thinking of growing your brand or business with time, it is quite likely that your web traffic will increase as the customer base expands.
When your web traffic increases, it is essential to have a server that can accommodate the growth. If you use shared servers, it most likely will not be able to adjust the growth. However, with VPS hosting, you can easily scale up your operations without a single interference in the server. Unlike shared hosting, scaling in VPS hosting can be as simple as upgrading the hosting plans. Most VPS hosting plans do not require any downtime when it comes to scaling, so your website will operate smoothly without any interruption.
5. Customization
Frankly speaking, shared hosting comes with minimal options for customization and configuration of the server. It is because the web host exclusively manages the server, and they choose all the OS and applications within the servers. To tell you the truth, you most likely will never know how the server is set up with shared hosting.
On the other hand, VPS hosting plans offer a wide range of customization options. Most VPS hosting providers offer several OS options to choose from and an auto-installer for development applications. This way, you'll get much more flexibility over OS and applications. Additionally, some unmanaged VPS plans even offer complete freedom over administration as well as installation.
6. Data Protection and Security
VPS hosting also provides efficient data protection and security. It is quite evident that data backup is a significant aspect of disaster recovery plans.
So, unlike other hosting platforms, VPS hosting provides terrific backup solutions that allow you to automate and schedule backups to meet your business needs. Typically, VPS hosting environments are isolated from one another. Therefore, these hosting services are more secure when compared to shared hosting environments.
With backup solutions, like R1Soft, VPS hosting plans allow you to back up your server in the cloud in order safely so that you can restore all your data in case of any unfortunate circumstances or disaster.
Best VPS Hosting Providers Reviewed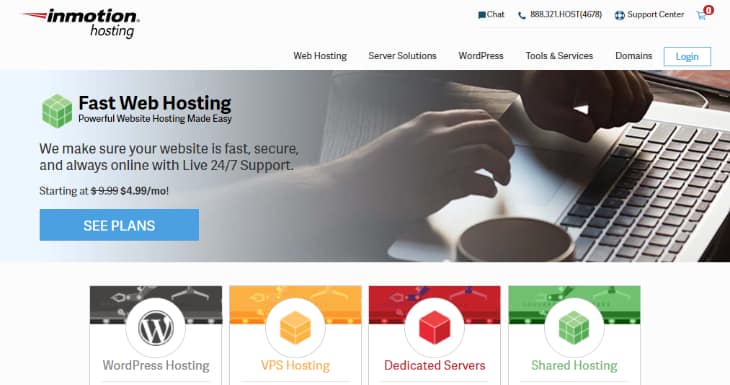 As a whole, InMotion Hosting is one of the best web hosting providers in the market. It delivers robust and secure web hosting solutions, covering all spectrums of website requirements. And when it comes to VPS hosting, InMotion sets the bar to the next level.
Their speed, performance, and security makes InMotion, the perfect solution for growing agencies, businesses, and resellers. All the VPS hosting plans come with root access, unlimited CPU cores, free backups, and email accounts. This hosting provider also offers free site migration for their VPS hosting plan with zero downtime.
InMotion offers three managed VPS hosting plans — VPS-1000HA-S, VPS-2000HA-S, and VPS-3000HA-S. VPS-1000HA-S is the most affordable VPS hosting package starting at USD 51.99 per month. This package offers 4 GB RAM, 75GB SSD storage, and 4 TB bandwidth with three dedicated IPs.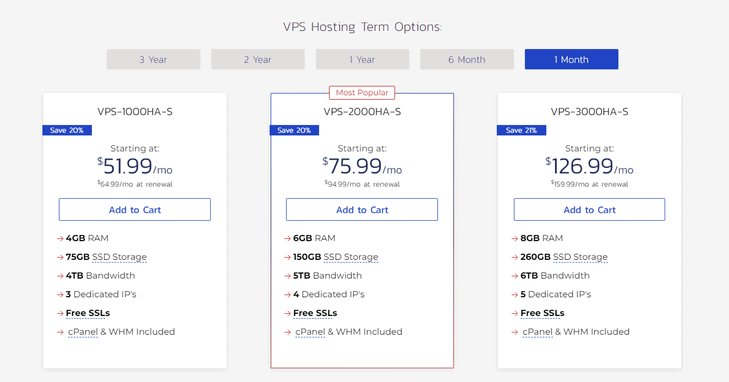 On the other hand, VPS-3000HA-S is its highest tier VPS hosting package, starting at monthly USD 126.99. This package offers 8 GB RAM, 260GB SSD Storage, 6 TB bandwidth, and five dedicated IPs.
Besides that, all the VPS hosting plans of InMotion provide dedicated Sysadmin support to expedite the server setup. It also includes a visual monitoring dashboard that continuously displays RAM's visual breakdown, bandwidth disk, and load usage of your server.
With SSH & DDoS Protection, InMotion Hosting provides uncompromised protection from brute-force and DDoS attacks. If you want to roll back to another version of your server, the Server Snapshots allows you to do it smoothly and instantly.
Furthermore, InMotion Hosting is a good choice for eCommerce sites. All of their VPS hosting servers are well-optimized for online business. They also let you choose your data center to enhance speed and performance.
InMotion guarantees 99.999% network uptime. They even provide a 90-day money-back guarantee, just in case you're not satisfied with their service. Also, all of their hosting plans are backed by outstanding 24/7 customer service.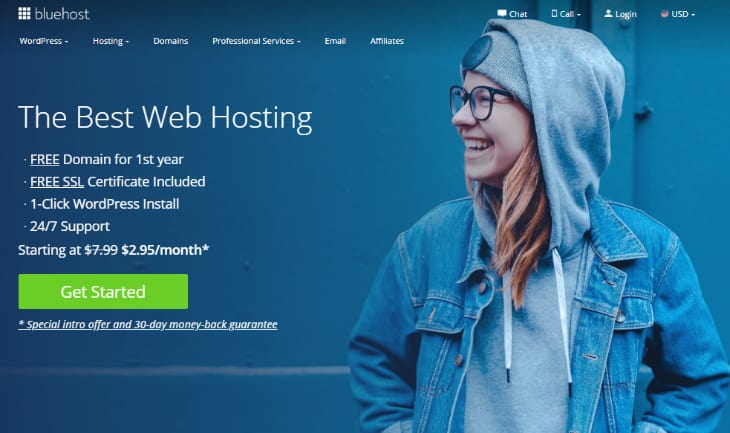 Powering more than two million websites, Bluehost holds its stature as the largest and most reliable web hosting provider worldwide. Even though they're famous for WordPress hosting, their other hosting services are second to none.
Bluehost's Next-Gen virtual private servers are entirely set up using SSD storage. Hence, you'll get to enjoy increased power, performance, flexibility, and control for your websites.
There are currently three different Bluehost VPS hosting plans for you to choose from — Standard, Enhanced, and Ultimate. The Standard plan starts at USD 18.99 and offers 30 GB SSD storage, 2 GB RAM, 1 TB bandwidth, with a single IP Address.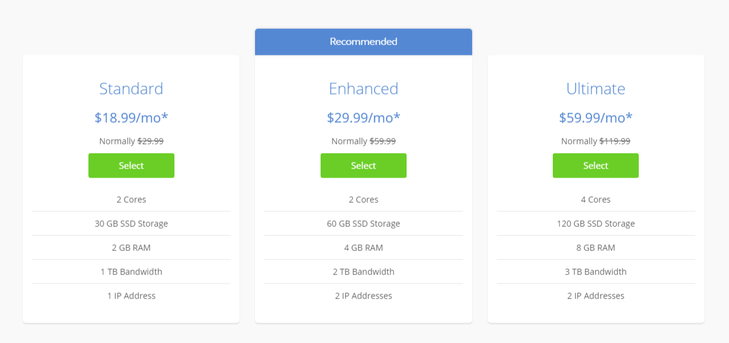 On the higher end of the VPS plan, they have the Ultimate plan starting at USD 59.99. This hosting package comes with 120 GB SSD storage, 8 GB RAM, 3 TB bandwidth, and 2 IP Addresses.
All of their VPS hosting plans provide one free domain registration for the initial year, which can later be renewed at market price. Boasting exceptional 99.98% uptime, all the VPS packages guarantee reliability and performance.
In addition to that, it comes with a free SSL Certificate to ensure a secure connection for eCommerce websites. It also protects your personal details for added security. Their enhanced cPanel offers full access to CentOS for advanced users, offering complete control of your server.
Bluehost integrates open source technologies, such as OpenStack and KVM, for speed, power, and comfort. Also, they use high-performance components to ensure that your website performs at the optimal level all the time.
If you need more than one server, Bluehost allows you to add more VPS hosting services to your account. With their multi-purpose management, you can manage all the accounts effortlessly in one place.
Bluehost also offers optional add-ons for domain privacy and protection to prevent spam, identity theft, and phishing attacks. If you need additional resources, the administration team will instantly add storage to your server.
Moreover, if you do not like any of their services, they'll refund your money within 30 days.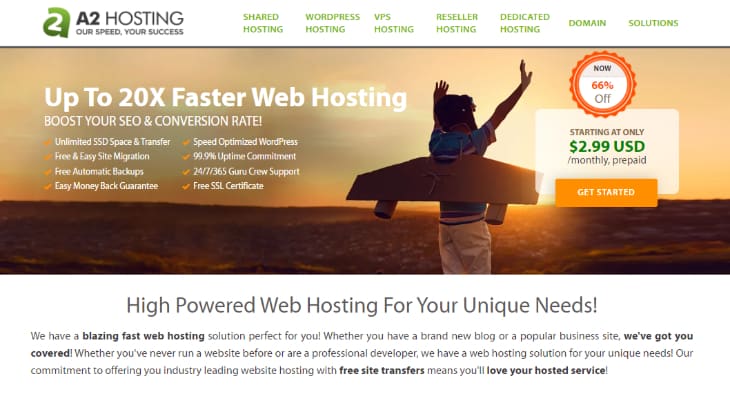 A2 Hosting is hands down, the fastest web hosting provider on the market today. With up to 20 times faster turbo servers, this hosting provider boosts your SEO ranking and conversion rate.
That being said, A2 Hosting is not just about the blazing speed. Overall, it provides an excellent website solution with a large selection of hosting services. In regards to VPS hosting plans, A2 Hosting is on top of its game.
The virtual private servers of A2 Hosting are super flexible. Unlike other hosting providers who provide different hosting plans, A2 hosting offers three different VPS-based management levels to fit everyone's needs. They have Managed VPS, Core VPS, and Unmanaged VPS.
Managed VPS is their most popular hosting solution designed with more power and support than Shared Hosting. This management level supports your core server software, hardware, security configuration, and provides general troubleshooting assistance. However, they do not give any access to the root environment. Managed VPS includes three hosting packages, ranging from USD 25 to 50 per month.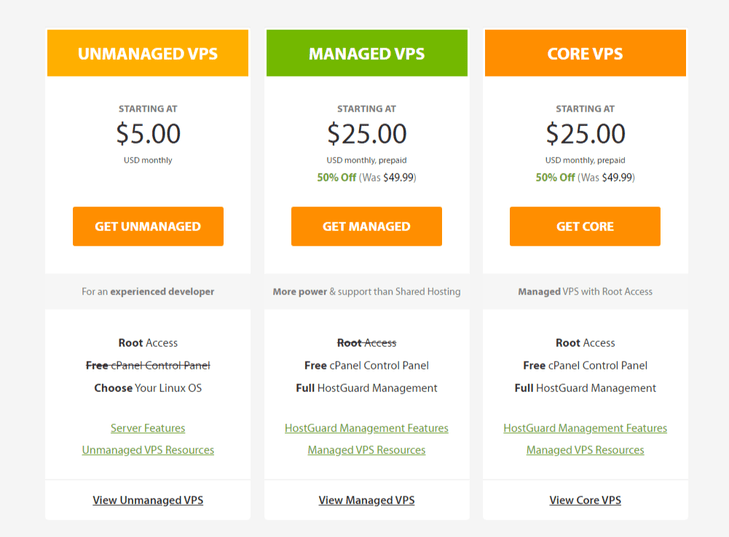 On the other hand, Core VPS makes an excellent choice for users who need advanced administrative privileges. This offers full HostGuard management, cPanel control panel, and root access. Like Managed VPS, Core VPS also includes three different hosting plans, ranging from USD 25 to 50 per month.
Unmanaged VPS is explicitly designed for experienced developers who require full administrative privileges. It is an excellent choice for advanced users who want to configure their servers to meet their exact needs. It allows you to choose the ideal amount of RAM, data transfer, and disk space as per your requirement. There are three different hosting solutions under Unmanaged VPS, ranging from USD 5 to 15 per month.
A2 Hosting provides perpetual security to keep your websites and accounts protected from all kinds of attacks. They come with ultra-reliable servers backed by a 99.9 percent uptime commitment. If you stumble upon any technical issues, you can contact their team of experts at any time of the day.
On top of that, A2 Hosting offers a 30-day money-back guarantee if you're unhappy with their product or service.
GreenGeeks is one of few environmentally-conscious hosting platforms out there. Not only does this hosting provider deliver a fast and secure web server, but it leverages renewable energy by 300 percent to run their hosting services.
With GreenGeeks, you'll be getting superior hosting speed with an easy-to-use control panel that allows you to manage your databases, domains, and email accounts. All the VPS hosting plans comprises free migration and regular OS, Kernel, and PHP updates.
GreenGeeks offers three Managed VPS packages — 2 GB, 4GB, and 8 GB. The 2 GB plan is their most affordable hosting package, costing USD 39.95 per month. This plan comes with 2 GB RAM, 50 GB SSD disk space, 4 vCPU, and 10 TB transfer.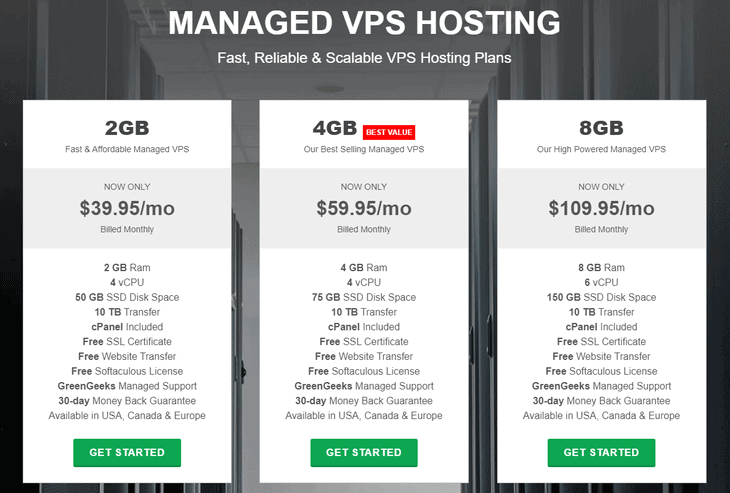 The 8 GB plan, on the other hand, is their high powered VPS package, starting at USD 109.95 billed monthly. This plan features 150 GB SSD disk space, 6 vCPU, and 10 TB transfer.
All three VPS plans of GreenGeeks offer advanced security against constant threats, thanks to their DDoS protection, real-time 24/7 monitoring, and custom security rules. They use the latest Intel Xeon Processors with 99.9 percent service uptime on all of their VPS hosting platforms to deliver industry-leading performance and reliability.
Furthermore, GreenGeeks integrates CentOS 7 64-bit operating systems on all their VPS hosting accounts to deliver a robust open-source ecosystem. All the GreenGeeks' hosting accounts are hosted on RAID-10 SSD storage arrays that offer lightning-fast data storage.
GreenGeeks includes multiple data centers around the world, including the United States, Canada, and Europe. Hence, you can choose the nearest data center for optimum performance and speed.
GreenGeeks also provides 24/7 pro-active monitoring. Therefore, they usually fix most issues way before people are aware of them. Finally, if you're dissatisfied with their service, you can cancel your subscription within 30 days of the initial purchase and receive a complete refund.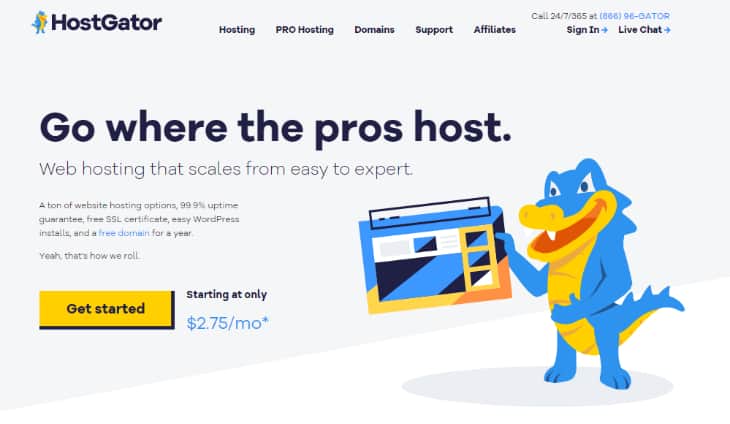 When it comes to overall hosting services, HostGator ranks around the top of the list. While HostGator's shared hosting plans are more popular, their VPS hosting plans are second to none.
All the virtual private servers of HostGator offer full root access, dedicated resources, and easy scaling. With this hosting provider, you can create your hosting environment with a custom configuration.
In addition to that, the VPS hosting services offer excellent scalability as per your needs. You can easily add the necessary resources to accommodate high traffic with one simple click. Therefore, you'll only pay for the server resources that you need.
HostGator features three VPS hosting packages, namely Snappy 2000, Snappy 4000, and Snappy 8000. The introductory price for Snappy 2000 is USD 19.95 per month with 2 GB RAM, 120 GB of disc space, two cores CPU, and unmetered bandwidth.
Contrastingly, Snappy 8000 is their highest tier VPS hosting package that costs USD 39.95 per month. Their top-tier package includes 8 GB RAM, 240 GB disc space, 4 cores CPU, and unmetered bandwidth.
HostGator VPS plans come with full root access that allows you to create your custom code or CMS choice. Additionally, it serves advanced functionality, like hosting unlimited domains, creating complete email addresses, FTP accounts, and databases.
With HostGator VPS plans, you get to enjoy more than 1,000 free site templates, a powerful script installer, and a full suite of web development tools. All the plans are powered by industry-leading hardware, like Intel and AMD, for superb performance.
In addition to that, HostGator performs an off-site backup of all the private server data every single week. So, if you lose any data or information due to some unfortunate circumstances, you can restore all the data with a single click.
If you bump into any technical issues, you can directly contact HostGator's award-winning customer support. You can reach out to them any time via phone or live chat. Besides, if you're unhappy with their service or product, HostGator provides a 45-day money-back guarantee on all of their VPS hosting plans.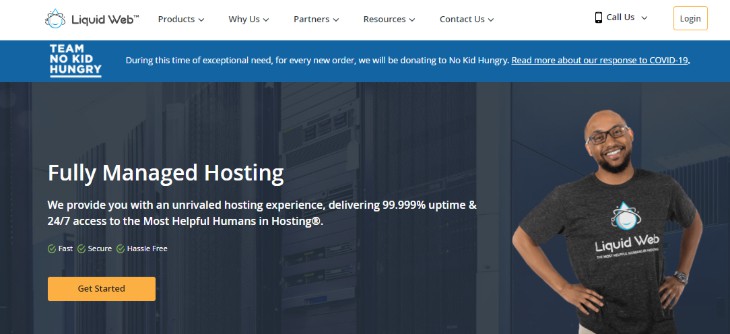 It is safe to say that Liquid Web is one of the most underrated VPS hosting providers out there. Even though they provide top-class fully managed cloud and web hosting plans, most people have not yet heard of Liquid Web.
It is partly because this web hosting provider does not offer basic shared hosting plans, which means this hosting platform is not for beginners. Liquid Web has an impressive collection of web hosting services, including lightning-fast cloud VPS packages.
Liquid Web is highly known for its reliability, affordability, and security. With these plans, you're guaranteed to get a dedicated server's higher performance and power with the flexibility of cloud-based hosting plans. They provide VPS hosting options for both Windows as well as Linux servers.
There are four different hosting plans for Linux, ranging from USD 59 to 189 per month. The four plans come in 2 GB, 4 GB, 8 GB, and 16 GB variants. The 2 GB variant features 2 vCPU, 40 GB SSD disk space, and 10 TB bandwidth. Likewise, the 16 GB variant integrates eight vCPU, 200 GB SSD disk space, and 10 TB bandwidth.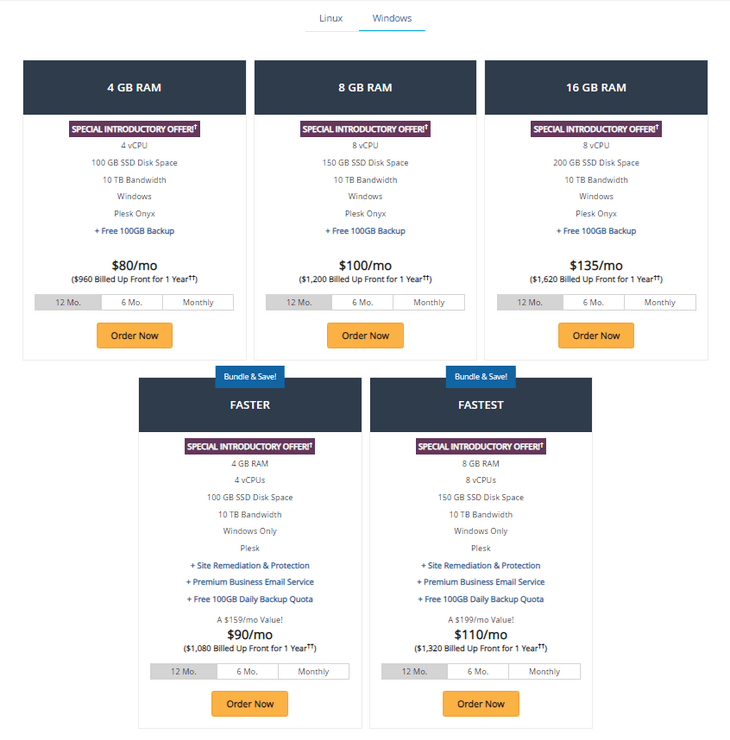 On the other hand, it offers three different hosting plans for Windows, ranging from USD 129 to 219 per month. For Windows, it has 4 GB, 8 GB, and 16 GB variants.
Liquid Web provides 5 TB bandwidth on a fast GB network and free data transfer for all GB bandwidth. With Liquid Web Hosting, you get unlimited websites with InterWorx. You'll also get to enjoy centralized hosting management with full server control for all your sites.
You also get the option to choose Plesk Web Pro or CPanel Admin as your control panel. It lets you manage your servers with system-level control, including automated updates, application deployment, and maintenance. You get five accounts for cPanel and 30 domains for Plesk Web Pro.
With Liquid Web, you get a secure dedicated IP address for your website. The dedicated IP address ensures improved performance, speed, and protection for your site. Besides that, Liquid Web delivers 100 percent guaranteed power and uptime assurance for all the VPS hosting plans.
Moreover, it provides full root access to complete your server's complete control and manage your server environment. Liquid Web also features easy scalability. So, it is quite convenient to upgrade or downgrade your VPS server plans with limited downtime on your server.
Liquid Web puts serious consideration into security and data protection. It integrates Cloudflare CDN to speed up your website and maximize security protection. It also comes with optimized security settings for both Windows and Linux servers, thanks to the exclusive ServerSecure Advanced Security.
Moreover, this VPS hosting plan features an integrated firewall that ensures the business resiliency. This firewall acts as the first defense line to protect your servers from malicious attacks and internet traffic. With DDoS Attack Protection, Liquid Web also provides real-time monitoring to mitigate your web traffic and protect your site from sudden attacks.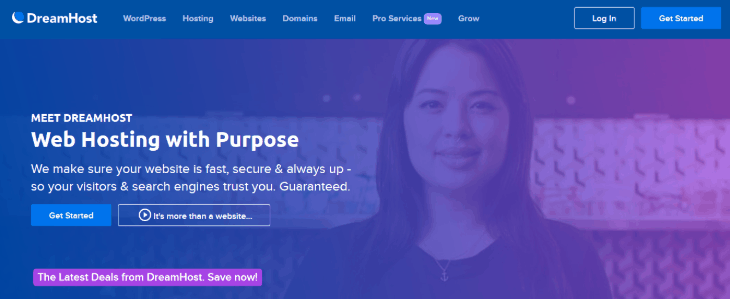 DreamHost is an excellent web hosting provider that makes your website fast, secure, and consistent. With almost two decades of hosting experience, they provide all kinds of hosting services for brands and businesses of all sizes.
DreamHost powers over 1.5 million websites in over 100 countries. Along with shared hosting, cloud-based hosting, dedicated server hosting, and WordPress hosting, DreamHost also offers VPS hosting services at an affordable price.
It has four different VPS hosting plans — VPS Basic, VPS Business, VPS Professional, and VPS Enterprise to meet small to big businesses' needs. VPS Basic is the most economical plan ideal for new and small websites. Starting at USD 10 per month, this VPS plan comes with 1 GB RAM, 30 GB SSD storage, unlimited websites, and unlimited email accounts.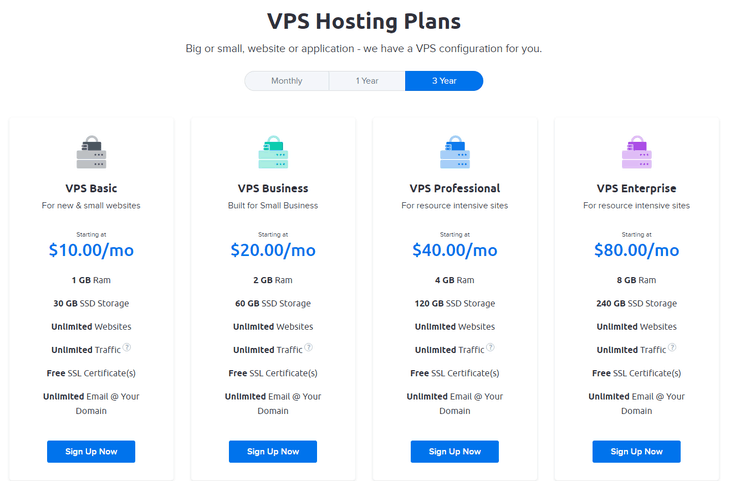 On the contrary, VPS Enterprise is its most premium VPS hosting plan, starting at USD 80 per month. This plan integrates 8 GB RAM, 240 GB SSD storage, unlimited websites, and unlimited email accounts. The VPS Enterprise is suitable for resource-intensive websites that require a large amount of processing power and memory.
To get started with DreamHost is a breeze. They bring a simple and straightforward control panel while offering powerful control and management. In addition to that, DreamHost provides the industry's best uptime performance with a 100 percent uptime guarantee.
DreamHost integrates high-performance Solid State Drives (SSD) 20 times faster than standard SATA disk drives. All their VPS plan comes with business-class hard drives ranging from 30 GB to 240 GB.
Besides that, DreamHost also provides a free SSL/TLS certificate through the Let's Encrypt. This free secure certificate helps to encrypt all the traffic between any website and its visitors. All their VPS plans feature unlimited pre-configured MySQL databases for deploying cloud-native applications.
With DreamHost VPS plans, you can scale up your RAM as per your needs and create unlimited email accounts. Additionally, it also lets you create an unlimited number of sub-accounts that can come in handy to manage client accounts, client website access, FTP, and billing.
There is no shortage of advanced features with all the plans, such as unlimited SFTP users, automatic software updates, unlimited bandwidth, both Apache or Nginx options, and other developer-friendly functions.
Furthermore, they offer world-class technical and operation teams that keep your web server running with OS updates, security patches, and so on. They also provide 24/7 customer support to diagnose and solve all the problems you are likely to encounter.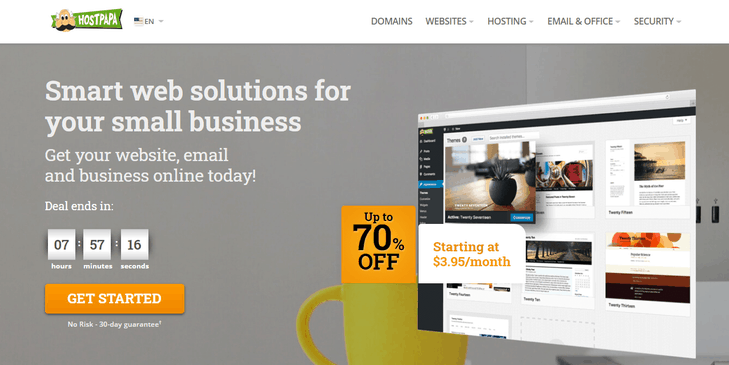 With over 500,000 websites relying on HostPapa, they are America's number one hosting provider for small businesses. They provide all sorts of website solutions, including custom domain registration, website building, web hosting, and email plans.
HostPapa also has top-level Virtual Private Server hosting plans, ranging from small businesses to large enterprises. It integrates easy-to-use and straightforward cPanel and provides root‑level access via the VPS manager.
HostPapa comes with highly scalable computing resources. Therefore, if you're a new business, you can start your website with a basic hosting plan and upgrade your plans as you grow. Although relatively affordable, this hosting provider delivers power, performance, security, and control in all their plans.
HostPapa has five enterprise-grade VPS hosting plans — Mercury, Venus, Earth, Mars, and Jupiter. The plan ranges from basic to premium, from Mercury to Jupiter. Mercury is the most affordable VPS hosting plan at USD 19.99, offering 4 Core CPU, 2 GB memory, 60 GB SSD storage, and 1 B transfer.
On the other hand, Jupiter is their top-end VPS hosting plan at USD 249.99. Their premium hosting plan integrates 12 Core CPU, 32 GB memory, 1 TB SSD storage, and 8 TB transfer. This plan is well-suited for large enterprises and businesses.
With all the VPS plans of HostPapa, you can host as many domains and websites as you wish. Hence, their VPS plans are ideal for developers and designers who build apps and websites for their clients.
This hosting provider also guarantees dedicated resources. It means your website and apps will always use high-performance components and ensure optimal performance. Besides, HostPapa also provides extra resources, including CPU, Input/Output, memory, and entry processes, if you'd want to increase the power.
One of HostPapa's VPS hosting plans' best features is that they are all optimized for eCommerce. Hence, you can easily power your online store with their premium servers, advanced security, and great eCommerce apps. If one server is not sufficient for you, you can easily manage multiple VPS servers directly from your dashboard at any plan level.
With HostPapa VPS plans, you can rest assured about security and data protection. They protect your server with some of the most powerful security solutions, including DDoS Protection, RAID redundancy, Brute force detection, FTPS, and IP Deny Manager.
Moreover, HostPapa is also committed to ensuring that you get the best hosting experience with its award-winning 24/7 support. You can swimmingly reach out to their support team directly via online chat, telephone, and email at any time of the day.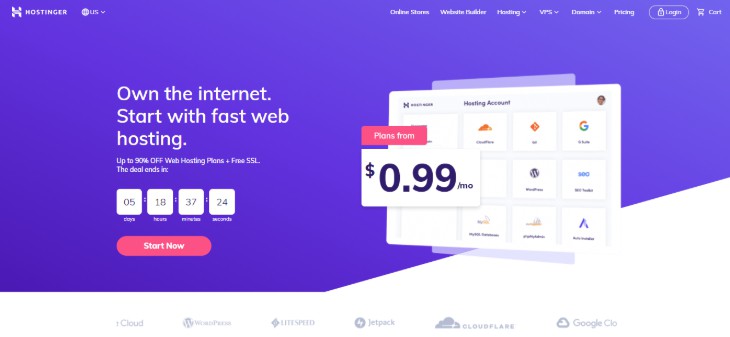 With nearly 29 million users relying on their services, Hostinger is a household name for the web hosting industry. They've managed to build their stature for providing fast, reliable, and cost-effective website solutions throughout the years.
Hostinger features an affordable cloud-based VPS hosting that offers the highest virtual server performance and reliability. One premium feature that comes with all their VPS hosting plans is a dedicated IP address. Even the most basic plans of Hostinger are packed with dedicated IPv4 and IPv6 internet protocols.
Unlike other web-hosting providers, Hostinger provides six different VPS hosting plans ranging from USD 3.95 to 29.95 per month. The 1 vCPU is their most basic plan, offering 1 GB RAM, 20 GB SSD disk space, and 1 TB bandwidth. Meanwhile, the 8 vCPU is their top-tier hosting plan that offers 8 GB RAM, 160 GB SSD disk space, and 8 TB bandwidth.

With Hostinger, managing your VPS is simple and straightforward. Much credit to their easy-to-use VPS Control Panel. You can even control and manage your virtual server with a few clicks on the mouse.
It is quite easy to power on/off your private server, reboot it, install a new web script or OS, trace server stats, or even root access your password. You can also fully back up and restore all your VPS containers directly through the VPS control panel.
All six virtual servers of Hostinger provide a 100 Mb/s network. Therefore, your online business will always have an excellent user experience with blazing loading time.
Hostinger integrates CentOS operating systems to ensure fast, reliable, and lightweight service. The CentOS is one of the leading enterprise-level operating systems that mostly delivers speed and stability without compromising security.
Like most VPS hosting providers, Hostinger also features full root access that allows you to take complete control over your server. It means you do not have to hold back for tech support, support tickets, or customer service automation to get things one.
Moreover, Hostinger considers data safety as their main priority. Hence, they provide top-level data backup and restoration to all your files, folders, and databases with cloud technology and double RAID protection.
As if all these advanced features are not enough, Hostinger also offers a 30-day money-back guarantee. Therefore, if you're not satisfied with any of their services, they'll refund your payment without any hassle.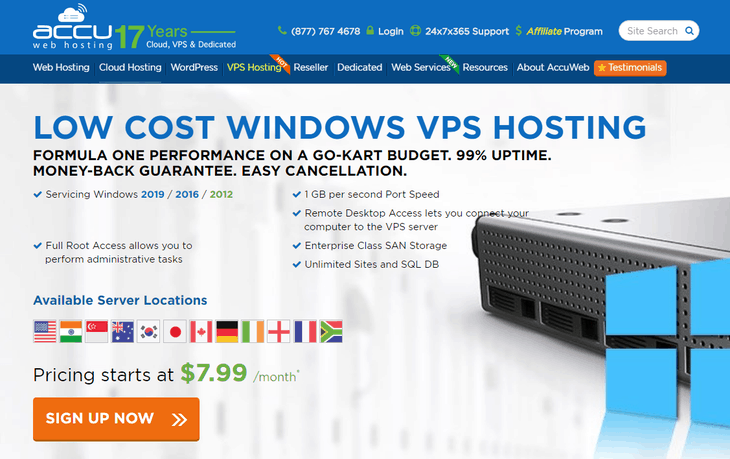 With over and above 17 years of experience in this industry, AccuWeb is one of the most reliable web hosting providers worldwide. They're well-known for their speed, performance, and security.
AccuWeb offers all kinds of website solutions, including domain registration, web hosting, cloud hosting, email delivery service, and reseller plans. As for VPS hosting, they offer high-quality servers for both Linux and Windows. No wonder they have over 100,000 users under VPS servers alone.
AccuWeb Hosting uses a Load Balancer to distribute application or website traffic across several servers to maximize its capacity and reliability. It allows you to create a website or application with high availability that provides maximum accessibility for the data stored and high potential uptime.
AccuWeb provides loads of private server options for Windows, including Classic Windows VPS, VPS SSD, VPS Cloud, and VPS Reseller. It even provides one month free trial for Windows VPS without credit card details, which is out of the ordinary for VPS plans. Likewise, for Linux, it offers Classic Linux VPS, VPS SSD, and VPS Cloud.
For Windows VPS Hosting, Accuweb offers four different plans ranging from USD 7.99 to 75.99 per month. Classic VPS Opal is their most affordable VPS hosting plan with 2 vCPU Cores, 1 GB RAM, 40 GB Nimble SAN storage, 500 GB bandwidth, and 1 dedicated IP Address (IPV4).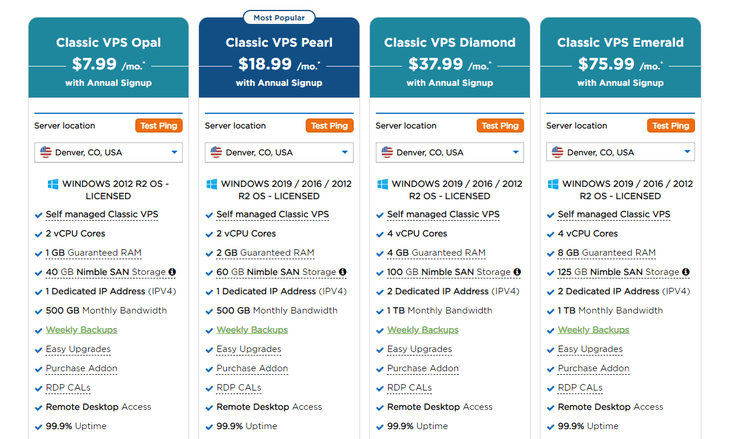 On the contrary, Classic VPS Emerald is the most expensive Windows VPS plan with 4 vCPU Cores, 8 GB RAM, 125 GB Nimble SAN storage, 2 dedicated IP Addresses (IPV4), and 1 TB monthly bandwidth.
Apart from that, all the VPS plans offer lightning-fast connectivity speed with a 1 Gbps connection. Frankly speaking, their fast network connectivity can handle nearly everything you throw at them.
AccuWeb provides remote desktop and full admin access that allows you to install and run applications you want directly via a dedicated OS's access point. They've structured all their VPS hosting plans with the benefits of a dedicated-like server without spending hefty bucks out of your pocket.
Regardless of which plan you choose, AccuWeb Hosting provides a free backup plan to all the Classic VPS packages. This backup service allows you to have unlimited restoration of your data every month. In addition to that, all data and information are backed up every week via CDP backup service.
With AccuWeb hosting, all the VPS plans are fully scalable. Hence, you can easily upgrade your plans without losing your current IP address or any data. You can even upgrade your Classic VPS plan to SSD or Cloud plans.
Moreover, AccuWeb hosting comes with a dynamic and user-friendly management panel that lets you monitor your CPU, memory, and disk space use from any corner of the world. They also offer 24/7 customer service that'll help to resolve all your issues – quickly, efficiently, and transparently.
As its name suggests, Cloudways Hosting is a managed hosting cloud platform that guarantees unmatched performance and reliability. Crafted for exceptional experiences, this hosting provider is the ultimate choice for eCommerce businesses and growing agencies.
Unlike most hosting platforms, Cloudways provides a dedicated environment for all their servers to maximize performance. Moreover, the SSD drives of this web hosting provider are three times faster compared to others. Therefore, it facilitates exceptional performance and reduced page load times.
One unique feature about Cloudways Hosting is that this platform provides managed hosting plans for other popular cloud infrastructure providers, including DigitalOcean, VULTR, Google Cloud, AWS, and Linode. Unlike other web-hosting providers, Cloudways Hosting provides 11 hosting plans, ranging from USD 10 per month up to USD 1,035 per month.
DO1GB is the cheapest hosting plan that features 1 GB RAM, 1 core processor, 1 TB bandwidth, and 25 GB storage. On the contrary, DO192GB is the most expensive hosting plan with 192 GB RAM, 32 core processors, 3840 GB storage, and 12 TB bandwidth.
Apart from that, all the Cloudsway Hosting plans offer built-in advanced caches, including Varnish, Redis, Memcached, and Nginx, to deliver expedited responses. Moreover, it features CloudwaysCDN to deliver superior performance and exceptional global response times. You can easily add this feature to your website with a few clicks.
Regardless of which hosting plan you choose for your website, you no longer have to worry about crashes and bugs. With advanced auto-healing technology, most of the problems within the server are resolved automatically.
On top of that, Cloudways Hosting provides proactive security options to keep all your servers safe and secure. All the hosted servers of Cloudways are protected by OS-level dedicated firewalls to keep out the intruders and malicious traffic. Not only that but this hosting provider keeps your website protected from traffic congestion caused by brute force login attacks, malicious bots, and Denial-of-Service (DoS) attacks.
With all Cloudways Hosting plans, you also get around the clock server monitoring. This hosting provider monitors your server in real-time 24/7/365. You can also get access to over 16 different metrics directly from the comfort of your panel. Furthermore, this hosting provider integrates AI-based smart assistants that deliver real-time performance insights to help optimize apps and servers.
FAQs (Frequently Asked Questions)
What is a virtual server?
A virtual server imitates a dedicated physical server in terms of functionality. A virtual server uses virtual infrastructure, software, and abstracts physical resources to create a virtual environment. It is possible to implement multiple virtual servers on a single bare metal server, each with independent provisioning, OS, and software.
Usually, virtual servers have minimized downtime, faster provisioning of applications and resources, enhanced disaster recovery, and business continuity. It improves website performance, efficiency, agility, and responsiveness. In addition to that, the virtual server also mimics a dedicated server environment when it comes to security and data protection.
Shared hosting is a web-hosting service where one physical server hosts several websites. It means you'll have to share your server and resources with other websites in shared hosting.
On the other hand, VPS or Virtual Private Server hosting is a web-hosting service that creates a virtual environment that functions as a dedicated server within a shared hosting environment. Think of it this way — VPS hosting also uses one piece of physical hardware, but it functions like several separate servers. Therefore, you do not have to share RAM, CPU, or any other resources with other sites, unlike shared hosting. VPS hosting is relatively more powerful, reliable, and secured compared to shared hosting.
How is VPS hosting different from a dedicated server?
VPS generally refers to a Virtual Private Server that mimics a dedicated hosting server via a virtual environment within a shared hosting environment. Similar to shared hosting, VPS hosting also shared the web servers with other sites and users. But, with VPS hosting, you're provided with a guaranteed amount of resources, like CPU, RAM, and more.
Contrastingly, dedicated hosting simply means to rent an entire server from the best web hosting provider to host your website. With dedicated hosting plans, you will be the sole owner of the entire server and have full control over the hardware and software resources. Dedicated hosting is mostly designed for websites that require the highest power and performance. Since you'll be renting an entire server, dedicated hosting plans are considerably more expensive than VPS hosting plans.
What is the use of VPS? What can I do with the VPS server?
Whenever most people talk about virtual private servers, they usually think of something as simple as web hosting plans. It is partly because VPS is commonly used for hosting websites. It acts as a highly effective, affordable, and great value-for-money alternative for shared hosting.
However, you can do a lot of things with a VPS server other than just web hosting. They are:
• Host a Web Server
• Self-Host Applications
• Create a Private Sync Service
• Set Up a Mail Server
• Run Private Analytics
• Deploy a Personal Cloud
• Run a Game Server
• Keep in Touch With VoIP
• Set Up a VPN
• Access a GUI Remotely
• External Backup Server
• Improve Your Development Skills
Which is the most suitable VPS hosting provider for small businesses?
There is no single best answer to this question. As cliche as it sounds, the best VPS hosting provider depends on what you're planning to do with your brand or business website. There are loads of different VPS hosting providers that offer different plans and packages to suit all requirements.
However, most users with small businesses will find InMotion VPS Hosting the best because it comprises all the top features required for small businesses. InMotion Hosting provides dedicated resources, simple cPanel/WHM, free server management, unlimited email accounts, SSH & DDoS protection, and a 90-day money-back guarantee. Having said that, InMotion VPS hosting plans are costlier compared to VPS plans from other hosting providers.
How to decide on the best VPS Hosting package for you?
There is no doubt; your website deserves the best web hosting plans in the market. However, with so many different plans and packages, choosing the right VPS hosting plans can, at times, be quite bewildering.
It is true that VPS hosting plans are more reliable, secured, and powerful compared to shared hosting. But, you need to consider a handful of things to ensure that the VPS plan you choose can comfortably accommodate your requirements.
Here are a handful of essential things you need to consider while choosing the best VPS hosting plan for your business:
• High Server Uptime
• Server Resource
• Operating System
• Cost
• Managed vs. Unmanaged Plan
• Root Access
• Security and Data Protection
• Customer Service
Do I need VPS hosting?
If you're a complete novice in WordPress, just starting with your first website project, a VPS hosting plan will most likely be overkill. In this case, we'd suggest you start with a reliable shared hosting plan and upgrade to a VPS hosting plan once you grow your audience.
However, if you're already an advanced webmaster looking for a reasonably priced hosting server, VPS hosting might be a good option for you. VPS hosting delivers excellent performance, speed, reliability, and data protection.
If you're still unsure of which WordPress hosting you should choose, you can go through the 10 Best WordPress Hosting Services of 2022 for a detailed overview.
Conclusion
And that's a wrap!
That is all for the ten best VPS hosting providers you can find in the market today. If you're considering starting a decent website for your brand or business, we highly recommend you to invest in VPS hosting plans. It is because VPS hosting plans deliver enhanced performance, speed, reliability, and security.
With VPS hosting, you'll get complete root access to your server. Therefore, if you wish to make any necessary changes or install web applications without reaching out to the hosting providers, the VPS hosting plan is the right choice.
All the web hosting providers put forward in this article are the best choices for VPS hosting servers. Each of these web hosting providers offers a unique set of features that makes them stand out among their competitors. All the hosting providers included in this article provide high reliability, superb uptime, top-class security, and excellent performance.