Are you looking to launch your eCommerce business? If so, the first thing you might want to do is find the best WooCommerce hosting website to build an online store.
With over 82 million total downloads, WooCommerce is hands down, the most popular store creation plugin for WordPress. But having a WordPress theme that is compatible with the WooCommerce plugin won't be enough.
Frankly speaking, a basic shared hosting might not be the right choice for starting an eCommerce site powered by the WooCommerce plugin. It is because basic shared hostings don't have the essential features required to support a flawless online store.
Hence, you need to look for a WooCommerce hosting website that includes all the necessities to run your online store smoothly. These hosting sites come with top-class features like superb uptime, SSL certificate, page backups, and great support.
In this article, we have handpicked 10 Best WooCommerce Hosting Websites that guarantee top-notch services. The size of your online store does not matter; with these hosting sites, your eCommerce site will work fast and remain secure.
So, without further ado, let's dig into it!
What is WooCommerce Hosting?
There is no doubt that WooCommerce is the world's most sought-after eCommerce platform. Most online businesses today use the powerful combination of WordPress and WooCommerce plugin to run their site.
But the combination is not enough for the success of your online business. To optimize your website for WooCommerce, you'll need a domain name, an SSL Certificate, excellent uptime, page backups, and backend servers.
Hence, it is crucial to have the best WooCommerce hosting service.
WooCommerce hosting service is a solution catered to provide excellent speed and performance for all the eCommerce business or online store powered by WordPress. The primary purpose of these hosting services is to offer a hassle-free way to establish your online store.
Advantages and Disadvantages of WooCommerce Hosting
Although WooCommerce hosting is crucial for any online business, it has both advantages as well as disadvantages. Before you go through the best WooCommerce hosting websites, let's take a look at its pros and cons:
Advantages of WooCommerce Hosting
1. WooCommerce Ready
WooCommerce hosting websites offer ready-to-use WooCommerce plugins with excellent designs. These hosting sites are fully equipped to operate an online store of any size and in any market or niche. Ultimately, helping you launch your eCommerce website within a few minutes.
2. High Performance
There is no doubt that site speed is one of the most significant factors for any website. Speed not only offers an excellent user experience, but it also helps to rank your website much faster. Compared to basic shared hosting, WooCommerce hosting platforms deliver much faster load time for hassle-free eCommerce transactions.
3. Security
Unlike basic hosting services, WooCommerce hosting plans comprises an SSL certificate. The SSL certificate adds a security layer to data transferring to your website from the visitor's browser.
4. WooCommerce Support
You're obviously likely to run into some technical issues while using a WooCommerce site powered by WordPress. Therefore, the WooCommerce hosting companies also provide a technical support team for your assistance. You can reach this team of experts via phone, live chat, or email.
5. Hosting Features
Except for the WooCommerce specific features, these hosting websites also provide regular hosting features such as storage space, control panel features, unmetered bandwidth, email features, uptime, and more.
Disadvantages of WooCommerce Hosting
1. Price
One of the biggest cons for WooCommerce hosting plans is its price. Compared to basic shared hosting services, WooCommerce hosting plans have relatively higher prices. And for a small business, this investment may be quite significant.
2. Maintenance
WooCommerce hosting plans require frequent updates. Most of these advanced plans do not offer automatic update features. Therefore, you'll need to set up backups and install updates manually.
3. Pre-Installed Software
WooCommerce hosting indeed offers pre-installed softwares, plugins, and bonus extensions to make your website WooCommerce ready. However, most of these plugins and bonus extensions may never come to use.
10 Best WooCommerce Hosting Website Reviewed
SiteGround is one of the best WooCommerce hosting providers designed for easy website management. It is an excellent choice for both beginners and those who have all the required skills and knowledge about the eCommerce business.
SiteGround's WooCommerce hosting plan comes with a pre-installed WooCommerce plugin and Storefront theme for your online store. It allows you to sell all kinds of products and services, both digital to physical, with secure transactions and a safe website.
With over 2 million users, SiteGround earns its stature as one of the most reliable WooCommerce hosting companies out there. If you require some help or support, they take care of all the issues you may encounter with their 24/7 service.
SiteGround offers three hosting plans — StartUp, GrowBig, and GoGeek. If you're just getting things started in the eCommerce business, a StartUp plan would be the ideal choice for you. Both other packages, GrowBig and GoGeek, will only come in handy for those who've managed to grow their online store a little bit.
All three hosting plans consist of email features and drag and drop page builder. Along with a dedicated WordPress plan, SiteGround offers plans for Joomla, bespoke sites, and other platforms. This hosting platform delivers nearly impeccable uptime stats and exceptional speed.
Besides, SiteGround offers premium security measures that begin with daily server backups—something quite rare for shared packages. This feature ensures your data are automatically backed up and secured regularly, should the worst happen. To protect your account, SiteGround also features Unique Account Isolation on each of its plans.
If you already have an online store, SiteGround also offers migration to all of its hostings at no cost. It means if you start your business on the StartUp package, you can easily upgrade to a different plan if you feel that 10,000 monthly visitors and 10 GB of web storage is not enough for you.
BlueHost is the largest web hosting company worldwide and has been the WooCommerce hosting provider officially recommended by WordPress.org since 2005. It is also the number one web hosting provider for small businesses.
BlueHost and WordPress have been working together for all these years to ensure the best website solution for the WP community. With this, it is evident that BlueHost is one of the most reliable WooCommerce hosting websites in the market. Additionally, this hosting platform powers over 2 million websites around the world.
With BlueHost, you can have an eCommerce website all set and ready to use in just a few minutes. It offers three different hosting plans for you to choose from — Starter, Plus, and Pro. For everyone who is just starting in the eCommerce business, a Started plan would be an excellent choice. As soon as you begin to grow your web traffic and increase your sales, you can upgrade to either of the two premium plans.
Note that all three plans provide free domain registration, pre-installed WooCommerce plugin, and dedicated support. In terms of security, BlueHost has partnered with the number one cybersecurity software solution, SiteLock, to protect your business. However, you'll have to pay an extra charge to use SiteLock and keep your website protected.
The Starter hosting plan of BlueHost features 100GB SSD storage and unmetered bandwidth. Not only that, each hosting plan has a specific amount of advertising budget available. Therefore, you can spend a certain amount of money, depending on the plan you choose for your business.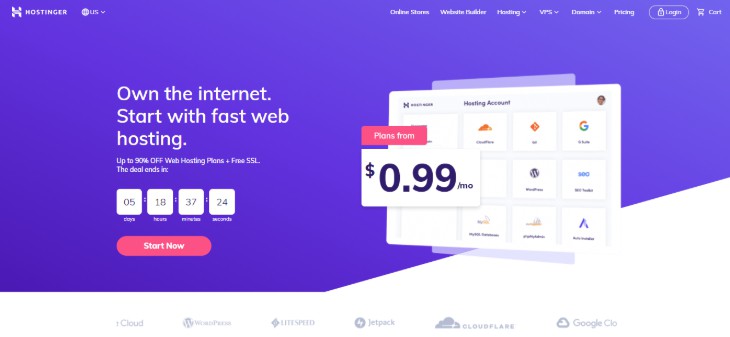 With around 29 million website owners worldwide using their services, Hostinger is a top name in the web hosting industry. If you're searching for a cost-effective yet high-quality WooCommerce hosting plan, Hostinger is the right choice.
This hosting service offers a one-click installer tool that lets you install the eCommerce software and CMS in a matter of a few seconds. In addition to that, to ensure your websites are fast, reliable, and secure, the backend of Hostinger is powered by LiteSpeed caching and advanced optimization.
When it comes to WooCommerce hosting or online store, Hostinger offers two hosting plans—eCommerce and eCommerce+.
The eCommerce hosting plan is crafted for beginners who are keen to start their online business. This plan allows you to sell upto 100 products with unlimited bandwidth, which seems like a fair deal. However, once you notice an increase in web traffic, you should upgrade your hosting plan to eCommerce+, which allows you to sell unlimited products.
If you stumble upon any technical issues with your website, Hostinger also offers 24/7 chat support. Their team of experts is available anytime to help you solve the problems and get your websites up and running.
Hostinger has a decent uptime rate, delivering an average of 99.8% to 99.4% uptime. Besides, this hosting service offers surprisingly fast loading speeds, with a server response time of 43 milliseconds.
All of Hostinger's hosting plans comprise a free domain and website builder, an excellent feature for beginners in online businesses and website creation. On top of that, Hostinger also offers a money-back guarantee. If the service isn't convincing for you, they'll refund your money for upto 30 days of signing up.
With the combination of excellent support and speed obsessive architecture, Kinsta has established itself as a premium web hosting platform.
Unlike other hosting services, Kinsta is exclusively powered by Google Cloud Platform, which is considered the fastest and most secure network worldwide. Therefore, the premium tier network of Google Cloud ensures reliability and impressive loading times.
Kinsta offers a one-click installer tool that allows you to launch your online store in just a few minutes. It has 24 global data centers for your WooCommerce store. It means this hosting service will enable you to place your online store in the closest network to your local customers.
The platform features isolated software container technology that can allocate the necessary resources to individual site containers automatically whenever required. Hence, it can easily handle a sudden rush in traffic and load.
Kinsta integrates lightning-fast server-level caching in place that delivers an excellent balance between functionality and performance for your customers.
In terms of security, the hosting service supports GeoIP blocking, runs malware scans, and automatically bans abusive IPs. They also run automatic backups daily to keep your eCommerce data safe and secure. Therefore, if you run into any problems, you can easily roll back to any of these backup points.
If you're still not convinced, Kinsta offers a risk-free 30-day trial. You can give it a try. If you do not like their service, you can cancel the subscription at any time within the 30-day trial period. You will receive a full refund on your payment without question.
WP Engine is a fully dedicated WordPress hosting provider that ensures premium and hassle-free hosting services for website owners. The platform comes with many top-class features like regular updates, in-house performance optimization, a one-click staging environment, and more.
Although WP Engine is not quite the cheapest option for hosting services, it offers air-tight security, blazing speeds, and a brilliant customer support team. WP Engine offers a variety of WooCommerce hosting plans to get your project up and running without any hassles. They offer four major hosting plans for online businesses — Startup, Growth, Scale, and Custom.
The security measures of WP Engine starts with daily backup and automatic updates to keep your software protected and up-to-date. In addition to that, it features real-time security threat detection software. This software not only protects you from malicious XML-RPC and JavaScript/SQL attacks but also blocks IP addresses from spammers and hackers.
Another critical feature of WP Engine is its 100 percent uptime and unrivaled speed. It consists of EverCache technology, specifically designed to make the website much faster for recurring visitors. This advanced technology stores the user's browser to not have to download the same files every time they visit your website.
Moreover, WP Engine has its data centers across four continents. If you are a locally oriented business, this feature will allow you to choose the server closest to your client for fast loading.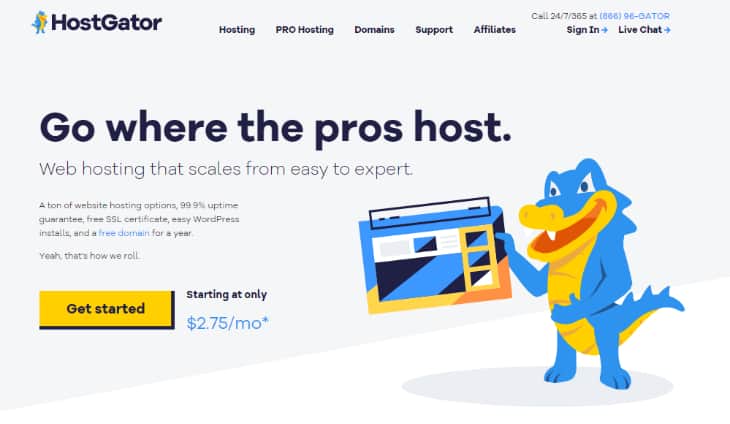 With over two million websites worldwide currently hosted on HostGator, it is among the top names for web hosting.
HostGator offers both regular as well as pro hosting services, including dedicated WordPress cloud hosting. However, that's certainly not the right option for an eCommerce website.
For online stores, you should look for the VPS under the Pro Hosting section. The VPS plan brings complete control, full root access, easy scaling, and dedicated resources for your website. It is like a one-stop solution for building and growing your eCommerce business.
There are three different plans under VPS hosting—Snappy 2000, Snappy 4000, and Snappy 8000. With the VPS plans, you get advanced functionalities, including unlimited domains, FTP accounts, email addresses, databases, FTP accounts, and more.
With industry-leading hardware like Intel & AMD, these packages ensure lightning-fast performance. HostGator also provides a weekly off-site backup of your private server data. Therefore, if you run across any severe issues, you can quickly restore your data to any backup points.
As if all these advanced features weren't enough, HostGator offers a money-back guarantee. If you are not satisfied with any of their services, they'll refund your hosting fees within the first 45 days.
Liquid Web is another excellent choice for WooCommerce hosting websites. It offers different levels of hosting plans delivered by the top digital commerce cloud platform, Nexcess.
Liquid Web is designed with a super-fast load time to enhance conversion. In addition to that, this hosting site can store order data that reduces query loads by 95 percent. This hosting site is ideal for both digital stores and physical product stores.
If you have a digital online store, it supports membership and subscription features with extensions from Prospress or SkyVerge. You can even build an online course with WP Courseware or LearnDash. Meanwhile, if you have shippable physical products, Liquid Web allows you to connect to ShipStation, ShipBob, or TradeGecko.
Unlike other hosting companies, Liquid Web guarantees 100 percent uptime. They even offer 24/7 customer support with a highly trained expert team. Therefore, if you come across any issues, you can reach their support team via phone, live chat, and support tickets.
Moreover, Liquid Web has ten global data centers spread around the world. Therefore, if your eCommerce business is locally oriented, you can choose the server closest to your customers for fast loading.
Any online store should have a fast loading speed to boost conversion. Whether the customer uses mobile, tablet, or desktop to visit your website, your category and product page should load almost instantly.
A2 Hosting is a high powered web hosting that meets the highest standards for page loading speed. This web hosting service uses the SwiftPlatform to achieve the highest speeds. It also offers a Turbo server that makes your page load up to 20 times faster than regular plans.
For eCommerce sites, A2 Hosting offers four different levels of hosting plans that are ideal for small to the extensive online marketplace. These plans have pre-installed WooCommerce plugins that further speeds up the site.
With A2 Hosting, you no longer have to worry about the updates. Whenever new updates are available, the company sends you an automatic email, helping you take advantage of all the latest features and stay up to date.
In terms of reliability, A2 Hosting provides you upto 99.99 percent uptime commitment. It also provides a wide range of SSL certificates for your eCommerce website to enhance your website's security, hosting account, and increases visitors' trust.
Moreover, A2 Hosting also offers free account migration. This hosting company also includes a friendly and knowledgeable support team that is available 24/7 for your assistance. Additionally, they also provide a risk-free money-back guarantee if you choose to cancel your account within the first 30-days.
InMotion Hosting is a top-notch web hosting site that covers an entire spectrum of website requirements. From a part-time blogger to a large scale eCommerce business, this hosting fits in all the boxes.
With InMotion Hosting, building a WooCommerce website is relatively straightforward. It integrates a one-click install feature that allows you to set up your favorite CMS within a few minutes, and you're good to go.
For WooCommerce websites, Inmotion Hosting includes four different plans—WP-1000S, WP-2000S, WP-3000S, and WP-4000S. Each of these WordPress-optimized WooCommerce platforms is ideal for top-level performance, speed, and solution for your eStore.
If you're just hitting the road, you can create your website with WP-1000S and later upgrade to the advanced packages as per your requirement. For this, InMotion even provides free migration with one of their system administrators, including email accounts and cPanel. Besides, all the WooCommerce hosting plans include easy SEO plugins, automatic updates, free domain, unlimited email accounts, and SSL.
InMotion integrates server-level caching, NGINX Server technology, and SSD storage to reduce load times and fuel your website with lightning-fast performance. This web hosting service combines automatic security patches, web application firewalls, and active malware protection in terms of security.
The customer service of InMotion is merely exceptional. You can connect to their expert support team any day of the week if you need any technical assistance. With InMotion, your data are also fully secured. They execute automatic backups every 24 to 36 hours. It means if you accidentally delete something important, you can quickly turn back to any of the backup points without losing your data.
Furthermore, the WooCommerce hosting of InMotion offers a 90-day money-back guarantee. It means, if you aren't satisfied with what they offer, they'll refund you all your payments within the first 90 days.
If you're in search of a top-class WooCommerce hosting provider, you should certainly take a peek at Templ. This powerful hosting service is powered by the Google Cloud platform and managed with white-glove support.
You'd expect your website to load at high speed if you start an eCommerce business, and that's precisely what Templ brings to the table. With the reliable performance of Google Cloud, this hosting service ensures that your website loads blazingly fast.
Unlike other WooCommerce hosting providers, you can get started with Templ for free. Yes, you can try it and get the gist of their service without spending a dime, which is quite rare for an eCommerce hosting.
Templ offers five different hosting plans for all kinds of online business—from starter option to established enterprises. The hosting packages start from USD 15 and rise to USD 149 per month.
Unlike traditional shared hosting services, Templ keeps each website in an isolated environment to increase uptime and boost conversion. All the hosting packages of Templ offers free migration, SSL, a user-friendly control panel, and robust security.
In terms of support, Templ offers 24/7 customer service with their friendly and professional team of experts. If your website does not load or is considerably slow, their team will help you debug the issue. To keep your website safe and secure, this hosting provider regularly scans all the websites for malware.
Moreover, Templ also provides free migration for an unlimited amount of websites. They also perform daily automatic backups and keep them for up to a month on a remote server. If you come across any unfortunate circumstances, you can also get back to the backup point and restore all your data.
FAQs (Frequently Asked Questions)
Which WooCommerce hosting website is right for your store?
To be honest, there is no one WooCommerce hosting provider that fits the bills of all eCommerce store owners. 
If you're tight on budget, SiteGround or BlueHost are decent options. Both of these hosting websites offer basic WooCommerce plans for less than USD 7 per month.
However, if you're looking for a little more advanced hosting plan with sheer functionality, we'd recommend you go with Liquid Web hosting. It comes with loads of features and is an excellent choice for both digital and physical stores. But, it is a relatively more expensive option compared to the first two hosting providers.
Why do you need WooCommerce hosting?
While starting an online shop, most people only focus on the front-end of the website. They're mostly concerned about how the website looks, where to find the product, and how appealing your product images are. There is no denying that these are significant considerations for any eCommerce business.
However, there's more to it than just front-end. To start an online store, you must have WooCommerce hosting. Without it, your WooCommerce plugin can not function properly. It incorporates all the features that are required to run an online store. Having decent WooCommerce hosting makes your website look better, load faster, and keeps it protected.
What should you look for in the best WooCommerce hosting for you?
WooCommerce hosting comes in a variety of sizes and price points. Some of them cost just around USD 4, while others may cost more than USD 100 per month. Some several features and qualities play their part in creating such a vast price difference. 
So, before you invest in any WooCommerce hosting platforms, here are a few things you should look for:
1. Uptime Parameters
2. Proper Backup Solution
3. Dedicated IP Addresses 
4. SSL Certificates
5. PCI Compliance
6. Speed
7. Security Mechanisms
8. Good Support
How much does it cost to start an online store?
WooCommerce, as a WordPress plugin, is entirely free. But having a WooCommerce plugin alone won't make an online store. You first need to invest in a domain name (about USD 12 per year) and WooCommerce hosting service (USD 4 to 100+). In addition to that, you also need a WooCommerce theme (USD 59), plugins, and extensions (about USD 25 each).
Therefore, the cost of initiating an online business depends upon what features you need and how big of a store you want. If you're just starting, you do not have to spend much. Instead, you can invest in all the basics and upgrade as your business grows.
Conclusion
There you go!
That is all for the ten best WooCommerce hosting websites you can possibly find in the market. Whether you plan to start a small online store or a large-scale eCommerce business, having a WooCommerce hosting plan is a must. Starting your online business with WooCommerce hosting can make a massive difference in terms of success.
All the hosting providers suggested in this article are top choices for any eCommerce store. Each of these platforms has a unique set of features that makes them stand out among their competitors. These hosting platforms help enhance your website's speed, keep them secure from malware, add advanced functionalities, and provide excellent customer support.If you're planning to set up an eCommerce business and start selling products online, you'll need a WooCommerce compatible WordPress theme. Here's 25+ Best WooCommerce WordPress Themes of 2020 to help you get going.