Do you want a perfect website builder to power your new site? In that case, two platforms stand out among all available options: WordPress and Squarespace.
Among these two systems, which one works best for your website? You will get the answer to this question in this comprehensive blog where we compared WordPress vs. Squarespace.
You will find more than 15 comparison parameters where we determine which platform is better than the other. This blog also has a comparison table for differentiating between these two builders instantly.
Summary: Which Platform Should You Pick?
Before starting the in-depth comparison of WordPress and Squarespace, we want to mention which platform you should select. Since both of these tools have specific pros and cons, you need to know your requirements before deciding.
Are you aiming to create a website that will grow in the future? For instance, you might want a site for your digital agency. Usually, you will add a lot of informative and valuable content – and that produces a large amount of traffic.
In the above case, you should pick WordPress over Squarespace. WordPress is perfect for every website, whether it is a hobby blog or a large corporate site.
In contrast, Squarespace does not provide this flexibility. You need to pick this platform only if you want a small website without future expansion plans. An example of this scenario is a portfolio to promote your designing career.
But, if you want our overall verdict, we suggest you rely on WordPress over any other platform.
Do you prefer visual mediums of information instead of written content? If that's the case, please watch this comparison video:
What is WordPress and Who Uses This Tool?
WordPress is an open-source platform for creating any kind of website that you can imagine. It powers about 40% of the total websites on the web. It is a popular Content Management System (CMS) that you can use without any cost.
WordPress allows you to design websites without knowing to code. You can customize your pages/posts using both classic and drag-and-drop block editors.
This CMS tool lets you install themes for changing the entire look of your site. You can also add plugins/extensions to get additional settings, like adding an image gallery, creating an online store, etc.
WordPress has a wide range of audiences ranging from newbie bloggers and startups to some world-renowned brands. The New Yorker, Sony Music, The Walt Disney Company, and Bata are examples.
Difference Between WordPress.org and WordPress.com
When you hear the word WordPress, you might immediately think of WordPress.com. But, we suggest you use WordPress.org instead. This blog is about the second platform, not the initial one.
Let us clear out the difference between these two systems, shall we?
WordPress.com is a blog/website creation platform that provides both free and paid services. You don't need to purchase external hosting with this tool. This system also takes care of updates and backups related to your site.
However, WordPress.com comes with lots of limitations. For instance, you cannot upload a plugin or theme to this system. You need to unlock these simple features for an unreasonable amount of money.
On the other hand, WordPress.org is free for everyone. You can install any extensions, themes, and other external tools. It only requires you to pay for the hosting to build your first website.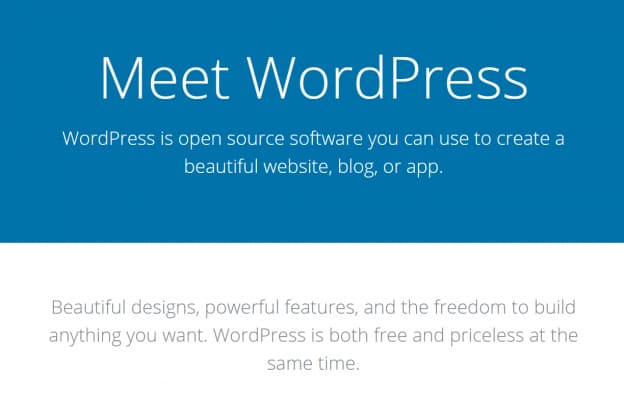 WordPress.org also allows you to insert ads on your website using Google Adsense for free. But, WordPress.com requires you to purchase its premium package to utilize that feature.
Since WordPress.org is the most reliable option, we will not talk about WordPress.com beyond this point. We are also comparing SquareSpace with WordPress.org, not the other one.
If you want to learn more, here is an article on major differences between WordPress.com and WordPress.org. Do check it out.
What is Squarespace and Who Uses Their Service?
Squarespace is a SaaS-based (Software as a Service) website creation platform. It is perfect for individuals with creative ideas to stand out. Their users can build brands, share inspiring stories, and create an impact using the internet's power.
You get industry-leading website templates within any category. Examples include Art & Design, Photography, Travel, Real Estate & Properties, etc. Each of these layouts has customizable content blocks.
With Squarespace, you get an intuitive drag-and-drop interface. It makes your website building process convenient. Besides, you can add diverse content types to your design.
For instance, Squarespace supports text, photos, videos, menus, appointments, newsletter sign-ups, social icons, buttons, charts, calendars, and more.
Squarespace provides you various tools to include additional features on your website. For instance, you can set up an online store to sell your merchandise. You can also create an online reservation/booking platform.
Squarespace has powered millions of websites since its establishment in 2003. Some of the famous brands that use this platform are HBO, Wired, Accenture, Wattpad, Avocode, etc.
In-Depth Comparison of WordPress Vs. Squarespace
We believe that at this point, you got a brief idea about these two platforms. Now let us move on to the detailed comparison between WordPress.org and Squarespace website creation tools.
1. User Interface: Which Platform Provides The Best Usability
The first medium of comparing any two website building tools is to observe their user-interface. You can create your site conveniently and get a better user experience if it has a well-optimized design.
A. User Interface of WordPress
WordPress has a simple editing interface that anyone can learn to use with basic training. You can control every component of your website using its easy-to-use admin dashboard.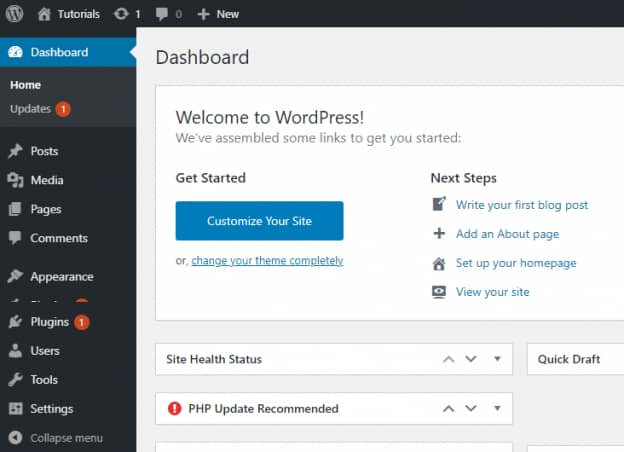 If you know how to code then, WordPress provides a perfect user experience. You can edit HTML, CSS, PHP, and JavaScript files to make any changes.
However, you cannot view the changes while editing your website. WordPress provides a back-end dashboard. You need to visit its demo URL to preview the changes.
There are a few plugins that alleviate the pain of constantly switching between two URLs. Gutenberg is an example of such a plugin that provides a block editing interface.
So, if you use Gutenberg and similar other plugins, you get an unbeatable experience with WordPress.
B. User Interface of SquareSpace
Squarespace provides an incredibly user-friendly interface. You get what you see in the editing dashboard. Unlike WordPress, you don't need an external tool to get a live preview on the same webpage.
It provides you a list of diverse content blocks for images, videos, text, and other types. You need to drag the elements from a list and insert them into the area you want to display.
On the contrary, Squarespace won't allow you to make custom changes to your website. You are limited to its content blocks and cannot think out of the box to display a unique element.
C. Winner: WordPress
We vote for WordPress to be the winner in this category. Its editing interface is slightly more challenging to understand than that of Squarespace. But, once you get used to it, you will find that Squarespace lacks in so many ways.
2. Features: Where Do You Get The Most Powerful Attributes?
Now we will look more into the functionalities of each website builder tool. You need to look for an extensive list of attributes. It helps your site to compete with the leading competitors in your niche.
A. WordPress's Features
WordPress is a pool of thousands of powerful features to make your website stand out. For instance, you can edit and publish the posts, pages, upload media files, add/remove users, manage comments, and more.
Additionally, you can install tons of WP plugins to take your website to a new level. Think of any feature that you want on your site, and you'll most likely find a plugin for it.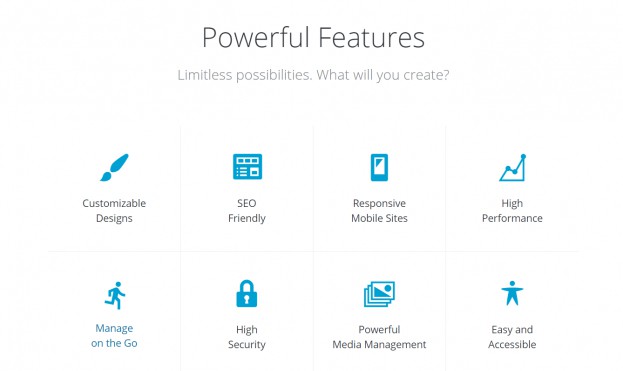 Some of the popular plugins are for site analytics, Search Engine Optimization (SEO), eCommerce store, multiple language support, etc.
Apart from that, you get to choose one of the thousands of external themes to power your website. All of these web templates have diverse attributes to offer. Now imagine the number of features you get from these add-ons.
B. Squarespace's Features
Squarespace also has tons of features built-in to its system. For instance, you can integrate social media icons, synchronize files with DropBox, customize site components, etc.
Unlike WordPress, you don't need to insert any add-ons to get these simple features. Squarespace wants to make its interface incredibly easy for beginner users.
But, their attributes are limited to what they provide on their dashboard. You need to upgrade to their premium packages for unlocking their powerful features.
What if you want to make other changes to your website? Squarespace cannot help you if you're going to add an out-of-the-box feature to your website. You are limited to the number of attributes that they got on their panel.
C. Winner: WordPress
Based on the above analysis, it is not wrong to say that WordPress wins the title again. We must say that WordPress makes sure you get all the website-related features on a single dashboard.
3. Templates: Which System Has The Best Website Layouts?
We don't recommend you create a website from scratch. Usually, web designers use templates to get a primary site and edit the content based on your requirement.
A. WordPress Themes
WordPress has tons of themes that you can choose for your site. Thousands of WP developers are continually uploading new WP templates to help website creators.
It lets you choose from both paid and free WP themes. There are tons of layouts categorized into diverse niches, like education, eCommerce, feminine, fashion, travel, health, business, digital download, etc.
Each WordPress theme includes various customization settings, as well. For instance, most of the templates have a list of many Google fonts. Besides, WordPress lets you edit the external themes by coding.
But, ensure that the theme you want to install comes from a reliable brand. It doesn't matter so much about free products. But, for premium templates, you may lose your money if you mistakenly chose a malicious theme.
For instance, you can check out our list of the best premium themes.
B. Squarespace Templates
Squarespace has some website templates that make your design process more manageable. But, their quantity is not even comparable with that of WordPress. You only get around 100 templates with this SaaS platform.
Squarespace templates include a fair amount of customization options. You can edit every webpage based on its drag-and-drop editor. However, it lacks some features when compared to WordPress.
Let us take sidebars, for instance. With Squarespace, you have to add content blocks at the side of each of your webpages. In contrast, WordPress themes support multiple sidebars, which lets you add the same widgets on every page.
C. Winner: WordPress
It's a no-brainer here. WordPress is the winner once again. Squarespace needs to add more templates and customization features to reach WordPress's level.
4. Responsive: Which Platform Creates Mobile-Friendly Websites?
In today's world, websites that are not responsive/mobile-friendly should not exist. More than half of the total web traffic came from mobile devices, like smartphones, tablets, iPad, etc. Your website should be well-optimized for all digital display devices.
A. Responsive Website With WordPress
WordPress has tons of themes that perform flawlessly on all screen sizes, be it a mobile device or a desktop. You have to check their description and demo site to know whether or not they are responsive.
We suggest you rely on the AMP plugin for that purpose. This add-on tests your site's user experience on every digital device. Thus, your audience will not face incompatibility issues when browsing your website.
B. Responsive Websites With Squarespace
Similar to WordPress, Squarespace also makes it easy to create mobile-friendly websites. It even has a built-in AMP setting that makes it easier to test your site on every screen size.
C. Winner: Both
In this case, we believe both deserve to be the winner. You can create responsive websites using both WordPress or Squarespace.
5. Customization: Which Website Builder is More Flexible?
You cannot personalize a website until you get to edit every component of it. That is why customization is the next comparison parameter for these two website builders.
A. WordPress's Customization Options
WordPress is beyond comparison when it comes to customization. Nothing is impossible with this content management system, from changing your site color to editing the reservation form using JavaScript.
As said before, you can add thousands of themes and plugins, each with tons of customizations. If you want to insert a pop-up contact form, upload an add-on and tweak a few settings.
For every feature that you want to add to your site, there's probably one or more WordPress plugin(s). This tool has occupied more than one-third of the internet share. That means you will most likely get any adjustment option for your website.
Besides, what if you want an adjustment option that is not available on this platform? In that case, you can always ask a WordPress developer for help. They can quickly add it to your site using CSS, PHP, and other programming languages.
B. SquareSpace's Customization Options
Squarespace also has a significant amount of adjustment options. You can create visually-appealing web pages and add various content types using a drag-and-drop editor.

It provides blocks for various content types, such as gallery, video, audio, map, Amazon, product, menu, quote, code, etc. Squarespace also makes it easy to upload images and other media files without hassle.
Squarespace allows you to make custom changes using CSS as well. You can schedule your posts, customize URLs, integrate lightbox features, and more.
But, SquareSpace's customization options are limited to a certain quantity. You can list out their settings on a few pages, and it's over. It does not support PHP and several other languages.
Your website will also slow down when you upload SquareSpace extensions. We will discuss that in the later sections.
C. Winner: WordPress
SquareSpace's customization options are about 10% compared to that of WordPress. You can choose Squarespace only when you want to create a simple, beginner-level website. That is why WordPress is the clear winner here.
6. Complexity: Do Both of Them Support Large Websites?
Creating a small, static website is not enough to build brands on the internet. It works if you're planning to make a hobby blog. But, for large corporations and agencies, you should invest in a platform that supports large, complex websites.
A. Complex Websites With WordPress
WordPress is powerful enough to help you create websites of any size. With this system, you can start with a simple landing page and a complex corporate site. There is no limitation regarding how large you can expand.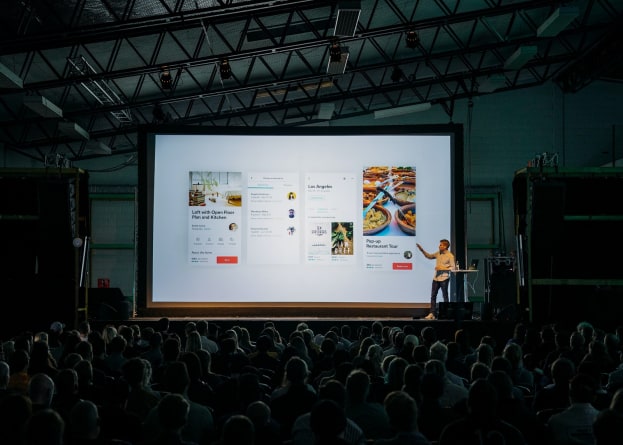 You can also create separate web pages for every product and service. For instance, on an eCommerce website, you get to create thousands of pages describing each item in detail.
Besides, WordPress supports deep website hierarchies, which allows you to create groups and sub-groups to categorize your information. This feature helps in the case of multinational organizations where you have to store data from various regions.
B. Simple Websites With Squarespace
Squarespace does not work so well with complex websites. As we've mentioned earlier, it makes you limit your imagination to the built-in customization options. We suggest you use this tool only when learning to build your first website.
You can also use Squarespace if you do not plan to enhance your site in the long run. For instance, if you want to create a web presence for your small coffee shop, a complex website might not be necessary.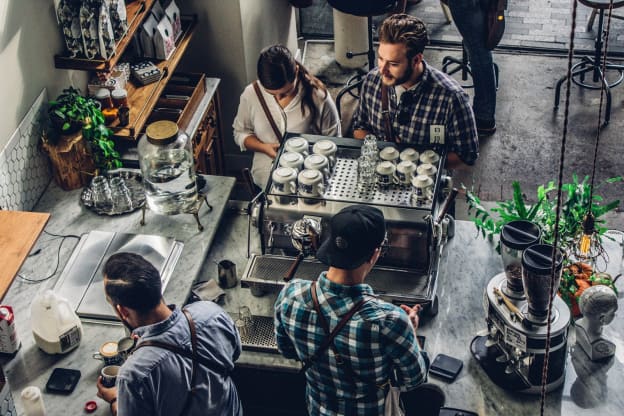 Squarespace works better in the above case because you don't have to learn WordPress's detailed dashboard.
C. Winner: WordPress
When it comes to complex websites for digital agencies, corporations, big brands, etc., Squarespace is a big NO. WordPress is again the winner for this title because of its ability to create websites of all sizes.
7. Add-Ons: What Plugins/Apps Do These Systems Support?
We've already discussed multiple times the importance of add-ons for your website. Let us look in detail at how WordPress and Squarespace compare in this parameter.
A. WordPress Plugins
WordPress has a collection of more than 58,000 free plugins in its official directory. Website owners have downloaded these add-ons more than 1.5 billion times. That's more than the population of China in 2020.
But, there's more to that number. The 58,000 plugins are only the free plugins included in WordPress.org. Apart from that, there are many third-party plugins whose owners are WP developers from around the globe.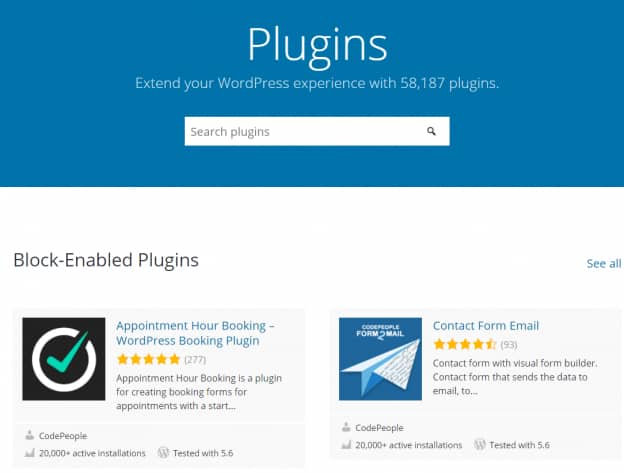 With these plugins, you can add various features/attributes to your website. Let us take an example of the Yoast SEO plugin. It helps you rank your site on the top results of Search Engine Rankings Results (SERPs).
The Yoast SEO plugin is among several plugins to optimize your website for search engines. There are tons of other add-ons for the same purpose, like RankMath, WP Meta SEO, etc.
These plugins provide more than just adding a single functionality to your website. For instance, the Elementor page builder helps you design your website. Additionally, it also helps you integrate videos and other media files on your web pages.
Apart from this, the WordPress community also offers niche-specific plugins. For example: you can use the WP Travel Engine plugin if you run a travel website. It will help to create itinerary and trip packages in a few minutes. The plugin also allows to book the travel and tour with a single mouse-click.
Likewise, the WP Delicious plugin lets you create and share your recipes with your viewers and followers.
B. Squarespace Applications
Squarespace includes a decent amount of applications to have on your website. You can choose the apps based on their purpose, such as managing social feeds, automating accounting, facilitating shipping, etc.
But, unlike WordPress, these add-ons will slow down your website. Since Squarespace is meant only for small, flat websites, you might want to avoid using these apps.
Besides, the quantity of Squarespace applications is not comparable to that of WordPress plugins. There are only a few dozens of apps. Also, you don't have the option to download/purchase any third-party add-ons.
The only place where you can find these apps is at the Squarespace Extensions page.
C. Winner: WordPress
When you install one of the thousands of WordPress plugins, you get tons of additional features in addition to its primary purpose. In comparison to that, Squarespace has a lot to improve to reach WordPress's level.
8. Search Engine Optimization: Which Option is Best Optimized for SEO?
Search Engine Optimization (SEO) relates to improving your website to rank it on the search engine's top results. Examples include Google, Bing, Yahoo, DuckDuckGo, and more.
When you optimize your site for SEO, you increase the chances of getting more recognition from your target audience. Your potential customers will gain exposure to your web presence and will start trusting your brand.
A. SEO-Friendly Sites With WordPress
WordPress is the best when it comes to creating SEO-friendly websites. You get hundreds of free and paid WP plugins only to enhance your website for search engines. With these extensions, you don't have to struggle with a bad SEO score.
WordPress plugins allow you to target a variety of keywords to reach your desired audiences. You can take examples of RankMath and Yoast SEO plugins to learn more about the SEO functionalities.

For instance, RankMath provides analytics of how your web pages are ranking or each keyword. This plugin also helps you integrate advanced schema for events, videos, products, recipes, and more.
Yoast SEO plugin provides a detailed stat regarding your content's readability. It prevents you from creating duplicate content, marks no-follow and do-follow links, provides internal linking suggestions, and more.
B. SEO-Friendly Sites With Squarespace
When it comes to SEO, Squarespace is no less than WordPress. You get a built-in panel to customize your site for Search Engine Results Pages (SERPs). It lets you add site details, like title, description, etc.
Moreover, you can choose from its advanced SEO tools. These add-ons help you enhance your SEO settings, such as verifying your site in Google Search Console, creating XML sitemaps, etc.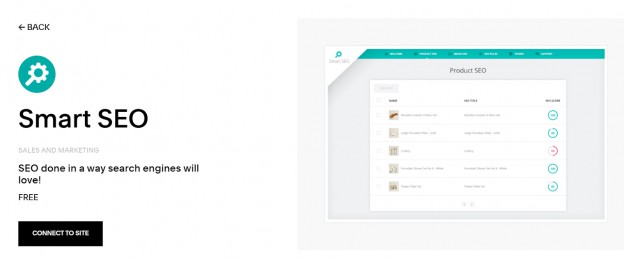 Additionally, you can manage the Google My Business listing for your website if you own a brick-and-mortar business. This feature helps you attract audiences from nearby locations.
C. Winner: Both
WordPress and Squarespace are equally capable of optimizing your website for search engines. That is why we will consider both of these tools the winners for SEO.
9. Blog: Which Platform Helps You Manage Blogging Content?
Blogging has grown more than just an information-sharing medium. It is one of the best content marketing approaches for businesses. Some of the renowned brands like HubSpot use blogging to rank on the first page of Google continually.
A. Blogging With WordPress
WordPress allows you to share inspiring brand stories, current events, and more with its blog settings. You get thousands of themes dedicated only to create blogs. Among them, you can choose any one category, like fashion, lifestyle, travel, etc.
Inside WordPress's post/blog editor, you can easily add new content using a block editor. It even allows you to switch between block and classic editing interface. You can also install Gutenberg or other builder plugins to edit conveniently.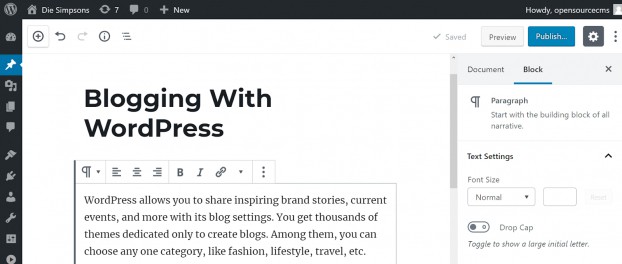 WordPress also has thousands of plugins that help you insert additional settings on your blog. For instance, WP Blog and Widget allow you to add custom widgets on your website using shortcodes.
When using this platform, you can edit blogs/posts using HTML codes. You don't have to rely solely on the adjustment settings in the WordPress dashboard.
Another great thing about WordPress's blog settings is that your audience can comment on your post. You can turn this feature off in case you don't want to start a community. It even lets you delete spammy, hateful, or abusive comments.
If you are new to blogging, here is an article on how to start WordPress blog. Do check it out.
B. Blogging With Squarespace
Squarespace has a list of many blogging tools. You can choose from its extensive collection of blogger templates, which include both free and premium items. It allows you to preview the layouts before activating your website.
However, Squarespace lacks the HTML editing feature, which is readily available in WordPress. You have to limit your blog based on its built-in adjustment options.
The number of blog templates in Squarespace is too less when compared to that of WordPress. Every blog category in WordPress has hundreds of themes. Meanwhile, Squarespace only has around 50 overall blog layouts.

Squarespace also has to improve its media storing and managing option. WordPress has an easy-to-use Media library to store all your images, videos, etc. Squarespace has a lot to improve to compete with this feature.
C. Winner: WordPress
It's no doubt that WordPress is the winner for this comparison parameter as well. It has about ten times more blog customization options when compared to Squarespace.
10. Multilingual: Do Both of These Tools Support Multiple Languages?
Do you want to target website audiences from different parts of the world? If that's the case, your website should be multilingual. It helps you reach a diverse language-speaking community, apart from English speakers.
A. WordPress's Multilingual Support
WordPress lets you translate your website entirely into other languages. You can allow your audience to choose any language based on their level of comfort. Several plugins provide a drop-down menu with several language options.
With this content management system, you get to choose from various multilingual plugins. Examples include WPML, Polylang, and TranslatePress. These powerful add-ons can translate every content of your site, including themes and extensions.
B. Squarespace's Multilingual Support
Squarespace supports the multilingual feature as well. It provides a built-in setting to convert your site into multiple languages. But, it supports a fewer number of languages than WordPress.
Squarespace also integrates Weglot, which is a third-party translation app. However, there are very few other external translation tools that support Squarespace's dashboard.

C. Winner: WordPress
Squarespace supports multilingual websites, but it cannot match the level of flexibility that WordPress. Thus, we believe you should pick WordPress if you are serious about your website translation.
11. eCommerce: Which Website Builder Helps You Create The Best Online Store?
eCommerce websites help you sell various types of products and services online. You can target tangible goods, digital-downloadable items, and skill-based services on this type of site.
A. eCommerce Site With WordPress
WordPress supports one of the best tools for creating a reliable eCommerce website. We are talking about the WooCommerce plugin. It is a highly-customizable, open-source platform that is fully compatible with almost every WP theme and plugins.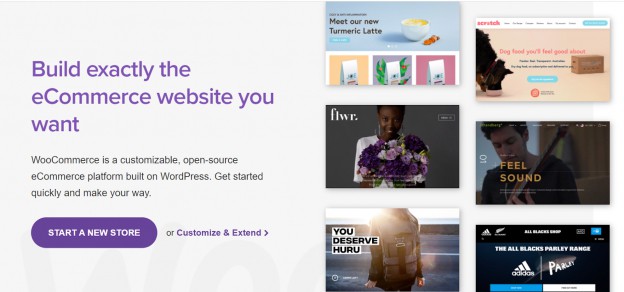 You can choose from 140 different payment options to power your online store with WooCommerce. Examples include credit cards, bank transfers, check, PayPal, Stripe, Amazon Pay, Google Pay, etc.
WooCommerce helps you manage your orders, update products, fulfill orders, and more with its user-friendly interface. It automatically calculates your taxes, displays live shipping rates, prints labels at home, and more.
Additionally, WordPress does not limit your eCommerce site to the WooCommerce plugin only. It supports hundreds of other add-ons, like Shopify, BigCommerce, etc.
Here are the 10 best powerful eCommerce plugins that will take your online store to the next level.
Thus, you get a lot of flexibility when it comes to customizing your eCommerce website.
B. eCommerce Website With Squarespace
Squarespace lets you create online stores but not with the free plan. You have to upgrade to one of its premium packages to unlock this feature. If you want to personalize your store, you have to purchase higher pricing plans.
With Squarespace, you can select one of the extensions to enhance your online store's customization options. But, unlike WordPress, you won't get hundreds of add-ons to choose.

There are a few extensions to help your shipping and fulfillment process get more effortless. You cannot install a single app and get all the settings in one dashboard, though.
C. Winner: WordPress
WordPress supports some of the most powerful eCommerce site building tools. Also, each of those tools has tons of customization settings. That's why we believe Squarespace is not a reliable option to create an eCommerce store.
12. Mobile Apps: Do Both of These Systems Support Mobile Editing?
When you work on your desktop/laptop, you have full control over your website's editing interface. However, what if you want to edit your content remotely using a mobile application? Does your website creation platform support this feature?
A. WordPress Mobile App
WordPress has a mobile application that you can access from both Android and iOS devices. This app does more than just allowing you to do minor edits. You can create an entire website and make it go live with its mobile-friendly navigation.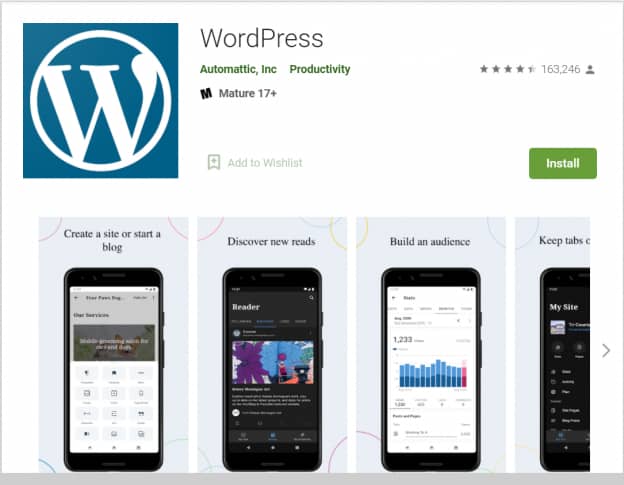 The WordPress app also provides useful stats related to your website. For instance, you can check the location/country of viewers visiting your site. It helps you analyze your marketing ROI using the traffic data for every day, week, month, and year.
This application has a 4.4 rating (out of 5) from more than 160 thousand users in the Google Play Store. Besides, you also get several other apps to extend its feature, like WordPress for Bloggers, WordPress Tutorials, and WPChecker.
B. Squarespace Mobile App
Similar to WordPress, Squarespace has more than a single mobile application. Some of its popular apps are Squarespace, Squarespace Analytics, Squarespace Commerce, and Squarespace Scheduling by Acuity.
Among them, SquareSpace's official app helps you manage every aspect of your website. For instance, you can change color, fonts, padding, create and publish blogs, insert images, manage your mailing list, and more.
SquareSpace app shows a real-time preview of how your content will look on mobile devices. You also get to adjust the SEO settings for your site using this app. It has a 4.7/5 rating in PlayStore from around 2000 users.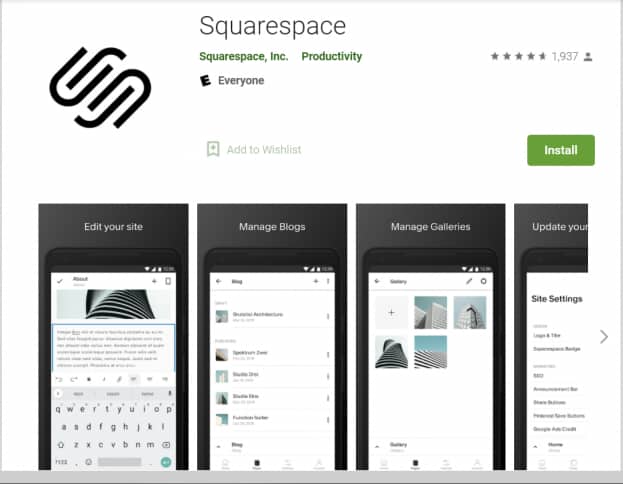 C. Winner: Both
Since both the tools have highly-functional mobile applications, we will consider both of them as a winner for this parameter.
13. Updates: What Are The Maintenance Statuses of These Platforms?
You want your website to work endlessly without your need for constant maintenance, right? It saves your time from checking the dashboard constantly for any pending updates.
A. WordPress Updates
WordPress sends you the notification for any updates that your site requires. We recommend you not to ignore these messages, or your website might provide a bad user experience.
Moreover, WordPress brings its newer version almost twice or thrice a year. You will have to update the entire platform every time to fix bugs and other issues.
Do you want to stay relaxed and not worry about constant WordPress updates? If yes, you need to choose a reliable hosting platform that takes care of your WordPress site's maintenance.
Another major issue with WordPress is that several third-party themes and plugins are outdated. The owners of these add-ons have not tested their product on the latest version of WordPress.
We recommend you not to install those extensions unless their owners fix the issue.
B. Squarespace Updates
In contrast to WordPress, Squarespace takes care of all the maintenance required by your website. It tests the updates before pushing them to your site. With this feature, You don't have to scratch your head regarding the constant enhancements.
You can install its add-on without worrying about it being an outdated one. Squarespace controls each of its extensions. Thus, when you activate them on your website, you are getting the most recent version of that tool.
C. Winner: SquareSpace
It's the first comparison parameter in this blog where we are mentioning Squarespace as the winner. Since WordPress supports many third-party extensions, it is hard for them to automate the required updates.
14. GDPR: Which of These Two Tools are GDPR-Complaint?
General Data Protection Regulation (GDPR) is a collection of regulations that protect users' identity in the European Union (EU). A GDPR-compliant website helps your audience from the EU feel safe about their personal information.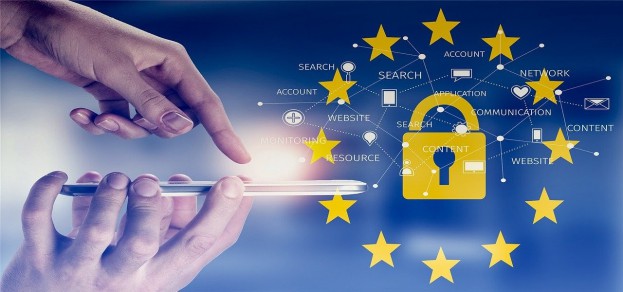 A. GDPR Compliant With WordPress
WordPress has several plugins that help you configure the GDPR settings easily. Let us take an example of the GDPR plugin by Trew Knowledge. It provides an easy-to-use interface to adjust the privacy policy, like the consent for tracking and logging.
You can also find tons of WordPress themes that are GDPR-compliant. With these web templates, you won't need an additional plugin.
Moreover, WordPress also allows you to set the GDPR setting on your website manually. It requires a lot of technical work, so we recommend taking this action only if you're familiar with HTML and other codes.
B. GDPR Compliant With Squarespace
Squarespace takes care of only a few things related to the GDPR. For instance, you can display a cookie consent banner using its built-in option. You can add more features without dealing with complicated steps.
Other regulations of GDPR include logging consent, a method to revoke the approval, and so on. You have to add your programming code to activate these features on your website.
Another approach is to install a third-party extension which deals with consent-related features. But, you have to do more complicated tasks with that tool. It involves inserting a programming code and configuring several Google Tag Manager settings.
C. Winner: WordPress
Squarespace has a lot of room for improvement regarding its GDPR policy. Until then, WordPress leads the way in terms of creating a GDPR-compliant website without any hassle.
15. Data Control: Which System Provides Full Content Ownership?
You want total control of your website content, right? A good website builder should not claim any type of copyright for your data. Let's see whether or not you have the risk of data-theft from these systems.
A. Full Content Ownership With WordPress
With WordPress, you can entirely rely on your data safety for your website. It provides complete ownership of your web content. Since WordPress is an open-source platform, it does not license your content in any way.
You also own the theme, plugins, and other add-ons after you purchase/download them.
WordPress will not claim any of your content, not even the HTML, CSS, and other codes. This flexible system lets you modify and even redistribute the main source code files.
However, you have to read the privacy policy of the hosting provider to keep your content safe. WordPress isn't going to host your site. Thus, you have to pick a reliable hosting platform that won't put a license on your website data.
B. Partial Content Ownership With Squarespace
The ownership of Squarespace is not as reliable as it is with WordPress. For instance, you cannot claim the template provided by this system. If you want to leave Squarespace, you have to give up the ownership of your design.
Additionally, Squarespace requires you to provide the right and license of your content for a limited purpose. That means Squarespace can host, store, reproduce, modify, change, publish, publicly display, and distribute your content to promote their service.
You have to read Squarespace's privacy policy to get detailed information. If you disagree with this policy, you have to contact Squarespace before joining their platform.
C. Winner: WordPress
Once again, we have WordPress as the winner for this title. Since Squarespace can reuse your content, you won't have complete control over it.
16. Data Portability: Can You Export/Backup The Site's XML File?
Another essential parameter to consider while comparing WordPress and Squarespace is the ease of data migration. After choosing one platform, you may not like it and move to another one.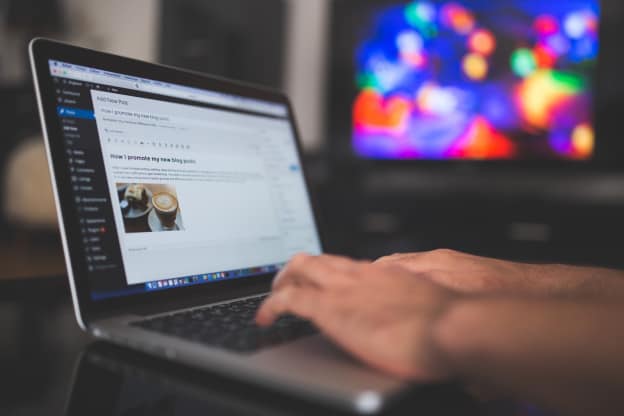 A. WordPress's Data Portability
You can easily export all of your website content with WordPress. The exportable data includes your entire database, themes, plugins, posts, media files, etc. It allows you to store these data in an XML format.
There are various ways to export WordPress sites, such as its built-in tool, using phpMyAdmin, etc. If you get locked out of your WordPress dashboard, you can still extract your files using the FTP client.
B. Squarespace's Data Portability
Squarespace provides a limited data portability feature. You can export only a few website components. Some of them are regular pages, galleries, one blog page, image and text blocks, comments, etc.
There are many web contents that you cannot export with Squarespace. Examples include product pages, folders, index pages, cover pages, audio blocks, video blocks, style changes, custom CSS, drafts, etc.
C. Winner: WordPress
WordPress wins this time again. Moving content from Squarespace to another platform has a lot of limitations. Also, its migration process is more complicated than that of WordPress.
17. Reliability: Can These Services Secure Your Website From Hackers?
When it comes to a website building service, you have to ensure it provides security as the top priority. You don't want to face malware, phishing, and other cyber threats on your website.
A. Website Security With WordPress
WordPress has tons of free/paid plugins to prevent your site from cyber threats. With these extensions, you can add a Secure Sockets Layer (SSL) that encrypts the communication between browser and server.
Besides, you can quickly eliminate the Distributed Denial-of-Service (DDoS) attack. With this feature, your website remains safe from hacker's attempts to interrupt machine/resource availability.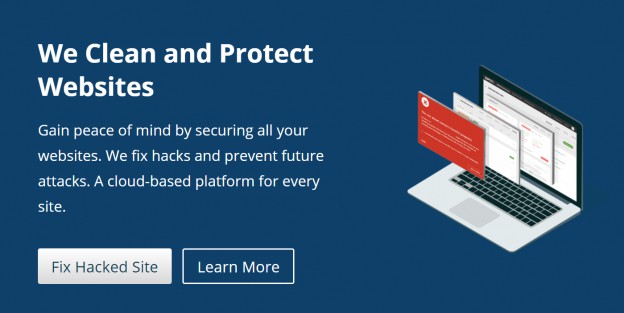 Some of the security plugins are Sucuri Security, iThemes Security, All In One WP Security & Firewall, VaultPress, Defender, etc. These add-ons provide various features that you can choose based on your website needs.
You can check out these 15 WordPress security tricks to know more about how to secure your WordPress site.
B. Website Security With Squarespace
Squarespace also provides various security features, such as SSL certificates, mitigation of DDoS attacks, etc. Its HSTS (HTTP Strict Transport Security) attribute makes it easier for your visitors to connect the website over HTTPS.
It also has a Web Application Firewall (WAF) technology that protects your site from unwanted web traffic. It monitors, filters, and blocks the malicious data packets that could hurt your website.
C. Winner: Both
In this category, we can state that both website building platforms provide similar features. You can choose either WordPress or Squarespace without worrying about security issues.
18. Cost: Which Service Has The Lowest Cost?
You cannot compare WordPress and Squarespace without focusing on their cost of use. Which service do you think has the lowest price to create a single website? Let's find out.
A. Cost Associated With WordPress
WordPress is a free website building platform. You don't have to separate any budget to use this multi-functional tool. But, there are a few aspects where you need to pay to use their service/products.
For instance, you won't get access to your WordPress dashboard without purchasing a website hosting and domain name. Sometimes, you get a free domain name with a few selected hosting providers.
The initial cost of a hosting provider is as low as $3 per month. However, you need to pay a large amount (like $100/mo) for robust services, such as dedicated hosting. After that, you can create a website without any mandatory cost.
If you want to add more features to your site, you can purchase premium add-ons, like themes, plugins, etc. The cost of these tools varies based on their creators.
B. Cost Associated With Squarespace
Squarespace's pricing policy is easy to compare, unlike WordPress's. It has four different plans ranging from $12 to $40. These packages have various features, like advanced analytics, eCommerce integration, SEO features, etc.

The lowest cost you have to pay to create an essential website is no less than $12/mo. That also, if you choose the annual package. If you prefer to pay monthly, the price starts at $16. That is way higher than that of WordPress.
Squarespace does not allow you to edit the CSS and JavaScript codes until you purchase its Business Package. The cost for that plan is $26/mo if you pay it every month.
C. Winner: WordPress
WordPress is much cheaper than the other one. Squarespace has got limited features, and its prices are higher. WordPress provides tons of features with its free plugins and themes.
19. Support System: Are These Platforms Ready to Help You?
As the last parameter of comparison, we want to focus on both these platforms' customer support systems. Since WordPress is winning in most of the categories, let's see whether it wins this title or not.
A. Help and Support From WordPress
You can take help from tons of resources if you have any doubts about WordPress's interface. It has tutorials for installing WordPress, writing posts, adding new blocks, managing media libraries, and more.
Here are a few helpful WordPress blogs to help you out.
Additionally, you get hundreds of questions and answers provided by WordPress experts in its Support Forum. WordPress also provides a handbook to help you navigate and use the forum effectively.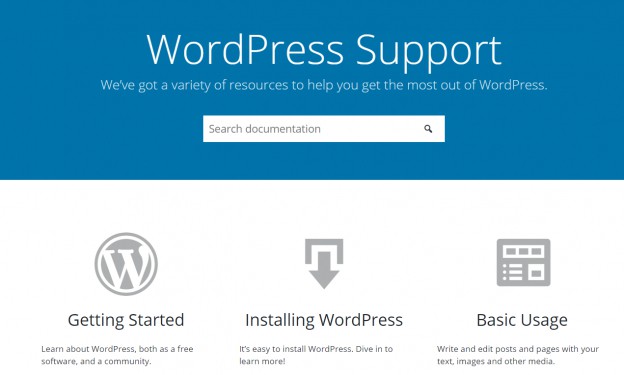 Every theme and plugin you install on your website comes with detailed documentation. Thus, you don't have to worry about ruining your website while using the advanced add-on functionalities.
Moreover, WordPress is so commonly used to get several YouTube videos and blogs related to any issues. If you choose a reliable source, then you can solve your problems in an instant.
B. Help and Support From Squarespace
Squarespace also has an extensive guide and tutorials regarding using its interface. With these resources, you can manage your account, create a multilingual site, transfer domains, add videos on a website, and more.
You can also rely on the Support Forum of Squarespace to solve your queries. It has answers for customizing, maintaining online stores, formatting images and videos, SEO and marketing, etc.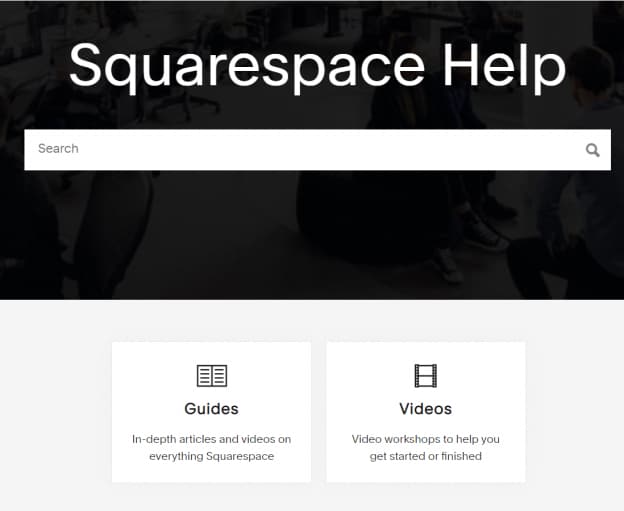 It provides live chat and email support. Additionally, Squarespace allows you to contact their Customer Support team to resolve your queries. You can use this feature only after purchasing one of their packages.
C. Winner: Both
We can see that both WordPress and Squarespace provide equal support to their customers. Thus, you can get help from any one of these platforms regarding any website-related issues.
WordPress vs. Squarespace: Comparison Table
Here is a preview of all the comparison parameters that we discussed in the previous section. You can check at the right-most column to see which platform won the particular category in that row.
| S. No. | Comparison Parameters | WordPress | Squarespace | Winner |
| --- | --- | --- | --- | --- |
| 1 | User Interface | Easy-to-use dashboard | Cannot make custom changes | WordPress |
| 2 | Features | Tons of attributes with no limitations | Cannot add out-of-the-box features | WordPress |
| 3 | Templates | Thousands of free/paid themes | Around 100 templates | WordPress |
| 4 | Responsive/Mobile Friendly | Creates responsive websites | Creates responsive websites | Both |
| 5 | Customization | Custom adjustment options | Limited customization options | WordPress |
| 6 | Complexity | Supports large, complex websites | Supports simple, beginner-level websites | WordPress |
| 7 | Add-Ons | Thousands of free/paid plugins | Less than 100 extensions/apps | WordPress |
| 8 | Search Engine Optimization | Creates SEO-friendly websites | Provides advanced SEO tools | Both |
| 9 | Blog | Advanced blog features | Supports only six languages | WordPress |
| 10 | Multilingual | Multilingual | Supports only six languages | WordPress |
| 11 | eCommerce | Supports powerful eCommerce add-ons | Limited eCommerce extensions/apps | WordPress |
| 12 | Mobile Apps | Extensive features in the WordPress app | Manage every element with the SquareSpace app | Both |
| 13 | Updates | It needs to update manually | Automatic website updates | Squarespace |
| 14 | GDPR | Fully GDPR-compliant | Partially GDPR compliant | WordPress |
WordPress vs. Squarespace: Pros and Cons
You must have understood that WordPress is a much better website creation platform than Squarespace. Now it's time to look at the pros and cons of WordPress, and the pros and cons of SquareSpace.
1. Pros and Cons of WordPress
A. WordPress Pros
Easy-to-use interface after a few learning sessions
Tons of website customization options
Thousands of themes, plugins, and other add-ons
Supports complex websites for large corporations
Costs very less to start your first website
Multilingual: supports dozens of languages
Full content ownership and easy migration features
B. WordPress Cons:
Requires external hosting and domain name
Need to take care of updates/maintenance manually
Several themes and plugins are outdated
Doesn't provide live chat and email support
2. Pros and Cons of Squarespace
A. Squarespace Pros:
Intuitive interface with the easy-to-use block editor
Built-in website hosting and domain name services
Includes mobile application with extensive settings
Provides live chat and 1-hour email support for customers
B. Squarespace Cons:
Works excellent only with small scale businesses/blogs
Requires more cost to create a simple website
Customization options are limited
Has a library of less than 100 website templates
Includes a few dozens of extensions/apps
Supports only six languages
FAQs (Frequently Asked Questions)
Q. Can I Switch My Website Between Squarespace and WordPress?
A. Yes. Both WordPress and Squarespace allow you to move your website from one platform to another. This way, you don't have to stick to one website builder after making a decision.
Q. Which Versions of Squarespace and WordPress Are You Comparing in This Post?
A. We are comparing the latest version of both the website builders: Squarespace 7.1 and WordPress 5.6 "Simone." Also, remember that we are comparing SquareSpace.com with WordPress.org, not WordPress.com.
Q. What Are The Alternatives of Both WordPress and Squarespace?
A. You can use other website builders instead of WordPress and Squarespace. Some of their alternatives are Wix, Weebly, Joomla, Drupal, Ghost, and Shopify.
Q. What Are Other Limitations of Using Squarespace Over WordPress?
A. Squarespace doesn't let you customize various features, which is as easy as pie to get with WordPress. For instance, you cannot add text over the images in its slider; you need premium extensions to add a simple calendar to a form block, etc.
Q. Why Do Most High-Profile Companies Use WordPress Instead of Squarespace?
A. Unlike Squarespace, WordPress supports complex and large traffic websites. It helps famous brands, like LinkedIn and PlayStation, add out-of-the-box features on their corporate site.
Wrapping Up!
Do you agree with our comparison? Feel free to mention your thoughts in the comments section below.
We tried to include as many parameters as possible to provide comprehensive information about these platforms. If you believe that we should add other comparison metrics, share them without hesitation.
Lastly, we thank you for staying with us till the end. Please check out our other blogs to learn about WordPress and more.