You are probably searching for a WordPress plugin to optimize your website for search engines. To save you time, we have compared two market-leading SEO plugins, Yoast vs. Rank Math, to make your decision simpler.
Yoast SEO is, by far, the most sought-after WordPress extension in terms of search engine optimization. With multi-million active installations, no other SEO plugins can beat them.
However, with the growing popularity of Rank Math, it may take over Yoast in a not-so-far future. It claims to have more features than Yoast SEO and is entirely FREE.
So, if you are unsure about which plugin you should pick, you're in the right place. In this article, we will compare these extensions and determine which one works best for you.
Yoast vs. Rank Math – Quick Review
Before we continue with the detailed comparison, let's do a quick review of both the SEO plugins, shall we? If you have a brief idea regarding their features, this section helps you learn more about these WordPress extensions.
Yoast SEO
Yoast SEO is a well-admired WordPress plugin that helps your website to perform better than your competitors. It helps business owners, bloggers, content creators, developers, and SEO experts to optimize their websites with dedicated services.
For a better Search Engine Optimization(SEO), your website needs to delight both human visitors and search engine bots. Yoast SEO helps in this process by enhancing your site's elements, like meta descriptions, readability, keywords, etc.
More than 5 million users rely on Yoast SEO to boost their marketing efforts. You can either use the free version or opt for a premium package to unlock robust settings. The premium version includes social previews, integration of Yoast extensions, and more.
Special Attributes:
Shows Snippet Preview of Posts in Search Engines
SEO and Readability Analysis for Creating Engaging Content
Prevents Duplicate Content by Adding Canonical URLs
Bulk Editing Feature for Titles and Meta Descriptions
Premium – Optimize Synonyms and Related Keyphrase of Articles
Premium – Integrate Yoast Video SEO, WooCommerce SEO, and more
Rank Math
Rank Math is an SEO extension for WordPress. It provides a diverse range of Search Engine Optimization(SEO) tools for attracting more website traffic. This game-changing plugin automates the marketing efforts so that you can focus on creating excellent content.
With more than 400 thousand active users, its audience base is growing. Rank Math even helps online businesses by providing WooCommerce and local business SEO support.
You can use a filter with Rank Math to optimize unlimited keywords for a post. It has a simple interface for providing better user experience. Besides, this extension lets you transfer settings from other SEO plugins with just a single click.
Special Attributes:
Displays site information with Google Search Console
Integrates Elementor, Beaver Builder, and other builders
Provides site verification tools for Google, Alexa, Bing, and more
Schema Support for Article, Recipe, Product, etc
Automatically pings search engine upon new post upload
Resolves every kind of issue with anytime support.
Yoast Vs. Rank Math – Detailed Comparison
Now let's dive into the distinct attributes of each of these extensions. You can see the comparison of Yoast SEO and Rank Math for 16 different aspects, in this section. We have also distinguished the winner for each of the topics.
1. Installation and Configuration (Winner: Yoast SEO)
When you install and activate Rank Math to your WordPress dashboard, you should follow a four-step configuration process. Other steps in the process are Your Site, Search Console, and Ready.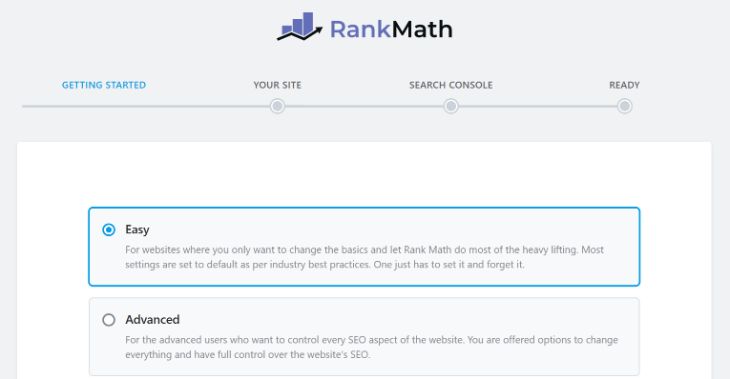 However, Yoast SEO does not require any steps after installation. You can enhance your web content immediately after activating it. If you want to customize its setting, then Configuration Wizard provides nine stages, as shown below.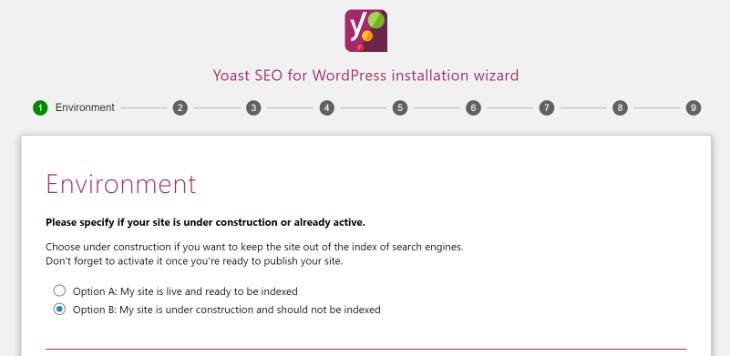 Yoast SEO allows immediate optimization and provides a detailed setup process. Thus, it is the winner of this category.
2. User Interface (Winner: Rank Math)
Yoast SEO has a retro style of user interface that might not captivate users' attention. The buttons are bland, and so is the color combination. However, it also has easy to navigate customization options under well-defined categories.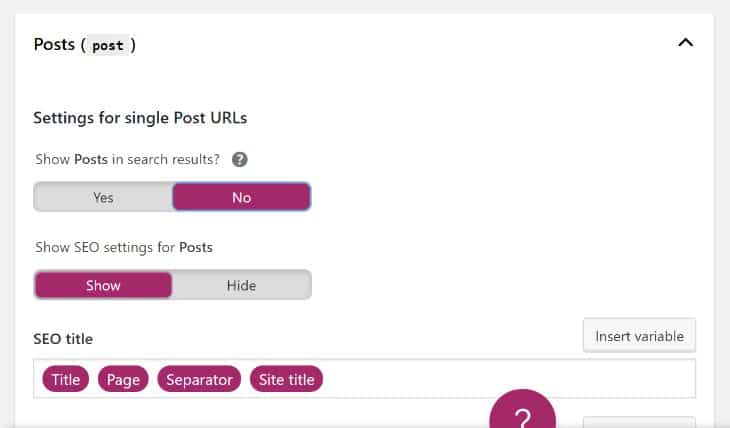 On the other hand, Rank Math features a clean and modern user interface. You can see a well-balanced color combination that improves its aesthetics. It has multiple buttons on the left side for navigating to each setting.
The winner for this category is Rank Math. Besides its captivating design, it also provides distinct customization options.
3. Schema.org Integration (Win-Win)
Schema.org is a crucial tool for helping search engines understand your web content. Schema integrations display your website result with additional information in the SERPs. Some of the data include rich snippets, ratings, and more.
Rank Math has inbuilt support from Schema.org. You can customize the schema type for individual webpages, such as articles, books, courses, events, products, etc.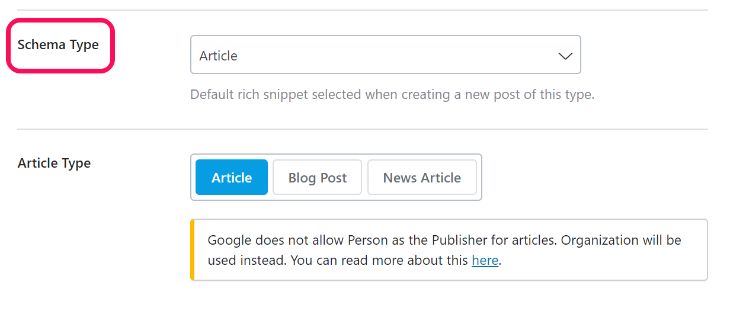 Yoast SEO also provides schema data-structured content blocks. Let us take a scenario where you're about to publish a How-to article. With this plugin's help, Google displays the first few steps of the post in the search results.
Therefore, both Rank Math and Yoast SEO helps in integrating schema for search engine optimization.
4. Assigning Keywords (Winner: Rank Math)
Keywords are a fundamental part of Search Engine Optimization (SEO). Yoast SEO lets you add a focus keyword to your article. You can assign multiple keywords as well, but only in the premium version.
Yoast SEO shows the SEO performance for the post above the "Focus Keyphrase" box. Its color changes to green once you enhance the article.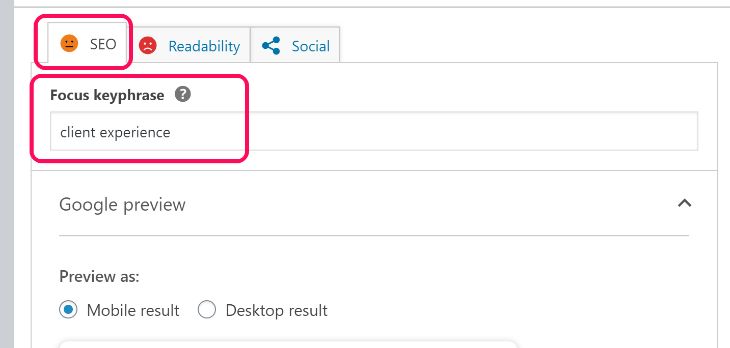 Rank Math goes one step further in the game of keywords assigning. You can integrate up to five keywords for free. Additionally, if you don't have multiple keywords in your mind, Rank Math suggests related keywords.
You can also see the SEO score of your post at the header bar. Rank Math increases the number once you improve the content as per its guideline. Once again, Rank Math is the winner in this section.
5. Google Search Console (Winner: Rank Math)
Google Search Console is helpful to verify the ownership of your website. Yoast SEO provides a Webmaster Tools option in the General category. This section provides a link that takes you to Google Search Console or Webmaster Central page.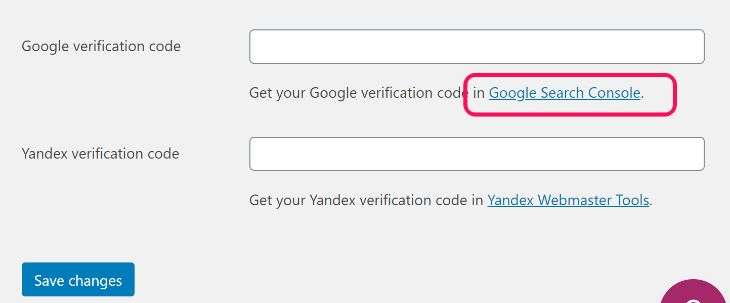 Rank Math also provides the same technique to verify the ownership of your website. You can insert the Google Search Console code from the search console verification page.
In addition to that, it provides a simple approach to connect the search console data. You can also see your search data without having to leave the WordPress dashboard.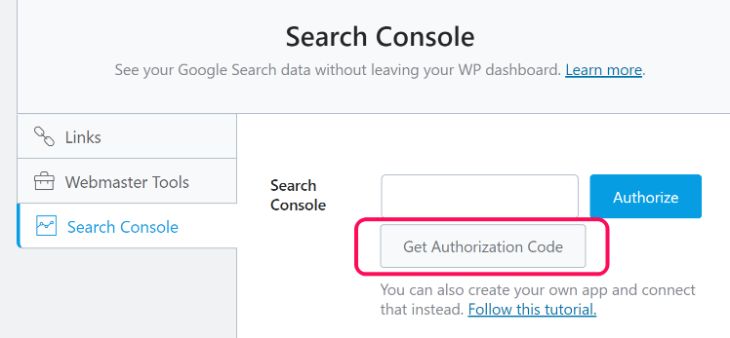 You can get the authorization code by merely logging into your Gmail account. Then after pasting the code in the text box shown above, you authorize the ownership. So the simplicity of Rank Math regarding Google search console makes it the winner again.
6. XML Sitemaps (Win-Win)
Search engines need to navigate your site using bots and web crawlers. With XML sitemaps, they can easily track your crucial web pages. Google bots can miss some of your web content if you don't create sitemaps for your site.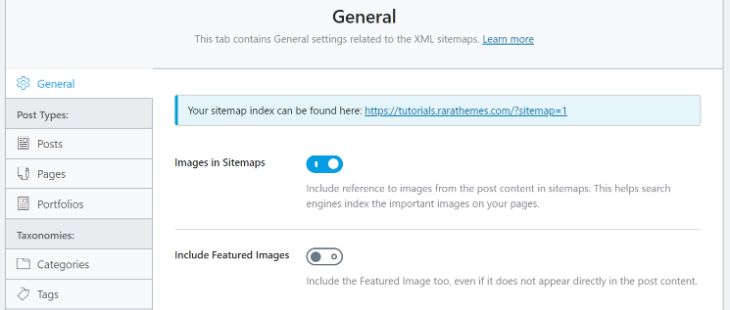 Rank Math takes good care of your website's sitemap. It provides an option to include certain post types and taxonomies in the XML sitemap.
Additionally, Yoast SEO also lets you add an XML sitemap for your WordPress site. You can enable or disable the sitemap created by this extension.

Since these two plugins provide similar features, both of them are winners in this case.
7. Redirect Manager (Winner: Rank Math)
Your website may include dead links due to multiple reasons. It's not a good user experience when your website shows an error that says, "404 – page not found." You have to redirect such broken links to the new URL as a solution.
Yoast SEO provides a secure redirect manager that will help you solve the expired web link's issue. You just need to purchase the premium version to unlock this feature.

Rank Math also has the same feature. It provides an advanced redirection manager that offers smart and automatic redirects. But Rank Math does not require you to pay any cost to benefit with this feature.
8. External Link Manager (Winner: Rank Math)
You probably included plenty of external links on your website. If you didn't set nofollow tags to these links, it could hamper your site's SEO performance. Rank Math provides an easy way to assign a nofollow tag to every outbound link.

Yoast SEO lacks this specific feature. You can still add a nofollow tag to an external code individual. Yet, it cannot assign this setting to multiple links at once. That is why we declare Rank Math to be a winner in this topic.
9. Performance (Winner: Rank Math)
In terms of performance, Rank Math leads the way with its lightweight, fewer PHP requests, and faster speed. It installs less number of files on your WordPress dashboard and also has a fewer number of codes.

Yoast SEO cannot match its performance, although having a fewer number of features. It has a larger plugin size that adds bulk to your website. You get more than a thousand files after installing it to your WordPress site.
10. Inbuilt SEO Audit Tool (Winner: Rank Math)
There might be some aspects of a website that are obstructing your SEO efforts. Rank Math provides an in-depth SEO analysis tool that gives you a free report. It detects any issue that your website is facing and fixes it immediately.
Yoast SEO does not provide an inbuilt SEO audit tool. It merely provides a content analysis tool that helps you optimize the posts before publishing. So, Rank Math beats this category too.
11. Content Analysis (Winner: Yoast SEO)
Both Rank Math and Yoast SEO provide real-time tips on how to improve your articles. Rank Math has few sections, like Content Readability and Title Readability, under the General settings. You can enhance your content based on these guidelines.
Yoast SEO also has a similar interface with multiple content-improving guidelines. Its suggestions are equally helpful to that of Rank Math.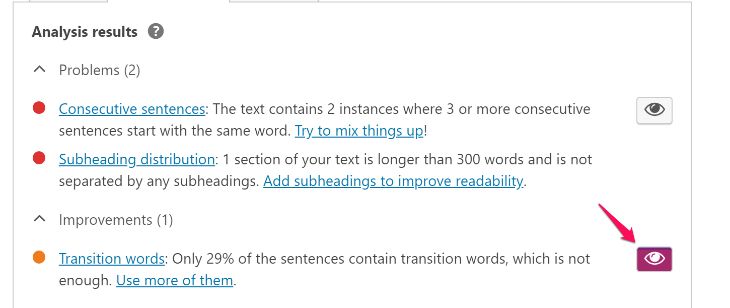 But, its unique feature is the "eye" icon on the side of each suggestion. You can see the exact location of the issue after clicking on the respective symbol. Yoast SEO turns the sentences, words, or paragraphs into purple color to demonstrate the problem.

Therefore, we mentioned Yoast SEO to be the winner in this category.
12. WooCommerce SEO (Winner: Rank Math)
The WooCommerce plugin helps you create an online store on your site. You get multiple features with this eCommerce extension, like creating shop listings, adding payment getaways, etc.
Rank Math lets you optimize the WooCommerce pages so that your product details can rank on search engines. You can add metadata and Product Schema with the help of this SEO plugin.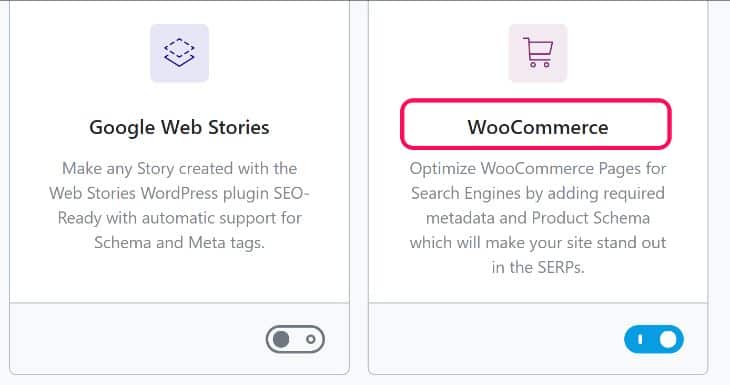 Yoast SEO also provides the same feature. However, you have to purchase the premium version of this extension to unlock the WooCommerce optimization. Rank Math has these functionalities for free, that is why it's the winner for this round.
13. Image SEO (Winner: Rank Math)
Optimizing images on your website allows search engines to understand its purposes. You need to add title tags and alt tags for your pictures. Rank Math helps you add this information efficiently.
Additionally, you can redirect the photos to the root pages with Rank Math. WordPress creates a separate webpage for every image you upload. So it is essential to redirect those attachments to the original post, root page, where it belongs.
Yoast SEO lets you redirect the website images to the root directory. However, you can edit the title and alt tags for the photos that you upload. So, Rank Math wins this time as well.
14. Pricing (Winner: Rank Math)
Let's discuss another major topic that will help you make a more informed decision regarding these plugins. Rank Math and Yoast SEO both have distinct pricing strategies.
Starting with Yoast SEO, it has both free and premium packages. You get a limited number of features with its free plan. You can purchase the Yoast SEO Premium for $89 per website and unlock diverse functionalities to power your website.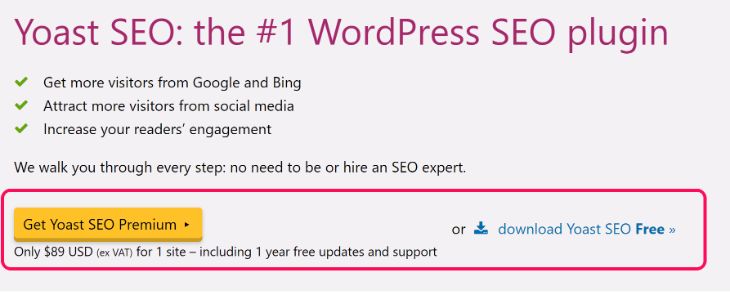 Rank Math goes one step further in case of pricing. This SEO plugin provides all its features for free. Rank Math might start a freemium pricing strategy, like that of Yoast SEO, real soon. But for now, it is the winner of this category.
15. Support (Winner: Yoast SEO)
In terms of support, both of these plugins provide equal value to their users. Rank Math has an around the clock support system. But this plugin includes more bugs and needs constant contact with the support team.
Yoast SEO provides customer support only for premium users. Yet, you get plenty of useful guides and articles in its knowledge base. You won't have to contact the support team as much as you would have to in the case of Rank Math.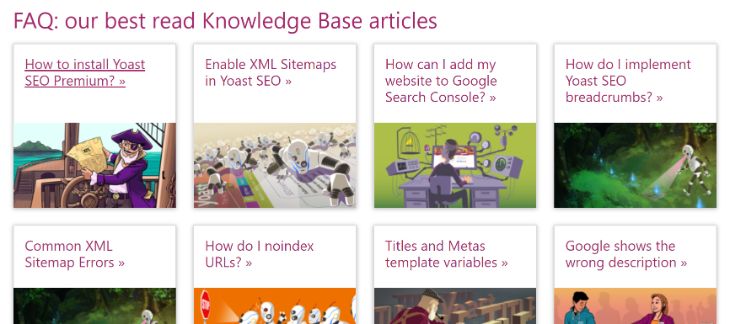 Additionally, Yoast SEO does not have bugs like that of Rank Math. Therefore, Yoast SEO wins the title in the final topic.
Comparison Table: Yoast Vs. Rank Math Plugins
We have provided a summary of the detailed comparison that you just read in the previous section. You can skim off the table below if you want a quick comparison between Yoast SEO and RankMath plugins.
S.No.
Features
Yoast SEO
RankMath
1
Installation Process
Quick
Almost Quick
2
Configuration
Thorough
Brief
3
User Interface
Retro
Modern and Attractive
4
Schema Integration
Yes
Yes
5
Keyword Integration
Free: 1
Premium: Multiple
Free: 5
6
Google Search Console

Tedious Process
Quick Steps
7

XML Sitemaps

Yes
Yes
8
Redirect Manager
Only in Premium
Free
9
External Link Manager
Limited Feature
Extended Features
10
Performance
Weak
Strong
11
Inbuilt SEO Audit Tool
No
Yes
12
Content Analysis
Thorough
Brief
13
WooCommerce SEO
Only in Premium
Free
14
Image SEO
Limited Features
Extended Features
15
Pricing
Freemium
Free
16
Knowledge Base
Yes
No
17
Support
Only in Premium
Free
18
Bugs
No
Yes
Yoast Vs. Rank Math Plugins: Which One Should You Choose?
In the comparison above, you found that Rank Math wins in most of the categories. Be it Google Search Console, Inbuilt SEO Audit tool, or Performance. Therefore, Rank Math is the first choice for getting powerful tools without spending a dime.
However, since Rank Math was recently released, it has tons of bugs that need immediate fixation. You rely on your entire SEO performance on this plugin. So, it would be an unpleasant experience if your website faces some issues during a peak moment.
Yoast SEO, on the other hand, does not feature any bugs. It is a widely-used plugin that provides reliability more than any other SEO plugin. Though you get fewer features than Rank Math, it should be your first pick if you want a better SEO experience.
Besides, you will have to pay a premium cost to ripe this powerful plugin's full benefits. Therefore, we don't recommend this tool if you're low on budget. For the beginner website or business owners, Rank Math is the best bet.
Overall, we recommend you to go with the Rank Math plugin. We believe that their technical team is working on removing the bugs.
Wrapping Up!
We believe you enjoyed reading the comparison of Yoast SEO and Rank Math in this article. You are now ready to make a proper decision and take the right step for enhancing your website.
Do you agree with our recommendation? Which one is a better SEO plugin, in your view? You can always try both of them, for free, and stick with the most effective one for your site.
Mention your feedback and suggestion in the comment section below. We want to hear your say regarding SEO and other plugins for WordPress.